Abstract
How do individuals' experiences with political violence affect their perceptions regarding the risk associated with hosting refugees? This is an important question given that many communities are beginning to resent and oppose hosting refugees. To explore answers to the question, we study recent exposure to violence within Lebanon, which is a meaningful context since Lebanon serves as host to more than one million refugees from the Syrian Civil War. We adopt a novel empirical strategy to isolate the effect of exposure to violence upon perceptions of risk associated with hosting refugees. We exploit plausibly exogenous variation in the timing of violent events linked to refugee populations in Lebanon relative to the timing of responses to our nationally representative survey deployed between June and August 2017. Our empirical strategy compares individuals interviewed before and after violent attacks in Lebanon. The results suggest that recent exposure to violence by Syrian militants increases individuals' perceptions of risk associated with hosting refugees from conflict zones, while exposure to violence carried out by Lebanese forces reduces perceptions of risk.
Access options
Buy single article
Instant access to the full article PDF.
USD 39.95
Price includes VAT (USA)
Tax calculation will be finalised during checkout.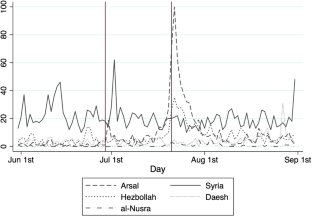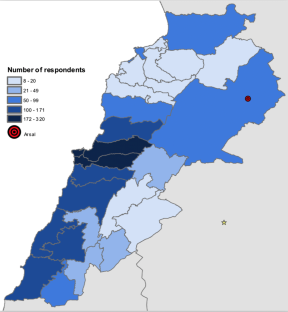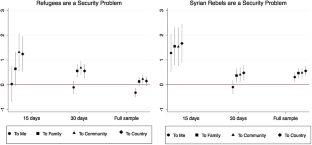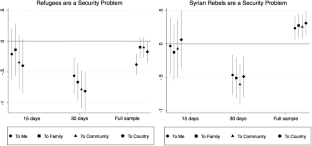 References
Aziz, J. (2016). Lebanon's Christian foes become friends. In Al-Monitor. January 22. https://www.almonitor.com/pulse/originals/2016/01/lebanon-christian-leaders-aoun-geagea-meeting.html. Accessed 20 April 2018.

Balcells, L., & Torrats-Espinosa, G. (2018). The electoral consequences of terrorism. Evidence from a natural experiment. Working paper. Georgetown University.

Bellows, J., & Miguel, E. (2009). War and local collective action in Sierra Leone. Journal of Public Economics, 93(11), 1144–1157.

Berrebi, C., & Klor, E. F. (2008). Are voters sensitive to terrorism? Direct evidence from the Israeli electorate. American Political Science Review, 102(3), 279–301.

Boomgaarden, H. G., & de Vreese, C. H. (2007). Dramatic real-world events and public opinion dynamics: Media coverage and its impact on public reactions to an assassination. International Journal of Public Opinion Research, 19(3), 354–366.

Braithwaite, A. (2010). Resisting infection: How state capacity conditions conflict contagion. Journal of Peace Research, 47(3), 311–319.

Buhaug, H., & Gleditsch, K. S. (2008). Contagion or confusion? Why conflicts cluster in space. International Studies Quarterly, 52(2), 215–233.

Cassar, A., Grosjean, P., & Whitt, S. (2014). Social preferences of ex-combatants: Survey and experimental evidence from postwar Tajikistan. In K. Wärneryd (Ed.), The economics of conflict: Theory and empirical evidence (pp. 231–262). Cambridge, MA: MIT Press.

Charif, H. (1994). Regional development and integration. In D. Collings (Ed.), Peace for Lebanon (pp. 151–161). Boulder: Lynne Rienner Publishers.

Chehayeb, K. (2017). Despite tension, Syrian refugees find sympathy in Lebanese villages. In Al-Monitor. September 12. https://www.al-monitor.com/pulse/originals/2017/09/lebanon-syria-border-town-tension-refugeeseconomy.html. Accessed 20 April 2018.

Chu, T. S. (2018). The determinants of refugee repatriation. Working paper. University of Arizona.

Crone, M., Falkentoft, M. F., & Tammikko, T. (2017). Europe's refugee crisis and the threat of terrorism—An extraordinary threat? DIIS Report 2017: 05. http://pure.diis.dk/ws/files/910914/Report_05_Europes_Refugee_Crisis_Web.pdf. Accessed 11 July 2018.

Davis, S., & Deole, L. (2017). Immigration and the rise of Far-right parties in Europe. Ifo Dice Report. https://www.cesifo-group.de/DocDL/dice-report-2017-4-onlineversion-december.pdf. Accessed 11 July 2018.

Devictor, X., & Do, Q. (2016). How many years do refugees stay in exile? The World Bank. http://blogs.worldbank.org/dev4peace/. Accessed 28 April 2017.

Dunning, T. (2012). Natural experiments in the social sciences: A design-based approach. Cambridge: Cambridge University Press.

Fisk, K. (2018). One-sided violence in refugee-hosting areas. Journal of Conflict Resolution, 62(3), 529–556.

García-Ponce, O., & Pasquale, B. (2015). How political repression shapes attitudes toward the state: Evidence from Zimbabwe. Working paper. New York University.

Getmansky, A., & Zeitzoff, T. (2014). Effect of rocket threat on voting in Israeli elections. American Political Science Review, 108(3), 588–604.

Ghosn, F. (2016). Lebanon: The lack of a unified and independent foreign policy. In Y. Halabi (Ed.), Democratic peace across the Middle East: Islam and political modernisation (pp. 74–94). London: I.B. Tarus.

Ghosn, F., & Braithwaite, A. (2018). Could contact stem the rising tide of negative attitudes towards hosting Syrian refugees in Lebanon? Oxford Monitor of Forced Migration: Field Monitor 7.2. http://oxmofm.com/syrian-refugees-in-lebanon/.

Ghosn, F., & Karakoc, E. (2018). Religious identity, political alliances and attitudes toward third parties' foreign policy in the Middle East. Working paper. University of Arizona.

Ghosn, F., & Khoury, A. (2013). The case of the 2006 war in Lebanon: Reparation? Reconstruction? Or both? International Journal of Human Rights, 17(1), 1–17.

Gilligan, M. J., Pasquale, B. J., & Samii, C. (2014). Civil war and social cohesion: Lab-in-the-field evidence from Nepal. American Journal of Political Science, 58(3), 604–619.

Gneezy, A., & Fessler, D. M. T. (2011). Conflict, sticks and carrots: War increases prosocial punishments and rewards. Proceedings of the Royal Society of London B: Biological Sciences, 279(1727), 219–223.

Hainmueller, J., & Hopkins, D. J. (2013). Public attitudes toward immigration. CReAM discussion paper no. 15/13. London: Centre for Research and Analysis of Migration.

Hatton, T. J. (2016). Immigration, public opinion and the recession in Europe. Economic Policy, 31(86), 205–246.

Hayes, B. C., & McAllister, I. (2001). Sowing dragon's teeth: Public support for political violence and paramilitarism in Northern Ireland. Political Studies, 49(5), 901–922.

Ho, D., Imai, K., King, G., & Stuart, E. (2007). Matching as non-parametric preprocessing for reducing model dependence in parametric causal inference. Political Analysis, 15(3), 199–236.

Hubbard, B. (2017). Militants and refugees return to Syria under cease-fire deal. In New York times. August 2. https://www.nytimes.com/2017/08/02/world/middleeast/syria-lebanon-refugees-cease-fire.html. Accessed 2 Aug 2018.

Huddy, L., Feldman, S., Capelos, T., & Provost, C. (2002). The consequences of terrorism: Disentangling the effects of personal and national threat. Political Psychology, 23(3), 485–509.

Huddy, L., Feldman, S., Taber, C., & Lahav, G. (2005). Threat, anxiety, and support of antiterrorism policies. American Journal of Political Science, 49(3), 593–608.

Iacus, S. M., King, G., & Porro, G. (2012). Causal inference without balance checking: Coarsened exact matching. Political Analysis, 20(1), 1–24.

International Alert. (2015). Citizens' perceptions of security threats stemming from the Syrian refugee presence in Lebanon. Beirut: International Alert.

Katwala, S., & Somerville, W. (2016). Engaging the anxious middle on immigration reform: Evidence from the UK debate. Washington, DC: Transatlantic Council on Migration.

Kibris, A. (2011). Funerals and elections: The effects of terrorism on voting behavior in Turkey. Journal of Conflict Resolution, 55(2), 220–247.

Knudsen, A. (2010). Acquiescence to assassinations in post-civil war Lebanon? Mediterranean Politics, 15(1), 1–23.

Krcmaric, D. (2014). Refugee flows, ethnic power relations, and the spread of conflict. Security Studies, 23(1), 182–216.

Lambert, A. J., Scherer, L. D., Schott, J. P., Olson, K., Andrews, R. K., O'Brien, T. C., et al. (2010). Rally effects, threat, and attitude change. Journal of Personality and Social Psychology, 98(6), 886–903.

Legewie, J. (2013). Terrorist events and attitudes toward immigrants: A natural experiment. American Journal of Sociology, 118(5), 1199–1245.

Milton, D., Spencer, M., & Findley, M. (2013). Radicalism of the hopeless: Refugee flows and transnational terrorism. International Interactions, 39(5), 621–645.

Murdoch, J. C., & Sandler, T. (2004). Civil wars and economic growth: Spatial dispersion. American Journal of Political Science, 48(1), 138–151.

Rosenbaum, P. R., & Rubin, D. B. (1983). The central role of the propensity score in observational studies for causal effects. Biometrika, 70(1), 41–55.

Salehyan, I., & Gleditsch, K. S. (2006). Refugees and the spread of civil war. International Organization, 60(2), 335–366.

Sharkey, P. (2010). The acute effect of local homicides on children's cognitive performance. Proceedings of the National Academy of Sciences, 107(26), 11733–11738.

Sharkey, P., Schwartz, A. E., Ellen, I. G., & Lacoe, J. (2014). High stakes in the classroom, high stakes on the street: The effects of community violence on student's standardized test performance. Sociological Science, 1(1), 199–220.

Spilerman, S., & Stecklov, G. (2009). Societal responses to terrorist attacks. Annual Review of Sociology, 35(1), 167–189.

Telhami, S. (2016). American attitudes on refugees from the Middle East. Washington, DC: The Brookings Institution.

UNHCR. (2017). Poorer countries host most of the forcibly displaced, report shows. http://www.unhcr.org/en-us/news/latest/2017/2/58b001ab4/poorer-countries-host-forcibly-displaced-report-shows.html. Accessed 28 April 2017.

Van der Brug, W. (2001). Perceptions, opinions and party preferences in the face of a real world event: Chernobyl as a natural experiment in political psychology. Journal of Theoretical Politics, 13(1), 53–80.

Voors, M. J., Nillesen, E. M., Verwimp, P., Bulte, E. H., Lensink, R., & Van Soest, D. P. (2012). Violent conflict and behavior: A field experiment in Burundi. The American Economic Review, 102(2), 941–964.

Whitt, S., & Wilson, R. K. (2007). The dictator game: Fairness and ethnicity in postwar Bosnia. American Journal of Political Science, 51(3), 655–668.

Wikes, R., Stokes, B., & Simmons, K. (2016). Europeans fear wave of refugees will mean more terrorism, fewer jobs. Washington, DC: Pew Research Center for the People and the Press.
Acknowledgements
The research reported herein was supported by award W911-NF-17-1-0030 from the Department of Defense and US Army Research Office/Army Research Laboratory under the Minerva Research Initiative. The views expressed are those of the authors and should not be attributed to the Department of Defense or the Army Research Office/Army Research Laboratory. The authors are grateful to Todd Sandler and two anonymous reviewers as well as the following individuals for their thoughtful and constructive comments on earlier versions of this paper: Laura Bakkensen, Jennifer Cyr, Samara Klar, Jeff Kucik, Paul Schuler, Chad Westerland and participants at the Political Violence and Policy conference at the University of Texas at Dallas, May 2018. All remaining errors are our own.
Electronic supplementary material
Below is the link to the electronic supplementary material.
About this article
Cite this article
Braithwaite, A., Chu, T.S., Curtis, J. et al. Violence and the perception of risk associated with hosting refugees. Public Choice 178, 473–492 (2019). https://doi.org/10.1007/s11127-018-0599-0
Received:

Accepted:

Published:

Issue Date:
Keywords
Refugees

Exposure to violence

Public attitudes

Civil war

Lebanon
JEL Classification