Abstract
We experimentally examine perfectly discriminating contests under three valuation structures: pure common-value, pure private-value and a case with both private and common value components. In line with the results from the previous literature, we find that, regardless of valuation structure, contestants often choose very conservative expenditures, and very aggressive expenditures. Average expenditures exceed Nash equilibrium predictions. In valuation structures with a common value component, contestants often choose expenditures in excess of the expected value of the prize conditional on winning the contest. That is, they often guarantee themselves negative payoffs in expectation.
This is a preview of subscription content, log in to check access.
Access options
Buy single article
Instant access to the full article PDF.
US$ 39.95
Price includes VAT for USA
Subscribe to journal
Immediate online access to all issues from 2019. Subscription will auto renew annually.
US$ 199
This is the net price. Taxes to be calculated in checkout.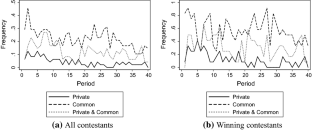 Notes
1.

2.

3.

Affiliation is a notion of positive dependence between random variables, which is often assumed in the auction literature. See e.g., Milgrom and Weber (1982).

4.

5.

6.

Hayek (1945) famously notes: "...the knowledge of the circumstances of which we must make use never exists in concentrated or integrated form but solely as the dispersed bits of incomplete and frequently contradictory knowledge which all the separate individuals possess." While Hayek was speaking about the information that would be required by a social planner, we feel that the argument also applies to how the information regarding the value of a prize is likely to be distributed among contestants.

7.

An interesting avenue for future research would be to experimentally examine environments wherein the weights are not equal, or wherein uncertainty exists about the relative weights.

8.

See the online supplement of this article for a detailed review of the literature regarding contests (both perfectly and imperfectly discriminating) with private information.

9.

The currency in Guatemala is the Quetzal, and this is how subjects were paid.

10.

No participants went bankrupt.

11.

n.s. indicates that a test is not significant at conventional levels.
References
Athey, S. (2001). Single crossing properties and the existence of pure strategy equilibria in games of incomplete information. Econometrica, 69(4), 861–889.

Baye, M., Kovenock, D., & de Vries, C. (1996). The all-pay auction with complete information. Economic Theory, 8(2), 291–305.

Corchón, L. (2007). The theory of contests: A survey. Review of Economic Design, 11(2), 69–100.

Dechenaux, E., Kovenock, D., & Sheremeta, R. (2015). A survey of experimental research on contests, all-pay auctions and tournaments. Experimental Economics, 18(4), 609–669.

Fischbacher, U. (2007). z-tree: Zurich toolbox for ready-made economic experiments. Experimental economics, 10(2), 171–178.

Goeree, J., & Offerman, T. (2003). Competitive bidding in auctions with private and common values. The Economic Journal, 113(489), 598–613.

Hartnett, T., & Offerman, T. (2002). Efficiency in auctions with private and common values: An experimental study. American Economic Review, 92(3), 625–643.

Hayek, F. (1945). The use of knowledge in society. American economic review, 35(4), 519–530.

Hörisch, H., & Kirchkamp, O. (2010). Less fighting than expected. Public Choice, 144(1), 347–367.

Hyndman, K., Ozbay, E. Y., & Sujarittanonta, P. (2012). Rent seeking with regretful agents: Theory and experiment. Journal of Economic Behavior & Organization, 84(3), 866–878.

Kagel, J., & Levin, D. (2002). Common value auctions and the winner's curse. Princeton, NJ: Princeton University Press.

Konrad, K. (2009). Strategy and dynamics in contests. Oxford: Oxford University Press.

Krishna, V., & Morgan, J. (1997). An analysis of the war of attrition and the all-pay auction. Journal of Economic theory, 72(2), 343–362.

Milgrom, P., & Weber, R. (1982). A theory of auctions and competitive bidding. Econometrica, 50(5), 1089–1122.

Moldovanu, B., & Sela, A. (2001). The optimal allocation of prizes in contests. American Economic Review, 91(3), 542–558.

Müller, W., & Schotter, A. (2010). Workaholics and dropouts in organizations. Journal of the European Economic Association, 8(4), 717–743.

Noussair, C., & Silver, J. (2006). Behavior in all-pay auctions with incomplete information. Games and Economic Behavior, 55(1), 189–206.

Rentschler, L., & Turocy, T. (2016). Two-bidder all-pay auctions with interdependent valuations, including the highly competitive case. Journal of Economic Theory, 163, 435–466.

Schram, A., & Onderstal, S. (2009). Bidding to give: An experimental comparison of auctions for charity. International Economic Review, 50(2), 431–457.

Sheremeta, R. (2013). Overbidding and heterogeneous behavior in contest experiments. Journal of Economic Surveys, 27(3), 491–514.

Siegel, R. (2009). All-pay contests. Econometrica, 77(1), 71–92.

Siegel, R. (2010). Asymmetric contests with conditional investments. American Economic Review, 100(5), 2230–2260.

Siegel, R. (2014). Asymmetric all-pay auctions with interdependent valuations. Journal of Economic Theory, 153, 684–702.

Tullock, G. (1967). The welfare costs of tariffs, monopolies, and theft. Western Economic Journal, 5(3), 224–232.
Acknowledgements
Financial support from Gettysburg College is gratefully acknowledged. Thanks also to Jorge Chang Urrea for outstanding research assistance. We have benefited from comments and suggestions from participants in seminars at Universidad Francisco Marroquín, the International ESA Conference, and the International Conference on Game Theory at Stony Brook.
Electronic supplementary material
Below is the link to the electronic supplementary material.
About this article
Cite this article
Aycinena, D., Baltaduonis, R. & Rentschler, L. Valuation structure in incomplete information contests: experimental evidence. Public Choice 179, 195–208 (2019). https://doi.org/10.1007/s11127-018-0568-7
Received:

Accepted:

Published:

Issue Date:
Keywords
Contests

Experiments

Winner's curse
JEL Classification