Abstract
In examining the factors that contribute to electoral success in congressional elections, legislative scholars often consider the actions of elected representatives; however, other research suggests that one must consider what challengers are (or are not) doing as well. For instance, inexperience and poor funding can significantly inhibit challenger success. We expand this list of potential shortcomings by arguing that ideological congruence with a constituency may be another factor in explaining challenger defeat. Using ideology measures derived from campaign contributions, we find that unsuccessful challengers in the U.S. House are generally more extreme than those who win, but ideological extremity is not a disadvantage to those seeking to represent an extreme constituency. More importantly, our existing political institutions may actually serve to mitigate the already high levels of partisan polarization in Congress.
This is a preview of subscription content, log in to check access.
Access options
Buy single article
Instant access to the full article PDF.
US$ 39.95
Price includes VAT for USA
Subscribe to journal
Immediate online access to all issues from 2019. Subscription will auto renew annually.
US$ 199
This is the net price. Taxes to be calculated in checkout.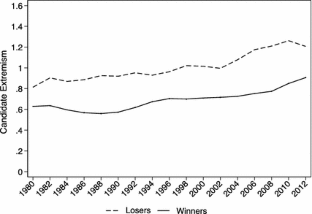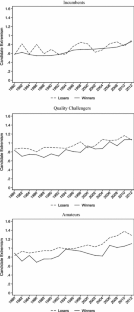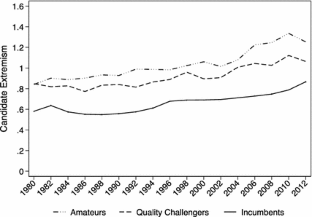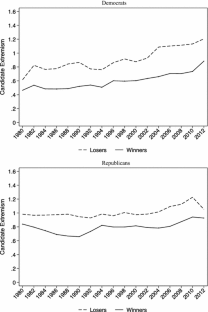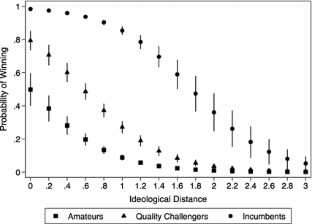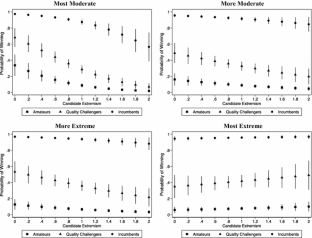 Notes
1.

Given the constitutional provision dictating that individual states decide the "times, places, and manner" of elections, congressional primaries can vary considerable in how they are conducted. However, many are run by the Democratic and Republican parties within each state and are open only to registered voters from those parties.

2.

3.

Some research suggests that challengers consciously occupy considerably more extreme positions than the incumbents they must face in order to engage in "expressive politics" (Boatright 2004). Additionally, as Bernhardt and Ingberman (1985) note, challengers are often driven to the extreme flanks in order to distance themselves ideologically from the incumbent. This is related to an argument presented by Banks and Kiewiet (1989) in which it is demonstrated that amateur candidates are likely to compete when incumbents are strongest simply because other competition is minimized. There are also a number of reasons a candidate may challenge a seemingly well-entrenched incumbent. For one, he or she may be trying to foster greater name recognition to improve future chances of success. Also, he or she may have been recruited by party leadership to compete. Less likely, but also possible, is the case in which a state legislator has been term limited out of his or her seat, and competing against an incumbent member of the US House is his or her only opportunity to continue serving as a legislator. Though we recognize these as distinct possibilities, this level of nuance is outside of the current scope of our work.

4.

For a discussion of the conditions under which candidates might diverge in congressional elections, see Aldrich and McGinnis (1989), Bernhardt and Ingberman (1985), Butler (2009), Calvert (1985), Enelow and Hinich (1982), Fiorina (1973), Groseclose (2001), Lee et al. (2004), McCarty and Poole (1998), Poole and Romer (1993) and Wittman (1983).

5.

6.

Although prior research has examined this question in the context of extreme ideological or partisan behavior of incumbents (Canes-Wrone et al. 2002; Carson et al. 2010), we simply do not have much in the way of empirical evidence to support this same conclusion for congressional challengers. We view this as a distinct question from whether challengers decide to diverge relative to the local or district median.

7.

It is indeed possible that factors other than ideology could play a role in where individuals decide to donate. However, with respect to his estimations of these campaign contribution based ideal points, Bonica (2014, p. 374) notes that "ideological giving is pervasive among the most active individual donors" and that "it is very rare for individual donors to be uninfluenced by ideology." He further directly tests competing explanations of donor behavior and concludes that "[ideology] best accounts for the contribution decisions of the vast majority of donors" (p. 375). He directly tests the possibility that his campaign finance scores are sensitive to strategic donation decisions and concludes that "CF scores are robust to changes in nonideological characteristics with hypothesized accounts of strategic giving" (ibid.). Finally, he concludes by stating that "there is little evidence that these [strategic] factors significantly bias the ideal point estimates. Strategic considerations may cause donors to give more but do not appear to cause them to deviate from their personal preferences when deciding how to allocate their funds" (p. 376).

8.

We utilize the dichotomous measure of challenger quality pioneered by Jacobson (1989) in which candidates who have held an elective office previously are considered "quality" competitors while those that have not held such a position are considered "amateurs."

9.

Furthermore, we find similar evidence in Senate elections as well—winners are more moderate than losers, incumbents are more moderate than challengers, and extremism has risen over time. However, given other data constraints, we limit our analysis in the following section to House races.

10.

We exclude the most extreme 1% of candidates from our analyses as they represent outliers in the dataset. That exclusion in turn serves to increase the generalizability of our findings. Also, none of those 189 candidates won their bid for a House seat, which also biases against finding a relationship between extremism and electoral success.

11.

We chose zero as the anchoring point for moderation for a number of reasons. Beyond ease of interpretation, the mean and median of the distribution of ideological scores on this measure are 0.038 and 0.044. Additionally, 98.6% of Republican candidates received estimates above zero, while 93.6% of Democratic candidates received estimates below zero. This slight discrepancy makes sense given the presence of Southern Democrats in the earlier years observed. These percentages increase to 98.9 of Republicans above zero and 97.6 for Democrats below zero when observing only elections after 2000, and again to 99% each in the most recent election cycle in our data. We recognize that alternative ways of anchoring are possible, but we are confident that our method accurately captures the relationship we seek to test in the paper.

12.

The district measure is constructed using Bonica's measure of the average campaign contribution score within districts. That empirical approach differs from the district partisanship variable derived from Kernell (2009), which relies on measuring support for presidential candidates across multiple election cycles. Although some correlation is likely between the two measures, Kernell's necessarily is more driven by partisanship than ideology, and we believe accounting for both is important for proper model specification.

13.

Previous literature on congressional elections has demonstrated that the relationship between a candidate's spending and her chances of success could be endogenous (e.g., Gerber 1998; Jacobson 1978, 1990; Jacobson and Carson 2016). However, those works, as well as many others, also have demonstrated that the role of money is an integral component of understanding election outcomes and failing to control for such could artificially inflate the effects of other variables. Therefore, in order to ensure that our results are not driven by this omitted variable bias, we include a measure of spending with the noted caveat that we cannot directly speak to the effect of each additional dollar on the probability of winning.

14.

15.

This measure utilizes multiple presidential election returns and a least squared error model to calculate distributions across districts. This variable provides a superior alternative to relying on a single presidential election while also providing us a with a measure of voter preferences that are exogenous to any congressional elections.

16.

Our measure of ideological distance is the absolute value of the difference between each candidate's ideal point estimate and the district's ideal point estimate that he or she seeks to represent. Therefore, a value of zero denotes perfect ideological alignment, with larger values representing lesser congruence between the two, irrespective of extremism.

17.

Few instances actually are observed in which incumbents are 1.5 units away from their districts. No instances of extreme incumbents competing in very moderate districts are in the sample, and only 14 instances exist of very moderate incumbents running in extreme districts. However, this is what we would expect, as it speaks to the strategic nature and political savviness of incumbents. They are likely to retire in the event they fall too far out of line with their district to be viable in an upcoming election. Therefore, although some observations fall outside of the convex hull, they still speak to the fact that ideological congruence is important in understanding electoral success, even for incumbents.

18.

This seemingly counterintuitive result is likely driven by a number of factors. First, it is indeed the case that we are not likely to capture much of the Tea Party "revolution" by looking only at general elections, as we do in this manuscript. Second, we know that 20 Republican House incumbents retired in 2010 alone, many in solidly Republican districts. Those exits would contribute to the lore of Tea Party Republicans, but again would not be captured in any analysis of election outcomes. Finally, as Hall (2015, p. 18) demonstrates, "When an extremist—as measured by primary-election campaign receipt patterns—wins a 'coin-flip' election over a more moderate candidate, the party's general-election vote share decreases on average by approximately 9–13 percentage points, and the probability that the party wins the seat decreases by 35–54 percentage points." This would mean that extreme candidates are unlikely to succeed in the majority of election cycles.

19.
References
Abramowitz, A. I. (1991). Incumbency, campaign spending, and the decline of competition in U.S. House elections. The Journal of Politics, 53, 34–56.

Abramowitz, A. I., Alexander, B., & Gunning, M. (2006). Incumbency, redistricting, and the decline of competition in U.S. House elections. Journal of Politics, 68, 75–88.

Aldrich, J. H., & McGinnis, M. (1989). A model of party constraints on optimal candidate positions. Mathematical and Computer Modeling, 12, 437–450.

Ansolabehere, S., & Jones, P. E. (2010). Constituents' responses to congressional roll-call voting. American Journal of Political Science, 54, 583–597.

Ansolabehere, S., Snyder, J. M., Jr., & Stewart, C., III. (2001). Candidate positioning in U.S. House elections. American Journal of Political Science, 45(January), 136–159.

Banks, J. S., & Kiewiet, D. R. (1989). Explaining patterns of candidate competition in congressional elections. American Journal of Political Science, 33(4), 997–1015.

Bernhardt, M. D., & Ingberman, D. E. (1985). Candidate reputations and the incumbency effect. Journal of Public Economics, 27, 47–67.

Bishin, B. G. (2009). Tyranny of the minority: The subconstituency politics theory of representation. Philadelphia, PA: Temple University Press.

Boatright, R. G. (2004). Expressive politics: Issue strategies of congressional challengers. Columbus, OH: Ohio State University Press.

Boatright, R. G. (2013). Getting primaried: The changing politics of congressional primary challenges. Ann Arbor, MI: University of Michigan Press.

Bonica, A. (2014). Mapping the ideological marketplace. American Journal of Political Science, 58(2), 367–387.

Box-Steffensmeier, J. M. (1996). A dynamic analysis of the role of war chests in campaign strategy. American Journal of Political Science, 40, 352–371.

Butler, D. N. (2009). The effect of the size of voting blocs on incumbents' roll-call voting and the asymmetric polarization of congress. Legislative Studies Quarterly, 24(3), 297–318.

Calvert, R. (1985). Robustness of the multidimensional voting model: Candidate motivations, uncertainty, and convergence. American Journal of Political Science, 29(February), 69–95.

Canes-Wrone, B., Brady, D. W., & Cogan, J. F. (2002). Out of step, out of office: Electoral accountability and House members' voting. American Political Science Review, 96(March), 127–140.

Carson, J. L. (2005). Strategy, selection, and candidate competition in U.S. House and Senate elections. The Journal of Politics, 67(1), 1–28.

Carson, J. L., Crespin, M. H., & Williamson, R. D. (2014). Re-evaluating the effects of redistricting on electoral competition, 1972–2012. State Politics and Policy Quarterly, 14, 162–174.

Carson, J. L., Koger, G., Lebo, M. J., & Young, E. (2010). The electoral costs of party loyalty in Congress. American Journal of Political Science, 54, 598–616.

Cox, G. W., & Katz, J. N. (2002). Elbridge Gerry's salamander: The electoral consequences of the reapportionment revolution. New York, NY: Cambridge University Press.

Downs, A. (1957). An economic theory of democracy. New York, NY: Harper and Row.

Enelow, J. M., & Hinich, M. J. (1982). Ideology, issues, and the spatial theory of elections. American Political Science Review, 76(September), 493–501.

Fiorina, M. P. (1973). Electoral margins, constituency influence, and policy moderation: A critical assessment. American Politics Quarterly, 1, 479–498.

Fouirnaies, A., & Hall, A. B. (2014). The financial incumbency advantage: Causes and consequences. Journal of Politics, 76(3), 711–724.

Gerber, A. (1998). Estimating the effect of campaign spending on Senate election outcomes using instrumental variables. American Political Science Review, 92(2), 401–411.

Grimmer, J. (2013). Appropriators not position takers: The distorting effects of electoral incentives on congressional representation. American Journal of Political Science, 57(July), 624–642.

Groseclose, T. (2001). A model of candidate location when one candidate has a valence advantage. American Journal of Political Science, 45(4), 862–886.

Hall, A. B. (2015). What happens when extremists win primaries. American Political Science Review, 109(1), 18–42.

Hinckley, B. (1980). House reelections and Senate defeats: The role of the challenger. British Journal of Political Science, 10, 441–460.

Jacobson, G. C. (1978). The effects of campaign spending in congressional elections. American Political Science Review, 72(2), 469–491.

Jacobson, G. C. (1989). Strategic politicians and the dynamics of House elections, 1946–1986. American Political Science Review, 83(September), 773–793.

Jacobson, G. C. (1990). The effects of campaign spending in House elections: New evidence for old arguments. American Journal of Political Science, 34(2), 334–362.

Jacobson, G. C., & Carson, J. L. (2016). The politics of congressional elections (9th ed.). Lanham, MD: Rowman & Littlefield.

Jacobson, G. C., & Kernell, S. (1983). Strategy and choice in congressional elections (2nd ed.). New Haven, CT: Yale University Press.

Kernell, G. (2009). Giving order to districts: Estimating voter distributions with national election returns. Political Analysis, 17, 215–235.

Kirkland, J. H. (2014). Ideological heterogeneity and legislative polarization in the United States. Political Research Quarterly, 67(3), 533–546.

Lee, D. S., Moretti, E., & Butler, M. J. (2004). Do voters affect or elect policies? Evidence from the U.S. House. The Quarterly Journal of Economics, 119(August), 807–859.

Mann, T. E., & Wolfinger, R. (1980). Candidates and parties in congressional elections. American Political Science Review, 74, 617–632.

Mayhew, D. R. (1974). Congress: The electoral connection. New Haven, CT: Yale University Press.

McCarty, N. M., & Poole, K. T. (1998). An empirical spatial model of congressional campaigns. Political Analysis, 7(1), 1–30.

McCarty, N. M., Poole, K. T., & Rosenthal, H. (2016). Polarized America: The dance of ideology and unequal riches (2nd ed.). Cambridge, MA: MIT Press.

Norrander, B. (1989). Ideological representativeness of presidential primary voters. American Journal of Political Science, 33(3), 570–587.

Poole, K. T., & Romer, T. (1993). Ideology, 'shirking', and representation. Public Choice, 77, 185–196.

Poole, K. T., & Rosenthal, H. (2006). Ideology and congress: A political-economic history of roll call voting. New York, NY: Routledge.

Wittman, D. (1983). Candidate motivation: A synthesis of alternatives. American Political Science Review, 77(March), 142–157.
About this article
Cite this article
Carson, J.L., Williamson, R.D. Candidate ideology and electoral success in congressional elections. Public Choice 176, 175–192 (2018). https://doi.org/10.1007/s11127-017-0492-2
Received:

Accepted:

Published:

Issue Date:
Keywords
Elections

Polarization

U.S. House