Abstract
Significant empirical research has highlighted the existence of pork barrel politics. This is where public expenditure is targeted at particular regions based on the logic of collective action: political entrepreneurs maximize their chances of re-election by searching for and implementing programs or projects characterized by 'concentrated benefits' for key constituents and broadly dispersed costs. Using data on capital grants to Irish sports teams for 1998–2015, this paper analyzes the extent to which an informal rule can correct this bias. The case of allocating sports capital grants is particularly interesting since academic research, media commentary, and ministerial statements all seem to confirm the existence of political bias with such allocations in Ireland. Specifically, the geographical distribution of the grants are clearly linked to the Minister for Sport: that minister's constituent county receives significantly higher per capita grant allocation than any other county. The grants were suspended in 2009 because of a fiscal crisis arising from the recession. When the grants were restored in 2012, a new informal rule for allocations was introduced. That informal rule was introduced to reduce the extent of pork barrel politics by ensuring that no county received less than 75 % or more than 150 % of the national average of the per capita grant allocations. The present study evaluated the effectiveness of that informal rule in reducing pork barrel politics in Irish sports capital grant allocations.
Access options
Buy single article
Instant access to the full article PDF.
US$ 39.95
Tax calculation will be finalised during checkout.
Subscribe to journal
Immediate online access to all issues from 2019. Subscription will auto renew annually.
US$ 119
Tax calculation will be finalised during checkout.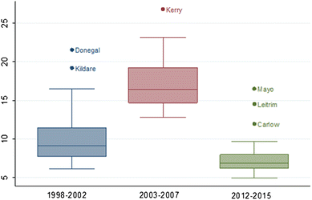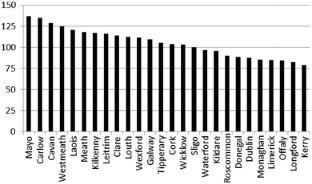 Notes
1.

Note that hereafter we referrer to the individual with responsibility for allocating sports capital grants as the sports minister. The responsibility has fall under a number of different departments and to Ministers and Junior Ministers. Therefore, for consistency throughout the remainder of the text these Ministers will be collectively referred to as the sports minister.

2.

The English translation of 'Fianna Fail' is 'Soldiers of Destiny.'

3.

4.

This was how it was termed by the sports minister at the time.

5.

For the period around 2008, Martin Cullen was sports minister; he was elected by the people of Waterford. That county was fifth in per capita funding for 1998–2007; it was sixth in 2008.

6.

The English translation of this is Deputy to the Dáil, where the Dáil refers to Dáil Éireann, the lower house of the Oireachtas (the Irish Parliament). It is the equivalent of terms such as Member of Parliament (MP) in the United Kingdom.

7.

The opposition spokesperson made the response, 'That was where the Minister was found out.'
References
Clemens, A., Crespin, M., & Finocchiaro, C. (2015). Earmarks and subcommittee government in the U.S. Congress. American Politics Research, 46(6), 1074–1106.

Coates, D. (2007). Stadiums and arenas: Economic development or economic redistribution? Contemporary Economic Policy, 25(4), 565–577.

Coates, D., & Humphreys, B. R. (2003). Professional sports facilities, franchises and urban economic development. Public Finance and Management, 3(3), 335–357.

Considine, J., Coffey, S., & Kiely, D. (2004). Irish sports capital funding: A public choice perspective. European Sports Management Quarterly, 4(3), 150–169.

Considine, J., Crowley, F., Foley, S., & O'Connor, M. (2008). Irish national lottery sports capital grant allocations, 1999–2007: Natural experiments on political influence. Economic Affairs, 28(3), 38–44.

Department of Transport, Tourism and Sport. (2012). 2012 Sports Capital Programme—Assessment and allocation process. http://www.dttas.ie/sites/default/files/foi-decisions/foi20140003-part-2.pdf. Accessed on 8 June 2016.

Hall, J., Ross, A., & Yencha, C. (2015). The political economy of the Essential Air Service program. Public Choice, 165, 147–165.

Keating, R. (1999). Sports pork: The costly relationship between major league sports and government. Policy Analysis, no. 339, Washington, DC: Cato Institute.

Leigh, A. (2008). Bringing home the bacon: An empirical analysis of the extent and effect of pork-barreling in Australian politics. Public Choice, 137(1–2), 279–299.

Long, J. G. (2005). Full count: The real cost of public funding for major league sports facilities. Journal of Sports Economics, 6(2), 119–143.

Noll, R. G., & Zimbalist, A. S. (Eds.). (1997). Sports, jobs, and taxes: The economic impact of sports teams and stadiums. Washington: Brookings Institution Press.

Siegfried, J., & Zimbalist, A. (2000). The economics of sports facilities and their communities. Journal of Economic Perspectives, 14(3), 95–114.

Suiter, J., & O'Malley, E. (2014a). Yes, Minister: The impact of decision-making rules on geographically targeted particularistic spending. Parliamentary Affairs, 67(4), 35–54.

Suiter, J., & O'Malley, E. (2014b). Chieftains delivering: Testing different measures of "pork" on an Irish data set of discretionary sports grants. Journal of Elections, Public Opinion and Parties, 24(1), 115–124.

Young, A. T., & Sobel, R. S. (2013). Recovery and Reinvestment Act spending at the state level: Keynesian stimulus of distributive politics. Public Choice, 155, 449–468.
About this article
Cite this article
Considine, J., Doran, J. Evaluation of an informal rule for the allocation of sports capital funding. Public Choice 168, 43–54 (2016). https://doi.org/10.1007/s11127-016-0348-1
Received:

Accepted:

Published:

Issue Date:
Keywords
Pork barrel

Sport expenditure

Fiscal rules

Congressional dominance model
JEL Classification