Abstract
Married women in the early nineteenth century United States were not permitted to own property, enter into contracts without their husband's permission, or stand in court as independent persons. This severely limited married women's ability to engage in formal business ventures, collect rents, administer estates, and manage bequests through wills. By the dawn of the twentieth century, legal reform in nearly every state had removed these restrictions by extending formal legal and economic rights to married women. Legal reform being by nature a public good with dispersed benefits, what forces impelled legislators to undertake the costs of action? In this paper, I argue that interjurisdictional competition between states and territories in the nineteenth century was instrumental in motivating these reforms. Two conditions are necessary for interjurisdictional competition to function: (1) law-makers must hold a vested interest in attracting population to their jurisdictions, and (2) residents must be able to actively choose between the products of different jurisdictions. Using evidence from the passage of the Married Women's Property Acts, I find that legal reforms were adopted first and in the greatest strength in those regions in which there was active interjurisdictional competition.
This is a preview of subscription content, log in to check access.
Access options
Buy single article
Instant access to the full article PDF.
US$ 39.95
Price includes VAT for USA
Subscribe to journal
Immediate online access to all issues from 2019. Subscription will auto renew annually.
US$ 199
This is the net price. Taxes to be calculated in checkout.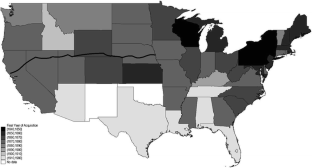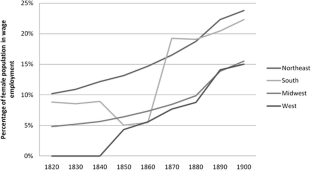 Notes
1.

Unmarried women, including widows, were not subject to the same limitations on property ownership. They could own property, enter into contracts, and sue or be sued. The extent of the disadvantage of coverture is such that businesswomen or women who had been abandoned by their husbands were sometimes granted the right to be treated as if they were single by chancery courts or private legislative acts (Hoff 2007, pp. 41–42; Chused 1982, pp. 1369–1371).

2.

In additional to this type of geographic competition, shifting attitudes towards women's economic rights are likely to have altered the types of legislation that an all-male electorate would have favored, thereby shifting the ideal rights regime from the perspective of a vote-seeking politician. For purposes of analytic tractability with respect to the question of nineteenth century interjurisdictional competition, the preferences of the electorate and other forms of ideological influence on political behavior are presumed to be roughly constant across jurisdictions. However, there were many and varied causes that influenced legislative treatment of married women's property rights over the course of the nineteenth century, and these other factors are worthy of further research.

3.

O'Hara and Ribstein (2009) explore this analogy and potential twenty-first century applications in detail.

4.

5.

The legal relationship was not completely one-sided. A husband owed duties to his wife, such as providing her with "necessaries" (Blackstone 1765, p. 430) and protecting the value of the one-third of his real property that was designated as her dower in the event she should survive him (Hartog 2002, pp. 145–147).

6.

These actions were intended to protect a wife's interest in the one-third share of the family property she could expect to receive upon her husband's death. In the event that real estate was sold without consent, widows could sue the purchaser in order to recover their dower right (see Salmon 1986 and Warbasse 1987).

7.

The separate estate and property acts were often individual legislative acts, but some states and territories included them directly in their constitutions.

8.

The New York Married Women's Property Statute of 1848 served as the template for many other states. From 1848 New York Laws 307, Chap. 200: "The real and personal property of any female who may hereafter marry, and which she shall own at the time of marriage, and the rents issues and profits thereof shall not be subject to the disposal of her husband, nor be liable for his debts, and shall continue her sole and separate property, as if she were a single female.".

9.

The Maryland earnings act is representative: "And be it enacted, That any married woman who by her skill, industry or personal labour, shall hereafter earn any money or other property, real personal or mixed to the value of one thousand dollars or less, shall and may hold the same and the fruits, increase and profits thereof, to her sole and separate use with power as feme sole to invest and re-invest, and sell and dispose of the same…" (1842 Laws of Maryland, Chap. 293, S8).

10.

Besley and Case's (1995) model of yardstick competition is an example of the exercise of voice. In yardstick competition, individual voters look at the behavior of legislators in neighboring districts and then compare their own representatives against those of their neighbors. If the neighboring jurisdiction performs better, voters learn that their elected officials are not doing as well as they could and choose not to re-elect.

11.

Although most legal jurisdictions are defined geographically and exit is therefore a physical activity, some areas of law allow individuals to choose between legal venues without moving, such as in choice-of-law clauses in contractual arrangements. This insight has inspired a robust literature on jurisdictional competition in incorporation law, one of the few areas of law that explicitly allows individuals to contractually determine which state's laws will apply in the event of a dispute (see for example Butler 1985; Easterbrook and Fischel 1991; Bebchuk 1992; Kahan and Kamar 2002; O'Hara and Ribstein 2009).

12.

On whether or not local governments compete with each other, see, for example, Brennan and Buchanan (1980), Crowley and Sobel (2011), Stansel (2006), Oates (1985), and Wagner and Weber (1975). On the subject of competition between governments being potentially undesirable, see Baysinger and Butler (1985); Boettke et al. (2011); and Oates and Schwab (1988).

13.

From U.S Census data and Weiss (2006). The sole exception is the high rate of women in wage employment in the South during the 10 years following emancipation.

14.

These figures are underestimates of actual female labor force participation and are presented for regional comparison only. First, and most significantly, all nineteenth century measures of women's work are considered underestimates due to the inaccuracy of nineteenth century census practices and the fact that data explicitly omit much of women's actual work (Goldin 1990, pp. 43–46). Second, the available population data used here counts women age 15 and older, while available employment data only includes gainfully employed women age 16 and older. Third, the labor force base is overstated by including all women, not just those capable of and seeking work.

15.

Textile manufacturers in Lawrence, MA; Manchester, NH; and Saco, ME capitalized on Lowell's innovations by following in the path of building manufacturing equipment in-house (Hekman 1980). Mills in Nashua, NH; Chicopee, MA; Holyoke, MA; Whitestown, NY; and Pittsburgh, PA, followed the Lowell model of vertically integrating textile production from cotton to cloth and housing female laborers from across the country (Foner 1977, p. xviii). Many factories even bought equipment directly from Lowell, including the Poignand & Plant Cotton Company of Lancaster, MA; Crocker & Richmond of Taunton, MA; the Dover Cotton Company of Dover, NH; and Joshua and Thomas Gilpin of Pennsylvania (Rosenberg 2011).

16.

"Gov. Haight's Biennial Message," San Francisco Bulletin, December 9, 1869.

17.

George Suckley, the chief naturalist of the exploratory party, put it this way: "…the Governor is a very ambitious man and knows very well that his political fortunes are wrapped up in the success of the railroad making its Pacific terminus in his own territory" (quoted in Goetzmann [1959] 1979, p. 283).

18.

See, for example, the case of Asa Shinn Mercer, whose recruitment of women from the Eastern seaboard to Washington Territory may have played a role in his election to the Senate of the Washington Territory (Brown 1958).

19.

The Northwest Territory (now IN, OH, MI, IL and WI) and Southwest Territory (now TN and KY) were created from the lands immediately west of the original colonies. That land originally had been under colonial control, but was ceded to the federal government upon admission to the Union.

20.

21.

"Oration Delivered by Governor T.W. Bennett, at Boise City, Idaho Territory, July 4th, 1873," Idaho Tri-Weekly Statesman, July 5, 1873, p. 3.

22.

23.

The Barre (MA) Gazette, December 13, 861; Volume 28; Issue 21, p. 1.
References
Abbott, E. (1969 [1910]). Women in industry; a study in American economic history. New York: Arno & The New York Times.

Ashley, J. M. (1870). Circular of the Montana immigrant association. Library of Congress American Time Capsule Printed Ephemera Collection; Portfolio 86, Folder 27a.

Basch, N. (1979). Invisible women: The legal fiction of marital unity in nineteenth-century America. Feminist Studies, 5(2), 346–366.

Basch, N. (1986). The emerging legal history of women in the United States: Property, divorce, and the constitution. Signs, 12(1), 97–117.

Baysinger, B. D., & Butler, H. N. (1985). The role of corporate law in the theory of the firm. Journal of Law and Economics, 28(1), 179–191.

Bebchuk, L. A. (1992). Federalism and the corporation: The desirable limits on state competition in corporate law. Harvard Law Review, 105(7), 1435–1510.

Besley, T., & Case, A. C. (1995). Incumbent behavior: Vote seeking, tax setting and yardstick competition. American Economic Review, 85, 25–45.

Blackstone, W. (1765). Commentaries on the laws of England: Book the first. Oxford: Clarendon Press.

Boettke, P. J., Coyne, C. J., & Leeson, P. T. (2011). Quasimarket failure. Public Choice, 149(1–2), 209–224.

Borneman, W. R. (2010). Rival rails: "The race to build America's greatest transcontinental railroad". New York: Random House.

Bratton, W. W., & McCahery, J. A. (1997). The new economics of jurisdictional competition: Devolutionary federalism in a second-best world. Georgetown Law Journal, 86, 201–278.

Braun, S., & Kvasnicka, M. (2013). Men, women, and the ballot: Gender imbalances and suffrage extensions in U.S. states. Explorations in Economic History, 50(3), 405–426.

Brennan, G., & Buchanan, J. M. (1980). The power to tax: Analytical foundations of a fiscal constitution. New York: Cambridge University Press.

Brown, D. (1958). The gentle tamers: Women of the old wild west. New York: Putnam.

Brown, D. (1977). Hear that lonesome whistle blow: Railroads in the west. New York: Holt, Rinehart and Winston.

Butler, H. N. (1985). Nineteenth-century jurisdictional competition in the granting of corporate privileges. Journal of Legal Studies, 14(1), 129–166.

Cain, L. P. (2006). Table Df874-881, "Railroad mileage and equipment: 1830–1890", and Table Df927-955, "Railroad mileage, equipment, and passenger traffic and revenue: 1890–1980". In S. B. Carter, et al. (Eds.), Historical statistics of the United States, earliest times to the present (Millennial ed.). New York: Cambridge University Press.

Central Pacific and Union Pacific Railroad timetables; information for travelers; passenger, excursion, & emigrant fare schedules; Pullman & Silver Palace Car rates; steamer, stage, & rail connections; route map. (1882, May 1). Central Pacific Railroad Photographic History Museum. Retrieved from http://cprr.org/Museum/Ephemera/CP-UP_Timetable_1882.html.

Chused, R. H. (1982). Married women's property law: 1800–1850. Georgetown Law Journal, 71, 1359–1425.

Crowley, G. R., & Sobel, R. S. (2011). Does fiscal decentralization constrain Leviathan? New evidence from local property tax competition. Public Choice, 149(1–2), 5–30.

Doepke, M., & Tertilt, M. (2009). Women's liberation: What's in it for men? The Quarterly Journal of Economics, 124(4), 1541–1591.

Downes, R. C. (1931). The statehood contest in Ohio. The Mississippi Valley Historical Review, 18(2), 155–171.

Easterbrook, F. H. (1983). Antitrust and the economics of federalism. Journal of Law and Economics, 26(1), 23–50.

Easterbrook, F. H., & Fischel, D. R. (1991). The economic structure of corporate law. Cambridge, MA: Harvard University Press.

Epple, D., & Zelenitz, A. (1981). The roles of jurisdictional competition and of collective choice institutions in the market for local public goods. The American Economic Review, 71(2), 87–92.

Fernandez, R. (2012). Women's rights and development. Journal of Economic Growth, 19(1), 37–80.

Fleck, R. K., & Hanssen, F. A. (2010). "Rulers ruled by women": An economic analysis of the rise and fall of women's rights in ancient Sparta. Economics of Governance, 3(10), 221–245.

Foner, P. S. (Ed.). (1977). The factory girls: A collection of writings on life and struggles in the New England factories of the 1840s by the factory girls themselves, and the story, in their own words, of the first trade unions of women workers in the United States. Urbana, IL: University of Illinois Press.

Friedman, L. M. (1973). A history of American law. New York: Simon and Schuster.

Geddes, R., & Lueck, D. (2002). The gains from self-ownership and the expansion of women's rights. The American Economic Review, 92(4), 1079–1092.

Geddes, R., & Tennyson, S. (2012). Passage of the Married Women's Property Acts and Earnings Acts in the United States: 1850 to 1920. Research in Economic History, 29, 145–189.

Ginger, R. (1954). Labor in a Massachusetts cotton mill, 1853–60. The Business History Review, 28(1), 67–91.

Goetzmann, W. H. [1959] /1979. Army Exploration in the American West, 1803-1863. Lincoln, NE: University of Nebraska Press.

Goldin, C. (1990). Understanding the gender gap: An economic history of American women. Oxford: Oxford University Press.

Haines, M. R. (2006). Tables Aa2244-2340 through Aa6500-6550. In S. B. Carter, et al. (Eds.), Historical statistics of the United States, earliest times to the present (Millennial ed.). New York: Cambridge University Press.

Hallgarth, S. A. (1989). Women settlers on the frontier: Unwed, unreluctant, unrepentant. Women's Studies Quarterly, 17(3/4), 23–34.

Hartog, H. (2002). Man and wife in America. Cambridge, MA: Harvard University Press.

Hekman, J. S. (1980). The product cycle and New England textiles. The Quarterly Journal of Economics, 94(4), 697–717.

Hirschman, A. O. (1970). Exit, voice, and loyalty: Responses to decline in firms, organizations, and states. Cambridge, MA: Harvard University Press.

Historical Census Browser. (2004). Retrieved total population from the University of Virginia, Geospatial and Statistical Data Center. http://mapserver.lib.virginia.edu/.

Hoff, J. (1991). Law, gender, and injustice: A legal history of U.S. women. New York: New York University Press.

Hoff, J. (2007). American women and the lingering implications of coverture. The Social Science Journal, 44(1), 41–55.

Horpedahl, J. (2011). Political exchange and the voting franchise: Universal democracy as an emergent process. Constitutional Political Economy, 22(3), 203–220.

Jones, M. S. (1987). An historical geography of changing divorce law in the United States. New York: Garland Publishing Inc.

Kahan, M., & Kamar, E. (2002). The myth of state competition in corporate law. Stanford Law Review, 55(3), 679–749.

Kleinberg, S. J. (1999). Women in the United States, 1830–1945. New Brunswick, NJ: Rutgers University Press.

Lowell, J. A. (1848). Memoir of Patrick Tracy Jackson. New York: Merchants' Magazine and Commercial Review.

Moussalli, Stephanie D. (2008). The fiscal effects of statehood: New Mexico and Arizona, 1903–1919. Public Choice, 137(1–2), 119–126.

Moussalli, S. D. (2012). The fiscal case against statehood: Accounting for statehood in New Mexico and Arizona. Lanham, MD: Lexington Books.

O'Hara, E. A., & Ribstein, L. E. (2009). The law market. New York: Oxford University Press.

Oates, W. E. (1985). Searching for Leviathan: An empirical study. The American Economic Review, 75(4), 748–757.

Oates, W. E., & Schwab, R. M. (1988). Economic competition among jurisdictions: Efficiency enhancing or distortion inducing? Journal of Public Economics, 35(3), 333–354.

Ostrom, V., Tiebout, C. M., & Warren, R. (1961). The organization of government in metropolitan areas: A theoretical inquiry. American Political Science Review, 55, 831–842.

Owens, K. N. (1987). The prizes of statehood. Montana: The Magazine of Western History, 37(4), 2–9.

Poling-Kempes, L. (1989). The Harvey girls: Women who opened the West. New York: Paragon House.

Rabkin, P. A. (1980). Fathers to daughters: The legal foundations of female emancipation. Westport, CT: Greenwood.

Richter, A. (2005). Home on the rails: Women, the railroad, and the rise of public domesticity. Chapel Hill: University of North Carolina Press.

Robinson, H. H. ([1898] 1976). Loom and spindle, or life among the early mill girls. Kailua, HI: Press Pacifica.

Rosenberg, C. M. (2011). The life and times of Francis Cabot Lowell, 1775–1817. Lanham, MD: Lexington Books.

Salmon, M. (1986). Women and the law of property in early America. Chapel Hill, NC: University of North Carolina Press.

Salmon, M. (1992). Women and property in South Carolina: The evidence from marriage settlements, 1730–1830. In N. F. Cott (Ed.), History of women in the United States: Historical articles on women's lives and activities, Vol. 3: domestic relations and law (pp. 3–33). Munich: K.G. Saur.

Samuelson, P. A. (1954). The pure theory of public expenditure. The Review of Economics and Statistics, 36(4), 387–389.

Schlissel, L. ([1982] 2004). Women's diaries of the westward journey. New York: Schocken Books.

Sells, J. A. (2008). Stagecoaches across the American West 1850 to 1920. Blaine, WA: Hancock House.

Shughart, W. F, I. I., & Tollison, R. D. (1985). Corporate chartering: An exploration in the economics of legal change. Economic Inquiry, 13, 585–599.

Stansel, D. (2006). Interjurisdictional competition and local government spending in U.S. metropolitan areas. Public Finance Review, 34(2), 173–194.

Sumner, H. L. (1910). Volume IX: History of women in industry in the United States. Washington, D.C.: Government Printing Office.

Tiebout, C. M. (1956). A pure theory of local expenditures. Journal of Political Economy, 64, 416–424.

United States Bureau of the Census. (1841). Compendium of the enumeration of the inhabitants and statistics of the United States, as obtained at the Department of State, from the returns of the sixth census. Washington, D.C.: Thomas Allen.

United States Bureau of the Census. (1902). Twelfth census of the United States, taken in the year 1900: Census reports, Vol. VIII: Manufactures part II: States and territories. Washington, D.C.: United States Census Office.

United States Bureau of the Census. (1913). Thirteenth census of the United States, taken in the year 1910: Census reports, Vol. VIII: Manufactures 1909: General report and analysis. Washington, D.C.: Government Printing Office.

Wagner, R. (2011). Municipal corporations, economic calculation, and political pricing: Exploring a theoretical antimony. Public Choice, 149, 151–165.

Wagner, R. E., & Weber, W. E. (1975). Competition, monopoly, and the organization of government in metropolitan areas. Journal of Law and Economics, 18(3), 661–684.

Warbasse, E. B. (1987). The changing legal rights of married women 1800–1861. New York: Garland Publishing Inc.

Weiss, T. (2006). Free female gainful workers, by state: 1800–1900 [Age 16 and older]. In S. B. Carter et al. (Eds.), Table Ba128-176 in Historical statistics of the United States, earliest times to the present (Millennial ed.). New York: Cambridge University Press.

Willoughby, W. F. (1905). Territories and dependencies of the United States. New York: Burr Publishing House.

Zaher, C. (2002). When a woman's marital status determined her legal status: A research guide on the common law doctrine of coverture. Law Library Journal, 94(3), 459–486.
Acknowledgments
Thank you to Chris Coyne, Pete Boettke, Pete Leeson, Tyler Cowen, Adam Martin, Michael Thomas, Katherine Fidler, Rachel Coyne, Bill Shughart, Virgil Storr, and the participants in the Mercatus Center's Graduate Student Paper Workshop for many valuable comments and conversations. I am also grateful for the thoughtful and useful feedback of three anonymous reviewers. Any remaining errors are my own. I also wish to thank the Mercatus Center and the Institute for Humane Studies for their support at various stages in the development of this research.
About this article
Cite this article
Lemke, J.S. Interjurisdictional competition and the Married Women's Property Acts. Public Choice 166, 291–313 (2016). https://doi.org/10.1007/s11127-016-0323-x
Received:

Accepted:

Published:

Issue Date:
Keywords
Interjurisdictional competition

Decentralization

Competitive governance

Married Women's Property Acts

Property rights

Women's rights
JEL Classification