Abstract
An important part of the debate about self versus state-governance involves a discussion about enforcement mechanisms. While some scholars argue that private enforcement mechanisms work sufficiently well in supporting cooperation, others cite the downfalls of private mechanisms so as to legitimize government enforcement. This paper focuses on the interplay between government and private enforcement mechanisms. Using an experimental approach, we demonstrate two results. First, we show that government enforcement, in the form of a centralized monetary punishment in our experiment, can be useful if aligned with and implemented after a private form of enforcement, namely peer disapproval. However, our second result suggests that the removal of government enforcement leads to a substantial decrease in overall cooperation levels—cooperation levels are higher under private enforcement when subjects had never experienced government enforcement compared to when they had been exposed to government enforcement. Specifically, the removal of government enforcement undermines the power of the remaining private enforcement mechanism to affect the behavior of free-riders.
Access options
Buy single article
Instant access to the full article PDF.
US$ 39.95
Tax calculation will be finalised during checkout.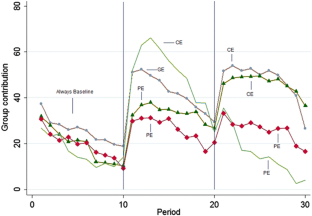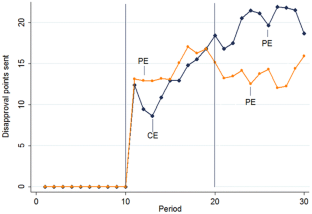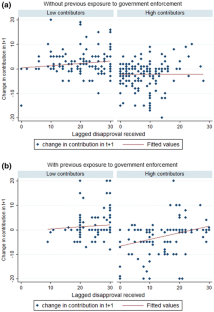 Notes
1.

It has been shown that conventions, customs or social norms do emerge spontaneously from the repetition of interactions between individuals (Sugden 1986; Josselin and Marciano 1995, 1997). Critics of the spontaneous emergence of norms argue that there is no reason to assume that individuals will engage in interactions with others if the environment is not peaceful. In other words, norms are a public good and self-interested individuals have no incentives to contribute to their creation, which implies that norms must be created by the state [see, e.g., Sened (1997) and Aviram (2004)].

2.

Private enforcement mechanisms may be decentralized (such as shaming) or centralized (such as private judicial institutions). What these enforcement mechanisms have in common is that they are private—i.e., non-governmental. One should not necessarily equate private with decentralized (also referred to as informal) enforcement. The literature on self-governance refers to both private centralized/formal and private decentralized/informal enforcement mechanisms [(see Leeson 2009, 2013, 2014c]. Other examples of private enforcement institutions in the literature on self-governance have less clear categories [see, e.g., Leeson 2007b, 2014a]. In this paper, a private enforcement mechanism is characterized when the individuals affected by an offender's behavior take it upon themselves to enforce a rule of conduct through the expression of disapproval. Government enforcement is characterized when punishment is top-down/centralized. However, one should not necessarily equate centralized or top-down punishment with governmental mechanisms. We thank one referee and the associate editor of the journal for having raised this important distinction.

3.

4.

Even more remarkable is the case of outlaw societies, such as pirates or prison gangs. Indeed, rule compliance in these groups can only be ensured privately, precisely because these groups are outside of the law. As a related point, Fleury and Marciano (2014) provide an analysis of private-governance among the undead.

5.

Indeed, we do not envisage the replacement of a private enforcement mechanism with a government enforcement mechanism, but rather analyze the effects of adding government enforcement to complement the private enforcement mechanism.

6.

Stringham (2015), pp. 195–200) also emphasizes the risk that government might crowd-out private governance. In our experiment, the crowding-out is the consequence of removing government enforcement mechanisms.

7.

Romaniuc (2016) found that this way of presenting a punishment expresses cooperation norms.

8.

It is important to keep in mind that game theory, in general, is mute about the content of agents' utility. The experimental literature testing game theoretic predictions chose to use self-regarding preferences in formulating the standard Nash equilibrium (see Cox (2004)). It is, however, possible to include a preference for others' income in agents' utility functions and then apply Nash or subgame perfection to the resulting game.

9.

10.

Another major difference with our study is that Nelissen and Mulder (2013) use peer-monetary punishment whereas in our experiment the punishment is centralized.

11.

As we know from the existing literature in experimental economics, average contributions decline significantly over time [see Keser and van Winden (2000)]. Consequently, we might reasonably expect lower contribution levels in our second segment compared to the first, ceteris paribus. However, if with this design, we can show that peer disapproval creates and sustains cooperative behavior, then this is the strongest kind of support one could obtain for the existence of norm-driven behavior backed by peer control. In doing so, we identify the lower bound of the PE treatment.

12.

The reason we can pool the data from these four sessions for segment 1 and 2 is that we always have the Baseline in the first 10 periods and the PE in periods 11–20 and the Mann-Whitney ranksum test indicates that we cannot reject the null hypothesis that the means are drawn from the same distribution.

13.

The null hypothesis is that the means are drawn from the same distribution. We treat average contributions of each four-person group as a single independent observation.

14.

In effect, we constantly varied the order according to which each subject's decision was presented to the other group members, thus rendering even non-costly retaliation impossible (see the experimental instructions in the online supplementary materials—B).

15.

Although some types of interventions can result in higher average contributions, many generally fail to maintain those high contribution rates over time (Fehr and Gaechter 2000).

16.

In most repeated public good experiments, it is common to detect a clear difference between the first and the last periods of the game [see Keser and van Winden (2000)].

17.

Someone who contributes less than the average contribution in his or her group reasonably may be considered as breaking a norm since the norm is generally described as the average behavior in one's group, community or society (for a thorough analysis of various accounts of norms, see Bicchieri (2006).

18.

Another effect from the exposure and then removal of government enforcement concerns the threshold above which subjects raise their contributions from one period to the next. As in Masclet et al. (2003), we find that without previous exposure to government enforcement, subjects raise their contributions when they receive an amount greater or equal to about 15 disapproval points. Recall that the maximum number of disapproval points that one can send is ten. Consequently, receiving ten disapproval points clearly does not count for social disapproval—it may indeed indicate that only one, out of three, peers are highly dissatisfied with the contribution of the one who receives points of disapproval. However, receiving 50  of the maximum possible points of disapproval (the maximum being 30) may suggest general agreement that one's contribution was not appropriate. When a government-like enforcement had been in place previously, we find that subjects do not increase the amount they contribute in \(t+1\) even when they receive amounts of disapprobation up to and slightly exceeding 20 points—at is, an amount of disapproval close the maximum possible. This is shown in Fig. 4(a, b) in the online supplementary materials—A.

19.

However, as we explained in the previous section, this increase is not significant, perhaps owing to the small sample size, although it is obvious by eyeballing the evolution in contributions in Figure 1 that contributions are higher under the combination of government and private enforcement than when private enforcement is used in isolation in periods 21–30.

20.

Khadjavi (2015) develops a similar argument and shows experimentally that government-like punishment may deactivate pro-social emotions.
References
Andreoni, J., & Miller, J. H. (2002). Giving according to GARP: An experimental test of the consistency of preferences for altruism. Econometrica, 70(2), 737–753.

Andreoni, J., & Gee, L. K. (2012). Gun for hire: Delegated enforcement and peer punishment in public goods provision. Journal of Public Economics, 96(11–12), 1036–1046.

Anderson, T., & Hill, P. J. (1977). An American experiment in anarcho-capitalism: The not so wild, wild West. Journal of Libertarian Studies, 3, 9–29.

Aviram, A. (2004). A paradox of spontaneous formation: The evolution of private legal systems. Yale Law & Policy Review, 22, 1–68.

Baldassarri, D., & Grossman, G. (2011). Centralized sanctioning and legitimate authority promote cooperation in humans. Proceedings of the National Academy of Sciences, 108(27), 11023–11027.

Benabou, R. & Tirole, J. (2011). Laws and norms. NBER Working Paper No. 17579.

Benson, B. L. (1989). Enforcement of private property rights in primitive societies: Law without government. Journal of Libertarian Studies, 9(1), 1–26.

Benson, B. L. (1990). Customary law with private means of resolving disputes and dispensing justice: A description of a modern system of law and order without state coercion. Journal of Libertarian Studies, 9(2), 25–42.

Benson, B. L. (1991a). An evolutionary cntractarian view of primitive law: The institutions and incentives arising under customary American Indian law. Review of Austrian Economics, 5(1), 41–65.

Benson, B. L. (1991b). Reciprocal exchange as the basis for recognition of law: Examples from American history. Journal of Libertarian Studies, 10(1), 53–82.

Bernstein, L. (1992). Opting out of the legal system: Extralegal contractual relations in the diamond industry. Journal of Legal Studies, 21(1), 115–157.

Bicchieri, C. (2006). The grammar of society: The nature and dynamics of social norms. Cambridge: Cambridge University Press.

Boehm, C. (1999). Hierarchy in the forest: The evolution of egalitarian behavior. Harvard: Harvard University Press.

Boettke, P., Coyne, C., & Leeson, P. T. (2008). Institutional stickiness and the new development economics. American Journal of Economics and Sociology, 67(2), 331–358.

Chaudhuri, A. (2011). Sustaining cooperation in laboratory public goods experiments: A selective survey of the literature. Experimental Economics, 14, 47–83.

Cooter, R. D. (1984). Prices and sanctions. Columbia Law Review, 84, 1523–1560.

Cooter, R. D. (1998). Expressive Law and Economics. Journal of Legal Studies, 27(2), 585–608.

Cooter, R. D. (2000). Three effects of social norms on law: Expression, deterrence, and internalization. Oregon Law Review, 79(1), 1–22.

Cox, J. C. (2004). How to identify trust and reciprocity. Games and Economic Behavior, 46(February), 260–281.

Dunbar, R. I. M. (2004). Gossip in evolutionary perspective. Review of General Psychology, 8, 100–110.

Ellickson, R. (1991). Order without law: How neighbors settle disputes. Cambridge: Harvard University Press.

Engel, C. (2014). Social preferences can make imperfect sanctions work: Evidence from a public good experiment. Journal of Economic Behavior and Organization, 108, 343–353.

Fehr, E., & Gaechter, S. (2000). Cooperation and punishment in public goods experiments. American Economic Review, 90(4), 980–994.

Feinberg, M., Cheng, J. T., & Willer, R. (2012). Gossip as an effective and low-cost form of punishment. Behavioral and Brain Sciences, 35(1), 25.

Feldman, Y. (2009). The expressive function of trade secret law: Legality, cost, intrinsic motivation, and consensus. Journal of Empirical Legal Studies, 6(1), 177–212.

Feldman, Y., & Taylor, T. R. (2011). Mandated justice: The political promise and possible pitfalls of mandating procedural justice in the workplace. Regulation & Governance, 6(1), 46–65.

Fleury, J.-B., & Marciano, A. (2014). Order, coordination, and collective action among the undead. In G. Whitman & J. P. Dow (Eds.), Economics of the undead: Blood, brains and benjamins. New York: Rowman and Littlefield.

Friedman, D. (1979). Private creation and enforcement of law—A historical case. Journal of Legal Studies, 8(2), 399–415.

Funk, P. (2007). Is there an expressive function of law? An empirical analysis of voting law with symbolic fines. American Law and Economics Review, 9(1), 135–159.

Gaechter, S. (2014). Human pro-social motivation and the maintenance of social order. In E. Zamir & D. Teichman (Eds.), Handbook on Behavioral Economics and the Law. Oxford: Oxford University Press.

Gaechter, S., & Fehr, E. (1999). Collective action as a social exchange. Journal of Economic Behavior and Organization, 39(4), 341–369.

Gaechter, S., & Herrmann, D. (2009). Reciprocity, culture and human cooperation: Previous insights and a new cross-cultural experiment. Philosophical Transactions of the Royal Society B: Biological Sciences, 364(1518), 791–806.

Giardini, F. (2012). Deterrence and transmission as mechanisms ensuring reliability of gossip. Cognitive Processing, 13(2), 465–475.

Giardini, F., & Conte, R. (2011). Gossip for social control in natural and artificial societies. Simulation, 88(1), 18–32.

Gneezy, U., & Rustichini, A. (2000). A fine is a price. Journal of Legal Studies, 29, 1–17.

Goeree, J. K., Holt, C. H., & Laury, S. K. (2002). Private costs and public benefits: Unraveling the effects of altruism and noisy behavior. Journal of Public Economics, 83, 255–276.

Greif, A. (1989). Reputation and coalitions in medieval trade: Evidence on the Maghribi traders. Journal of Economic History, XLIX, 857–882.

Greif, A. (1993). Contract enforceability and economic institutions in early trade: The Maghribi traders' coalition. American Economic Review, 83(3), 525–548.

Grenier, B. (2004). An online recruitment system for economic experiments. In: Kremer, K. and Macho, V. (eds.), Forshung und wissenschaftliches Rechnen, GWDG Bericht 63, 79–93.

Guala, F. (2012). Reciprocity: Weak or strong? What punishment experiments do (and do not) demonstrate. Behavioral and Brain Sciences, 35, 1–15.

Josselin, J.-M., & Marciano, A. (1995). Constitutionalism and common knowledge: Assessment and application to a future European constitution. Public Choice, 85(1–2), 173–188.

Josselin, J.-M., & Marciano, A. (1997). The paradox of Leviathan: How to develop and contain the future European state? European Journal of Law and Economics, 4(1), 5–21.

Josselin, J.-M., & Marciano, A. (2002). The making of the French Civil Code: An economic interpretation. European Journal of Law and Economics, 14, 193–203.

Karakostas, A., & Zizzo, D. J. (2015). Compliance and the power of authority. Journal of Economic Behavior and Organization. doi:10.1016/j.jebo.2015.09.016.

Karayiannis, A. D., & Hatzis, A. N. (2012). Morality, social norms and the rule of law as transaction cost-saving devices: The case of ancient Athens. European Journal of Law and Economics, 33(3), 621–643.

Keser, C., & van Winden, F. (2000). Conditional cooperation and voluntary contributions to public goods. Scandinavian Journal of Economics, 102(1), 23–39.

Khadjavi, M. (2015). On the interaction of deterrence and emotions. Journal of Law, Economics, and Organization. doi:10.1093/jleo/ewu012.

Ledyard, O. (1995). Public goods: some experimental results. In: Kagel, J. and Roth, A. (eds.), Handbook of experimental economics. Princeton: Princeton University Press (Chap. 2).

Leeson, P. T. (2007). Ann-arrgh-chy: The law and economics of pirate organization. Journal of Law & Economics, 115(6), 1049–1094.

Leeson, P. T. (2007). Trading with bandits. Journal of Law & Economics, 50, 303–321.

Leeson, P. T. (2009). The calculus of piratical consent: The myth of the myth of social contract. Public Choice, 139(3–4), 443–459.

Leeson, P. T. (2009b). The invisible hook: The hidden economics of pirates. Princeton: Princeton University Press.

Leeson, P. T. (2009). The laws of lawlessness. Journal of Legal Studies, 38(2), 471–503.

Leeson, P. T. (2013). Gypsy law. Public Choice, 155, 273–292.

Leeson, P. T. (2014). Pirates, prisoners, and preliterates: Anarchic context and the private enforcement of law. European Journal of Law and Economics, 37(3), 365–379.

Leeson, P. T. (2014 b). Anarchy unbound: Why self-governance works better than you think. Cambridge: Cambridge University Press.

Leeson, P. T. (2014). God damn: The law and economics of monastic malediction. Journal of Law, Economics, and Organization, 30(1), 193–216.

Leeson, P., & Skarbek, D. (2010). Criminal constitutions. Global Crime, 11(3), 279–298.

Masclet, D., Noussair, C., Tucker, S., & Villeval, M.-C. (2003). Monetary and nonmonetary punishment in the voluntary contributions mechanism. American Economic Review, 93(1), 366–380.

McAdams, R. H. (1997). The origin, development, and regulation of norms. Michigan Law Review, 96, 338–433.

Milgram, S. (1963). Behavioral study of obedience. Journal of Abnormal Social Psychology, 67, 371–378.

Nelissen, R. M. A., & Mulder, L. B. (2013). What makes a sanction stick? The effects of financial and social sanctions on norm compliance. Social Influence, 8(1), 70–80.

Nikiforakis, N. (2008). Punishment and counter-punishment in public good games: Can we really govern ourselves? Journal of Public Economics, 92, 91–112.

Ostrom, E., Walker, J., & Gardner, R. (1992). Covenants with and without a sword: Self-governance is possible. American Political Science Review, 86(2), 404–417.

Peden, J. R. (1977). Property rights in Celtic Irish law. Journal of Libertarian Studies, 1(2), 81–95.

Peysakhovich, A., & Rand, D. G. (2015). Habits of virtue: Creating norms of cooperation and defection in the laboratory. Management Science,. doi:10.1287/mnsc.2015.2168.

Posner, R. A., & Rasmusen, E. (1999). Creating and enforcing norms, with special reference to sanctions. International Review of Law and Economics, 19, 369–382.

Romaniuc, R. (2016). What makes law to change behavior? An experimental study. Review of Law and Economics, forthcoming.

Sened, I. (1997). The political institution of private property. Cambridge: Cambridge University Press.

Sobel, R. S., & Osoba, B. J. (2009). Youth gangs as pseudo-governments: Implications for violent crime. Southern Economic Journal, 75(4), 996–1018.

Solvasson, B. (1993). Institutional evolution in the Icelandic Commonwealth. Constitutional Political Economy, 4, 97–125.

Stagnaro, M. N., Arechar, A. A. & Rand, D. G. (2016). From good intentions to good norms: Top-down incentives to cooperate foster prosociality but not norm enforcement. Mimeo.

Stringham, E. P. (Ed.). (2005). Anarchy, state, and public choice. Cheltenham: Edward Elgar.

Stringham, E. P. (2015). Private governance: Creating order in economic and social life. Oxford: Oxford University Press.

Stringham, E. P., & Powel, B. (2009). Public choice and the economic analysis of anarchy: A survey. Public Choice, 140, 503–538.

Subhasish, D. (2013). Non-monetary incentives and opportunistic behavior: Evidence from a laboratory public good game. Economic Inquiry, 51(2), 1374–1388.

Sugden, R. (1986). The economics of rights, cooperation, and welfare. Oxford: Basil Blackwell.

Sunstein, C. (1996). On the expressive function of law. University of Pennsylvania Law Review, 144, 2021–2053.

Williamson, C. (2009). Informal institutions rule: Institutional arrangements and economic performance. Public Choice, 139(3), 371–387.

Xiao, E., & Houser, D. (2011). Punish in public. Journal of Public Economics, 95(7–8), 1006–1017.

Zizzo, D. J. (2010). Experimenter demand effects in economic experiments. Experimental Economics, 13(1), 75–98.
Acknowledgments
We thank Christoph Engel, Yuval Feldman, Remi Gaultier, Sven Hoeppner, David Masclet, David Rand and Jeroen van de Ven for their helpful comments at various stages of this work. This paper also benefited from comments by the associate editor Peter T. Leeson, two anonymous referees, and participants at the ETH Workshop on Social Norms and Institutions, the Montpellier Experimental Economics Workshop, the 2015 French Association for Experimental Economics meeting (PSE), and the MetaLawEcon Workshop at the Amsterdam Center for Law and Economics. We thank Dimitri Dubois for programming the experiment. We are grateful to the French Agency for the Energy and Environmental Management (ADEME) for its financial support.
Electronic supplementary material
Below is the link to the electronic supplementary material.
About this article
Cite this article
Romaniuc, R., Farrow, K., Ibanez, L. et al. The perils of government enforcement. Public Choice 166, 161–182 (2016). https://doi.org/10.1007/s11127-016-0319-6
Received:

Accepted:

Published:

Issue Date:
Keywords
Self-governance

Private enforcement

Peer control

Government enforcement

Public goods
JEL Classification