Abstract
We estimate the effect of corruption on business activity in Brazilian municipalities. We employ a new measure of corruption based on data from random audits of municipal governments. Our results suggest that higher levels of corruption are generally associated with reductions in the number of business establishments. Furthermore, we find that these effects become larger over time, suggesting that corruption is particularly detrimental over the long-run. However, we also find that the effect of corruption on business activity can be insignificant or even positive conditional on institutional quality being very poor. This is consistent with the "grease the wheels" hypothesis, which argues that corruption provides entrepreneurs with means to avoid burdensome regulations and taxes.
Access options
Buy single article
Instant access to the full article PDF.
USD 39.95
Price excludes VAT (USA)
Tax calculation will be finalised during checkout.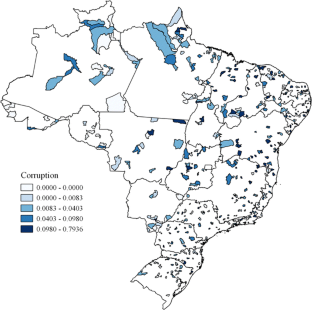 Notes
Dreher and Gassebner (2013) argue that the lack of empirical support for the "grease the wheels" hypothesis is not surprising because corruption can impact income growth through many channels.

The focus of this paper is on productive entrepreneurial activity, namely entrepreneurial activities that are conducive to economic growth.

Though not reported, we find that corruption discourages business activity in 12 out of the 17 sectors considered in this paper. The five unaffected sectors are public administration, utilities, agriculture, fishing, and other services.

The OECD report actually lists the transportation and communication industries separately; however, we combine them in one group because that is how they are categorized in Brazil.

The idea of corruption resulting from the receipt of federal funds is not new. Leeson and Sobel (2008) find that US states that receive more Federal Emergency Management Agency (FEMA) funds are more likely to be corrupt.

Bologna (2014b) also uses these audit data to examine the effect of corruption on GDP and income.

We keep our unit of observation at the sector level, rather than combining all establishments into a single measure, as some sectors may be more sensitive to corruption than others.

We have defined other cutoffs as our measure of small business activity, and our findings are robust. Results using these alternative cutoffs are in Table A2 of the online Appendix.

Ideally, one would be able to separate out firm births and deaths. However, given data availability this is not possible for our analysis.

As in Dreher and Gassebner (2013), we note that when interpreting these results, one must proceed with caution because, while corruption may allow entrepreneurs to evade inefficient regulations, corruption may also increase these regulations in the long-run. Separating these mechanisms is impossible given the data available.

The case where δ 1 < 0 and δ 2 < 0, does not necessarily go against the "grease the wheels" hypothesis, but suggests that corruption is more harmful in areas with high quality institutions.

Summary statistics on the average number of establishments in each sector are presented in Table A1 of the online Appendix.

Dreher and Schneider (2010) note that the relationship between corruption and the informal sector likely depends on a country's income level. For low-income countries, the relationship usually is complementary, whereas it usually is substitutable in high-income countries. Since Dreher and Schneider (2010) would consider Brazil to be low-income during our sample period, we hypothesize that the relationship there is complementary. When we estimate the effect of corruption and institutional quality on the size of the informal sector, we find that neither have a real effect on the informal sector in Brazil. The amount of tax revenue the government receives per formal employee is the driving factor of the size of the informal economy. These results are shown in Table A3 of the online Appendix.

Unfortunately, GDP is available only until 2010. Therefore, for all years beyond 2010, GDP per capita in 2010 is used as a proxy.

Extractive industries include oil, gas, and mining. These industries focus on the removal of minerals from the ground, not the distribution of these resources.

The results from these regressions are provided in online Appendix Tables A4 and A5. In only three of the remaining 15 sectors included in our dataset, we find no statistically significant deterrent effect of corruption. These are the agriculture, fishing, and other services industries.

Coefficient estimates for the marginal effects that we present in this section are reported in Table A6 and Table A7 of the online Appendix.

Note that it is possible that the offsetting relationships between the direct effect and interaction are due to non-linearity of the interaction. Exploring this relationship is beyond the scope of the present analysis.
References
Aidt, T. (2009). Corruption, institutions, and economic development. Oxford Review of Economic Policy, 25, 271–291.

Antunes, A. R., & Cavalcanti, T. V. V. (2007). Start-up costs, enforcement, and the hidden economy. European Economic Review, 51(1), 203–224.

Avnimelech, G., Zelekha, Y., Sarabi, E. (2011). The effect of corruption on entrepreneurship. Mimeo.

Baumol, W. J. (1990). Entrepreneurship: Productive, unproductive, and destructive. Journal of Political Economy, 98(5), 893–921.

Bjørnskov, C. (2011). Combating Corruption: On the interplay between institutional quality and social trust. Journal of Law and Economics, 54(1), 135–159.

Bjørnskov, C., & Foss, N. (2008). Economic freedom and entrepreneurial activity: Some cross-country evidence. Public Choice, 134(3), 307–328.

Bologna, J. (2014a). Corruption: The good, the bad, and the uncertain. Mimeo,. doi:10.1155/2013/398021.

Bologna, J. (2014b). The effect of information employment and corruption on income levels in Brazil. Mimeo,. doi:10.1155/2013/398021.

Bologna, J. (2015). Executive influence over federal corruption convictions: are conviction rates a biased measure of US state-level corruption? Mimeo.

Boudreaux, C. (2014). Jumping off the Great Gatsby curve: how institutions facilitate entrepreneurship and intergenerational mobility. Journal of Institutional Economics, 10(2), 231–256.

Campos, N. F., Estrin, S., Proto, E. (2010). Corruption as a barrier to entry: theory and evidence. CEPR Discussion Paper No. DP8061.

da Silva, M. F. (1999). The political economy of corruption in Brazil. Revista de Administração de Empresas, 39(3), 26–41.

Desai, M., Gompers, P., Lerner, J. (2003). Institutions, capital constraints and entrepreneurial firm dynamics: evidence from Europe. NBER Working Paper No. 10165.

Donchev, D., & Ujhelyi, G. (2014). What do corruption indices measure? Economics and Politics, 26(2), 309–331.

Dreher, A., & Gassebner, M. (2013). Greasing the wheels? The impact of regulations and corruption on firm entry. Public Choice, 155(3–4), 413–432.

Dreher, A., Kotsogiannis, C., & McCorriston, S. (2009). How do institutions affect corruption and the shadow economy? International Tax and Public Finance, 16, 773–796.

Dreher, A., & Schneider, F. (2010). Corruption and the shadow economy: an empirical analysis. Public Choice, 144(1–2), 215–238.

Farzana, C., Terjesen, S., & Audretsch, D. (2015). Varieties of entrepreneurship: Institutional drivers across entrepreneurial activity and country. European Journal of Law and Economics, 40(1), 121–148.

Ferraz, C., & Finan, F. (2008). Exposing corrupt politicians: the effects of Brazil's publicly released audits on electoral outcomes. The Quarterly Journal of Economics, 123(2), 703–745.

Ferraz, C., & Finan, F. (2011). Electoral accountability and corruption: evidence from the audits of local governments. American Economic Review, 101(4), 1274–1311.

Geddes, B., & Neto, A. R. (1992). Institutional sources of corruption in Brazil. Third World Quarterly, 13(4), 641–661.

Gwartney, J., Lawson, R. A., & Hall, J. C. (2014). Economic freedom of the world: 2014 Annual report. Vancouver: Fraser Institute.

Heckelman, J. C., & Powell, B. (2010). Corruption and the institutional environment for growth. Comparative Economic Studies, 52(3), 351–378.

Heckelman, J. C., & Wilson, B. (2013). Institutions, lobbying, and economic performance. Economics and Politics, 25(3), 360–386.

Huntington, S. P. (1968). Political order in changing societies. New York: Oxford University Press.

Kreft, S. F., & Sobel, R. S. (2005). Public policy, entrepreneurship, and economic freedom. Cato Journal, 25(3), 595–616.

Leeson, P. T., & Sobel, R. S. (2008). Weather corruption. Journal of Law and Economics, 51(4), 667–681.

Leff, N. H. (1964). Economic development through bureaucratic corruption. The American Behavioral Scientist, 8(3), 8–14.

Méon, P., & Sekkat, K. (2005). Does corruption grease or sand the wheels of growth? Public Choice, 122, 69–97.

Naritomi, J., Soares, R. R., & Assunção, J. J. (2012). Institutional development and colonial heritage within Brazil. The Journal of Economic History, 72(2), 393–422.

Nyström, K. (2008). The institutions of economic freedom and entrepreneurship: evidence from panel data. Public Choice, 136(3–4), 269–282.

Olken, B. A., & Pande, R. (2012). Corruption in developing countries. Annual Review of Economics, 4(1), 479–509.

Organization for Economic Cooperation and Development. (2014). OECD foreign bribery report: Analysis of the crime of Bribery of foreign public officials. Paris: OECD Publishing.

Ovaska, T., & Sobel, R. S. (2005). Entrepreneurship in post-socialist economies. Journal of Private Enterprise, 21(1), 8–28.

Power, T., & Taylor, M. M. (2011). Introduction: Accountability institutions and political corruption in Brazil. In T. Power & M. M. Taylor (Eds.), Corruption and democracy in Brazil: The struggle for accountability (pp. 1–30). Notre Dame: University of Notre Dame Press.

Resende, G. M. (2013). Spatial dimensions of economic growth in Brazil. ISRN Economics,. doi:10.1155/2013/398021.

Rosenthal, S. S., & Ross, A. (2010). Violent crime, entrepreneurship, and cities. Journal of Urban Economics, 67(1), 135–149.

Sanandaji, T., & Leeson, P. T. (2013). Billionaires. Industrial and Corporate Change, 22(1), 313–337.

Schneider, F., Buehn, A. (2012). Shadow economics in highly developed OECD countries: What are the driving forces? IZA Working Paper No. 6891.

Sheehan, K. M., & Young, A. T. (2015). It's a small world after all: Internet access and institutional quality. Contemporary Economic Policy, 33(4), 649–667.

Sobel, R. S. (2008). Testing Baumol: Institutional quality and the productivity of entrepreneurship. Journal of Business Venturing, 23(6), 641–655.

Sobel, R. S., Clark, J. R., & Lee, D. R. (2007). Freedom, barriers to entry, entrepreneurship, and economic progress. The Review of Austrian Economics, 20(4), 221–236.

Stansel, D., Torra, J., & McMahon, F. (2014). Economic freedom of North America 2014. Vancouver: Fraser Institute.

Svensson, J. (2005). Eight questions about corruption. Journal of Economic Perspectives, 19(3), 19–42.

Wiseman, T., & Young, A. T. (2013). Economic freedom, entrepreneurship, & income levels: some US state-level empirics. American Journal of Entrepreneurship, 6(1), 100–119.
Electronic supplementary material
Below is the link to the electronic supplementary material.
About this article
Cite this article
Bologna, J., Ross, A. Corruption and entrepreneurship: evidence from Brazilian municipalities. Public Choice 165, 59–77 (2015). https://doi.org/10.1007/s11127-015-0292-5
Received:

Accepted:

Published:

Issue Date:

DOI: https://doi.org/10.1007/s11127-015-0292-5
Keywords
Entrepreneurship

Corruption

Institutions
JEL Classification