Abstract
The competition for global capital has led to interjurisdictional competition between countries, states and cities as to who can offer the most attractive incentives to firms. In this study, we examine the domestic politics of this competition by focusing on incentive use in the United States from 1999 to 2012. We define incentives as the targeted tax deductions or exemptions that are used to lure businesses into a locality. Drawing on data from municipal incentive programs, we examine how electoral competition shapes the use and oversight of targeted incentives. We find evidence that cities with elected mayors provide larger incentives than non-elected city managers by taking advantage of exogeneity in the assignment of city government institutions and a database of over 2000 investment incentives from 2010 to 2012. We also find that elected mayors enjoy more lax oversight of incentive projects than their appointed counterparts. Our results have important implications for the study of interjurisdictional competition and the role of electoral institutions in shaping economic policy.
This is a preview of subscription content, log in to check access.
Access options
Buy single article
Instant access to the full article PDF.
US$ 39.95
Price includes VAT for USA
Subscribe to journal
Immediate online access to all issues from 2019. Subscription will auto renew annually.
US$ 199
This is the net price. Taxes to be calculated in checkout.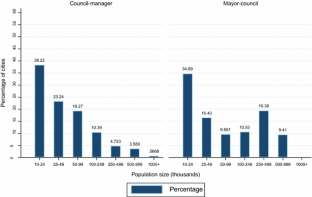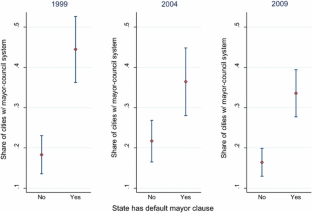 Notes
1.

In the ICMA data, we observe a 75 % share of council-manager systems.

2.

Many council-manager systems also have directly elected mayors, although they have considerably less power than mayors in mayor-council systems. To distinguish, we occasionally refer to directly elected mayors in a mayor-council system as "strong" mayors.

3.

4.

We build on a larger literature in political science on the role of appointed versus elected politicians. For example, Huber and Gordon (2004) explore elected versus appointed judges, and Tavits (2009) examines the relationship between directly elected executives (presidents) versus appointed executives (prime ministers).

5.

6.

A 2012 Gallup poll, for instance, asked respondents an opened-ended question, "In your view, what is the most important thing that can be done to improve the economy." The first choice was create more jobs (named by 28 %), but the second choice was "Decrease taxes/improve tax breaks," listed by 11 % of the sample (13 % Republican/10 % Democrat) (Newport 2012). Even more tellingly, in 2011 Gallup asked respondents what Obama could do to create jobs; 85 % favored "Providing tax cuts for small businesses, including incentives to hire workers," and 73 % favored "Giving tax breaks to companies to hire people who have been unemployed for six months" (Newport 2011). On the question of attracting investment, 70 % of US respondents believed that tax incentives were a very important determinant of firm location choice (Ansolabehere 2010).

7.

8.

9.

10.

Rauch (1995) shows that these forms of government do have an impact on economic growth and infrastructure investment.

11.

ICMA  data is copyrighted and its use is by permission.

12.

In some cases, it was difficult to separate whether the incentive was provided by the municipality directly or was provided by the state government after consultation with the municipality. We treat these two situations as equivalent in the empirical analysis. Fortunately, including state incentives biases against the possibility of identifying differences between mayors and managers.

13.

However, the results are substantively similar if we control for population in a standard regression specification or drop very small municipalities.

14.

We replicate all results using ordinary least squares in Table A5 of the Online Appendix and include a number of additional robustness tests.

15.

The coefficient sizes remain similar when the models are run separately by survey year, but they are estimated less efficiently because of the reduced statistical power.

16.

Nelson (2011) creates an index of institutions that shape municipal government. We focus on this single instrument as outlined in Online Appendix 2. We thank her for sharing these data.

17.

See Online Appendix Table A4 for entropy balancing descriptive statistics for these variables.

18.

In Online Appendix Table A2, note that states with and without default clauses already differ very little on a range of reasonable covariates, including demographics, wealth, economic structure, government spending and political leanings.

19.

However, we find no evidence of this in our empirical analysis.

20.

Given the lack of comprehensive, historical municipal election data, we coded all municipalities with elections in 2014 as also having expected elections in 2012. Although this coding could introduce some measurement error, it is unlikely to bias our results.

21.

See Model 7, Table A5 in Online Appendix.
References
Ansolabehere, S. (2010). CCES, MIT PORTL module, 2005. Cambridge, MA: Harvard Dataverse, V2. Retrieved July 17, 2015, from http://hdl.handle.net/1902.1/14620.

Barrell, R., & Pain, N. (1999). Domestic institutions, agglomerations and foreign direct investment in Europe. European Economic Review, 43(4–6), 925–934.

Blomstrom, M., & Kokko, A. (2003). The economics of foreign direct investment incentives. CEPR Discussion Paper No. 3775.

Bobonis, G. J., & Shatz, H. J. (2007). Agglomeration, adjustment, and state policies in the location of foreign direct investment in the United States. The Review of Economics and Statistics, 89(1), 30–43.

Bronzini, R., & de Blasio, G. (2006). Evaluating the impact of investment incentives: The case of Italy's Law 488/1992. Journal of Urban Economics, 60(2), 327–349.

Buettner, T., & Ruf, M. (2007). Tax incentives and the location of FDI: Evidence from a panel of German multinationals. International Tax and Public Finance, 14(2), 151–164.

Byrnes, N., & Cowan, C. (2007). The high cost of wooing Google (July 22, 2007). New York, NY: Bloomberg Business, Magazine. Retrieved July 16, 2015, from http://www.bloomberg.com/bw/stories/2007-07-22/the-high-cost-of-wooing-google.

Calcagno, P., & Hefner, F. (2009). South Carolina's tax incentives: Costly, inefficient and distortionary. In P. Calcagno (Ed.), Unleashing capitalism: A prescription for economic prosperity in South Carolina (pp. 131–147). Columbia: South Carolina Policy Council Education Foundation.

Canes-Wrone, B., Herron, M. C., & Shotts, K. W. (2001). Leadership and pandering: A theory of executive policymaking. American Journal of Political Science, 45(3), 532–550.

Caplan, B. (2007). The Myth of the Rational Voter. Princeton: Princeton University Press.

Chapman, A. (2001). Jobs carry high price tag (August 5, 2001), Atlanta, GA: The Atlanta Journal Constitution, Section A1.

Clingermayer, J. C., & Feiock, R. C. (2001). Institutional constraints and policy choice: An exploration of local government. Albany: State University of New York Press.

Collier, K. (2013). Abbot expands on his view of Perry's incentive program (July 13, 2013), Houston, TX: Houston Chronicle. Retrieved January 6, 2014, from http://blog.chron.com/texaspolitics/2013/07/abbott-expands-on-his-view-of-perrys-incentive-programs/.

Deno, K., & Mehay, S. L. (1987). Municipal management structure and fiscal performance: Do city managers make a difference? Southern Economic Journal, 53(3), 627–642.

Easson, A. (2004). Tax incentives for foreign direct investment. The Hague: Kluwer Law International.

Enikolopov, R. (2014). Politicians, bureaucrats and targeted redistribution: the role of career concerns. SSRN Working Paper No. 945274. Retrieved July 17, 2015, from http://ssrn.com/abstract=945274.

Feiock, R. C., Jeong, M. G., & Kim, J. (2003). Credible commitment and council-manager government: Implications for policy instrument choices. Public Administration Review, 63(5), 616–625.

Feiock, R. C., Steinacker, A., & Park, H. J. (2009). Institutional collective action and economic development joint ventures. Public Administration Review, 69(2), 256–270.

Fox, W. F., & Murray, M. N. (2004). Do economic effects justify the use of fiscal incentives? Southern Economic Journal, 71(1), 78–92.

Frazier, E., & Henderson, B. (2013). Google announces $600 M Lenoir data center expansion (April 19, 2013), Charlotte, NC: Charlotte Observer. Retrieved July 16, 2015, from http://insurancenewsnet.com/oarticle/2013/04/22/Google-announces-600M-Lenoir-data-center-expansion-%5BThe-Charlotte-Observer%5D-a-379063.html.

Frederickson, H. G., Johnson, G. A., & Wood, C. H. (2004). The adapted city: Institutional dynamics and structural change. Armonk: ME Sharpe.

Gabe, T. M., & Kraybill, D. S. (2002). The effect of state economic development incentives on employment growth of establishments. Journal of Regional Science, 42(4), 703–730.

Glaeser, E. L. (2001). The economics of location-based tax incentives. Harvard Institute of Economic Research Discussion Paper No. 1932.

Glass, I. (2011). How to create a job: Transcript (May 13, 2011), Chicago, IL: This American Life, Episode 453. Retrieved January 6, 2014, from http://www.thisamericanlife.org/radio-archives/episode/435/transcript.

Greenstone, M., & Moretti, E. (2003). Bidding for industrial plants: Does winning a 'million dollar plant' increase welfare? NBER Working Paper No. 9844.

Hagan, K. (2015). Commentary: Keep Hillsborough and Florida in film game by continuing tax credit program (May 31, 2015), Tampa, FL: The Tampa Tribune. Retrieved July 16, 2015, from http://tbo.com/list/news-opinion-commentary/ken-hagan-keep-hillsborough-and-florida-in-film-game-by-continuing-tax-credit-program-20150531/.

Hainmueller, J. (2012). Entropy balancing for causal effects: A multivariate reweighting method to produce balanced samples in observational studies. Political Analysis, 20(1), 25–46.

Harrington, J. E, Jr. (1993). Economic policy, economic performance, and elections. The American Economic Review, 83(1), 27–42.

Head, K., Ries, J., & Swenson, D. (1995). Agglomeration benefits and location choice: Evidence from Japanese manufacturing investments in the United States. Journal of International Economics, 38(3–4), 223–247.

Head, K. C., Ries, J. C., & Swenson, D. L. (1999). Attracting foreign manufacturing: Investment promotion and agglomeration. Regional Science and Urban Economics, 29(2), 197–218.

Hicks, M. J., & Shughart, W. F, I. I. (2007). Quit playing favorites: Why business subsidies hurt the economy. In R. S. Sobel, J. C. Hall, & M. E. Ryan (Eds.), Unleashing capitalism: Why prosperity ends at the West Virginia border. Morgantown: Public Policy Foundation of West Virginia.

Huber, G. A., & Gordon, S. C. (2004). Accountability and coercion: Is justice blind when it runs for office? American Political Science Review, 48(2), 247–263.

icaincentives.com. (2013). The Only Global Incentives Database. Belfast: Investment Consulting Associates. Retrieved June 22, 2013, from http://www.icaincentives.com/.

ICMA/NLC. (1999, 2004, 2009). Economic Development Datasets. Washington, DC: International City/County Management Association/National League of Cities. Retrieved June 22, 2013, from http://bookstore.icma.org/Data_Sets_C42.cfm.

Jensen, N. M., Malesky, E., Medina, M., & Ozdemir, U. (2014). Pass the bucks: Investment incentives as political credit-claiming devices. International Studies Quarterly, 58(3), 433–447.

Jolley, G. J., Lancaster, M. F., & Gao, J. (2015). Tax incentives and business climate: executive perceptions from incented and nonincented firms. Economic Development Quarterly, 29(2), 180–186.

Judd, D. R., & Swanstrom, T. (2010). City politics: The political economy of urban America. New York: Longman.

Keen, M., & Mansour, M. (2010). Revenue mobilization in Sub-Saharan Africa: Challenges from globalisation II—corporate taxation. Development Policy Review, 28(5), 573–596.

Knoke, D. (1982). The spread of municipal reform: Temporal, spatial, and social dynamics. American Journal of Sociology, 87(6), 1314–1339.

Langfitt, F. (2009). Laid-off furniture workers try to leap to Google (December 16, 2009), National Public Radio, NPR.org. Retrieved July 17, 2015, from http://www.npr.org/templates/story/story.php?storyId=121516133.

Lobao, L., & Kraybill, D. S. (2005). The emerging roles of county governments in metropolitan and nonmetropolitan areas: Findings from a national survey. Economic Development Quarterly, 19(3), 245–259.

Maskin, E., & Tirole, J. (2004). The politician and the judge: Accountability in government. The American Economic Review, 94(4), 1034–1054.

Mason, S., & Thomas, K. P. (2010). Tax incremental financing in Missouri: An analysis of determinants, equity, and path dependency. Economic Development Quarterly, 24(2), 169–179.

Miller, G. J. (2011). Government budgeting and financial management in practice. Boca Raton: CRC Press.

Montjoy, R. S., & Watson, D. J. (1993). Within-region variation in acceptance of council-manager government: Alabama and the Southeast. State and Local Government Review, 25(1), 19–27.

Morisset, J., & Pirnia, N. (1999). How tax policy and incentives affect foreign direct investment. World Bank Policy Research Working Paper No. 2509.

Mrozek, P. (2013). Speaker critical of tax incentive packages for retail projects (May 31, 2013), Batavia, NY: The Daily News. Retrieved January 6, 2014, from http://thedailynewsonline.com/news/article_f0626b54-c9a8-11e2-a7c7-001a4bcf887a.html.

Nelson, K. (2011). State-level autonomy and municipal government structure: Influence on form of government outcomes. American Review of Public Administration, 41(5), 542–561.

Newport, F. (2011). Americans favor jobs plan proposals, including taxing rich (September 20, 2011), Gallup Politics. Retrieved January 6, 2014, from http://www.gallup.com/poll/155768/americans-focus-jobs-best-improve-economy.aspx.

Newport, F. (2012). Americans focus on jobs as best way to improve US economy (July 19, 2012), Gallup Politics. Retrieved January 6, 2014, from http://www.gallup.com/poll/149567/americans-favor-jobs-plan-proposals-including-taxing-rich.aspx.

Persson, T., Roland, G., & Tabellini, G. (1997). Separation of powers and political accountability. Quarterly Journal of Economics, 112(4), 1163–1202.

Peters, A., & Fisher, P. (2004). The failures of economic development incentives. Journal of the American Planning Association, 70(1), 27–37.

Pluta, R. (2013). Governor hopes to rely less on state incentives for future jobs (January 24, 2013), Ann Arbor, MI: Michigan Radio. Retrieved January 6, 2014, from http://michiganradio.org/post/governor-hopes-rely-less-state-incentives-future-jobs.

Rauch, J. (1995). Bureaucracy, infrastructure, and economic growth: Evidence from US cities during the Progressive Era. American Economic Review, 85(4), 968–979.

Reese, L. A., & Rosenfeld, R. A. (2001). Yes, but…: Questioning the conventional wisdom about economic development. Economic Development Quarterly, 15(4), 299–312.

Rice, B. R. (1977). Progressive cities: The commission movement in America, 1901–1920. Austin: University of Texas Press.

Richard Caplan & Associates. (2009). Analysis of state level economic development contingency funds. Topeka: Kansas Inc.

Schiesl, M. J. (1977). The politics of efficiency: Municipal administration and reform in America: 1880–1920. Berkeley: University of California Press.

Schumacher-Matos, E. (2011). Planet Money misfires on local economic developers (June 22, 2011), National Public Radio, Ombudsman. Retrieved January 6, 2014, from http://www.npr.org/blogs/ombudsman/2011/06/23/137349286/planet-money-misfires-on-local-economic-developers.

Sentinel, O. (2009). We think: Incentives will allow state to become competitive in film game (January 2, 2009), Orlando, FL: Orlando Sentinel. Retrieved July 17, 2015, from http://www.orlandosentinel.com/opinion/orl-ed02109jan02-story.html.

Sharp, E. B., & Mullinix, K. (2012). Holding their feet to the fire: Explaining variation in city governments' use of controls on economic development. Economic Development Quarterly, 26(2), 138–150.

Talton, S. (2014). Seattle needs to get off the bench in the global-investment game (April 12, 2014), Seattle, WA: Seattle Times. Retrieved July 17, 2015, from http://www.seattletimes.com/business/seattle-needs-to-get-off-bench-in-global-investment-game/.

Tavits, M. (2009). Presidents with prime ministers: Do direct elections matter?. Oxford: Oxford University Press.

Thomas, K. P. (2007). Investment incentives: Growing use, uncertain benefits, uneven controls. Geneva: International Institute for Sustainable Development, Global Subsidies Initiative.

Thomas, K. P. (2011). Investment incentives and the global competition for capital. New York: Palgrave Macmillan.

Thomas, K., & Wishlade, F. (2009). Locational tournaments in the US and the EU. European Policy Research Centre Working Paper. Retrieved July 17, 2015, from http://www.euce.org/eusa2009/papers/thomas_10H.pdf.

Thornton, G. (2013). Global economy in 2013: uncertainty weighing on growth, London: Grant Thornton International Business Report. Retrieved July 16, 2015, from http://www.gtcayman.com/assets/global%20economy%20in%202013%20-%20final.pdf.

Tullock, G. (2005). The social dilemma: of autocracy, revolution, coup d'état, and war. In C. K. Rowley (Ed.), The economics of politics (Vol. 4). Indianapolis, IN: Liberty Fund Inc.

Utah Office of the Legislative Auditor General (2013). A performance audit of Utah Science Technology and Research Initiative. Report to the Utah Legislature No. 2013-12.

Vlaicu, R., & Whalley, A. (2014). Hierarchical accountability in government. SSRN Working Paper No. 1925005. Retrieved July 17, 2015, from http://dx.doi.org/10.2139/ssrn.1925005.

Weingast, B. R., & Moran, M. J. (1983). Bureaucratic discretion or congressional control? Regulatory policymaking by the Federal Trade Commission. Journal of Political Economy, 91(5), 765–800.

Wells, L. T., Allen, N. J., Morisset, J., & Pirnia, N. (2001). Using tax incentives to compete for foreign investment: Are they worth the costs?. Occasional Paper No: FIAS. 15.
Acknowledgments
Thanks to Benjamin Crisman, Lillian Frost, Mi Jeong Shin and Kathryn Sproule for excellent research assistance and to Brady Baybeck, Adam Bonica, Randy Calvert, Jim Clinger, Bill Lowry, Gary Miller and Jessica Trounstine for comments and suggestions. Thanks to Kimberly Nelson for sharing her data with us. The Weidenbaum Center and Center for New Institutional Social Sciences at Washington University in St. Louis provided financial support for this project.
Electronic supplementary material
Below is the link to the electronic supplementary material.
About this article
Cite this article
Jensen, N.M., Malesky, E.J. & Walsh, M. Competing for global capital or local voters? The politics of business location incentives. Public Choice 164, 331–356 (2015). https://doi.org/10.1007/s11127-015-0281-8
Received:

Accepted:

Published:

Issue Date:
Keywords
Incentives

Economic development

Pandering

Local government