Abstract
This study employs information obtained from media content analyses, as well as economic and political data, to investigate negativity in unemployment news between 2001 and 2010 in Germany. The data indicate a substantial bias in terms of the amounts of negative and positive reports, compared with the actual development of unemployment. Moreover, the media tend to place negative unemployment reports more prominently than positive ones. The estimates suggest that the bias is not the consequence of journalists asymmetrically interpreting the official unemployment numbers. Instead, it is associated with the exploitation of often non-economic information and structural influences in the process of news production.
Access options
Buy single article
Instant access to the full article PDF.
US$ 39.95
Tax calculation will be finalised during checkout.
Subscribe to journal
Immediate online access to all issues from 2019. Subscription will auto renew annually.
US$ 119
Tax calculation will be finalised during checkout.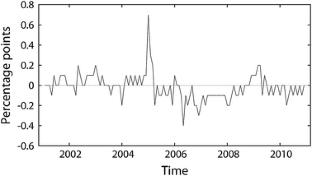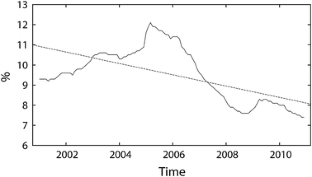 Notes
1.

Note that government unemployment statistics are merely estimates of the "true" unemployment rate insofar as they are based on statistical sampling techniques and usually are corrected or adjusted at least once after they are first made public.

2.

News media also can "go easy" on the government, for example when policies comport with the political preferences of journalists..

3.

The sample contains information about every article and television segment that provides economic news (e.g., reports about economic conditions, economic policy, industries, companies, or unions), excluding articles from the financial or stock section, press reviews, letters by readers, and notes from the publisher.

4.

5.

The model diagnostics support a statistical comparison of the estimates with and without seasonally adjusted data. In general, all specifications are satisfactory, as the link tests indicate. However, the Akaike and Bayesian information criteria and McFadden's R2 suggest that the specifications with seasonally unadjusted unemployment and industrial production data provide a better model fit than the specifications with adjusted data (this result holds when conducting the test comparing only the unemployment rate or industrial production). The seasonally unadjusted data generally exhibit greater variation and thus provide more information to explain the dependent variables. However, this result also might be an indication that the seasonally unadjusted numbers are more important for journalists, maybe because they appear to be more impressive and thus more newsworthy. In line with this finding, the presentation of results refers to the estimates with seasonally unadjusted data only.

6.

The model specification is satisfactory when using seasonally unadjusted data. The different R2 measures and information criteria consistently indicate that specifying the model with seasonally adjusted data would reduce the model's fit. Therefore, only the results based on the unadjusted data are presented.
References
Andina-Díaz, A. (2007). Reinforcement vs. change: The political influence of the media. Public Choice, 131(1/2), 65–81.

Baumeister, R. F., Bratslavsky, E., Finkenauer, C., & Vohs, K. D. (2001). Bad is stronger than good. Review of General Psychology, 5(4), 323–370.

Behr, R. L., & Iyengar, S. (1985). Television news, real-world cues, and changes in the public agenda. Public Opinion Quarterly, 49(1), 38–57.

Besley, T., & Prat, A. (2006). Handcuffs for the grabbing hand? Media capture and government accountability. American Economic Review, 96(3), 720–736.

Birz, G., & Lott, J. R., Jr. (2011). The effect of macroeconomic news on stock returns: New evidence from newspaper coverage. Journal of Banking & Finance, 35(11), 2791–2800.

Bovitz, G. L., Druckman, J. N., & Lupia, A. (2002). When can a news organization lead public opinion? Ideology versus market forces in decisions to make news. Public Choice, 113(1/2), 127–155.

Brosius, H.-B., & Weimann, G. (1995). Medien oder Bevölkerung: Wer bestimmt die Agenda? Rundfunk und Fernsehen, 43(3), 312–329.

Cacioppo, J. T., & Gardner, W. L. (1999). Emotion. Annual Review of Psychology, 50(1), 191–214.

Carroll, C. D. (2003). Macroeconomic expectations of households and professional forecasters. Quarterly Journal of Economics, 118(1), 269–298.

Corner, J. (1998). Television news and economic exposition. In N. T. Gavin (Ed.), The economy, media and public knowledge (pp. 53–70). London: Leicester University Press.

Curtin, R. T. (2003). Unemployment expectations: The impact of private information on income uncertainty. Review of Income and Wealth, 49(4), 539–554.

Die Landesmedienanstalten. (2007). Crossmediale Verflechtungen als Herausforderung für die Konzentrationskontrolle. Berlin: Vistas.

Dua, P., & Smyth, D. J. (1993). Survey evidence on excessive public pessimism about the future behavior of unemployment. Public Opinion Quarterly, 57(4), 566–574.

Easaw, J. (2010). It's all 'bad' news! Voters' perception of macroeconomic policy competence. Public Choice, 145(1–2), 253–264.

Garz, M. (2013). Unemployment expectations, excessive pessimism, and news coverage. Journal of Economic Psychology, 34(1), 156–168.

Gasper, J. T. (2009). Reporting for sale: The market for news coverage. Public Choice, 141(3/4), 493–508.

Gentzkow, M., & Shapiro, J. M. (2006). Media bias and reputation. Journal of Political Economy, 114(2), 280–316.

Gentzkow, M., & Shapiro, J. M. (2010). What drives media slant? Evidence from U.S. daily newspapers. Econometrica, 78(1), 35–71.

Goddard, P., Corner, J., Gavin, N. T., & Richardson, K. (1998). Economic news and the dynamics of understanding: The Liverpool project. In N. T. Gavin (Ed.), The economy, media and public knowledge (pp. 9–37). London: Leicester University Press.

Goidel, R. K., & Langley, R. E. (1995). Media coverage of the economy and aggregate economic evaluations: Uncovering evidence of indirect media effects. Political Research Quarterly, 48(2), 313–328.

Groseclose, T., & Milyo, J. (2005). A measure of media bias. Quarterly Journal of Economics, 120(4), 1191–1237.

Hagen, L. M. (2005). Konjunkturnachrichten, Konjunkturklima und Konjunktur. Cologne: Herbert von Halem.

Harrington, D. E. (1989). Economic news on television: The determinants of coverage. Public Opinion Quarterly, 53(1), 17–40.

Lott, J. R. Jr., & Hassett, K. A. (2013). Is newspaper coverage of economic events politically biased? Discussion paper, American Enterprise Institute, Washington, DC.

Hester, J. B., & Gibson, R. (2003). The economy and second-level agenda setting: A time-series analysis of economic news and public opinion about the economy. Journalism & Mass Communication Quarterly, 80(1), 73–90.

Hetherington, M. J. (1996). The media's role in forming voters' national economic evaluations in 1992. American Journal of Political Science, 40(2), 372–395.

Kahneman, D., Knetsch, J. L., & Thaler, R. H. (1991). The endowment effect, loss aversion, and status quo bias. Journal of Economic Perspectives, 5(1), 193–206.

Kahneman, D., & Tversky, A. (1979). Prospect theory: An analysis of decision under risk. Econometrica, 47(2), 263–292.

Kepplinger, H. M. (2000). Die Demontage der Politik in der Informationsgesellschaft. Freiburg: Alber.

Liao, T. F. (2004). Comparing social groups: Wald statistics for testing equality among multiple logit models. International Journal of Comparative Sociology, 45(1–2), 3–16.

MacKuen, M. B., Erikson, R. S., & Stimson, J. A. (1992). Peasants or bankers? The American electorate and the U.S. economy. American Political Science Review, 86(3), 597–611.

Manning, P. (2001). News and news sources: A critical introduction. London: Sage.

Mullainathan, S., & Shleifer, A. (2005). The market for news. American Economic Review, 95(4), 1031–1053.

Mutz, D. C. (1992). Mass media and the depoliticization of personal experience. American Journal of Political Science, 36(2), 483–508.

Nadeau, R., Niemi, R. G., Fan, D. P., & Amato, T. (1999). Elite economic forecasts, economic news, mass economic judgments, and presidential approval. Journal of Politics, 61(1), 109–135.

Neuman, W. R. (1990). The threshold of public attention. Public Opinion Quarterly, 54(2), 159–176.

Olson, M. (1965). The logic of collective action: Public goods and the theory of groups. Cambridge: Havard University Press.

Patterson, T. E., & Donsbach, W. (1996). News decisions: Journalists as partisan actors. Political Communication, 13(4), 455–468.

Rozin, P., & Royzman, E. B. (2001). Negativity bias, negativity dominance, and contagion. Personality and Social Psychology Review, 5(4), 296–320.

Schultz, J. (1998). Reviving the Fourth Estate: Democracy, accountability and the media. Cambridge: Cambridge University Press.

Soroka, S. N. (2006). Good news and bad news: Asymmetric responses to economic information. Journal of Politics, 68(2), 372–385.

Tortorice, D. L. (2012). Unemployment expectations and the business cycle. B.E. Journal of Macroeconomics, 12(1), 1–47.

Tversky, A., & Kahneman, D. (1991). Loss aversion in riskless choice: A reference-dependent model. Quarterly Journal of Economics, 106(4), 1039–1061.

Urban, C. D. (1999). Examining our credibility: Examining credibility, explaining ourselves. Reston: American Association of Newspaper Editors.

Williams, R. (2009). Using heterogeneous choice models to compare logit and probit coefficients across groups. Sociological Methods & Research, 37(4), 531–559.
About this article
Cite this article
Garz, M. Good news and bad news: evidence of media bias in unemployment reports. Public Choice 161, 499–515 (2014). https://doi.org/10.1007/s11127-014-0182-2
Received:

Accepted:

Published:

Issue Date:
Keywords
Unemployment

News media

Information transmission

Negativity
JEL Classification