Abstract
A common argument in the trust literature is that high-trust cultures allow efficient commercial contracts to be shorter, covering fewer contingencies. We take this idea to the topic of social contracts. Specifically, we ask whether social trust affects the length and detail of constitutions. Cross-country estimates suggest that national trust levels are indeed robustly and negatively associated with the length of countries' constitutions.
This is a preview of subscription content, log in to check access.
Access options
Buy single article
Instant access to the full article PDF.
US$ 39.95
Price includes VAT for USA
Subscribe to journal
Immediate online access to all issues from 2019. Subscription will auto renew annually.
US$ 199
This is the net price. Taxes to be calculated in checkout.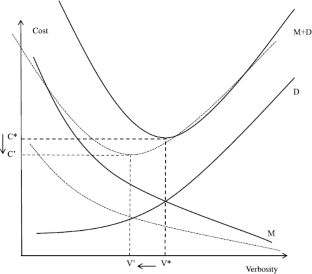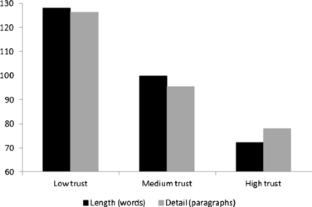 Notes
1.

We are definitely not the first to be interested in the lengths of constitutions. There is, e.g., a small literature asking whether U.S. states with a more independent judiciary are less likely to amend their constitutions—and, in all likelihood, increase their lenghts—because in those states the "cheaper" option of passing new legislation would be sufficiently credible to convince those who demand special-interest legislation of the likely endurance of the newly passed legislation. Crain and Tollison (1979), Anderson et al. (1989, 1990) are examples of this literature.

2.

Reksulak et al. (2004) inquire into the efficiency of language development from a more general point of view. They find that language as a spontaneous order does, indeed, display characteristics of a network good. In particular, they find that the number of additional words of the English language—as documented in the Oxford English Dictionary—is declining with increases in wealth and population.

3.

This is similar, but not identical to the insurance function of constitutions mentioned by Ginsburg (2002). There, politicians who cannot be sure to constitute the majority tomorrow agree on introducing encompassing judicial review to establish a non-majoritarian actor who, they hope, will interpret the constitution according to the intentions of the framers. There are a host of questions closely related to the attempt of current societies to try to bind future societies via constitutional detail. We merely mention some of them here without discussing them, however: what is the relationship between constitutional detail (measured in the length of a constitution) and the formal difficulty of amending it? Are very precisely worded constitutions less likely to be implemented in practice than more open ones? On what normative grounds can current societies ever aspire to constrain the ways future societies make choices and so on.

4.

Another area in which values and norms are extremely stable over very long periods of time has just been described by Alesina et al. (2013). They report a stable relationship between agricultural societies in which the plough traditionally played a dominant role and unequal gender norms today. Persistence holds even among immigrants into European countries and the United States although all of them were born and raised in the 'new' country.

5.

Our major source for this information is the Encyclopaedia Britannica (2013). However, in many cases, we employed Wikipedia as an alternative source of information. We note that the two sources virtually never disagree.

6.

In the full dataset, the observations for 110 countries are almost complete. Note that as Luxembourg is not covered in any databases of historical GDP data, the country drops out when adding GDP.

7.

In principle, constitutional length and detail are count data, and we would therefore want to use a Poison estimator or similar discrete data estimator. However, the data in practice form 110 categories and do not form clusters of values, but are distributed as a continuous variable. In such cases, OLS remains consistent and is more efficient than the count data alternatives.

8.

Among other instrumental variables used in previous versions are the severity of the winter climate (temperature average and variability), whether or not the predominant language allows dropping the personal pronoun, the level or salience of religious beliefs, and dummies for whether the predominant religion is Protestant, Catholic, Muslim or Eastern (Hindu or Buddhist). Combinations of these variables also yield good test statistics, as first stage F statistics are above 10 and no combinations exhibit significant Hansen J statistics.

9.

Note that we also tested for the potential influence of predominant religions. When entering regional controls in the specification, we find no significant evidence of religious differences (F=.58; p<.719). Similar non-results apply to a long list of variables, including ethnic, linguistic and religious diversity, geography (country size, latitude and island status) and whether or not countries are former colonies.

10.

As such, when Kurrild-Klitgaard (2001) finds that current levels of economic development are negatively associated with the lengths of constitutions, it therefore seems unlikely to be the result of wealth-based selection of constitutional features. Instead, the combination of a negative association between current wealth and constitutional garrulity and no association between garrulity and wealth levels when the constitution was written suggests either of two possibilities: (1) that shorter constitutions are somehow conducive to very long-run growth; or (2) that certain factors are common to long-run growth and the ability to write relatively short constitutions.

11.

The point estimates (standard errors) when the other two instruments are entered individually are: Flag ratings −101.978 (75.875) and the Nordic dummy 237.987 (4931.473). None of the variables are redundant as instruments, with test statistics of p<.01 (Nordic), p<.056 (monarchy) and p<.01 (flag ratings). Finally, as shown by Bjørnskov and Méon (in press), this particular set of instruments is likely to provide identification of trust across the sample, thus avoiding the problem of heterogeneous first-stage identification.

12.

In a working paper version, we provide simple evidence suggesting that constitutions that are overlong, by the arguments set out in Sect. 2, are indeed associated with better long-run economic consequences. To keep the argument succinct and the paper short, we do not present this evidence in the present paper.
References
Acemoglu, D., Johnson, S., & Robinson, J. A. (2001). The colonial origins of comparative development: an empirical investigation. The American Economic Review, 91, 1369–1401.

Aghion, P., Algan, Y., Cahuc, P., & Shleifer, A. (2010). Regulations and distrust. The Quarterly Journal of Economics, 25, 1015–1049.

Aidt, T. (2003). Economic analysis of corruption: a survey. The Economic Journal, 113, F632–F652.

Alesina, A., & Spolaore, E. (2003). The size of nations. Cambridge: MIT Press.

Alesina, A., Giuliano, P., & Nunn, N. (2013). On the origins of gender roles: women and the plough. The Quarterly Journal of Economics, 128(2), 469–530.

Anderson, G., Shugart, W. II., & Tollison, R. (1989). On the incentives of judges to enforce legislative wealth transfers. Journal of Law & Economics, 32, 215–228.

Anderson, G., Martin, D., Shugart, W. II., & Tollison, R. (1990). Behind the veil: the political economy of constitutional change. In W. Crain & R. Tollison (Eds.), Predicting politics—essays in empirical public choice (pp. 89–100). Ann Arbor: University of Michigan Press.

Berggren, N., & Bjørnskov, C. (2011). Is the importance of religion in daily life related to social trust? Cross-country and cross-state comparisons. Journal of Economic Behavior and Organization, 80, 459–480.

Bjørnskov, C. (2010). How does social trust lead to better governance? An attempt to separate electoral and bureaucratic mechanisms. Public Choice, 144, 323–346.

Bjørnskov, C., Svendsen, G. T. (2013). Does social trust determine the size of the welfare state? Evidence using historical identification. Public Choice, 157, 269–286.

Bjørnskov, C., & Méon, P.-G. Bjørnskov, C., Méon, P.-G. (in press). Is trust the missing root of institutions, education, and development? Forthcoming in Public Choice.

Boettke, P. J., Coyne, C. J., & Leeson, P. T. (2013). Comparative historical political economy. Journal of Institutional Economics, 9, 285–301.

Boix, C., & Posner, D. N. (1998). Social capital: explaining its origins and effects on government performance. British Journal of Political Science, 28, 686–695.

Brown, M., & Uslaner, E. M. (2005). Inequality, trust, and civic engagement. American Political Research, 31, 1–27.

Buchanan, J., & Tullock, G. (1962). The calculus of consent: logical foundations of constitutional democracy. Ann Arbor: Michigan University Press.

Cox, J. C., Ostrom, E., Walker, J. M., Castillo, A. J., Coleman, E., Holahan, R., Schoon, M., & Steed, B. (2009). Trust in private and common property experiments. Southern Economic Journal, 75, 957–975.

Crain, W. M., & Tollison, R. (1979). Constitutional change in an interest-group perspective. Journal of Legal Studies, 8, 165–175.

Dinesen, P. T. (2012a). Does generalized (dis)trust travel? Examining the impact of cultural heritage and destination country environment on trust of immigrants. Political Psychology, 33, 495–511.

Dinesen, P. T. (2012b). Parental transmission of trust or perceptions of institutional fairness: generalized trust of non-western immigrants in a high-trust society. Comparative Politics, 44, 273–289.

Dohmen, T., Falk, A., Huffman, D., & Sunde, U. (2006). The intergenerational transmission of risk and trust attitudes. IZA working paper 2380, Bonn, Institute for the Study of Labor.

Dunning, T. (2008). Model specification in instrumental variables regression. Political Analysis, 16, 290–302.

Durante, R. (2011). Risk, cooperation and the economic origins of social trust: an empirical investigation. Mimeo, Paris: Science-Po.

Encyclopaedia Britannica (2013). Encyclopaedia Britannica. Online encyclopaedia, available at http://www.britannica.com/ (Accessed May 2013); Merriam-Webster: London.

Felton, E. (2001). Finders keepers? Reader's Digest (pp. 103–107).

Ginsburg, T. (2002). Economic analysis and the design of constitutional courts. Theoretical Inquiries in Law, 3, 49–85.

Ginsburg, T., Elkins, Z., & Melton, J. (2009). The endurance of national constitutions. Cambridge: Cambridge University Press.

Glaeser, E., & Shleifer, A. (2002). Legal origins. The Quarterly Journal of Economics, 117, 1193–1229.

Guiso, L., Sapienza, P., & Zingales, L. (2008). Long term persistence. NBER Working Paper 14278.

Johnson, N. D., & Mislin, A. (2012). How much should we trust the world values survey trust question? Economics Letters, 116, 210–212.

Katz, H. A., & Rotter, J. B. (1969). Interpersonal trust scores of college students and their parents. Child Development, 40, 657–661.

Knack, S. (2002). Social capital and the quality of government: evidence from the states. American Journal of Political Science, 46, 772–785.

Knack, S., & Keefer, P. (1997). Does social capital have an economic pay-off? A cross-country investigation. The Quarterly Journal of Economics, 112, 1251–1288.

Kong, D. T. (2013). Examining a climatoeconomic contexualization of generalized social trust mediated by uncertainty avoidance. Journal of Cross-Cultural Psychology, 44, 574–588.

Kurrild-Klitgaard, P. (2001). Velstandens grundlov: magtdeling, rettigheder og gevinstsøgning. Politica, 33(1), 41–65.

La Porta, R., Lopez-de-Silanes, F., Shleifer, A., & Vishny, R. (1997). Trust in large organizations. The American Economic Review, 87(2), 333–338.

LAPOP (2013). Latin American Public Opinion Project. Homepage and data. Available at http://www.vanderbilt.edu/lapop/.

Leff, N. (1964). Economic development through bureaucratic corruption. American Behavioral Scientist, 8, 8–14.

Maddison, A. (2008). Statistics on World Population, GDP and Per Capita GDP, 1–2008. AD. Online database, available at http://www.ggdc.net/MADDISON/oriindex.htm.

Marshall, M. G., & Jaggers, K. (2010). Polity IV project: political regime characteristics and transitions, 1800–2008: dataset users' manual. Maryland: University of Maryland.

Montenegro, A. (1995). Constitutional design and economic performance. Constitutional Political Economy, 6, 161–195.

Nunn, N. (2012). Culture and the historical process. Economic History of Developing Regions, 27, 108–126.

Nunn, N., & Wantchekon, L. (2011). The trans-Atlantic slave trade and the evolution of mistrust in Africa: an empirical investigation. The American Economic Review, 101, 3221–3252.

Olson, M. (1982). The rise and decline of nations. New Haven: Yale University Press.

Parsons, J. (2013). The world's flags given letter grades. Accessed May 2013 at. http://www.otago.ac.nz/philosophy/Staff/JoshParsons/flags/.

Pinotti, P. (2012). Trust, regulation and market failures. Review of Economics and Statistics, 94, 650–658.

Putnam, R. (1993). Making democracy work. Princeton: Princeton University Press.

Reksulak, M., Shugart, W. II., & Tollison, R. (2004). Economics and English: language growth in economic perspective. Southern Economic Journal, 71, 232–259.

Robbins, B. G. (2012). Institutional quality and generalized trust: a nonrecursive causal model. Social Indicators Research, 107, 235–258.

Rothstein, B., Uslaner, E.M. (2005). All for all: equality, corruption, and social trust. World Politics, 58, 41–72.

Sapienza, P., Toldra, A., & Zingales, L. (2007). Understanding trust. NBER Working Paper no. 13387.

Uslaner, E. M. (2002). The moral foundations of trust. Cambridge: Cambridge University Press.

Uslaner, E. M. (2008). Where you stand depends on where your grandparents sat: the inheritability of generalized trust. Public Opinion Quarterly, 72, 725–740.

Voigt, S. (2009). Explaining constitutional garrulity. International Review of Law and Economics, 29, 290–303.

Williamson, O. E. (2000). The new institutional economics: taking stock, looking ahead. Journal of Economic Literature, 38, 595–613.
Acknowledgements
We thank Jerg Gutmann, two anonymous referees and the editors (Shugart and Kurrild-Klitgaard) of this journal for valuable comments on earlier versions. All remaining errors are entirely ours.
Appendix
Appendix
About this article
Cite this article
Bjørnskov, C., Voigt, S. Constitutional verbosity and social trust. Public Choice 161, 91–112 (2014). https://doi.org/10.1007/s11127-013-0129-z
Received:

Accepted:

Published:

Issue Date:
Keywords
Constitutional political economy

Social trust
JEL Classification