Abstract
In the developing world, kidnapping is relatively common, and a market for kidnap insurance has arisen in response. We provide a model that allows us to analyze how kidnap insurance affects the interaction between the kidnapper and the victim's family when both are self-interested and have complete knowledge. We find that a market for kidnap insurance can be supported because it benefits a risk-averse family, as long as the introduction of insurance does not increase the risk of kidnapping too much. Families should fully insure if purchasing insurance does not increase the probability of kidnapping, and partially insure otherwise. Kidnapping insurance allows families to redeem hostages from kidnappers with a greater willingness to kill, which may reduce the number of kidnapping fatalities as long as the insurance does not increase the risk of kidnapping too much.
This is a preview of subscription content, log in to check access.
Access options
Buy single article
Instant access to the full article PDF.
US$ 39.95
Price includes VAT for USA
Subscribe to journal
Immediate online access to all issues from 2019. Subscription will auto renew annually.
US$ 199
This is the net price. Taxes to be calculated in checkout.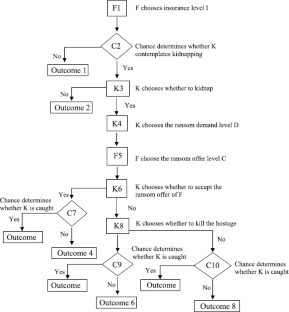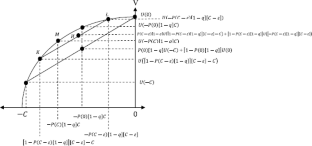 Notes
1.

2.

The Lloyd's of London syndicate was the first to offer kidnap and ransom insurance after the famous kidnapping and death of Charles Lindbergh Jr. in the United States in 1932 (Clendenin 2006–2007: 750).

3.

4.

5.

If the victim's family is advised by an insurance company, reputational effects of the insurance company vis-à-vis potential clients and vis-à-vis the current and future kidnappers may be of importance. We do not discuss reputational effects of this sort. We leave for future work the misalignment of incentives that may exist between an insurance company and the family when the insurance company represents the family in negotiations, for this it seems requires the introduction of imperfect information.

6.

In this sense, our model is less general than that of Lapan and Sandler (1988). We leave to future research the analysis of the implications of kidnap insurance in a game of imperfect information.

7.

Our findings are related to Leeson and Nowrasteh (2011), who argue that in the 18th and 19th century Coasean "plunder contracts" between maritime privateers and their merchant victims reduced the expected losses from plundering. Similarly, kidnap insurance may be welfare-increasing in a world in which kidnappings occur and families enter negotiations with kidnappers.

8.

Selten (1977: 150) introduced the idea that K does not necessarily contemplate kidnapping, but contemplates it only with probability P. Assuming that P may be impacted by the amount of insurance coverage purchased is an extension of Selten's model. A news announcement of a ransom payment being paid with insurance, for example, might increase the likelihood that kidnapping is contemplated.

9.

This is the assumption made by both Selten (1977) and Crettez and Deloche (2009). We have explored introducing a different probability of capture when the hostage is killed, which is intuitively appealing. However, we found that adding this extra complication to the model does not generate significant additional insight, so we also adopt the simpler assumption of an exogenous probability q that K is caught.

10.

In contrast to Lapan and Sandler (1988), we thus implicitly allow the kidnapper to be concerned about his reputation but not that of the party with which he negotiates, in our case the family.

11.

Crettez and Deloche (2009) analyze the Aldo Moro case where the positive net benefit of killing was the perceived possibility of instigating a revolution. In a dynamic kidnapping model, the positive net benefit of killing could be greater ransom payments received from future kidnappings, but we do not pursue a dynamic model here.

12.

For the derivation of the family's marginal utility of insurance, please consult the online Appendix I available at http://www.alexander-fink.com.

13.

For a demonstration that if an insurance market arises, there is an optimal level of insurance between 0 and C, see online Appendix II available at http://www.alexander-fink.com.

14.

A comparison of the coverage sections of kidnap and ransom insurance policies by CHARTIS, a brand of the U.S. insurance company AIG, for the U.S. market and for the British market is telling. The policy for the U.S. market includes a statement that frees the insurer of liability if the insured person or a person authorized by the insured person to have custody of the ransom engages in a criminal act. That statement is followed immediately by an exemption stating that the liability exclusion does not apply if local authorities declared ransom payments illegal. A policy for the British market appears to reveal the effect of the informal agreement between the British government and insurers. There is no mention in the British policy that the exclusion does not apply if local authorities declare ransom payments illegal.

15.

Before the law of 1991 was passed representatives of the state's enforcement agencies were allowed to freeze the assets of the family of a kidnap victim. Action was at the officials' discretion. The 1991 law made temporary asset-seizure mandatory (Detotto et al. 2012: 12).

16.

Other factors may have been responsible for the decline in kidnapping in Italy. The Red Brigades, who had kidnapped Italy's former Prime Minister Aldo Moro (Crettez and Deloche 2009) and were responsible for numerous kidnappings, dissolved in the 1980s. Auerbach (1998: 249–250) contends that, in addition, it became more difficult for members of the mafia in Calabria to conceal kidnapping victims as their territories were more frequently searched by the police, leading Auerbach to conclude that "it appeared that what was really curtailing kidnappings in Italy were other phenomena that just happened to coincide with the passage of the law."

17.

We are indebted to one of the referees to direct our attention to this possibility.

18.

Similarly, it is possible that previous 'successful' kidnappings have a positive effect on the 'price' of kidnappings, which can in our model be understood as the kidnapper's greater willingness to kill. It is in a sense his reservation price. The higher this reservation price is the less likely it is that the family can redeem the hostage. The possible effect of previous 'successful' kidnappings on the kidnapper's willingness to kill would thus also leave less room for kidnap insurance.

19.

For example, the insurance company might instruct the family on preventative measures.
References
Apps, P. (2011). Kidnap and ransom: negotiating lives for cash. Reuters. 17 February 2011. http://www.reuters.com/article/2011/02/17/us-crime-kidnap-ransom-idUSTRE71G3U520110217. Accessed 10 September 2012.

Atkinson, S. E., Sandler, T., & Tschirhart, J. (1987). Terrorism in a bargaining framework. The Journal of Law & Economics, 30(1), 1–21.

Auerbach, A. H. (1998). Ransom: the untold story of international kidnapping. New York: Holt.

Bohlen, C. (1998). Italian ban on paying kidnappers stirs anger. The New York Times, 1 February 1998. http://www.nytimes.com/1998/02/01/world/italian-ban-on-paying-kidnappers-stirs-anger.html. Accessed 5 July 2013.

Brandt, P. T., & Sandler, T. (2009). Hostage taking: understanding terrorism event dynamics. Journal of Policy Modeling, 31, 758–778.

Briggs, R. (2001). The kidnapping business. London: The Foreign Policy Center.

Briggs, R. (2002). Hostage Inc. Foreign Policy, 131, 28–29.

Bueno de Mesquita, E. (2008). The political economy of terrorism: a selective overview of recent work. Polit. Econ., 10(1), 1–12.

Clendenin, M. (2006–2007). 'No concessions' with no teeth: how kidnap and ransom insurers and insureds are undermining U.S. counterterrorism policy. Emory Law Journal, 56(3), 741–775.

Crettez, B., & Deloche, R. (2009). A cliometric analysis of the Aldo Moro kidnapping and assassination. Cliometrica, 3, 123–139.

Der Spiegel (1998). Jeden Montag ein Anruf. http://wissen.spiegel.de/wissen/image/show.html?did=7893670&aref=image017/SP1998/022/SP199802200780079.pdf&thumb=false. Accessed 1 July 2013.

Detotto, C., McCannon, B. C., & Vannini, M. (2012). Understanding ransom kidnapping and its duration. Contributi di Recerca Crenos working paper 2012/19.

Elster, J. (2004). Kidnappings in civil wars. In Prepared for the workshop on "techniques of violence", Oslo, 20–21 August 2004. http://www.seminario2005.unal.edu.co/Trabajos/Elster/Kidnappings%20in%20civil%20wars.pdf. Accessed 20 April 2011.

Enders, W., & Sandler, T. (2006). The political economy of terrorism. Cambridge: Cambridge University Press.

Flesch, C. F. (1993). Warenerpressungs- und Entführungs-Versicherung. Versicherungswirtschaft, 48(2), 108.

Flesch, C. F. (1998). Wer braucht eine Entführungsversicherung? Versicherungswirtschaft, 53(13), 900.

Flesch, C. F. (2001). Perspektiven der Entführungs- und Erpressungsversicherung. Versicherungswirtschaft, 56(5), 308.

Gailbulloev, K., & Sandler, T. (2009). Hostage taking: determinants of terrorist logistical and negotiation success. Journal of Peace Research, 46(6), 739–756.

German Federal Insurance Supervisory Office (1998). Guidelines on the provision of ransom insurance. http://www.bafin.de/SharedDocs/Veroeffentlichungen/EN/Rundschreiben/rs_9803_provisionguide_en_va.html. Accessed 5 July 2013.

Gumbel, A. (1998). Kidnap makes an ass of Italy's ransom law. The Independent, 12 February 1998. http://www.independent.co.uk/news/kidnap-makes-an-ass-of-italys-ransom-law-1144285.html. Accessed 5 July 2013.

Hiscox (2012). Specialty. http://www.hiscox.com/Products/specialty.aspx#kidnap. Accessed 22 August 2012.

Kenney, S. (2007–2008). Regional shortcomings and global solutions: kidnap, ransom, and insurance in Latin America. Connecticut Insurance Law Journal, 14(2), 557–588.

Lapan, H. E., & Sandler, T. (1988). To bargain or not to bargain: that is the question. The American Economic Review, 78(2), 16–21.

Lechner, A. (2007). Cosh and carry. Intersec, July/August, 26–28.

Leeson, P. T., & Nowrasteh, A. (2011). Was privateering plunder efficient? Journal of Economic Behavior & Organization, 79, 303–317.

Margaret Thatcher Foundation (2013a). 1985 July18 Th Margaret Thatcher House of Commons PQs. http://www.margaretthatcher.org/document/106100. Accessed 21 June 2013.

Margaret Thatcher Foundation (2013b). 1988 Dec 6 Tu Margaret Thatcher HC Stmnt. http://www.margaretthatcher.org/document/107407. Accessed 21 June 2013.

Merkling, S., & Davies, D. (2001). Kidnap & ransom insurance: a rapidly growing benefit. Compensation and Benefit Review, 30, 40–45.

Miroff, N. (2011). As kidnappings for ransom surge in Mexico, victims' families and employers turn to private U.S. firms instead of law enforcement. The Washington Post, 26 February 2011. http://www.washingtonpost.com/wp-dyn/content/article/2011/02/26/AR2011022603384.html. Accessed 26 July 2011.

Mohamed, M. K. N. (2008). Kidnap for ransom in South East Asia: the case for a regional recording standard. Asian Criminology, 3, 61–73.

Moor, M., & Zumpolle, L. (2001). The kidnap industry in Colombia. Our business? Utrecht: Pax Christi.

Moor, M., & Remijnse, S. (2008). Kidnapping is a booming business. Utrecht: IKV PAX Christi.

Ochoa, R. (2009). A look at kidnapping, trust and employer-employee relationships in Mexico City households. Mimeo.

Overseas Security Advisory Council (2011). Colombia 2011 crime and safety report. https://www.osac.gov/Pages/ContentReportPDF.aspx?cid=10559. Accessed 26 July 2011.

Phillips, E. (2009). The business of kidnap for ransom. In D. Canter (Ed.), The faces of terrorism: multidisciplinary perspectives (pp. 189–207). Oxford: Wiley-Blackwell.

Pshiva, R., & Suarez, G. (2006). Captive markets: the impact of kidnappings on corporate investment in Colombia. Mimeo. http://www.federalreserve.gov/pubs/FEDS/2006/200618/200618pap.pdf. Accessed 26 July 2011.

Rodriguez, C., & Villa, E. (2012). Kidnap risks and migration: evidence from Colombia. Journal of Population Economics, 25(3), 1139–1164.

Santifort, C., & Sandler, T. (2013). Terrorist success in hostage-taking missions: 1978–2010. Public Choice, 156, 125–137.

Scott, J. L. (1991). Reputation building in hostage taking incidents. Defence Economics, 2(3), 209–218.

Selten, R. (1977). A simple model of kidnapping. In R. Henn & O. Moeschlin (Eds.), Lecture in economics and mathematical systems. Mathematical economics and game theory (pp. 139–156). Berlin: Springer.

Special Contigency Risks (2010). Annual kidnap review. http://www.humanrisksolutions.com/sites/www.humanrisksolutions.com/files/PDFs/AnnualKidnapReviewSCR2009.pdf. Accessed 26 July 2011.

Varian, H. R. (1978). Microeconomics analysis. New York: Norton.
Acknowledgements
We thank Andreas Hoffmann, Marek Hudik, Benjamin Larin, the editors, and two anonymous reviewers for helpful comments and suggestions on earlier drafts of the paper. Alexander Fink gratefully acknowledges the support of the International Center for Economic Research (ICER).
About this article
Cite this article
Fink, A., Pingle, M. Kidnap insurance and its impact on kidnapping outcomes. Public Choice 160, 481–499 (2014). https://doi.org/10.1007/s11127-013-0108-4
Received:

Accepted:

Published:

Issue Date:
Keywords
Kidnapping

Insurance

Unintended consequences

Fatalities from kidnappings
JEL Classification