Abstract
Contributions by investor-owned companies play major roles in financing the campaigns of candidates for elective office in the United States. We look at the presidential level and analyze contributions by companies before an election and their stock market performance following US presidential elections from 1992 to 2004. We find that companies experienced abnormal positive post-election returns with (i) a higher percentage of contributions given to the eventual winner and (ii) with a higher total contribution given. Hypothetical portfolios of the 30 largest corporate contributors formed according to (i) the percentage of contributions given to the winner in a presidential election and (ii) the total contribution (divided by market capitalization) would have earned significant abnormal returns in the two years after an election. While all results hold for Bill Clinton and George W. Bush, they are stronger by a magnitude of two to three under W. Bush.
Access options
Buy single article
Instant access to the full article PDF.
USD 39.95
Price includes VAT (USA)
Tax calculation will be finalised during checkout.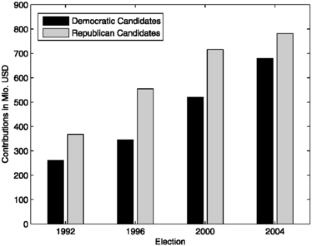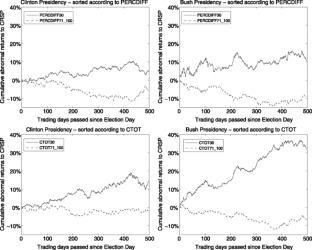 Notes
1.

2.

Mueller (2003) and Stratmann (2005) for literature overviews and, e.g., Bronars and Lott (1997), Lott (2000), Ansolabehere et al. (2003), and Coate (2004) for evidence that money flows to candidates known to favor an interest group's opinions. Stratmann (2002) and Coate (2004) argue that candidates can be influenced by contributors, an outcome that is supported in theoretical models by Grossman and Helpman (1994, 1996). However, all of this literature concentrates on congressional votes rather than on policymaking at the presidential level.

3.

We have to limit our study to this period, as until 1991 parties did not have to report "soft money" contributions, so it was literally untraceable (Nelson 2000). As we need to assign contributions specifically to companies, for our analysis elections before 1991 cannot be included in our analysis.

4.

We chose a two-year time horizon for stock returns, as after the mid-term elections the observation window for the next contribution period starts and non-overlapping windows are highly desirable for the statistical analysis. Total contributions include third-party candidates as well. However, the median contribution to third parties equals 0.08% of total contributions and thus have virtually no influence on our results.

5.

6.

Here the issue of contribution limits becomes relevant, as, e.g., in an empirical study Stratmann and Aparicio-Castillo (2006) find that the margin of victory for the winning candidate declined in races where there was a spending limit. However, Daniel and Lott (1997) and Lott (2006) argue in the opposite direction.

7.

All growth rates are nominal. Sources: Bureau of Economic Analysis, Thomson Datastream, and Federal Election Commission for GDP, S&P 500, and campaign contribution data, respectively.

8.

Other studies sometimes take each company that contributed, no matter how much (up to 1,200 companies), rather than focusing on the largest contributors. However, we think this might distort results, as only really large contributions should have an influence. By taking all contributions, some papers assign the same weight to each contribution, no matter whether it was $1,000 or $5 million (Aggarwal et al. 2007).

9.

10.

We classify "government" and "opposition" as the party holding the presidency and the other party respectively, i.e., the Democrats under Clinton formed the government from 1992–2000 and the Republicans under George W. Bush did so during 2000–2008, the last two years of which are beyond the end of our sample.

11.

12.

CONT i,j is calculated as the log of the total contribution of a company divided by its market capitalization on Election Day.

13.

We thank one anonymous referee for pointing us to the idea of this test.

14.

Some examples where effects are reported include Lakonishok and Smidt (1988), Ariel (1990), Kohli and Kohers (1992), Kim and Park (1994). Malkiel (2003) and Marquering et al. (2006) claim that after controlling for transaction costs almost all of these "anomalies" fail to deliver positive abnormal returns.

15.

The same lag structure regarding contributions and returns is used as in the previous calculations. Note that a stock may be included in up to two of the six portfolios for a given election. For example, a company making a large total contribution and giving most to the Democrats before a Clinton victory could be included in the CTOT30 and PERCDIFF30 portfolios for that election.

16.

We also ran an OLS-regression for each election cycle separately and found similar results.

17.

Under Clinton defense spending as a percentage of GDP fell from 4.78% in 1992 to 3.00% in 2000. Under Bush it increased to 4.28% of GDP in 2008. In nominal terms defense spending under Clinton remained almost unchanged slightly below $300 billion, while it more than doubled to $616 billion under Bush. Source: Office of Management and Budget, Executive Office of the President; the data was extracted from the Google public data explorer.

18.

We do not show the PERCDIFF31_70- and CTOT31_70-portfolios in this table, as they are of minor interest and are hardly ever significant, which is in line with our expectations.
References
Aggarwal, R., Meschke, F., & Wang, T. (2007). Corporate political contributions: investment or agency?

Alesina, A., & Roubini, N. (1992). Political cycles in OECD economies. Review of Economic Studies, 59(4), 663–688.

Ansolabehere, S., de Figueiredo, J., & Snyder, J. M. (2003). Why is there so little money in us politics? Journal of Economic Perspectives, 17(1), 105–130.

Ariel, R. A. (1990). High stock returns before holidays: existence and evidence on possible causes. The Journal of Finance, 45(5), 1611–1626.

Austen-Smith, D. (1987). Interest groups, campaign contributions and probabilistic voting. Public Choice, 54, 123–139.

Bronars, S., & Lott, J. (1997). Do campaign donations alter how a politician votes? Or, do donors support candidates who value the same things? Journal of Law and Economics, 40, 317–350.

Carhart, M. M. (1997). On persistence in mutual fund performance. The Journal of Finance, 52(1), 57–82.

Coate, S. (2004). Political competition with campaign contributions and informative advertising. Journal of the European Economic Association, 2(5), 772–804.

Cooper, M., Gulen, H., & Ovtchinnikov, A. (2008). Corporate political contributions and stock returns (Working Paper).

Daniel, K., & Lott, J. (1997). Term limits and electoral competitiveness: evidence from California's state legislative races. Public Choice, 90, 165–184.

Edmans, A., Garcia, D., & Norli, O. (2007). Sports sentiment and stock returns. The Journal of Finance, 62(4), 1967–1998.

Erikson, R. (1989). Economic conditions and the presidential vote. American Political Science Review, 83(4), 567–573.

Fair, R. (1988). The effect of economic events on votes for president: 1984 update. Political Behavior, 10(2), 168–179.

Fama, E. F. (1970). Efficient capital markets: a review of theory and empirical work. The Journal of Finance, 45, 383–417.

Fama, E. F. (1991). Efficient capital markets 2. The Journal of Finance, 66, 1575–1616.

Fama, E. F. (1998). Market efficiency, long-term returns, and behavioural finance. Journal of Financial Economics, 49, 283–306.

Fama, E. F., & French, K. (1993). Common risk factors in the returns on stocks and bonds. Journal of Financial Economics, 33(1), 3–56.

Goldman, E., Rocholl, J., & So, J. (2009). Do politically connected boards affect firm value? Review of Financial Studies, 22, 2331–2360.

Grier, K., & Munger, M. (1994). The determinants of industrial political activity 1978–1986. American Political Science Review, 88, 911–926.

Grossman, G., & Helpman, E. (1994). Protection for sale. American Economic Review, 84(4), 833–850.

Grossman, G., & Helpman, E. (1996). Electoral competition and special interest policy. Review of Economic Studies, 63(2), 265–286.

Hart, D. (2001). Why do some firms give? Why do some give a lot? High-tech PACs, 1977–1996. Journal of Politics, 63, 1230–1249.

Herron, M., Lavin, J., Cram, D., & Silver, J. (1999). Measurement of political effects in the united states economy: a study of the 1992 presidential election. Economics & Politics, 11(1), 51–81.

Hibbs, D. (1987). The American political economy: electoral policy and macroeconomics in contemporary America. Cambridge: Harvard University Press.

Jayachandran, S. (2006). The Jeffords effect. Journal of Law and Economics, 49(2), 397–425.

Jegadeesh, N., & Titman, S. (1993). Returns to buying winners and selling losers: implications for stock market efficiency. The Journal of Finance, 48(1), 65–91.

Kim, C.-W., & Park, J. (1994). Holiday effects and stock returns: further evidence. Journal of Financial and Quantitative Analysis, 29(1), 145–157.

Knight, B. (2006). Are policy platforms capitalized into equity prices? Evidence from the bush/gore 2000 presidential election. Journal of Public Economics, 90(4–5), 751–773.

Kohli, R. K., & Kohers, T. (1992). The week-of-the-month effect in stock returns: the evidence from the S&P composite index. Journal of Economics and Finance, 16, 129–137.

Krueger, A. (1974). The political economy of the rent-seeking society. American Economic Review, 64, 291–303.

Lakonishok, J., & Smidt, S. (1988). Are seasonal anomalies real? A ninety-year perspective. Review of Financial Studies, 1(4), 403–425.

Lintner, J. (1965). The valuation of risk assets and the selection of risky investment in stock portfolios and capital budgets. Review of Economics and Statistics, 47(1), 13–37.

Lott, J. (2000). A simple explanation for why campaign expenditures are increasing: the government is getting bigger. Journal of Law and Economics, 43(2), 359–393.

Lott, J. (2006). Campaign finance reform and electoral competition. Public Choice, 129(3), 263–300.

Malkiel, B. G. (2003). The efficient market hypothesis and its critics. Journal of Economic Perspectives, 17, 59–83.

Maniadis, Z. (2009). Campaign contributions as a commitment device. Public Choice, 139(3), 301–315.

Marquering, W., Nisser, J., & Valla, T. (2006). Disappearing anomalies: a dynamic analysis of the persistence of anomalies. Applied Financial Economics, 16(4), 291–302.

Mitchell, M. L., & Stafford, E. (2000). Managerial decisions and long-term stock price performance. Journal of Business, 73(3), 287–329.

Mueller, D. (2003). Public choice III. Cambridge: Cambridge University Press.

Mueller, D., & Stratmann, T. (1994). Informative and persuasive campaigning. Public Choice, 81, 55–77.

Nelson, J. A. (2000). The supply and demand of campaign finance reform. Columbia Law Review, 100(2), 524–557.

Nofsinger, J. R. (2007). The stock market and political cycles. Journal of Socio-Economics, 36(5), 734–744.

Nordhaus, W. (1975). The political business cycle. Review of Economic Studies, 42(2), 169–190.

Office of Management and Budget, Executive Office of the President (2011). URL: http://www.google.com/publicdata/explore?ds=z6tggkh2adod2s_&ctype=l&strail=false&bcs=d&nselm=h&met_y=spendings&hl=en&dl=en.

Pittman, R. (1988). Rent-seeking and market structure: comment. Public Choice, 58, 173–186.

Prat, A. (2002). Campaign spending with office-seeking politicians, rational voters, and multiple lobbies. Journal of Economic Theory, 103, 162–189.

Roberts, B. E. (1990). Political institutions, policy expectations, and the 1980 election: a financial market perspective. American Journal of Political Science, 34(2), 289–310.

Rogoff, K. (1990). Equilibrium political budget cycles. American Economic Review, 80(1), 21–36.

Santa-Clara, P., & Valkanov, R. (2003). The presidential puzzle: political cycles and the stock market. The Journal of Finance, 58, 1841–1872.

Schwert, W. (1981). Using financial data to measure effects of regulation. Journal of Law and Economics, 24(1), 121–158.

Sharpe, W. (1964). Capital asset prices: a theory of market equilibrium under conditions of risk. The Journal of Finance, 19(3), 425–442.

Stratmann, T. (2002). Can special interests buy congressional votes? Evidence from financial services legislation. Journal of Law and Economics, 41(3), 85–113.

Stratmann, T. (2005). Some talk: money in politics. A (partial) review of the literature. Public Choice, 124(1), 135–156.

Stratmann, T., & Aparicio-Castillo, F. (2006). Competition policy for elections: do campaign contribution limits matter? Public Choice, 127(1), 177–206.

Tullock, G. (1967). The welfare costs of tariffs, monopolies, and theft. Western Economic Journal, 5, 224–232.

von Hayek, F. A. (1945). The use of knowledge in society. American Economic Review, 35(4), 519–530.

Zardkoohi, A. (1988). Market structure and campaign contributions: does concentration matter? A reply. Public Choice, 58, 187–191.
Acknowledgements
We thank Michael Hanke, Florian Hauser, Thomas Stöckl, Shyam Sunder, and participants at seminars at the University of Innsbruck and at Yale University for helpful comments. We would also like to thank the Editor and two anonymous referees for very helpful comments and suggestions. Daniel Kleinlercher provided excellent research assistance.
Additional information
We thank Jesus Crespo-Cuaresma, Michael Hanke, and Shyam Sunder for very helpful comments on earlier versions of this paper. Martin Angerer, Daniel Kleinlercher, and Thomas Stöckl provided excellent research assistance. Financial support by the University of Innsbruck is gratefully acknowledged.
About this article
Cite this article
Huber, J., Kirchler, M. Corporate campaign contributions and abnormal stock returns after presidential elections. Public Choice 156, 285–307 (2013). https://doi.org/10.1007/s11127-011-9898-4
Received:

Accepted:

Published:

Issue Date:
JEL Classification
Keywords
Presidential election

Corporate campaign contributions

Abnormal returns