Abstract
We examine how electoral motives influence active labor market policies that promote (short term) job-creation. Such policies reduce measures of unemployment. Using German state data for the period 1985 to 2004, we show that election-motivated politicians pushed job-promotion schemes before elections.
Access options
Buy single article
Instant access to the full article PDF.
US$ 39.95
Tax calculation will be finalised during checkout.
Subscribe to journal
Immediate online access to all issues from 2019. Subscription will auto renew annually.
US$ 119
Tax calculation will be finalised during checkout.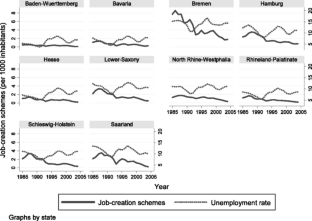 Notes
1.

Electoral cycles have been shown, for example, in OECD countries (Katsimi and Sarantidis 2011; Potrafke 2011a), the European Union (Efthyvoulou 2011), the German states (Schneider 2010; Tepe and Vanhuysse 2009), Canadian provinces (Blais and Nadeau 1992; Reid 1998; Tellier 2006), Portugese municipalities (Veiga and Veiga 2007; Aidt et al. 2011), Brazilian municipalities (Sakurai and Menezes-Filho 2008, 2011), French municipalities (Foucault et al. 2008). For country studies see, for example, Grier (2008), Berger and Woitek (1997), Belke (2000), Batool and Sieg (2009), Potrafke (2012), Ferris and Voia (2011).

2.

To be sure, the success of ALMP programs is ambiguous and varies across countries. In Switzerland and Germany, for example, ALMP programs hardly shortened unemployment duration (Lalive et al. 2008; Hagen and Steiner 2000; Fertig et al. 2006). In Poland, training programs have increased the probability of individual employment, whereas wage subsidies have had a negative influence on individual employment probability (Kluve et al. 2008). Using data from Denmark, Graversen and van Ours (2008) find positive activation program effects on unemployment duration and job finding rates. Evidence from the United States suggests that taxpayer-financed job-training programs are "successful" mainly because the individuals receiving such training are more employable even before entering the program, that is, admissions officers "skim the cream" off the top of the pool of applicants (see, e.g., Bell and Orr 2002). The ambiguity of ALMP success notwithstanding, politicians have implemented ALMP programs for a long time.

3.

There are several ALMP instruments which broadly remained the same but were extended over time. Thomsen (2007) refers to the SGB III as a legal basis and distinguishes between "Measures to Enhance and Adjust the Qualification of the Individuals", "Counselling and Assistance for Regional and Vocational Mobility", and "Subsidised Employment". The latter category consists of wage subsidies and two groups of employment programs, namely job-creation schemes and structural adjustment schemes. They both establish the so-called second labor market.

4.

Local authorities also play an important role in ALMP because they arrange new jobs, find positions for unemployed persons and negotiate locally with the so called "Traeger" (municipal job-creation companies or similar local institutions), but they are not responsible for the budget decisions.

5.

The so-called "Arbeitsbeschaffungsmaßnahmen" (job-creation schemes) encompass subsidized jobs in the second labor market that are intended to reintegrate unemployed persons into employment. Their duration is limited and they often comprise tasks in the low-skilled sector.

6.

We use the number of individuals in job-creation schemes instead of the inflows into job-creation schemes as the measures vary in duration.

7.

By contrast, panel data unit root tests for the number of individuals enrolled in job-creation schemes (per 1000 inhabitants) in levels provide mixed results. In any event, the regression results show clearly that the model in levels is spurious: the estimated coefficient of the lagged dependent variable is nearly 1 and the associated t-statistics exceed 20. We therefore estimate the model in growth rates.

8.

9.

The much smaller Free Democratic Party (FDP) and Green Party (GR) have played an important role as coalition partners in the former West German states. While the SPD has formed coalitions with the three other parties, the CDU never joined a coalition with the Greens on the federal or state level during the period analyzed in this paper. We will also consider the influence of the different coalition types, because the left-right dimension may neglect ideological differences between government parties within a "camp" (e.g., on the left between SPD/FDP and SPD/GR coalitions). As minority governments and other government formations have played a negligible role, they will be subsumed under the coalition types mentioned above.

10.

The fixed year effects also control for specific historical events such as the German unification.

11.

In accordance with large sample properties of the GMM methods, e.g., the estimator proposed by Arellano and Bond (1991) would be biased in our econometric model with N=10.

12.

The coalition type dummies take the value of one when the specified coalition type was in power and zero otherwise. We distinguish between six different coalition types: CDU, CDU/FDP, CDU/SPD, SPD/FDP, SPD/GR, and SPD. With respect to the grand coalitions (CDU/SPD), we do not control for the identification of the parties that appointed the prime minister. To avoid perfect collinearity between the coalition type dummies, one of the coalition type dummies must function as the reference category (here SPD). The estimated effects of the other coalition type dummies then need to be interpreted as deviations from the reference category.

13.

We employ data by the German Federal Statistical Office on the number of firms and the number of employees in these firms in the manufacturing sector. The fiscal equalization variable equals the funds in million Euros of constant purchasing power that each state received (positive amount) or spent (negative amount) in period t.
References
Aidt, T. S., Veiga, F. J., & Veiga, L. G. (2011). Election results and opportunistic policies: a new test of the rational political business cycle. Public Choice, 148, 21–44.

Alesina, A. (1987). Macroeconomic policy in a two-party system as a repeated game. The Quarterly Journal of Economics, 102, 651–678.

Arellano, M., & Bond, S. (1991). Some tests of specification for panel data: Monte Carlo evidence and an application to employment equations. Review of Economic Studies, 58, 277–297.

Batool, I., & Sieg, G. (2009). Bread and the attrition of power: economic events and German election results. Public Choice, 141, 151–165.

Belke, A. (2000). Partisan political business cycles in the German labour market? Empirical tests in the light of the Lucas-critique. Public Choice, 104, 225–283.

Bell, S. H., & Orr, L. L. (2002). Screaning (and creaming?) applicants to job training programs: the AFDC homemaker—home health aide demonstrations. Labour Economics, 9, 279–301.

Berger, H., & Woitek, U. (1997). Searching for political business cycles in Germany. Public Choice, 91, 179–197.

Blais, A., & Nadeau, R. (1992). The electoral budget cycle. Public Choice, 74, 389–403.

Bloom, D., Canning, D., Mansfield, R. K., & Moore, M. (2007). Demographic change, social security systems, and savings. Journal of Monetary Economics, 54, 92–114.

Blundell, R. W., & Bond, S. R. (1998). Initial conditions and moment restrictions in dynamic panel data models. Journal of Econometrics, 87, 115–143.

Brender, A., & Drazen, A. (2005). Political budget cycles in new versus established democracies. Journal of Monetary Economics, 52, 1271–1295.

Bruno, G. S. F. (2005a). Approximating the bias of the LSDV estimator for dynamic unbalanced panel data models. Economics Letters, 87, 361–366.

Bruno, G. S. F. (2005b). Estimation and inference in dynamic unbalanced panel data models with a small number of individuals. Stata Journal, 5, 473–500.

Caplan, B. (2007). The myth of the rational voter. Why democracies choose bad policies. Princeton: Princeton University Press.

Conover, P. J., Feldman, S., & Knight, K. (1986). Judging inflation and unemployment—the origins of retrospective evaluations. Journal of Politics, 48, 565–588.

Davidson, C., Matusza, S. J., & Nelson, D. (2010). A behavioral model of unemployment, fairness and the political economy of trade policy (Working Paper). Michigan State University.

Efthyvoulou, G. (2011, forthcoming). Political budget cycles in the European Union and the impact of political pressures. Public Choice. doi:10.1007/s11127-011-9795-x.

Ferris, J. S., & Voia, M. C. (2011). Does the expectation or realization of a federal election precipitate Canadian output growth? Canadian Journal of Economics, 36, 107–132.

Fertig, M., Schmidt, C. M., & Schneider, H. (2006). Active labor market policy in Germany—is there a successful policy strategy? Regional Science and Urban Economics, 36, 399–430.

Foucault, M., Madies, T., & Paty, S. (2008). Public spending interactions and local politics. Empirical evidence from French municipalities. Public Choice, 137, 57–80.

Frey, B. S., & Schneider, F. (1978a). An empirical study of politico-economic interaction in the United States. Review of Economics and Statistics, 60, 174–183.

Frey, B. S., & Schneider, F. (1978b). A politic-economic model of the United Kingdom. Economic Journal, 88, 243–253.

Goerke, L., Pannenberg, M., & Ursprung, H. W. (2010). A positive theory of the earnings relationship of unemployment benefits. Public Choice, 145, 137–163.

Graversen, B. K., & van Ours, J. C. (2008). How to help unemployed find jobs quickly: experimental evidence from a mandatory activation program. Journal of Public Economics, 92, 2020–2035.

Grier, K. (2008). US presidential elections and real GDP growth. Public Choice, 135, 337–352.

Hagen, T., & Steiner, V. (2000). Von der Finanzierung der Arbeitslosigkeit zur Förderung von Arbeit. Baden-Baden: Nomos. doi:10.1007/s11127-011-9795-x

Hibbs, D. A. (1977). Political parties and macroeconomic policy. The American Political Science Review 71, 1467–1487.

Katsimi, M., & Sarantidis, V. (2011, forthcoming). Do elections affect the composition of fiscal policy in developed, established democracies? Public Choice. doi:10.1007/s11127-010-9749-8.

Kirchgässner, G. (1986). Rationality, causality, and the relation between economic conditions and the popularity of parties: an empirical investigation for the Federal Republic of Germany, 1971–1982. European Economic Review, 28, 243–268.

Kluve, J., Lehmann, H., & Schmidt, C. M. (2008). Disentangling treatment effects of active labor market policies: the role of labor force status sequences. Labour Economics, 15, 1270–1295.

Lalive, R., van Ours, J. C., & Zweimüller, J. (2008). The impact of active labour market programmes on the duration of unemployment in Switzerland. Economic Journal, 118, 235–257.

Lewis-Beck, M. S., & Paldam, M. (2000). Economic voting: an introduction. Electoral Studies, 19, 113–121.

Mueller, D. C. (2003). Public Choice III. New York: Cambridge University Press.

Newey, W. K., & West, K. D. (1987). A simple, positive semi-definite, heteroskedasticity and autocorrelation consistent covariance matrix. Econometrica, 55, 703–708.

Nordhaus, W. D. (1975). The political business cycle. Review of Economic Studies, 42, 169 190.

Paldam, M., & Nannestad, P. (2000). What do voters know about the economy? A study of danish data, 1990–1993. Electoral Studies, 19, 363–391.

Potrafke, N. (2010). Globalization and labor market deregulation: empirical evidence from OECD countries. Review of World Economics, 146, 545–571.

Potrafke, N. (2011a, forthcoming). Political cycles and economic performance in OECD countries: empirical evidence from 1951–2006. Public Choice. doi:10.1007/s11127-010-9695-5.

Potrafke, N. (2011b). Public expenditures on education and cultural affairs in the West German states: does government ideology influence the budget composition? German Economic Review, 12, 124–145.

Potrafke, N. (2012, forthcoming). Is German domestic social policy politically controversial? Public Choice. doi:10.1007/s11127-011-9800-4.

Reid, B. G. (1998). Endogenous elections, electoral budget cycles and Canadian provincial governments. Public Choice, 97, 35–48.

Rogoff, K., & Sibert, A. (1988). Elections and macroeconomic policy cycles. Review of Economic Studies, 55, 1–16.

Roodman, D. (2006). How to do xtabond2: An introduction to "Difference" and "System" GMM in Stata (Working Paper 103). Center for Global Development.

Roodman, D. (2009). A note on the theme of too many instruments. Oxford Bulletin of Economics and Statistics, 71, 135–158.

Sakurai, S. N., & Menezes-Filho, A. N. (2008). Fiscal policy and reelection in Brazilian municipalities. Public Choice, 137, 301–314.

Sakurai, S. N., & Menezes-Filho, A. N. (2011). Opportunistic and partisan election cycles in Brazil: new evidence at the municipality level. Public Choice, 148, 233–247.

Schneider, C. J. (2010). Fighting with one hand tied behind the back: political budget cycles in the German states. Public Choice, 142, 125–150.

Shi, M., & Svensson, J. (2006). Political budget cycles: do they differ across countries and why? Journal of Public Economics, 90, 1367–1389.

Stock, J. H., & Watson, M. W. (2008). Heteroskedasticity-robust standard errors for fixed effect panel data regression. Econometrica, 76, 155–174.

Tellier, G. (2006). Public expenditures in Canadian provinces: an empirical study of politico-economic interactions governments. Public Choice, 126, 367–385.

Tepe, M., & Vanhuysse, P. (2009). Educational business cycles—the political economy of teacher hiring across German states, 1992–2004. Public Choice, 139, 61–82.

Thomsen, S. L. (2007). Evaluating the employment effects of job creation schemes in Germany. Heidelberg: Physica-Verlag.

Ursprung, H. W. (1984). Macroeconomic performance and government popularity in New Zealand. Comparative Political Studies, 16, 457–477.

Veiga, L. G., & Veiga, F. J. (2007). Political business cycles at the municipal level. Public Choice, 131, 45–64.

Wooldridge, J. M. (2002). Econometric analysis of cross section and panel data. Cambridge: MIT Press.
Acknowledgements
We would like to thank Florian Baumann, Mark Bernard, Viktor Brech, Axel Dreher, Tim Friehe, Jan Fries, Laszlo Goerke, Florian Hett, Jeroen G. Klomp, Daria Orlova, Carsten Pohl, Nikolai Stähler, William F. Shughart II, Viktor Steiner, Heinrich Ursprung, two anonymous referees, the participants of the Annual Meeting of the Public Choice Society in Las Vegas 2009, the Annual Meeting of the European Public Choice Society in Athens 2009, the Annual Congress of the European Economic Association in Barcelona 2009, the Annual Conference of the European Society for Population Economics in Seville 2009, the Annual Meeting of the German Economic Association (Verein für Socialpolitik) in Magdeburg 2009, the CESifo Workshop on Political Economy in Dresden 2008, the Brown Bag Seminars at the University of Tübingen 2008 and the University of Konstanz 2008 as well as the Research Seminar at the University of Duisburg-Essen 2008 for helpful comments. Mario Mechtel gratefully acknowledges financial support from the German Research Foundation (DFG). Felix Weber has provided excellent research assistance.
About this article
Cite this article
Mechtel, M., Potrafke, N. Electoral cycles in active labor market policies. Public Choice 156, 181–194 (2013). https://doi.org/10.1007/s11127-011-9890-z
Received:

Accepted:

Published:

Issue Date:
Keywords
Political business cycles

Opportunistic politicians

Active labor market policies
JEL Classification