Abstract
Problematic social media use is detrimental to users' subjective well-being. Based on cognitive behavioral therapy (CBT), we proposed a short-term abstinence intervention to treat this problem. A mixed method study with 65 participants was conducted to examine the effectiveness of this intervention and to reveal the underlying mechanisms of how the intervention influences participants. While the experimental group (N = 33) took eight 2.5-h breaks from social media over two weeks and had daily dairies, the control group (N = 32) used social media as usual and had daily diaries. The results demonstrated that the intervention has a positive effect on life satisfaction. The effect varied with the time users conducted abstinence (work hours vs. off hours) and the level of social media addiction (heavy users vs. normal users). Qualitative findings from dairies and interviews unveiled associations among users' behaviors, feelings, and cognitions during and after abstinence. These results extend the understanding of the CBT-based short-term abstinence intervention and suggest opportunities to alleviate problematic social media use.
Access options
Buy single article
Instant access to the full article PDF.
US$ 39.95
Tax calculation will be finalised during checkout.
Subscribe to journal
Immediate online access to all issues from 2019. Subscription will auto renew annually.
US$ 79
Tax calculation will be finalised during checkout.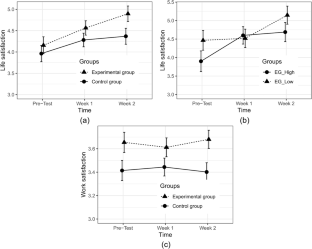 References
1.

Andreassen CS. Online Social network site addiction: a comprehensive review. Curr Addict Rep. 2015;2:175–84.

2.

Yi LL, Sidani JE, Shensa A, Radovic A, Miller E, Colditz JB, et al. Association between social media use and depression among US young adults. Depress Anxiety. 2016;33:323–31.

3.

Pontes HM, Taylor M, Stavropoulos V. Beyond "Facebook addiction": the role of cognitive-related factors and psychiatric distress in social networking site addiction. Cyberpsychol Behav Soc Netw. 2018;21:240–7.

4.

Shensa A, Escobar-Viera CG, Sidani JE, Bowman ND, Marshal MP, Primack BA. Problematic social media use and depressive symptoms among U.S. young adults: a nationally-representative study. Soc Sci Med. 2017;182:150–7.

5.

Worsley JD, Mansfield R, Corcoran R. Attachment anxiety and problematic Social media use: the mediating role of well-being. Cyberpsychol Behav Soc Netw. 2018;21:563–8.

6.

Hawk ST, van den Eijnden RJ, van Lissa CJ, ter Bogt TF. Narcissistic adolescents' attention-seeking following social rejection: links with social media disclosure, problematic social media use, and smartphone stress. Comput Hum Behav. 2019;92:65–75.

7.

Kross E, Verduyn P, Demiralp E, Park J, Lee DS, Lin N, et al. Facebook use predicts declines in subjective well-being in young adults. PLoS One. 2013;8:e69841.

8.

van Rooij A, Ferguson C, van de Mheen D, Schoenmakers T. Time to abandon internet addiction? Predicting problematic internet, game, and social media use from psychosocial well-being and application use. Clin Neuropsychiatry J Treat Eval. 2017;14:113–21.

9.

van Zoonen W, Verhoeven JWM, Vliegenthart R. Understanding the consequences of public social media use for work. Eur Manag J. 2017;35:595–605.

10.

Turel O, Qahri-Saremi H. Problematic use of social networking sites: antecedents and consequence from a dual-system theory perspective. J Manag Inf Syst. 2016;33:1087–116.

11.

Hawi NS, Samaha M. The relations among social media addiction, self-esteem, and life satisfaction in university students. Soc Sci Comput Rev. 2017;35:576–86.

12.

Baumer EPS, Adams P, Khovanskaya VD, Liao TC, Smith ME, Sosik VS, et al. Limiting, leaving, and (re)lapsing: an exploration of Facebook non-use practices and experiences. 2013;10.

13.

Charoensukmongkol P. Effects of support and job demands on social media use and work outcomes. Comput Hum Behav. 2014;36:340–9.

14.

Kuss DJ, Griffiths MD. Online social networking and addiction—a review of the psychological literature. Int J Environ Res Public Health. 2011;8:3528–52.

15.

Müller KW, Dreier M, Beutel ME, Duven E, Giralt S, Wölfling K. A hidden type of internet addiction? Intense and addictive use of social networking sites in adolescents. Comput Hum Behav. 2016;55:172–7.

16.

Ryan T, Chester A, Reece J, Xenos S. The uses and abuses of Facebook: a review of Facebook addiction. J Behav Addict. 2014;3:133–48.

17.

Pantic I. Online social networking and mental health. Cyberpsychol Behav Soc Netw. 2014;17:652–7.

18.

van den Eijnden RJJM, Lemmens JS, Valkenburg PM. The Social media disorder scale. Comput Hum Behav. 2016;61:478–87.

19.

Stieger S, Lewetz D. A week without using social media: results from an ecological momentary intervention study using smartphones. Cyberpsychol Behav Soc Netw. 2018;21:618–24.

20.

Turel O, Brevers D, Bechara A. Time distortion when users at-risk for social media addiction engage in non-social media tasks. J Psychiatr Res. 2018;97:84–8.

21.

Turel O, Cavagnaro DR, Meshi D. Short abstinence from online social networking sites reduces perceived stress, especially in excessive users. Psychiatry Res. 2018;270:947–53.

22.

Blackwell D, Leaman C, Tramposch R, Osborne C, Liss M. Extraversion, neuroticism, attachment style and fear of missing out as predictors of social media use and addiction. Personal Individ Differ. 2017;116:69–72.

23.

Fang J, Wang X, Wen Z, Zhou J. Fear of missing out and problematic social media use as mediators between emotional support from social media and phubbing behavior. Addict Behav. 2020;107:106430.

24.

Holte AJ, Ferraro FR. Anxious, bored, and (maybe) missing out: evaluation of anxiety attachment, boredom proneness, and fear of missing out (FoMO). Comput Hum Behav. 2020;112:106465.

25.

Casale S, Rugai L, Fioravanti G. Exploring the role of positive metacognitions in explaining the association between the fear of missing out and social media addiction. Addict Behav. 2018;85:83–7.

26.

Fabris MA, Marengo D, Longobardi C, Settanni M. Investigating the links between fear of missing out, social media addiction, and emotional symptoms in adolescence: the role of stress associated with neglect and negative reactions on social media. Addict Behav. 2020;106:106364.

27.

Brewer J. Mindfulness training for addictions: has neuroscience revealed a brain hack by which awareness subverts the addictive process? Curr Opin Psychol. 2019;28:198–203.

28.

Hofmann W, Van Dillen L. Desire: the new hot spot in self-control research. Curr Dir Psychol Sci. 2012;21:317–22.

29.

Grant JE, Potenza MN, Weinstein A, Gorelick DA. Introduction to behavioral addictions. Am J Drug Alcohol Abuse. 2010;36:233–41.

30.

Hall JA, Johnson RM, Ross EM. Where does the time go? An experimental test of what social media displaces and displaced activities' associations with affective well-being and quality of day. New Media Soc. 2018;1461444818804775.

31.

Jorge A. Social media, interrupted: users recounting temporary disconnection on instagram. Soc Media Soc. SAGE Publications Ltd; 2019;5:2056305119881691.

32.

Schoenebeck SY. Giving up Twitter for Lent: how and why we take breaks from social media. ACM Press; 2014 [cited 2018 Jun 20]. p. 773–82. Available from: http://dl.acm.org/citation.cfm?doid=2556288.2556983

33.

Tromholt M. The Facebook experiment: quitting Facebook leads to higher levels of well-being. Cyberpsychol Behav Soc Netw. 2016;19:661–6.

34.

Brailovskaia J, Ströse F, Schillack H, Margraf J. Less Facebook use – more well-being and a healthier lifestyle? An experimental intervention study. Comput Hum Behav. 2020;108:106332.

35.

Andreassen CS, Pallesen S, Griffiths MD. The relationship between addictive use of social media, narcissism, and self-esteem: findings from a large national survey. Addict Behav. 2017;64:287–93.

36.

Błachnio A, Przepiorka A, Pantic I. Association between Facebook addiction, self-esteem and life satisfaction: a cross-sectional study. Comput Hum Behav. 2016;55:701–5.

37.

Hormes JM, Kearns B, Timko CA. Craving Facebook? Behavioral addiction to online social networking and its association with emotion regulation deficits. Addiction. 2014;109:2079–88.

38.

Wang C, Lee MKO, Hua Z. A theory of social media dependence: evidence from microblog users. Decis Support Syst. 2015;69:40–9.

39.

Davis RA. A cognitive-behavioral model of pathological internet use. Comput Hum Behav. 2001;17:187–95.

40.

Caplan SE. Theory and measurement of generalized problematic internet use: a two-step approach. Comput Hum Behav. 2010;26:1089–97.

41.

Mai Y, Hu J, Yan Z, Zhen S, Wang S, Zhang W. Structure and function of maladaptive cognitions in pathological internet use among Chinese adolescents. Comput Hum Behav. 2012;28:2376–86.

42.

Breckler SJ. Empirical validation of affect, behavior, and cognition as distinct components of attitude. J Pers Soc Psychol. 1984;47:1191–205.

43.

Butler AC, Chapman JE, Forman EM, Beck AT. The empirical status of cognitive-behavioral therapy: a review of meta-analyses. Clin Psychol Rev. 2006;26:17–31.

44.

Young KS. Cognitive behavior therapy with internet addicts: treatment outcomes and implications. Cyberpsychol Behav. 2007;10:671–9.

45.

Young KS. CBT-IA: the first treatment model for internet addiction. J Cogn Psychother. 2011;25:304–12.

46.

Korotitsch WJ, Nelson-Gray RO. An overview of self-monitoring research in assessment and treatment. Psychol Assess. American Psychological Association; 1999;11:415.

47.

Kim SM, Han DH, Lee YS, Renshaw PF. Combined cognitive behavioral therapy and bupropion for the treatment of problematic on-line game play in adolescents with major depressive disorder. Comput Hum Behav. 2012;28:1954–9.

48.

Young KS. Internet addiction: symptoms, evaluation and treatment. 1999;

49.

Zhou SX, Leung L. Gratification, loneliness, leisure boredom, and self-esteem as predictors of SNS-game addiction and usage pattern among Chinese college students. Int J Cyber Behav Psychol Learn. IGI Global; 2012.

50.

Diener E, Emmons RA, Larsen RJ, Griffin S. The satisfaction with life scale. J Pers Assess. 1985;49:71–5.

51.

Weiss DJ, Dawis RV, England GW. Manual for the Minnesota Satisfaction Questionnaire. Minn Stud Vocat Rehabil. 1967.

52.

Bakeman R. Recommended effect size statistics for repeated measures designs. Behav Res Methods. 2005;37:379–84.

53.

Sawilowsky SS. New effect size rules of thumb. J Mod Appl Stat Methods. 2009;8:597–9.

54.

Howell DC. Statistical methods for psychology: Cengage Learning; 2009.

55.

Landis JR, Koch GG. The measurement of observer agreement for categorical data. Biometrics. 1977;33:159–74.

56.

Viera AJ, Garrett JM. Understanding interobserver agreement: the kappa statistic. Fam Med. 2005;37:360–3.
Funding
This study was supported by Tencent Research Institute.
Ethics declarations
Conflict of Interest
The authors declare that they have no conflict of interest.
Human Participants
All procedures performed in studies involving human participants were in accordance with the ethical standards of the institutional and/or national research committee and with the 1964 Helsinki declaration and its later amendments or comparable ethical standards.
Informed Consent
Informed consent was obtained from all individual participants included in the study.
Additional information
Publisher's Note
Springer Nature remains neutral with regard to jurisdictional claims in published maps and institutional affiliations.
About this article
Cite this article
Zhou, X., Rau, PL.P., Yang, CL. et al. Cognitive Behavioral Therapy-Based Short-Term Abstinence Intervention for Problematic Social Media Use: Improved Well-Being and Underlying Mechanisms. Psychiatr Q 92, 761–779 (2021). https://doi.org/10.1007/s11126-020-09852-0
Accepted:

Published:

Issue Date:
Keywords
Problematic social media use

Well-being

Short-term abstinence

Cognitive behavioral therapy