Abstract
The objective of this study was to investigate the correlation of tinnitus severity and sleep quality prior to tinnitus onset in a Chinese population.We recruited patients with primary tinnitus from a tertiary teaching hospital in southwest China, retrospectively. The Pittsburgh Sleep Quality Index (PSQI) and the Mandarin version of the Tinnitus Handicap Inventory (THI-M) were employed to assess tinnitus severity and sleep quality of past, respectively. A battery of hearing tests was also administered to subjects, including TEOAE, pure tone audiometry, and tympanometry, for hearing evaluation.We enrolled 190 patients and nine were excluded. Subjects were divided into two groups: group A (PSQI <7) and group B (PSQI ≥7). The mean duration of tinnitus in both groups was above 6 months. There was a significant difference between THI-M global scores of group A and group B (P < 0.001). The difference in tinnitus severity ranks between the two groups was also significant (P = 0.006). The proportion of severe tinnitus levels in group B was higher than that of group A. Spearman's correlation analysis did not show correlation between the scores of THI-M and that of the PSQI in group A (P = 0.077); in verse, a positive correlation between THI-M and PSQI scores was found in group B (P < 0.001).The tinnitus severity is positively correlated with sleep quality before tinnitus onset, suggesting that the sleep quality of the past may have an impact on tinnitus occurrence.
Access options
Buy single article
Instant access to the full article PDF.
US$ 39.95
Tax calculation will be finalised during checkout.
Subscribe to journal
Immediate online access to all issues from 2019. Subscription will auto renew annually.
US$ 79
Tax calculation will be finalised during checkout.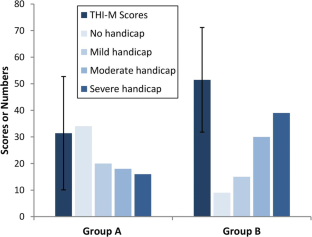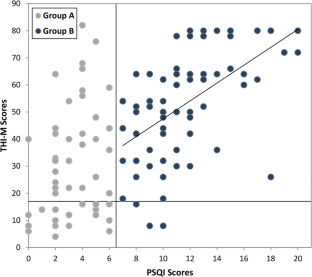 References
1.

Lee HM, Han KD, Kong SK, Nam EC, Park SN, Shim HJ, et al. Epidemiology of clinically significant tinnitus: a 10-year trend from Nationwide health claims data in South Korea. Otol Neurotol. 2018;39(6):680–7. https://doi.org/10.1097/MAO.0000000000001832.

2.

McCormack A, Edmondson-Jones M, Somerset S, Hall D. A systematic review of the reporting of tinnitus prevalence and severity. Hear Res. 2016;337:70–9. https://doi.org/10.1016/j.heares.2016.05.009.

3.

Norena AJ. Revisiting the cochlear and central mechanisms of tinnitus and therapeutic approaches. Audiol Neurootol. 2015;20(Suppl 1):53–9. https://doi.org/10.1159/000380749.

4.

Bhatt IS. Prevalence of and risk factors for tinnitus and tinnitus-related handicap in a college-aged population. Ear Hear. 2018;39(3):517–26. https://doi.org/10.1097/AUD.0000000000000503.

5.

Koo M, Hwang JH. Risk of tinnitus in patients with sleep apnea: a nationwide, population-based, case-control study. Laryngoscope. 2017;127(9):2171–5. https://doi.org/10.1002/lary.26323.

6.

Kim HJ, Lee HJ, An SY, Sim S, Park B, Kim SW, et al. Analysis of the prevalence and associated risk factors of tinnitus in adults. PLoS One. 2015;10(5):e0127578. https://doi.org/10.1371/journal.pone.0127578.

7.

Veile A, Zimmermann H, Lorenz E, Becher H. Is smoking a risk factor for tinnitus? A systematic review, meta-analysis and estimation of the population attributable risk in Germany. BMJ Open. 2018;8(2):e016589. https://doi.org/10.1136/bmjopen-2017-016589.

8.

Meikle MB, Vernon J, Johnson RM. The perceived severity of tinnitus. Some observations concerning a large population of tinnitus clinic patients. Otolaryngol Head Neck Surg. 1984;92(6):689–96. https://doi.org/10.1177/019459988409200617.

9.

Cronlein T, Langguth B, Pregler M, Kreuzer PM, Wetter TC, Schecklmann M. Insomnia in patients with chronic tinnitus: cognitive and emotional distress as moderator variables. J Psychosom Res. 2016;83:65–8. https://doi.org/10.1016/j.jpsychores.2016.03.001.

10.

Izuhara K, Wada K, Nakamura K, Tamai Y, Tsuji M, Ito Y, et al. Association between tinnitus and sleep disorders in the general Japanese population. Ann Otol Rhinol Laryngol. 2013;122(11):701–6. https://doi.org/10.1177/000348941312201107.

11.

Alster J, Shemesh Z, Ornan M, Attias J. Sleep disturbance associated with chronic tinnitus. Biol Psychiatry. 1993;34(1–2):84–90.

12.

Xu Y, Yao J, Zhang Z, Wang W. Association between sleep quality and psychiatric disorders in patients with subjective tinnitus in China. Eur Arch Otorhinolaryngol. 2016;273(10):3063–72. https://doi.org/10.1007/s00405-016-3906-8.

13.

Schecklmann M, Pregler M, Kreuzer PM, Poeppl TB, Lehner A, Cronlein T, et al. Psychophysiological associations between chronic tinnitus and sleep: a cross validation of tinnitus and insomnia questionnaires. Biomed Res Int. 2015;2015:461090. https://doi.org/10.1155/2015/461090.

14.

Wallhausser-Franke E, Schredl M, Delb W. Tinnitus and insomnia: is hyperarousal the common denominator? Sleep Med Rev. 2013;17(1):65–74. https://doi.org/10.1016/j.smrv.2012.04.003.

15.

Wakabayashi S, Saito H, Oishi N, Shinden S, Ogawa K. Effects of tinnitus treatments on sleep disorders in patients with tinnitus. Int J Audiol. 2018;57(2):110–4. https://doi.org/10.1080/14992027.2017.1374565.

16.

Liu XL, Wang J, Hong ZJ, Zhongshan MF. A preliminary study on the correlation between obstructive sleep apnea hypopnea syndrome and chronic tinnitus. Lin Chung Er Bi Yan Hou Tou Jing Wai Ke Za Zhi. 2018;32(8):575–8. https://doi.org/10.13201/j.issn.1001-1781.2018.08.004.

17.

Tunkel DE, Bauer CA, Sun GH, Rosenfeld RM, Chandrasekhar SS, Cunningham ER Jr, et al. Clinical practice guideline: tinnitus. Otolaryngol Head Neck Surg. 2014;151(2 Suppl):S1–S40. https://doi.org/10.1177/0194599814545325.

18.

Miguel GS, Yaremchuk K, Roth T, Peterson E. The effect of insomnia on tinnitus. Ann Otol Rhinol Laryngol. 2014;123(10):696–700. https://doi.org/10.1177/0003489414532779.

19.

Hallam RS. Correlates of sleep disturbance in chronic distressing tinnitus. Scand Audiol. 1996;25(4):263–6.

20.

Cronlein T, Langguth B, Geisler P, Hajak G. Tinnitus and insomnia. Prog Brain Res. 2007;166:227–33. https://doi.org/10.1016/S0079-6123(07)66021-X.

21.

Bonnet MH, Arand DL. Hyperarousal and insomnia: state of the science. Sleep Med Rev. 2010;14(1):9–15. https://doi.org/10.1016/j.smrv.2009.05.002.

22.

Baigi A, Oden A, Almlid-Larsen V, Barrenas ML, Holgers KM. Tinnitus in the general population with a focus on noise and stress: a public health study. Ear Hear. 2011;32(6):787–9. https://doi.org/10.1097/AUD.0b013e31822229bd.

23.

Attanasio G, Russo FY, Roukos R, Covelli E, Cartocci G, Saponara M. Sleep architecture variation in chronic tinnitus patients. Ear Hear. 2013;34(4):503–7. https://doi.org/10.1097/AUD.0b013e31827bc436.

24.

Folmer RL, Griest SE. Tinnitus and insomnia. Am J Otolaryngol. 2000;21(5):287–93. https://doi.org/10.1053/ajot.2000.9871.
Acknowledgements
We would like to thank the staffs of the hearing lab for their contributions to the research and express our gratitude to Mr. Yan Xu, an expertized medical analysist, who reviewed our statistical analysis in this study.
Funding
This work was supported by the Graduate Fund of Sichuan University (0040204117001).
Ethics declarations
Conflict of Interest
The authors have no conflicts of interest.
Ethical Approval
All procedures performed in studies involving human participants were in accordance with the ethical standards of the institutional and/or national research committee and with the 1964 Helsinki declaration and its later amendments or comparable ethical standards.
This study was approved by the Ethics Committee of West China Hospital of Sichuan University (2016–180).
Informed Consent
Informed consent was obtained from all subjects in this study.
Additional information
Publisher's Note
Springer Nature remains neutral with regard to jurisdictional claims in published maps and institutional affiliations.
About this article
Cite this article
Lu, T., Li, S., Ma, Y. et al. Positive Correlation between Tinnitus Severity and Poor Sleep Quality Prior to Tinnitus Onset: a Retrospective Study. Psychiatr Q 91, 379–388 (2020). https://doi.org/10.1007/s11126-019-09708-2
Keywords
Tinnitus

Sleep quality

Tinnitus severity

Self-reported measure