Abstract
Research evidence suggests that problematic Facebook use (PFU) affects large numbers of people worldwide. A variety of studies have investigated the relationship between PFU and psychological dysfunction, revealing that negative mood and cognitive self-regulation are common among problematic Facebook users. The aim of the present study was to examine the role of craving, emotion regulation and desire thinking in predicting PFU. An online survey was administered to 750 participants (Mage = 23.38 years; SDage = 5.72). Correlation analyses indicated that all predictor variables were positively associated with PFU. Path analysis showed that imaginal prefiguration was associated with craving, which, in turn, was associated with verbal prefiguration that was directly linked to PFU, beyond the direct effect of emotion regulation. These findings provide further support for the importance of desire thinking in predicting problematic behaviours. Desire thinking and emotion regulation should be considered in the modification of problematic Facebook use.
This is a preview of subscription content, log in to check access.
Access options
Buy single article
Instant access to the full article PDF.
US$ 39.95
Tax calculation will be finalised during checkout.
Subscribe to journal
Immediate online access to all issues from 2019. Subscription will auto renew annually.
US$ 99
Tax calculation will be finalised during checkout.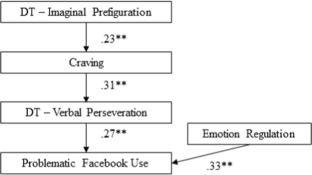 References
1.

Aldao A, Nolen-Hoeksema S, Schweizer S. Emotion-regulation strategies across psychopathology: a meta-analytic review. Clin Psychol Rev. 2010;30(2):217–37.

2.

Baron RM, Kenny DA. The moderator–mediator variable distinction in social psychological research: conceptual, strategic, and statistical considerations. J Pers Soc Psychol. 1986;51(6):1173–82.

3.

Blaine SK, Nautiyal N, Hart R, Guarnaccia JB, Sinha R. Craving, cortisol and behavioral alcohol motivation responses to stress and alcohol cue contexts and discrete cues in binge and non-binge drinkers. Addict Biol. 2018. https://doi.org/10.1111/adb.12665.

4.

Bollen KA. Structural equations with latent variables. New York: Wiley; 1989.

5.

Caplan SE. Theory and measurement of generalized problematic internet use: a two-step approach. Comput Hum Behav. 2010;26:1089–97.

6.

Casale S, Caplan SE, Fioravanti G. Positive metacognitions about internet use: the mediating role in the relationship between emotional dysregulation and problematic use. Addict Behav. 2016;59:84–8.

7.

Caselli G, Spada MM. Metacognitions in desire thinking: a preliminary investigation. Behav Cogn Psychother. 2010;38(5):629–37.

8.

Caselli G, Spada MM. The desire thinking questionnaire: development and psychometric properties. Addict Behav. 2011;36(11):1061–7.

9.

Caselli G, Spada MM. Desire thinking: what is it and what drives it? Addict Behav. 2015;44:71–9.

10.

Caselli G, Spada MM. Desire thinking: a new target for treatment of addictive behaviors? Int J Cogn Ther. 2016;9(4):344–55.

11.

Clark L, Goudriaan AE. The neuroscience and neuropsychology of gambling and gambling addiction: an introduction to the special issue. Int Gambl Stud. 2018;18(2):173–7.

12.

Cohen J. Statistical power analysis for behavioral science. 2nd ed. Hillsdale: Erlbaum; 1988.

13.

Gratz KL, Roemer L. Multidimensional assessment of emotion regulation and dysregulation: development, factor structure, and initial validation of the difficulties. J Psychopathol Behav Assess. 2004;26:41–54.

14.

Hallion LS, Steinman SA, Tolin DF, Diefenbach GJ. Psychometric properties of the difficulties in emotion regulation scale (DERS) and its short forms in adults with emotional disorders. Front Psychol. 2018;9:539.

15.

Hayes AF. Beyond Baron and Kenny: statistical mediation analysis in the new millennium. Commun Monogr. 2009;76(4):408–20.

16.

Hormes JM, Kearns B, Timko CA. Craving Facebook? Behavioral addiction to online social networking and its association with emotion regulation deficits. Addiction. 2014;109(12):2079–88.

17.

Jӧreskog KG, Sӧrbom D. LISREL 8: User's reference guide. Chicago: Scientific Software International; 1996.

18.

Marino C, Vieno A, Altoè G, Spada MM. Factorial validity of the problematic Facebook use scale for adolescents and young adults. J Behav Addict. 2017;6(1):5–10.

19.

Marino C, Gini G, Vieno A, Spada MM. The associations between problematic Facebook use, psychological distress and well-being among adolescents and young adults: a systematic review and meta-analysis. J Affect Disord. 2018;226:274–81.

20.

Marlatt GA. Craving notes. Br J Addict. 1987;82(1):42–4.

21.

Martino F, Caselli G, Felicetti F, Rampioni M, Romanelli P, Troiani L, et al. Desire thinking as a predictor of craving and binge drinking: a longitudinal study. Addict Behav. 2017;64:118–22.

22.

Rosseel Y. Lavaan: an R package for structural equation modeling. J Stat Softw. 2012;48:1–36.

23.

Sighinolfi C, Norcini Pala A, Chiri LR, Marchetti I, Sica C. Traduzione e adattamento italiano del Difficulties in Emotion Regulation Strategies una ricerca preliminare. Psicoterapia Cognitiva e Comportamentale. 2010;16(2):141–70.

24.

Spada MM, Caselli G, Slaifer M, Nikčević AV, Sassaroli S. Desire thinking as a predictor of problematic internet use. Soc Sci Comput Rev. 2014;32(4):474–83.

25.

Williams AD, Grisham JR, Erskine A, Cassedy E. Deficits in emotion regulation associated with pathological gambling. Br J Clin Psychol. 2012;51(2):223–38.

26.

Wise RA, Koob GF. The development and maintenance of drug addiction. Neuropsychopharmacology. 2014;39(2):254–62.
Ethics declarations
Conflict of Interest
The authors declare no conflict of interest.
Inform Consent
All participants were informed about the aims of the study and gave their informed consent prior to starting the online survey.
Ethical Approval
The ethical committee of the University of Padova gave ethical approval for the study.
Additional information
Publisher's Note
Springer Nature remains neutral with regard to jurisdictional claims in published maps and institutional affiliations.
About this article
Cite this article
Marino, C., Caselli, G., Lenzi, M. et al. Emotion Regulation and Desire Thinking as Predictors of Problematic Facebook Use. Psychiatr Q 90, 405–411 (2019). https://doi.org/10.1007/s11126-019-09628-1
Keywords
Problematic Facebook use

Desire thinking

Craving

Emotion regulation