Abstract
Pathological gaming (PG) behaviors are behaviors which interfere with other life responsibilities. Continued debate exists regarding whether symptoms of PG behaviors are a unique phenomenon or arise from other mental health problems, including attention problems. Development of attention problems and occurrence of pathological gaming in 144 adolescents were followed during a 1-year prospective analysis. Teens and their parents reported on pathological gaming behaviors, attention problems, and current grade point average, as well as several social variables. Results were analyzed using regression and path analysis. Attention problems tended to precede pathological gaming behaviors, but the inverse was not true. Attention problems but not pathological gaming predicted lower GPA 1 year later. Current results suggest that pathological gaming arises from attention problems, but not the inverse. These results suggest that pathological gaming behaviors are symptomatic of underlying attention related mental health issues, rather than a unique phenomenon.
This is a preview of subscription content, log in to check access.
Access options
Buy single article
Instant access to the full article PDF.
US$ 39.95
Price includes VAT for USA
Subscribe to journal
Immediate online access to all issues from 2019. Subscription will auto renew annually.
US$ 99
This is the net price. Taxes to be calculated in checkout.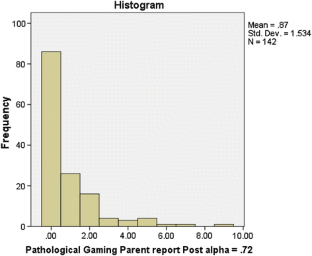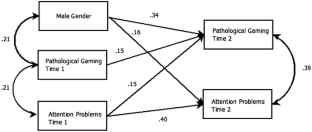 Abbreviations
PG:

Pathological gaming

GPA:

Grade point average
References
1.

Lemmens JS, Valkenburg PM, Peter J: Development and validation of a game addiction scale for adolescents. Media Psychology 12(1):77–95, 2009.

2.

Desai RA, Krishnan-Sarin S, Cavallo D, Potenza MN: Video-gaming among high school students: health correlates, gender differences, and problematic gaming. Pediatrics 126(6):e1414–e1424, 2010.

3.

Gentile D: Pathological video-game use among youth ages 8 to 18: A national study. Psychological Science 20(5):594–602, 2009.

4.

Ferguson CJ, Coulson M, Barnett J: A meta-analysis of pathological gaming prevalence and comorbidity with mental health, academic and social problems. Journal of Psychiatric Research 45(12):1573–1578, 2011.

5.

Mehroof M, Griffiths MD: Online gaming addiction: The role of sensation seeking, self-control, neuroticism, aggression, state anxiety, and trait anxiety. Cyberpsychology Behavior and Social Networking 13(3):313–316, 2010.

6.

Van Rooij AJ, Schoenmakers TM, Vermulst AA, Van den Eijnden RJ, Van de Mheen D: Online video game addiction: Identification of addicted adolescent gamers. Addiction 106(1):205–212, 2011.

7.

Wood RTA: Problems with the concept of video game 'addiction': Some case study examples. International Journal of Mental Health and Addiction 6(2):169–178, 2008.

8.

American Psychiatric Association: DSM-5 proposed revisions include new category of addiction and related disorders: new Category of behavioral addictions also proposed. http://www.dsm5.org/Newsroom/Documents/Addiction release FINAL 2.05.pdf. Accessed 25 Jan, 2012.

9.

Caplan S, Williams D, Yee N: Problematic internet use and psychosocial well-being among MMO players. Computers in Human Behavior 25(6):1312–1319, 2009.

10.

Chan P, Rabinowitz T: A cross-sectional analysis of video games and attention deficit hyperactivity disorder symptoms in adolescents. Annals of General Psychiatry 5(1):16, 2006.

11.

Yoo HJ, Cho SC, Ha J, Yune SK, Kim SJ, Hwang J, et al: Attention deficit hyperactivity symptoms and Internet addiction. Psychiatry and Clinical Neurosciences 58(5):487–494, 2004.

12.

Best JR. Exergaming immediately enhances children's executive function. Developmental Psychology 48(5):1501–1510, 2011.

13.

Enochsson L, Isaksson B, Tour R, Kjellin A, Hedman L, Wredmark T, et al: Visuospatial skills and computer game experience influence the performance of virtual endoscopy. Journal of Gastrointestinal Surgery 8(7):876–882, 2004.

14.

Li X, Atkins M: Early childhood computer experience and cognitive and motor development. Pediatrics 113(6):1715–1722, 2004.

15.

Tahiroglu AY, Celik GG, Avci A, Seydaoglu G, Uzel M, Altunbas H: Short-term effects of playing computer games on attention. Journal of Attention Disorders 13(6):668–76, 2010.

16.

Ceranoglu TA: Star Wars in psychotherapy: Video games in the office. Academic Psychiatry 34(3):233–236, 2010.

17.

Ceranoglu TA: Video games in psychotherapy. Review of General Psychology 14(2):141–146, 2010.

18.

Charlton JP, Danforth IDW: Distinguishing addiction and high engagement in the context of online game playing. Computers in Human Behavior 23(3):1531–1548, 2007.

19.

Skoric MM, Teo LL, Neo RL: Children and video games: Addiction, engagement, and scholastic achievement. Cyberpsychology Behavior 12(5):567–572, 2009.

20.

Charlton JP: A factor-analytic investigation of computer 'addiction' and engagement. British Journal of Psychology 93(Pt 3):329–344, 2002.

21.

Achenbach T, Rescorla L: Manual for ASEBA School-Age Forms & Profiles. Burlington, VT: University of Vermont, 2001.

22.

Paternoster R, Mazerolle P: General strain theory and delinquency: A replication and extension. Journal of Research in Crime and Delinquency 31(3):235–263, 1994.

23.

Flory K, Glass K, Langley H, Hankin B: Attention problems and peer crowd affiliation among adolescents. Advances in School Mental Health Promotion 4(1):23–34, 2011.

24.

Shaw DS, Lacourse E, Nagin DS: Developmental trajectories of conduct problems and hyperactivity from ages 2 to 10. Journal of Child Psychology and Psychiatry 46(9):931–942, 2005.

25.

Kuhn S, Romanowski A, Schilling C, Lorenz R, Morsen C, Seiferth N, et al: The neural basis of video gaming. Translational Psychiatry 1:e53, 2011.

26.

Chan PA, Rabinowitz T: A cross-sectional analysis of video games and attention deficit hyperactivity disorder symptoms in adolescents. Annals of General Psychiatry 5:16, 2006.

27.

Bioulac S, Arfi L, Bouvard MP: Attention deficit/hyperactivity disorder and video games: A comparative study of hyperactive and control children. European Psychiatry 23(2):134–141, 2008.

28.

Weis R, Cerankosky BC: Effects of video-game ownership on young boys' academic and behavioral functioning: a randomized, controlled study. Psychological Science 21(4):463–470, 2010.

29.

Przybylski AK, Weinstein N, Ryan RM, Rigby CS: Having to versus wanting to play: Background and consequences of harmonious versus obsessive engagement in video games. Cyberpsychology and Behavior 12(5):485–492, 2009.

30.

Chiu S-I, Lee J-Z, Huang D-H: Video game addiction in children and teenagers in Taiwan. Cyberpsychology and Behavior 7(5):571–581, 2004.

31.

Media CS, Rideout V: Zero to eight: Children's media use in America. Common Sense Media, 2011.

32.

Primack BA, Swanier B, Georgiopoulos AM, Land SR, Fine MJ: Association between media use in adolescence and depression in young adulthood: A longitudinal study. Archives of General Psychiatry 66(2):181–188, 2009.
Conflict of interest
Neither author have conflicts of interest to declare. The authors have no financial relationships relevant to this article to disclose.
Additional information
What's known PG behaviors affect a small number of youth video game players. Pathological gaming appears to be correlated with other mental health problems such as attention deficit symptoms.
What this study adds the current study examines prospective links between attention problems and pathological gaming. Evidence suggests that attention problems increase the potential for pathological video game playing, but that the inverse is not true.
About this article
Cite this article
Ferguson, C.J., Ceranoglu, T.A. Attention Problems and Pathological Gaming: Resolving the 'Chicken and Egg' in a Prospective Analysis. Psychiatr Q 85, 103–110 (2014). https://doi.org/10.1007/s11126-013-9276-0
Keywords
Video games

Addiction

Pathological gaming

Attention problems

Grades