Abstract
The current study evaluated the differential-susceptibility hypothesis in explaining the intergenerational transmission of parenting, using data from the National Longitudinal Study of Adolescent Health (Add Health). Exposure to maternal parenting was measured prospectively when respondents were adolescents and parental stress was measured when they were parents themselves, some 14 years later, on average. Cumulative-genetic plasticity was measured by dominantly coding the presence of putative plasticity alleles from four genes: the 10R allele of DAT1, the A1 allele of DRD2, the 7R allele of DRD4, and the short allele of 5HTTLPR. Results showed that the more plasticity alleles individuals carried (range 0–4), the more that parenting experienced in adolescence predicted future parenting experience. Those respondents with the most plasticity alleles not only experienced the highest levels of parental stress when exposed to negative maternal parenting in adolescence but the lowest levels when exposed to positive maternal parenting in adolescence. These results indicate that differential susceptibility is operative in the case of the intergenerational transmission of parenting, which could explain why estimates of such transmission have proven so modest in studies which fail to consider GXE interactions.
Access options
Buy single article
Instant access to the full article PDF.
US$ 39.95
Tax calculation will be finalised during checkout.
Subscribe to journal
Immediate online access to all issues from 2019. Subscription will auto renew annually.
US$ 79
Tax calculation will be finalised during checkout.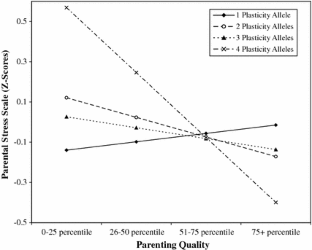 Notes
1.

The Add Health respondents were also genotyped for a polymorphism in the promoter region of the MAOA gene. However, since MAOA is X-linked, including this polymorphism in the plasticity index would necessitate separate models for males and females. Given that there is not a theoretical reason to believe that plasticity would differentially affect males and females in terms of parenting, we opted to exclude MAOA from the analyses and analyze males and females simultaneously.
References
1.

Bailey JA, Hill KG, Oesterle S, Hawkins JD, The Social Development Research Group: Parenting practices and problem behavior across three generations. Developmental Psychology 45:1214–1226, 2009.

2.

Baker BL, McIntyre LL, Blacher J, Crnic K, Edelbrock C, Low C: Preschool children with and without developmental delay: Behavior problems and parenting stress over time. Journal of Intellectual Disability Research 47:217–230, 2003.

3.

Bandura A: Social Learning Theory. Englewood Cliffs, Prentice-Hall, 1977.

4.

Beaver KM, Sak A, Vaske J, Nilsson J: Genetic risk, parent-child relations, and antisocial phenotypes in a sample of African-American males. Psychiatry Research 17:160–164, 2010.

5.

Belsky J: Three theoretical models of child abuse: A critical review. International Journal of Child Abuse and Neglect 2:37–49, 1978.

6.

Belsky J: Child maltreatment: An ecological integration. American Psychologist 35:320–335, 1980.

7.

Belsky J: The determinants of parenting: A process model. Child Development 55:83–96, 1984.

8.

Belsky J: Etiology of child maltreatment: A developmental-ecological analysis. Psychological Bulletin 114:413–434, 1993.

9.

Belsky J: Variation in susceptibility to rearing influences: An evolutionary argument. Psychological Inquiry 8:182–186, 1997.

10.

Belsky J: Differential Susceptibility to Rearing Influences: An Evolutionary Hypothesis and Some Evidence. In: Ellis B, Bjorklund D (Eds) Origins of the Social Mind: Evolutionary Psychology and Child Development. New York, Guildford, pp. 139–163, 2005.

11.

Belsky J, Jaffee S: The Multiple Determinants of Parenting. In: Cicchetti D, Cohen D (Eds) Developmental Psychopathology, 2nd edn., Vol. 3: Risk, Disorder and Adaptation. New York, Wiley, pp. 38–85, 2006.

12.

Belsky J, Pluess M: Beyond diathesis-stress: Differential susceptibility to environmental influence. Psychological Bulletin 135:885–908, 2009.

13.

Belsky J, Youngblade L, Pensky E: Childrearing history, marital quality and maternal affect: Intergenerational transmission in a low-risk sample. Development and Psychopathology 1:291–304, 1990.

14.

Belsky J, Jaffee SR, Sligo J, Woodward L, Silva PA: Intergenerational transmission of warm-sensitive-stimulating parenting: A prospective study of mothers and fathers of 3-year-olds. Child Development 76:384–396, 2005.

15.

Belsky J, Bakermans-Kranenburg MJ, van Ijzendoorn MH: For better and for worse: Differential Susceptibility to environmental influences. Current Directions in Psychological Science 16(6):300–304, 2007.

16.

Belsky J, Conger R, Capaldi DM: The intergenerational transmission of parenting: Introduction to the special section. Developmental Psychology 45:1201–1204, 2009.

17.

Belsky J, Jonassaint C, Pluess M, Stanton M, Brummett B, Williams R: Vulnerability genes or plasticity genes? Molecular Psychiatry 14:746–754, 2009.

18.

Berry JO, Jones WH: The parental stress scale: Initial psychometric evidence. Journal of Social and Personal Relationships 12:463–472.

19.

Bowlby J: Attachment and Loss. Attachment, Vol. 1. New York, Basic Books, 1969.

20.

Boyce WT. Ellis BJ: Biological sensitivity to context: I. An evolutionary-developmental theory of the origins and functions of stress reactivity. Development and Psychopathology 17(2):271–301, 2005.

21.

Burmeister M, McInnis MG, Zollner S: Psychiatric genetics: Progress amid controversy. Nature Reviews Genetics 9(7):527–540, 2008.

22.

Capaldi D, Pears K, Patterson G, Owen L: Continuity of parenting practices across generations in an at-risk sample: A prospective comparison of direct and mediated associations. Journal of Abnormal Child Psychology 31:127–142, 2003.

23.

Caspi A, Elder GH: Emergent Family Patterns: The Intergenerational Construction of Problem Behavior and Relationships. In: Hinde R, Stevenson-Hinde J (Eds) Relationships Within Families. Oxford, Oxford University Press, pp. 218–240, 1988.

24.

Caspi A, Moffitt TE: Gene-environment interactions in psychiatry: Joining forces with neuroscience. Nature Reviews Neuroscience 7(7):583–590, 2006.

25.

Chen Z, Kaplan H: The intergenerational transmission of constructive parenting. Journal of Marriage and the Family 63:17–31, 2001.

26.

Cicchetti D, Rizley R: Developmental perspectives on the etiology, intergenerational transmission and sequelae of child maltreatment. New Directions for Child Development 11:31–56, 1981.

27.

Cohen J, Cohen P, West SG, Aiken LS: Applied Multiple Regression/Correlation Analysis for the Behavioral Sciences, 3rd edn. Mahwah, Lawrence Erlbaum, 2003.

28.

Conger RD, Patterson GR, Ge X: It takes two to replicate: A mediational model for the impact of parents' stress on adolescent adjustment. Child Development 66:80–97, 1995.

29.

Conger R, Nellpl T, Kim K, Scaramella L: Angry and aggressive behaviour across three generations: A prospective, longitudinal study of parents and children. Journal of Abnormal Child Psychology 31:143–160, 2003.

30.

Conger R, Capaldi D, Belsky J: The intergenerational transmission of parenting: Closing comments for the special section. Developmental Psychology 45:1276–1283, 2009.

31.

Crnic KA, Greenberg MT: Minor parenting stresses with young children. Child Development 61:1628–1637, 1990.

32.

Crnic KA, Gaze C, Hoffman C: Cumulative parenting stress across the preschool period: Relations to maternal parenting and child behaviour at age 5. Infant and Child Development 14:117–132, 2005.

33.

De Quervain DJF, Papassotiropoulos A: Identification of a genetic cluster influencing memory performance and hippocampal activity in humans. Proceedings of the National Academy of Sciences of the United States of America 103:4270–4274, 2006.

34.

Egeland B, Jacobvitz D, Papatola K: Intergenerational Continuity of Abuse. In: Gelles R, Lancaster J (Eds) Child Abuse and Neglect: Biosocial Dimensions. New York, Aldine, pp. 255–276, 1987.

35.

Elder G: History and the Life Course. In Bertaux D (Ed) Biography and Society: The Life History Approach in the Social Sciences. Beverly Hills, Sage, pp. 77–115, 1981.

36.

Elovainio M, Jokela M, Kivimaki M, Pulkki-Raback L, Lehtimaki T, Airla N, et al.: Genetic variants in the DRD2 gene moderate the relationship between stressful life events and depressive symptoms in adults: Cardiovascular risk in young Finns study. Psychosomatic Medicine 69(5):391-395, 2007.

37.

Feldman R, Eidelman AI, Rotenberg N: Parenting stress, infant emotion regulation, maternal sensitivity, and the cognitive development of triplets. Child Development 75:1774–1791, 2004.

38.

Haberstick BC, Lessem JM, Hopfer CJ, Smolen A, Ehringer MA, Timberlake D, Hewitt JK: Monoamine oxidase A and antisocial behaviors in the presence of childhood and adolescent maltreatment. American Journal of Medical Genetics 135B:59–64, 2005.

39.

Hanushek EA, Jackson JE: Statistical Methods for Social Scientists. San Diego, Academic Press, 1977.

40.

Hardt J, Rutter, M: Validity of adult retrospective reports of adverse childhood experiences: Review of the evidence. Journal of Child Psychology and Psychiatry 45:260–273, 2004.

41.

Harlaar N, Butcher LM, Meaburn E, Sham P, Craig IW, Plomin R: A behavioural genomic analysis of DNA markers associated with general cognitive ability in 7-year-olds. Journal of Child Psychology and Psychiatry 46:1097–1107, 2005.

42.

Harris KM, Florey F, Tabor J, Bearman PS, Jones J, Udry JR: The National Longitudinal Study of Adolescent Health: Research Design, 2003. http://www.cpc.unc.edu/projects/addhealth/design. Accessed 29 June 2009.

43.

Harris KM, Halpern CT, Smolen A, Haberstick BC: The National Longitudinal Study of Adolescent Health (Add Health) twin data. Twin Research and Human Genetics 9:988–997, 2006.

44.

Huesmann L, Eron L, Lefkowitz M, Walder L: The stability of aggression over time and generations. Developmental Psychology 20:1120–1134, 1984.

45.

Hunter R, Kilstrom N: Breaking the cycle in abusive families. American Journal of Psychiatry 136:1320–1322, 1979.

46.

Jackson AP, Huang CC: Parenting stress and behavior among single mothers of preschoolers. Journal of Social Service Research 26:29–42, 2000.

47.

Jackson AP, Brooks-Gunn J, Huang CC, Glassman M: Single mothers in low-income jobs: Financial strain, parenting, and preschoolers' outcomes. Child Development 71:1409–1423, 2000.

48.

Kaufman J, Zigler E: Do abused children become abusive parents? American Journal of Orthopsychiatry 57:186–192, 1987.

49.

Kerr DCR, Capaldi DM, Pears KC, Owen LD: A prospective three generational study of fathers' constructive parenting: Influences from family of origin, adolescent adjustment, and offspring temperament. Developmental Psychology 45:1257–1275, 2009.

50.

Kovan NM, Chung AL, Sroufe LA: The intergenerational continuity of observed early parenting. Developmental Psychology 45:1205–1213, 2009.

51.

Neppl TK, Conger RD, Scaramella LV, Ontai LL: Intergenerational continuity in parenting behavior. Developmental Psychology 45:1241–1256, 2009.

52.

Paternoster R, Brame R, Mazerolle P, Piquero A: Using the correct statistical test for the equality of regression coefficients. Criminology 36:859–866, 1998.

53.

Patterson G: Continuities—A search for causal mechanisms. Developmental Psychology 34:1263–1268, 1998.

54.

Pluess M, Belsky J, Neuman RJ: Prenatal smoking and ADHD: DRD4-7R as a plasticity gene. Biological Psychiatry 66:e5–e6, 2009.

55.

Quinton D, Rutter M: Parents with children in care: II. Intergenerational continuities. Journal of Child Psychology and Psychiatry 25:231–250, 1984.

56.

Quinton D, Rutter M, Liddle C: Institutional rearing, parenting difficulties, and marital support. Psychological Medicine 14:107–124, 1984.

57.

Resnick MD, Bearman PS, Blum RW, Bauman KE, Harris KM, Jones J, Tabor J, Beuhring T, Sieving RE, Shew M, Ireland M, Bearinger LH, Udry JR: Protecting adolescents from harm: Findings from the National Longitudinal Study of Adolescent Health. Journal of the American Medical Association 278:823–832, 1997.

58.

Rutter M: Genes and Behavior: Nature-Nurture Inteprlay Explained. Malden, Blackwell, 2006.

59.

Schaffer A, Burt K, Obradovic J, Herbers JE, Masten AS: Intergenerational continuity in parenting quality. Developmental Psychology 45:1227–1240, 2009.

60.

Serbin L, Karp J: Intergenerational studies of parenting and the transfer of risk from parent to child. Current Directions in Psychological Science 12:138–142, 2003.

61.

Sonuga-Barke EJ, Oades RD, Psychogiou L, Chen W, Franke B, Buitelaar J, et al.: Dopamine and serotonin transporter genotypes moderate sensitivity to maternal expressed emotion: The case of conduct and emotional problems in attention deficit/hyperactivity disorder. Journal of Child Psychology and Psychiatry and Allied Disciplines 50:1052–1063, 2009.

62.

Spinetta J. Rigler D: The child abusing parent: A psychological review. Psychological Bulletin 77:296–304, 1972.

63.

Taylor SE, Way BM, Welch WT, Hilmert CJ, Lehman BJ, Eisenberger NI: Early family environment, current adversity, the serotonin transporter promoter polymorphism, and depressive symptomatology. Biological Psychiatry 60(7):671–676, 2006.

64.

Thornberry T, Feeeman-Gallant A, Lizotte A, Krohn M, Smith C: Linked lives: The intergenerational transmission of antisocial behaviour. Journal of Abnormal Child Psychology 31:171–184, 2003.

65.

Van Ijzendoorn MH: Intergenerational transmission of parenting: A review of studies in nonclinical populations. Developmental Review 12:76–99, 1992.

66.

Whiteside-Mansell L, Pope SK, Bradley RH: Patterns of parenting behavior in young mothers. Family Relations 45:273–281, 1996.

67.

Zuckerman M: Vulnerability to Psychopathology: A Biosocial Model. Washington, American Psychological Association, 1999.
Acknowledgments
This research uses data from Add Health, a program project designed by J. Richard Udry, Peter S. Bearman, and Kathleen Mullan Harris and funded by Grant PO1-HD31921 from the Eunice Kennedy Shriver National Institute of Child Health and Human Development, with cooperative funding from 17 other agencies. Special acknowledgement is due to Ronald R. Rindfuss and Barbara Entwisle for assistance in original design. Persons interested in obtain data files from Add Health should contact Add Health, Carolina Population Center, 123 W. Franklin Street, Chapel Hill, NC 27516-2524 (addhealth@unc.edu). No direct support was received from Grant PO1-HD31921 for this analysis.
Conflict of interest
The authors have no competing financial interests in relation to the work described.
About this article
Cite this article
Beaver, K.M., Belsky, J. Gene-Environment Interaction and the Intergenerational Transmission of Parenting: Testing the Differential-Susceptibility Hypothesis. Psychiatr Q 83, 29–40 (2012). https://doi.org/10.1007/s11126-011-9180-4
Keywords
Differential susceptibility

Genetics

Intergenerational

Parenting