Abstract
The productive efficiency of the U.S. flour milling industry increased substantially between 1850 and 1880. Specifically, a typical flour mill in 1880 was able to produce the same value of output as a mill in 1850 with 25 percent fewer factor inputs. We use the concept of the cone technology, combined with an input-distance-function approach, to decompose this increase in productive efficiency into changes in technical efficiency, technological progress, and changes in scale efficiency, assuming unchanged allocative efficiency in combining inputs. We find that the average technical efficiency of flour mills was essentially constant throughout the period, implying that almost all the gains in productive efficiency were due to improvements in scale efficiency occasioned by more fully exploiting increasing returns. Furthermore, productive efficiency was positively related to mill size as larger mills were better able to take advantage of both economies of scale and technological progress. These results provide evidence in support of an important role for the increased scale of production in providing the preconditions for the emergence in the early twentieth century of an oligopolistic market structure in the U.S. flour milling industry.
Access options
Buy single article
Instant access to the full article PDF.
USD 39.95
Price includes VAT (USA)
Tax calculation will be finalised during checkout.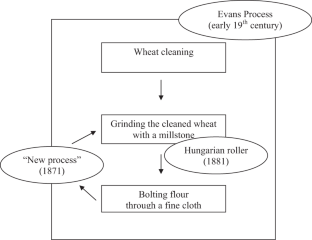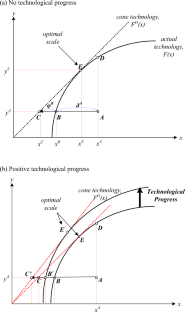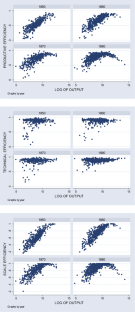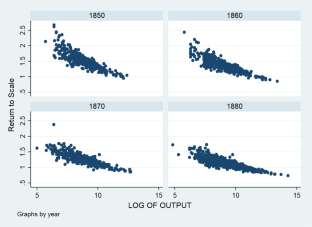 Data availability
The data for this paper are available from the corresponding author at warren@uga.edu.
Code availability
The code for this paper is available from the corresponding author at warren@uga.edu.
Notes
1.

These were factory farms that were sponsored by, or operated in cooperation with, railroad interests (Saloutos 1946, pp. 173–174).

2.

For a detailed discussion of the efficiency-structure hypothesis, see Molyneux and Forbes (1995).

3.

In smaller custom mills, there was no wheat cleaning or flour bolting. These two steps were completed separately at home.

4.

For a discussion of the nutritional value of wheat flour, see Chick (1958).

5.

It was well-known at the time that spring wheat flour produced 12 percent more bread than did a comparable amount of winter wheat flour.

6.

By the linear homogeneity of D(x, yA/τ) in x and letting γ = 1/τ, productive inefficiency can be expressed as DPE(x, y) = D(γ*x, γ*y), where γ* maximizes D(γx, γy); see Rasmussen (2010, p. 343).

7.

These criteria resulted in the exclusion of 22, 16, 30, and 31 observations in 1850, 1860, 1870, and 1880, respectively.

8.

9.

Among other possible distributional assumptions about u are the half-normal, truncated-normal, and Student's t-half-normal distributions. See, respectively, Aigner, et al. (1977), Stevenson (1980), and Wheat et al. (2019). However, any distributional assumption about u is ad hoc, as Sickles and Zelenyuk (2019, p. 366) point out. Alternatively, u could be treated as a parameter to be estimated, as in Atkinson and Cornwell (1994).

10.

For example, eighteen of the twenty mills in Minneapolis in 1876 were members of an organized oligopsony known as the Minneapolis Millers' Association.

11.

12.

We verified the (local) concavity of output with respect to the inputs by confirming the negative definiteness of the Hessian matrix of the input distance function, evaluated at the sample means.

13.

Unfortunately, data on individual mills from the 1890 Census of Manufactures were destroyed in 1921 in a fire at the Commerce Building in Washington, DC.

14.

Among smaller mills (those with five or fewer employees), the average technical efficiency of a water-powered mill was 0.880, while that of a steam-powered mill was 0.870.

15.

Notable in this regard were two mills in St. Louis, MO, one mill in Lee Co., IL, and one mill in Harrisburg, PA.
References
Aigner D, Lovell CAK, Schmidt P (1977) Formulation and estimation of stochastic frontier production function models. J Econ 6:21–37

Amsler C, Prokhorov A, Schmidt P (2016) Endogeneity in stochastic frontier models. J Econ 190:280–288

Atack J (1979) Fact or fiction? The relative costs of steam and water power: A simulation approach. Explor Econ Hist 16:409–437

Atack J (1986) Firm size and industrial structure in the United States during the nineteenth century. J Econ Hist 46:463–475

Atack J, Bateman F (1999) U.S. historical statistics: Nineteenth century U.S. industrial development through the eyes of the census of manufactures. Hist Methods 32:177–188

Atack J, Bateman F, Weiss T (2004) National Samples from the Census of Manufacturing: 1850, 1860, and 1870. Inter-university Consortium for Political and Social Research, Ann Arbor, MI

Atack J, Bateman F, Margo RA (2008) Steam power, establishment size, and labor productivity growth in nineteenth century American manufacturing. Explor Econ Hist 45:185–198

Atack J, Haines M, Margo RA (2011) Railroads and the rise of the factory: Evidence for the United States, 1850-1870. In: Rhode PW, Rosenbloom JL, Weiman JF eds. Economic Evolution and Revolution in Historical Time. Stanford University Press, Palo Alto, CA, p 162–179

Atkinson SE, Cornwell C (1994) Estimation of output and input technical efficiency using a flexible functional form and panel data. Int Econ Rev 35:245–255

Atkinson SE, Primont D (2002) Stochastic estimation of firm technology, inefficiency, and productivity growth using shadow cost and distance functions. J Econ 108:203–225

Balk BM (2001) Scale efficiency and productivity change. J Product Anal 15:159–183

Baltagi BH, Griffin JM (1988) A general index of technical change. J Polit Econ 96:20–41

Banker RD (1984) Estimating the most productive scale size using data envelopment analysis. Eur J Oper Res 17:35–44

Blackford MG (2003) A History of Small Business in America, 2nd edition. University of North Carolina Press, Chapel Hill, NC

Chandler Jr AD (1962) Strategy and Structure: Chapters in the History of the Industrial Enterprise. MIT Press, Cambridge, MA

Chick H (1958) Wheat and bread: a historical introduction. Proc Nutr Soc 17:1–7

Evans O (1834) The Young Mill-Wright and Miller's Guide: Illustrated by Twenty-Eight Descriptive Plates, 8th edition. Carey, Lea & Blanchard, Philadelphia, PA

Färe R, Grosskopf S, Lovell CAK (1988) Scale elasticity and scale efficiency. J Inst Theor Econ 144:721–729

Fenichel A (1979) Quantitative Analysis of the Growth and Diffusion of Steam Power in Manufacturing in the United States, 1838-1919. Arno Press Inc., New York, NY

Frisch R (1965) Theory of Production. Rand McNally, Chicago, IL

Hadar J (1964) Elementary Theory of Economic Behavior. Addison-Wesley, Reading, MA

Horrace WC, Schmidt P (2000) Multiple comparisons with the best, with economic applications. J Appl Econ 15:1–26

Hsieh C-T, Klenow PJ (2009) Misallocation and manufacturing TFP in China and India. Quart J Econ 124:1403–1448

Hunter LC (1979) A History of Industrial Power in the United States, 1780–1930. Volume One: Waterpower in the Century of the Steam Engine. Eleutherian Mills-Hagley Foundation, Greenville, DE

Hunter LC (1985) A History of Industrial Power in the United States, 1780–1930. Volume Two: Steam Power. Eleutherian Mills-Hagley Foundation, Greenville, DE

James JA (1983) Structural change in America manufacturing, 1850-1890. J Econ Hist 43:433–459

Jondrow J, Lovell CAK, Materov IS, Schmidt P (1982) On the estimation of technical inefficiency in the stochastic frontier production function model. J Econ 19:233–238

Klein, M (2008) Conquering the waters. In: The Power Makers: Steam, Electricity, and the Men Who Invented Modern America. Bloomsbury Press, New York, NY.

Kuhlmann CB (1929) The Development of the Flour-Milling Industry in the United States, with Special Reference to the Industry in Minneapolis. Houghton Mifflin Company, Boston, MA

Kumbhakar SC, Lovell CAK (2000) Stochastic Frontier Analysis. Cambridge University Press, New York, NY

Layer K, Johnson AL, Sickles RC, Ferrier GD (2020) Direction selection in stochastic distance functions. Eur J Oper Res 280:351–364

Mann HB, Whitney DR (1947) On a test of whether one of two random variables is stochastically larger than the other. Ann Math Stat 18:50–60

Margo RA (2015) Economies of scale in nineteenth-century American manufacturing revisited: A resolution of the entrepreneurial labor input problem. In: Collins WJ, Margo RA eds. Enterprising America: Businesses, Banks, and Credit Markets in Historical Perspective. University of Chicago Press, Chicago, IL, p 215–244

Meeusen W, van den Broeck J (1977) Efficiency estimation from Cobb-Douglas production functions with composed error. Int Econ Rev 18:435–444

Molyneux P, Forbes W (1995) Market structure and performance in European banking. Appl Econ 27:155–159

Olley GS, Pakes A (1996) The dynamics of productivity in the telecommunications equipment industry. Econometrica 64:1263–1297

Parmeter CF, Zelenyuk V (2019) Combining the virtues of stochastic frontier and data envelopment analysis. Oper Res 67:1628–1658

Perren R (1990) Structural change and market growth in the food industry: Flour milling in Britain, Europe, and America. 1850-1914. Econ Hist Rev 43:420–437

Pillsbury CA (1895) American flour. In: Depew CM ed 1795-1895: One Hundred Years of American Commerce. D. O. Haynes & Co., New York, NY

Rasmussen S (2010) Scale efficiency in Danish agriculture: An input distance-function approach. Eur Rev Agric Econ 37:335–367

Ray SC (1998) Measuring scale efficiency from a translog production function. J Product Anal 11:183–194

Saloutos T (1946) The spring-wheat farmer in a maturing economy 1870-1920. J Econ Hist 6:173–190

Shephard RW (1953) Cost and Production Functions. Princeton University Press, Princeton, NJ

Sickles RC, Zelenyuk V (2019) Measurement of Productivity and Efficiency: Theory and Practice. Cambridge University Press, New York, NY

Sickles RC, Good DH, Getachew L (2002) Specification of distance functions using semi- and nonparametric methods with an application to the dynamic performance of Eastern and Western European air carriers. J Product Anal 17:133–155

Simar L, Zelenyuk V (2011) Stochastic FDH/DEA estimators for frontier analysis. J Product Anal 36:1–20

Steen H (1963) Flour Milling in America. T.S. Denison & Company, Inc., Minneapolis, MN

Stevenson RE (1980) Likelihood functions for generalized stochastic frontier estimation. J Econ 13:57–66

Thurston RH (1878) A History of the Growth of the Steam-Engine. D. Appleton and Company, New York, NY

Tinbergen J (1942) Zur theorie der langfristigen wirtschaftsentwicklung. Weltwirtschaftliches Archiv 55:511–549

Tsionas EG, Kumbhakar SC, Malikov E (2015) Estimation of input distance functions: A system approach. Am J Agric Econ 97:1478–1493

Vatter HG (1955) Small enterprise mortality: Commercial wheat flour milling, in Small Enterprise and Oligopoly: A Study of the Butter, Flour, Automobile, and Glass Container Industries. Oregon State College Press, Corvallis, OR, p 33–65

Wheat P, Stead AD, Greene WH (2019) Robust stochastic frontier analysis: A Student's t-half-normal model with application to highway maintenance costs in England. J Product Anal 51:21–38

Wilcoxon F (1945) Individual comparisons by ranking methods. Biometrics Bull 1:80–83

Zelenyuk V (2006) Aggregation of Malmquist productivity indexes. Eur J Oper Res 174:1076–1086
Acknowledgements
We gratefully acknowledge the contributions of the late Fred Bateman to the early stages of this project. Jeremy Atack, Sergio Destefanis, four anonymous referees, and an associate editor provided very helpful comments on earlier versions of this paper. Responsibility for errors and omissions is ours alone.
Ethics declarations
Conflict of interest
The authors declare no competing interests.
Additional information
Publisher's note Springer Nature remains neutral with regard to jurisdictional claims in published maps and institutional affiliations.
About this article
Cite this article
Han, Y., Snow, A. & Warren, R.S. Changes in the productive efficiency of U.S. flour mills in the late nineteenth century: an input-distance-function approach. J Prod Anal 56, 115–132 (2021). https://doi.org/10.1007/s11123-021-00615-y
Accepted:

Published:

Issue Date:
Keywords
Productive Efficiency

Technical Efficiency

Scale Efficiency

Input-Distance Function

Flour Milling

Industrial Revolution
JEL Classification Codes