Abstract
In this paper, we propose a flexible two-stage data envelopment analysis (DEA) approach to evaluate the bank performance. Specifically, instead of fixing the role of the deposits in an ex-ante manner, the proposed approach regards deposits as a flexible measure in which it can play different roles for different banks under evaluation. Further, the traditional two-stage approach that regards deposits as an intermediate measure can be a special case of our proposed approach. Additionally, a potential Pareto efficiency improvement for multiple perspectives is identified, which can mitigate discontentment arisen from those fixed-role strategies. The applicability and superiority of the proposed approach is illustrated by assessing the performance of Chinese listed banks over the period from 2014 to 2018. The empirical results demonstrate consistent evidence that the inefficiency of the banking system in China is mainly sourced from the value-added stage. However, different banks may prefer to clarify different roles for the deposits, demonstrating the importance of employing the proposed flexible approach.
Access options
Buy single article
Instant access to the full article PDF.
US$ 39.95
Tax calculation will be finalised during checkout.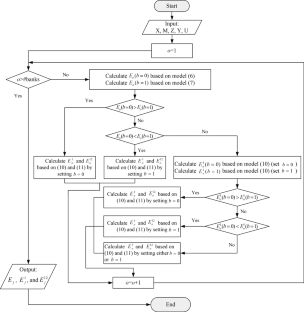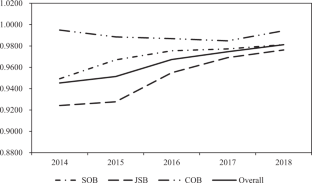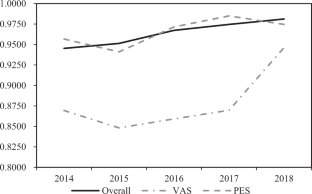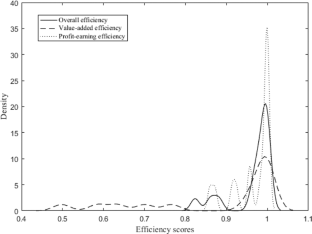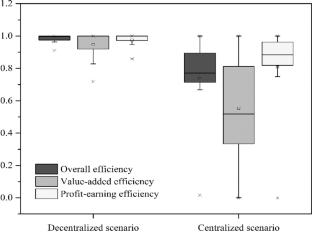 Notes
1.

The People's Republic of China was established in 1949, and the reform and opening-up policy was introduced until 1978.

2.

In practice, the role played by the binary variable b can be summarized as follows: On the one hand, variable b can be the classifier to identify whether the flexible measure should be regarded as an input or an output. Specifically, compared with traditional fixed-role strategies, the use of binary variable to indicate the role of the deposits can mitigate organizational resistance especially when there is no consensus on the role of those flexible measures. Meanwhile, from manager's perspective, the use of binary variable to indicate the role of the deposits has various managerial implications. To explore it, recall that once the evaluation mechanism is determined, then banks would like to efficiently allocate resources so as to guarantee a higher efficiency score. In this circumstance, the use of binary variable to indicate the role of the deposits can be very useful and important, because it directly influences the decisions on how to project those inefficient banks onto the efficient frontier. Nevertheless, when a fixed role strategy is employed, one may fail to allocate resources efficiently, i.e., the projection scheme in traditional fixed role strategies cannot guarantee an efficient point on the frontier derived from our proposed flexible two-stage DEA model.

3.

We here thank the reviewer for indicating this kind of issue.

4.
References
Abolghasem S, Toloo M, Amézquita S (2019) Cross-efficiency evaluation in the presence of flexible measures with an application to healthcare systems. Health Care Manag Sci 22:512–533

Akther S, Fukuyama H, Weber WL (2013) Estimating two-stage network Slacks-based inefficiency: an application to Bangladesh banking. Omega 41:88–96

Allen F, Qian J, Qian M (2005) Law, finance, and economic growth in China. J Financ Econ 77:57–116

An Q, Chen H, Wu J, Liang L (2015) Measuring slacks-based efficiency for commercial banks in China by using a two-stage DEA model with undesirable output. Ann Oper Res 235:13–35

Asmild M, Matthews K (2012) Multi-directional efficiency analysis of efficiency patterns in Chinese banks 1997–2008. Eur J Oper Res 219:434–441

Avilessacoto SV, Cook WD, Imanirad R, Zhu J (2015) Two-stage network DEA: when intermediate measures can be treated as outputs from the second stage. J Oper Res Soc 66:1868–1877

Bala K, Cook WD (2003) Performance measurement with classification information: an enhanced additive DEA model. Omega 31:439–450

Benston GJ (1965) Branch banking and economies of scale. J Financ 20:312–331

Berger AN, Humphrey DB (1997) Efficiency of financial institutions: International survey and directions for future research. Eur J Oper Res 98:175–212

Camanho AS, Dyson RG (2005) Cost efficiency, production and value-added models in the analysis of bank branch performance. J Oper Res Soc 56:483–494

Charnes A, Cooper WW, Rhodes E (1978) Measuring the efficiency of decision making units. Eur J Oper Res 2:429–444

Charnes A, Cooper WW (1962) Programming with linear fractional functionals. Nav Res Logist Q 9:181–186

Chen S, Ma H, Wu Q (2019) Bank credit and trade credit: Evidence from natural experiments. J Bank Financ 108:105616

Chen Y, Cook WD, Kao C, Zhu J (2013) Network DEA pitfalls: Divisional efficiency and frontier projection under general network structures. Eur J Oper Res 226:507–515

Chen Y, Cook WD, Li N, Zhu J (2009) Additive efficiency decomposition in two-stage DEA. Eur J Oper Res 196:1170–1176

Chen Y, Cook WD, Zhu J (2010a) Deriving the DEA frontier for two-stage processes. Eur J Oper Res 202:138–142

Chen Y, Du J, Sherman HD, Zhu J (2010b) DEA model with shared resources and efficiency decomposition. Eur J Oper Res 207:507–515

Cook WD, Harrison J, Imanirad R, Rouse P, Zhu J (2013) Data Envelopment Analysis with Nonhomogeneous DMUs. Oper Res 61:666–676

Cook WD, Zhu J (2007) Classifying inputs and outputs in data envelopment analysis. Eur J Oper Res 180:692–699

Das A, Ray SC, Nag AK (2009) Labor-Use Efficiency in Indian Banking: A Branch Level Analysis. Omega 37:411–425

Deglinnocenti M, Kourtzidis SA, Sevic Z, Tzeremes NG (2017) Bank productivity growth and convergence in the European Union during the financial crisis. J Bank Financ 75:184–199

Ding J, Dong W, Bi G, Liang L (2015) A decision model for supplier selection in the presence of dual-role factors. J Oper Res Soc 66:737–746

Epure M, Lafuente E (2015) Monitoring bank performance in the presence of risk. J Prod Anal 44:265–281

Farrell MJ (1957) The measurement of productive efficiency. J R Stat Soc 120:253–290

Fethi MD, Pasiouras F (2010) Assessing Bank efficiency and performance with operational research and artificial intelligence techniques: a survey. Eur J Oper Res 204:189–198

Fu T, Juo J, Chiang H, Yu M, Huang M (2016) Risk-based decompositions of the meta profit efficiency of Taiwanese and Chinese banks. Omega 62:34–46

Fujii H, Managi S, Matousek R (2014) Indian bank efficiency and productivity changes with undesirable outputs: a disaggregated approach. J Bank Financ 38:41–50

Fukuyama H, Matousek R (2017) Modelling bank performance: a network DEA approach. Eur J Oper Res 259:721–732

Fukuyama H, Matousek R (2018) Nerlovian revenue inefficiency in a bank production context: evidence from Shinkin banks. Eur J Oper Res 271:317–330

Fukuyama H, Matousek R, Tzeremes NG (2020) A Nerlovian cost inefficiency two-stage DEA model for modeling banks' production process: evidence from the Turkish banking system. Omega 95:102198

Fukuyama H, Weber WL (2015) Measuring Japanese bank performance: a dynamic network DEA approach. J Prod Anal 44:249–264

Galagedera DU (2019) Modelling social responsibility in mutual fund performance appraisal: a two-stage data envelopment analysis model with non-discretionary first stage output. Eur J Oper Res 273:376–389

Galagedera DUA, Watson J, Premachandra IM, Chen Y (2016) Modeling leakage in two-stage DEA models: An application to US mutual fund families. Omega 61:62–77

Guo C, Shureshjani RA, Foroughi AA, Zhu J (2017) Decomposition weights and overall efficiency in two-stage additive network DEA. Eur J Oper Res 257:896–906

Halkos G, Tzeremes NG (2013) Estimating the degree of operating efficiency gains from a potential bank merger and acquisition: a DEA bootstrapped approach. J Bank Financ 37:1658–1668

Holod D, Lewis HF (2011) Resolving the deposit dilemma: a new DEA bank efficiency model. J Bank Financ 35:2801–2810

Hughes JP, Mester LJ (2008) Efficiency in banking: Theory, practice, and evidence. FRB of Philadelphia Working Paper No. 08-1, Available at https://doi.org/10.2139/ssrn.1092220

Joulaei M, Mirbolouki M, Bagherzadehvalami H (2019) Classifying fuzzy flexible measures in data envelopment analysis. J Intell Fuzzy Syst 36:3791–3800

Juo J, Fu T, Yu M, Lin Y (2016) Non-radial profit performance: an application to Taiwanese banks. Omega 65:111–121

Kao C (2014) Efficiency decomposition for general multi-stage systems in data envelopment analysis. Eur J Oper Res 232:117–124

Kao C, Hwang S-N (2008) Efficiency decomposition in two-stage data envelopment analysis: an application to non-life insurance companies in Taiwan. Eur J Oper Res 185:418–429

Kao C, Liu S (2004) Predicting bank performance with financial forecasts: a case of Taiwan commercial banks. J Bank Financ 28:2353–2368

Lee K-H, Saen RF (2012) Measuring corporate sustainability management: a data envelopment analysis approach. Int J Prod Econ 140:219–226

Liang L, Cook WD, Zhu J (2008) DEA models for two‐stage processes: Game approach and efficiency decomposition. Nav Res Logist 55:643–653

Lim S, Zhu J (2019) Primal-dual correspondence and frontier projections in two-stage network DEA models. Omega 83:236–248

Lozano S (2016) Slacks-based inefficiency approach for general networks with bad outputs: an application to the banking sector. Omega 60:73–84

Matthews K (2013) Risk management and managerial efficiency in Chinese banks: a network DEA framework. Omega 41:207–215

Mirhedayatian SM, Azadi M, Saen RF (2014) A novel network data envelopment analysis model for evaluating green supply chain management. Int J Prod Econ 147:544–554

Paradi JC, Zhu H (2013) A survey on bank branch efficiency and performance research with data envelopment analysis. Omega 41:61–79

Portela MCAS, Thanassoulis E (2007) Comparative efficiency analysis of Portuguese bank branches. Eur J Oper Res 177:1275–1288

Premachandra IM, Zhu J, Watson J, Galagedera DUA (2012) Best-performing US mutual fund families from 1993 to 2008: Evidence from a novel two-stage DEA model for efficiency decomposition. J Bank Financ 36:3302–3317

Saen RF (2010) A new model for selecting third-party reverse logistics providers in the presence of multiple dual-role factors. Int J Adv Manuf Technol 46:405–410

Saen RF (2011) Media selection in the presence of flexible factors and imprecise data. J Oper Res Soc 62:1695–1703

Schaffnit C, Rosen D, Paradi JC (1997) Best practice analysis of bank branches: an application of DEA in a large Canadian bank. Eur J Oper Res 98:269–289

Sealey CW, Lindley JT (1977) Inputs, outputs, and a theory of production and cost at depository financial institutions. J Financ 32:1251–1266

Sherman HD, Gold F (1985) Bank branch operating efficiency: evaluation with data envelopment analysis. J Bank Financ 9:297–315

Staub RB, Souza GDSE, Tabak BM (2010) Evolution of bank efficiency in Brazil: a DEA approach. Eur J Oper Res 202:204–213

Sun J, Wang C, Ji X, Wu J (2017) Performance evaluation of heterogeneous bank supply chain systems from the perspective of measurement and decomposition. Comput Ind Eng 113:891–903

Tavana M, Khalilidamghani K, Arteaga FJS, Mahmoudi R, Hafezalkotob A (2018) Efficiency decomposition and measurement in two-stage fuzzy DEA models using a bargaining game approach. Comput Ind Eng 118:394–408

Toloo M (2009) On classifying inputs and outputs in DEA: a revised model. Eur J Oper Res 198:358–360

Toloo M (2014) Notes on classifying inputs and outputs in data envelopment analysis: a comment. Eur J Oper Res 235:810–812

Toloo M, Keshavarz E, Hatami-Marbini A (2018) Dual-role factors for imprecise data envelopment analysis. Omega 77:15–31

Wang K, Huang W, Wu J, Liu Y (2014) Efficiency measures of the Chinese commercial banking system using an additive two-stage DEA. Omega 44:5–20

Wanke P, Barros CP, Emrouznejad A (2016) Assessing productive efficiency of banks using integrated Fuzzy-DEA and bootstrapping: a case of Mozambican banks. Eur J Oper Res 249:378–389

Wu H, Lv K, Liang L, Hu H (2017) Measuring performance of sustainable manufacturing with recyclable wastes: a case from China's iron and steel industry. Omega 66:38–47

Yang X, Morita H (2013) Efficiency improvement from multiple perspectives: an application to Japanese banking industry. Omega 41:501–509

Yu M, Lin C, Chen K, Chen L (2021) Measuring Taiwanese bank performance: a two-system dynamic network data envelopment analysis approach. Omega 98:102145

Zha Y, Liang N, Wu M, Bian Y (2016) Efficiency evaluation of banks in China: a dynamic two-stage slacks-based measure approach. Omega 60:60–72

Zhou Z, Lin L, Xiao H, Ma C, Wu S (2017) Stochastic network DEA models for two-stage systems under the centralized control organization mechanism. Comput Ind Eng 110:404–412
Acknowledgements
The authors would like to thank the editor, the anonymous associated editor and two reviewers for their valuable comments and suggestions on the manuscript throughout the whole review process. This work is supported by the National Natural Science Foundation of China (No. 72071161, No. 71571150), and the Fundamental Research Funds for the Central Universities (No. 2232021E-10).
Ethics declarations
Conflict of interest
The authors declare no competing interests.
Additional information
Publisher's note Springer Nature remains neutral with regard to jurisdictional claims in published maps and institutional affiliations.
Supplementary information
About this article
Cite this article
Li, D., Li, Y., Gong, Y. et al. Estimation of bank performance from multiple perspectives: an alternative solution to the deposit dilemma. J Prod Anal 56, 151–170 (2021). https://doi.org/10.1007/s11123-021-00614-z
Accepted:

Published:

Issue Date:
Keywords
Bank performance

Data envelopment analysis (DEA)

Deposit dilemma

Flexible measure

Two-stage model