Abstract
Friendships form an important context in which adolescents initiate and establish alcohol use patterns, but not all adolescents may be equally affected by this context. Therefore, this study tests whether parenting practices (i.e., parental discipline, parental knowledge, unsupervised time with peers) and individual beliefs (i.e., alcohol descriptive norms, positive social expectations, moral approval of alcohol use) moderate friend selection and influence around alcohol use. Stochastic actor-based models were used to analyze longitudinal social network and survey data from 12,335 adolescents (aged 11 to 17, 51.3% female) who were participating in the PROSPER project. A separate model was estimated for each moderating variable. Adolescents who reported consistent parental discipline, less unsupervised time with peers, higher descriptive alcohol use norms, and less positive social expectations about alcohol use were less likely to select alcohol-using friends. Those who reported consistent parental discipline, better parental knowledge, lower descriptive alcohol use norms, and less positive social expectations were more influenced by their friends' level of alcohol use. Thus, adolescents with these characteristics whose friends frequently use alcohol are at greater risk whereas those whose friends do not use alcohol are at lower risk of using alcohol. The findings show that, although selection and influence processes are connected, they may function in different ways for different groups of adolescents. For some adolescents, it is particularly important to prevent them from selecting alcohol-using friends, because they are more susceptible to influence from such friends. These peer network dynamics might explain how proximal outcomes targeted by many prevention programs (i.e., parenting practices and individual beliefs) translate into changes in alcohol use.
Access options
Buy single article
Instant access to the full article PDF.
US$ 39.95
Tax calculation will be finalised during checkout.
Subscribe to journal
Immediate online access to all issues from 2019. Subscription will auto renew annually.
US$ 79
Tax calculation will be finalised during checkout.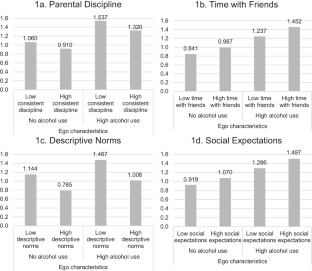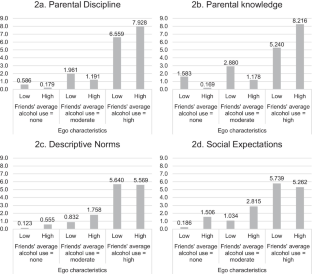 References
Bo, A., Hang Hai, A., & Jaccard, J. (2018). Parent-based interventions on adolescent alcohol use outcomes: A systematic review and meta-analysis. Drug and Alcohol Dependence, 191, 98–109.

Botvin, G. J., & Griffin, K. W. (2004). Life skills training: Empirical findings and future directions. The Journal of Primary Prevention, 25, 211–232.

Cialdini, R. B., Kallgren, C. A., & Reno, R. R. (1991). A focus theory of normative conduct: A theoretical refinement and reevaluation of the role of norms in human behavior. Advances in Experimental Social Psychology, 24, 201–234.

Deci, E. L., & Ryan, R. M. (2000). The 'what' and 'why' of goal pursuits: Human needs and the self-determination of behavior. Psychological Inquiry, 11, 227–268.

Gallupe, O., & Bouchard, M. (2015). The influence of positional and experienced social benefits on the relationship between peers and alcohol use. Rationality and Society, 27, 40–69.

Gallupe, O., McLevey, J., & Brown, S. (2019). Selection and influence: A meta-analysis of the association between peer and personal offending. Journal of Quantitative Criminology, 35, 313–335.

Gest, S. D., Osgood, D. W., Feinberg, M. E., Bierman, K. L., & Moody, J. (2011). Strengthening prevention program theories and evaluations: Contributions from social network analysis. Prevention Science, 12, 349–360.

Grusec, J. E., & Goodnow, J. J. (1994). Impact of parental discipline methods on the child's internalization values: A reconceptualization of current points of view. Developmental Psychology, 30, 4–19.

Hoeben, E. M., & Thomas, K. J. (2019). Peers and offender decision-making. Criminology and Public Policy, 18, 759–784.

Hoeben, E. M., & Weerman, F. M. (2016). Why is involvement in unstructured socializing related to adolescent delinquency? Criminology, 54, 242–281.

Huston, T. L., & Levinger, G. (1978). Interpersonal attraction and relationships. Annual Review of Psychology, 29, 115–156.

Janssen, H. J., Dekovic, M., & Bruinsma, G. J. N. (2014). Parenting and time adolescents spend in criminogenic settings: A between- and within-person analysis. British Journal of Criminology, 54, 551–567.

Keijsers, L., Branje, S., Hawk, S. T., Schwartz, S. J., Frijns, T., Koot, H. M., et al. (2012). Forbidden friends as forbidden fruits: Parental supervision of friendships, contact with deviant peers, and adolescent delinquency. Child Development, 83, 651–666.

Kiesner, J., Poulin, F., & Dishion, T. J. (2010). Adolescent substance use with friends: Moderating and mediating effects of parental monitoring and peer activity contexts. Merrill Palmer Q, 56, 529–556.

Laninga-Wijnen, L., Harakeh, Z., Steglich, C., Dijkstra, J. K., Veenstra, R., & Vollebergh, W. (2017). The norms of popular peers moderate friendship dynamics of adolescent aggression. Child Development, 88, 1265–1283.

Lewis, M. A., & Neighbors, C. (2006). Social norms approaches using descriptive drinking norms education: A review of the research on personalized normative feedback. Journal of American College Health, 54, 213–218.

Light, J. M., Greenan, C. C., Rusby, J. C., Nies, K. M., & Snijders, T. A. B. (2013). Onset to first alcohol use in early adolescence: A network diffusion model. Journal of Research on Adolescence, 23, 487–499.

Mahoney, J. L., Stattin, H., & Magnusson, D. (2001). Youth recreation centre participation and criminal offending: A 20-year longitudinal study of Swedish boys. International Journal of Behavioral Development, 25, 509–520.

McCann, M., Jordan, J.-A., Higgins, K., & Moore, L. (2019). Longitudinal social network analysis of peer, family, and school contextual influences on adolescent drinking frequency. Journal of Adolescent Health, 65, 350–358.

Molgaard, V. M., Spoth R. L., & Redmond, C. (2000). Competency training: The Strengthening Families Program for Parents and Youth 10–14. Juvenile Justice Bulletin. Washington DC: U.S. Department of Justice.

Neighbors, C., Lee, C. M., Lewis, M. A., Fossos, N., & Larimer, M. E. (2007). Are social norms the best predictor of outcomes among heavy-drinking college students? Journal of Studies on Alcohol and Drugs, 68, 556–565.

Osgood, D. W., Feinberg, M. E., & Ragan, D. T. (2015). Social networks and the diffusion of adolescent behavior: Reliable estimates of selection and influence from sixth through ninth grades. Prevention Science, 16, 832–843.

Osgood, D. W., Ragan, D. T., Wallace, L., Gest, S. D., Feinberg, M. E., & Moody, J. (2013). Peers and the emergence of alcohol use: Influence and selection processes in adolescent friendship networks. Journal of Research on Adolescence, 23, 500–512.

Osgood, D. W., Wilson, J. K., O'Malley, P. M., Bachman, J. G., & Johnston, L. D. (1996). Routine activities and individual deviant behavior. American Sociological Review, 61, 635–655.

Ragan, D. T. (2014). Revisiting 'What they think': Adolescent drinking and the importance of peer beliefs. Criminology, 52, 488–513.

Ragan, D. T. (2020). Similarity between deviant peers: Developmental trends in influence and selection. Criminology, 58, 336–369.

Raitasalo, K., Kraus, L., Bye, E. K., Karlsson, P., Tigerstedt, C., Törrönen, J., et al. (2021). Similar countries, similar factors? Studying the decline of heavy episodic drinking in adolescents in Finland, Norway, and Sweden. Addiction, 116, 62-71. 

Ripley, R. M., Snijders, T. A. B., Boda, Z., Vörös, A., & Preciado, P. (2020). Manual for RSiena. Oxford, England: University of Oxford, Department of Statistics, Nuffield College.

Snijders, T. A. B. (2001). The statistical evaluation of social network dynamics. Sociological Methodology, 31, 361–395.

Soenens, B., Vansteenkiste, M., & Niemiec, C. P. (2009). Should parental prohibition of adolescents' peer relationships be prohibited? Personal Relationships, 16, 507–530.

Spoth, R., Redmond, C., Clair, S., Shin, C., Greenberg, M., & Feinberg, M. (2011). Preventing substance misuse through community-university partnerships: Randomized controlled trial outcomes 4 ½ years past baseline. American Journal of Preventive Medicine, 40, 440–447.

Stattin, H., & Kerr, M. (2000). Parental monitoring: A reinterpretation. Child Development, 71, 1072–1085.

Steglich, C., Snijders, T. A. B., & Pearson, M. (2010). Dynamic networks and behavior: Separating selection from influence. Sociological Methodology, 40, 329–393.

Steinberg, L., & Silk, J. S. (2002). Parenting adolescents. In M. H. Bornstein (Ed.), Handbook of parenting (pp. 103–134). London: Lawrence Elrbaum Associates, Publishers.

Tangney, J. P., Stuewig, J., & Mashek, D. J. (2007). Moral emotions and moral behavior. Annual Review of Psychology, 58, 345–372.

Thomas, K. J., & McCuddy, T. (2020). Affinity, affiliation, and guilt: Examining between- and within-person variability in delinquent peer influence. Justice Quarterly, 37, 715–738.

Thorlindsson, T., & Bernburg, J. G. (2006). Peer groups and substance use: Examining the direct and interactive effect of leisure activity. Adolescence, 41, 321–339.

Tilton-Weaver, L. C., Burk, W. J., Kerr, M., & Stattin, H. (2013). Can parental monitoring and peer management reduce the selection or influence of delinquent peers? Testing the question using a dynamic social network approach. Developmental Psychology, 49, 2057–2070.

Trudeau, L., Mason, W. A., Randall, G. K., Spoth, R., & Ralston, E. (2012). Effects of parenting and deviant peers on early to mid-adolescent conduct problems. Journal of Abnormal Child Psychology, 40, 1249–1264.

Urberg, K. A., Luo, Q., Pilgrim, C., & Degirmencioglu, S. M. (2003). A two-stage model of peer influence in adolescent substance use: Individual and relationship-specific differences in susceptibility to peer influence. Addictive Behaviors, 28, 1243–1256.

Vitaro, F., Brendgen, M., & Tremblay, R. E. (2000). Influence of deviant friends on delinquency: Searching for moderator variables. Journal of Abnormal Child Psychology, 28, 313–325.

Wang, C., Hipp, J. R., Butts, C. T., Jose, R., & Lakon, C. M. (2015). Alcohol use among adolescent youth: The role of friendship networks and family factors in multiple school studies. PLoS ONE, 10, 1–19.

Warr, M. (2005). Making delinquent friends: Adult supervision and children's affiliations. Criminology, 43, 77–106.

Yap, M. B. H., Cheong, T. W. K., Zaravinos-Tsakos, F., Lubman, D. I., & Jorm, A. F. (2017). Modifiable parenting factors associated with adolescent alcohol misuse: A systematic review and meta-analysis of longitudinal studies. Addiction, 112, 1142–1162.
Funding
This work was supported by grants from the W.T. Grant Foundation [8316], National Institute on Drug Abuse [R01-DA018225], National Institute of Child Health and Human Development [R24-HD041025], and the Dutch Research Council [VI.Veni.191R.003]. The data are from PROSPER, a project directed by R. L. Spoth, funded by the National Institute on Drug Abuse [R01-DA013709]. The content of this article is solely the responsibility of the authors and does not necessarily represent the official views of the National Institutes of Health.
Ethics declarations
Ethics Approval
The procedures for the overarching PROSPER study were approved by the IRB committees of Iowa State University and Pennsylvania State University. The PROSPER Peers study was approved separately by the IRB committee at Pennsylvania State. The study was performed in line with the principles of the Declaration of Helsinki.
Consent to Participate
All participants and their parents provided informed consent, as approved by the IRB.
Conflict of Interest
The authors declare that they have no conflict of interest.
Replication
To inquire about the conditions for access to the data, please contact the first author. The analytical code for this project has been deposited to OSF (https://osf.io/we3dj/).
About this article
Cite this article
Hoeben, E.M., Rulison, K.L., Ragan, D.T. et al. Moderators of Friend Selection and Influence in Relation to Adolescent Alcohol Use. Prev Sci (2021). https://doi.org/10.1007/s11121-021-01208-9
Keywords
Adolescent alcohol use

Peer selection and influence

Social network

Parenting