Abstract
Child birth order (CBO) in the family has received little attention in the field of prevention science. CBO is relevant to early interventionists from a public health perspective, as the most widely disseminated home-visiting program has traditionally targeted mothers and their first-born children. The current paper revisits a previous publication by Shaw et al. (2009) on the effectiveness of the Family Check-Up (FCU) to evaluate CBO (firstborn vs. middle vs. youngest) as a moderator of treatment effects of the FCU in relation to improvements in parenting, maternal depressive symptoms, and child outcomes from ages 2 to 4 in a sample of low-income, ethnically diverse families (N = 709) with multiple children. Results suggest that the FCU elicited improvements in observed parenting from ages 2 to 3 primarily for target children who were the youngest or middle children, but not for firstborns. Findings are discussed in the context of implications for prevention science research, dissemination, and public policy.
This is a preview of subscription content, log in to check access.
Access options
Buy single article
Instant access to the full article PDF.
US$ 39.95
Price includes VAT for USA
Subscribe to journal
Immediate online access to all issues from 2019. Subscription will auto renew annually.
US$ 99
This is the net price. Taxes to be calculated in checkout.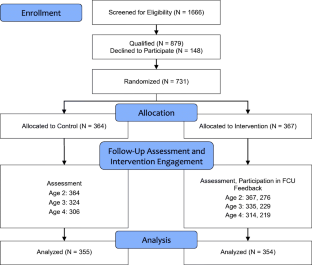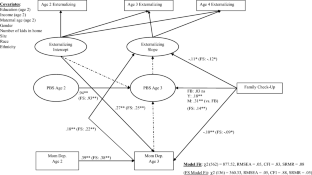 References
Achenbach, T. M., & Rescorla, L. A. (2000). Manual for the ASEBA Preschool Forms & Profiles: An integrated system of multi-informant assessment; child behavior checklist for ages 1 1/2–5; language development survey; Caregiver-Teacher Report Form. University of Vermont.

Adler, A. (1964). Problems of neurosis: A book of case histories. New York: Harper & Row.

Argys, L. M., Rees, D. I., Averett, S. L., & Witoonchart, B. (2006). Birth order and risky adolescent behavior. Economic Inquiry, 44(2), 215–233.

Bandura, A. (1977). Self-efficacy: Toward a unifying theory of behavioral change. Psychological Review, 84(2), 191–215.

Bradley, R. H., & Caldwell, B. M. (1984). The HOME inventory and family demographics. Developmental Psychology, 20(2), 315–320.

Breining, S. N., Doyle, J. J., Figlio, D. N., Karbownik, K., & Roth, J. (2017). Birth order and delinquency: Evidence from Denmark and Florida. Chicago: University of Chicago Press.

Brennan, L. M., Shelleby, E. C., Shaw, D. S., Gardner, F., Dishion, T. J., & Wilson, M. (2013). Indirect effects of the family check-up on school-age academic achievement through improvements in parenting in early childhood. Journal of Educational Psychology, 105(3), 762–773.

Cabrera, N. J., Shannon, J. D., & Tamis-LeMonda, C. (2007). Fathers' influence on their children's cognitive and emotional development: From toddlers to pre-K. Applied Developmental Science, 11(4), 208–213.

Caspi, A., Houts, R. M., Belsky, D. W., Harrington, H., Hogan, S., Ramrakha, S., et al. (2016). Childhood forecasting of a small segment of the population with large economic burden. Nature Human Behaviour, 1, 1–10.

Cundiff, P. R. (2013). Ordered delinquency: The "effects" of birth order on delinquency. Personality and Social Psychology Bulletin, 39, 1017–1029.

Dishion, T., Hogansen, J., Winter, C., & Jabson, J. (2004). The coder impressions inventory. In Unpublished manual. Eugene: Child and Family Center.

Dishion, T., Shaw, D. S., Connell, A. M., Gardner, F., Weaver, C., & Wilson, M. (2008). The family check-up with high-risk indigent families: Preventing problem behavior by increasing parents' positive behavior support in early childhood. Child Development, 79, 1395–1414.

Dishion, T., & Stormshak, E. A. (2007). Intervening in children's lives: An ecological, family-centered approach to mental health care. Washington: American Psychological Association.

Dishion, T., Stormshak, E. A., & Kavanagh, K. A. (2012). Everyday parenting: A professional's guide to building family management skills. Champaign: Research Press.

D'Onofrio, B. M., Goodnight, J. A., Van Hulle, C. A., Rodgers, J. L., Rathouz, P. J., Waldman, I. D., et al. (2009). Maternal age at childbirth and offspring disruptive behaviors: Testing the causal hypothesis. Journal of Child Psychology and Psychiatry, 50, 1018–1028.

Eckstein, D., Aycock, K. J., Sperber, M. A., McDonald, J., Van Wiesner, V., Watts, R. E., et al. (2010). A review of 200 birth-order studies: Lifestyle characteristics. Journal of Individual Psychology, 66, 408–434.

Patterson, G. R., Forgatch, M. S., & DeGarmo, D. S. (2010). Cascading effects following intervention. Development and Psychopathology, 22, 949–970.

Harding, K., Galano, J., Martin, J., Huntington, L., & Schellenbach, C. J. (2007). Healthy Families America® effectiveness: A comprehensive review of outcomes. Journal of Prevention & Intervention in the Community, 34, 149–179.

Hotz, V. J., & Pantano, J. (2015). Strategic parenting, birth order, and school performance. Journal of Population Economics, 28, 911–936.

Jacobs, B. S., & Moss, H. A. (1976). Birth order and sex of sibling as determinants of mother-infant interaction. Child Development, 47, 315–322.

Kristensen, P., & Bjerkedal, T. (2007). Explaining the relation between birth order and intelligence. Science, 316, 1717–1717.

McArdle, J., & Bell, R. (2000). An introduction to latent growth curve modeling for developmental data analysis. In T. Little, K. Schnabel, & J. Baumert (Eds.), Modeling longitudinal and multilevel data. Mahwah: Lawrence Erlbaum Associates.

Miller, W. R., & Rollnick, S. (2002). Motivational interviewing: Preparing people for change (2nd ed.). New York: Guilford press.

Muthén, L. K., & Muthén, B. O. (2012). Mplus. The comprehensive modelling program for applied researchers: User's guide, 5.

Olds, D. L. (2006). The nurse–family partnership: An evidence-based preventive intervention. Infant Mental Health Journal, 27, 5–25.

Peterson, J., Winter, C., Jabson, J., & Dishion, T. (2008). Relationship affect coding system. In Unpublished coding manual. Eugene: Child and Family Center.

Piaget, J. (1980). The psychogenesis of knowledge and its epistemological significance. In M. Piatelli-Palmarini (Ed.), Language and Learning (pp. 23–34). Cambridge: Harvard University press.

Radloff, L. S. (1977). The CES-D scale a self-report depression scale for research in the general population. Applied Psychological Measurement, 1, 385–401.

Shaw, D. S., Connell, A., Dishion, T. J., Wilson, M. N., & Gardner, F. (2009). Improvements in maternal depression as a mediator of intervention effects on early childhood problem behavior. Development and Psychopathology, 2, 417–439.

Shaw, D. S., Dishion, T. J., Supplee, L., Gardner, F., & Arnds, K. (2006). Randomized trial of a family-centered approach to the prevention of early conduct problems: 2-year effects of the family check-up in early childhood. Journal of Consulting and Clinical Psychology, 74, 1–9.

Shortt, J. W., Stoolmiller, M., Smith-Shine, J. N., Mark Eddy, J., & Sheeber, L. (2010). Maternal emotion coaching, adolescent anger regulation, and siblings' externalizing symptoms. Journal of Child Psychology and Psychiatry, 51, 799–808.

Sulloway, F. J. (1996). Born to rebel: Birth order, family dynamics, and creative lives. New York: Pantheon Books.

Sweet, M. A., & Appelbaum, M. I. (2004). Is home visiting an effective strategy? A meta-analytic review of home visiting programs for families with young children. Child Development, 75, 1435–1456.

Vygotsky, L. S. (1962). Thought and language. Cambridge: MIT Press.

Weaver, C. M., Shaw, D. S., Crossan, J. L., Dishion, T. J., & Wilson, M. N. (2015). Parent–child conflict and early childhood adjustment in two-parent low-income families: Parallel developmental processes. Child Psychiatry & Human Development, 46, 94–107.

Zigler, E., Pfannenstiel, J. C., & Seitz, V. (2008). The parents as teachers program and school success: A replication and extension. The Journal of Primary Prevention, 29, 103–120.
Funding
This research was supported by grant DA16110 from the National Institute on Drug Abuse to Drs. Dishion, Wilson, and Shaw and grant DA22773 to Dr. Shaw.
Ethics declarations
Conflict of Interest
The authors declare that they have no conflict of interest.
Ethical Approval
All procedures performed in the current study were in accordance with the ethical standards of the institutional and/or national research committee and with the 1964 Helsinki declaration and its later amendments or comparable ethical standards. Note that coauthor Dishion was a co-developer of the Family Check-Up.
Informed Consent
Informed consent was obtained from all individual participants included in the study.
Additional information
Publisher's Note
Springer Nature remains neutral with regard to jurisdictional claims in published maps and institutional affiliations.
About this article
Cite this article
Weaver Krug, C.M., Hails, K.A., Shaw, D.S. et al. Child Birth Order as a Moderator of Intervention Effectiveness for the Early Childhood Version of the Family Check-Up. Prev Sci 21, 456–466 (2020). https://doi.org/10.1007/s11121-020-01096-5
Keywords
Child birth order

Early intervention

Family-based intervention

Parenting

Child conduct problems