Abstract
Over 60% of US school districts implement court diversion programs to address chronic unexcused absenteeism, yet the effectiveness of these programs is not known. We evaluated whether the Truancy Intervention Program (TIP) improved the school attendance of students in grades 7–10 in a metropolitan county in the Midwestern USA. Similar to most truancy court diversion programs, TIP consisted of three increasingly intrusive steps: (1) a parent meeting, (2) a hearing to develop an attendance contract, and (3) a petition to juvenile court. The intervention group consisted of students from the intervention county who had been referred to TIP between 2006 and 2009. The comparison group was drawn from a contiguous, same-sized, and socio-demographically similar county that petitioned truant students directly to court. To construct the comparison group, we applied multi-level matching procedures to linked, individual-level administrative data from eight state and local agencies for all public school students in the state between 2004 and 2015. Using the matched samples, we conducted difference-in-differences analyses to identify program effects for two intervention groups: all students referred to TIP and students whose family participated in the group parent meeting. In the 4 years after the intervention, the intervention groups had similar or slightly lower attendance than the comparison groups. However, most coefficients were not statistically significant, and there was no consistent pattern of effects across different samples and different specifications of the intervention. This pattern of findings was not robust enough to conclude that the program influenced school attendance.
Access options
Buy single article
Instant access to the full article PDF.
USD 39.95
Price excludes VAT (USA)
Tax calculation will be finalised during checkout.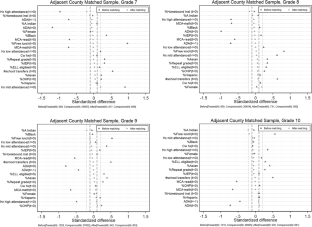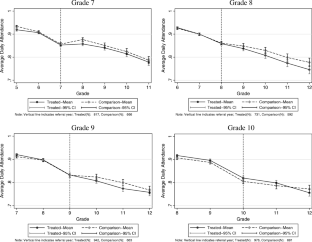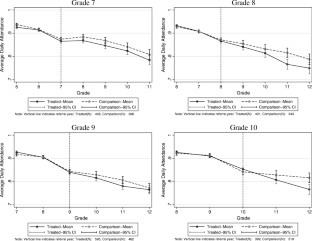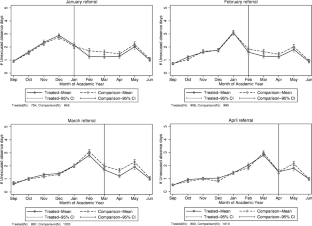 References
Acutt, A. (2017). Encouraging school re-engagement: Exploring the operation of the legal mechanisms of a third party policing school engagement intervention (Doctoral dissertation). Retrieved May 22, 2019, from https://espace.library.uq.edu.au/view/UQ:2fe4355/s41179525_final_thesis.pdf

Akers, R. A. (2000). Criminilogical theories: Introduction and evaluation (3rd ed.). Los Angeles: Roxbury.

Attendance Works (2018). Federal policy: Every Student Succeeds Act. Retrieved May 22, 2019, from https://www.attendanceworks.org/policy/federal-policy/.

Balu, R., Porter, K., & Gunton, B. (2016). Can informing parents help high school students show up for schools? Results from a partnership between New Visions for Public Schools and MDRC. Retreived May 2, 2019, from https://www.mdrc.org/publication/can-informing-parents-help-high-school-students-show-school.

Barber, B. K., & Olsen, J. A. (1997). Socialization in context: Connection, regulation, and autonomy in the family, school, neighborhood, and with peers. Journal of Adolescent Research, 12, 287–315.

Becker, H. S. (1963). Outsiders: Studies in the sociology of deviance. New York: The Free Press of Glencoe.

Blundell, R., & Costa Dias, M. (2000). Evaluation methods for non-experimental data. Fiscal Studies, 21, 427–468.

Carpenter, G., & McNeely, C. A. (2018). Are we pushing kids out of school by trying to keep them in? Truancy policy in the United States. Annual Meeting of the Tennessee Public Health Association. Franklin, TN.

Conry, J. M., & Richards, M. P. (2018). The severity of state truancy policies and chronic absenteeism. Journal of Education for Students Placed at Risk (JESPAR), 23, 187–203.

Development Services Group, Inc. (2017). Diversion from formal juvenile court processing: Literature review. Retrieved from www.ojjdp.gov/mpg/litreviews/Diversion_Programs.pdf.

Fain, T. & Turner, S. (2014). Los Angeles county juvenile justice crime prevention act: Fiscal year 2012–2013 (Report # RR-1908-LACPD. Retrieved May 22, 2019, from https://www.rand.org/pubs/research_reports/RR1908.html.

Ho, D. E., Imai, K., King, G., & Stuart, E. A. (2007). Matching as nonparametric preprocessing for reducing model dependence in parametric causal inference. Political Analysis, 15, 199–236. https://doi.org/10.1093/pan/mpl013.

Hockenberry, S., & Puzzanchera, C. (2015). Juvenile court statistics 2013. Retrieved May 22, 2019, from http://www.ncjj.org/pdf/jcsreports/jcs2013.pdf.

Hockenberry, S., & Puzzanchera, C. (2018). Juvenile court statistics 2016. Retrieved May 22, 2019, from https://www.ncjj.org/pdf/jcsreports/jcs2016report.pdf.

King, G., & Nielsen, R. (2019). Why propensity scores should not be used for matching. Political Analysis. Forthcoming. Retrieved May 22, 2019, from https://gking.harvard.edu/files/gking/files/pan1900011_rev.pdf.

King, G., & Zeng, L. (2007). When can history by our guide? The pitfalls of counterfactual inference. International Studies Quarterly, 51, 183–210. https://doi.org/10.1111/j.1468-2478.2007.00445.x.

Klima, T., Miller, M., & Nunlist, C. (2009). What works? Targeted truancy and dropout programs in middle and high school. (Report No. 09-06-2201). Retrieved May 22, 2019, from https://www.wsipp.wa.gov/ReportFile/1602/.

Kraft, M. A., & Rogers, T. (2015). The underutilized potential of teacher-to-parent communication: Evidence from a field experiment. Economics of Education Review, 47, 49-63.

Liberman, A. M., Kirk, D. S., & Kim, K. (2014). Labeling effects of first juvenile arrests: Secondary deviance and secondary sanctioning. Criminology, 52, 345–370. https://doi.org/10.1111/1745-9125.12039.

Maynard, B. R., McCrea, K. T., Pigott, T. D., & Kelly, M. S. (2012). Indicated truancy interventions for chronic truant students. Research on Social Work Practice, 23, 5–21. https://doi.org/10.1177/1049731512457207.

Mazerolle, L., Antrobus, E., Bennett, S., & Eggins, E. (2017). Reducing truancy and fostering a willingness to attend school: Results from a randomized trial of a police-school partnership program. Prevention Science, 18, 469–480. https://doi.org/10.1007/s11121-017-0771-7.

Mueller, D., & Stoddard, C. (2006). Dealing with chronic absenteeism and its related consequences: The process and short-term effects of a diversionary juvenile court intervention. Journal of Education for Students Placed at Risk (JESPAR), 11, 199–219. https://doi.org/10.1207/s15327671espr1102_5.

National Center for School Engagement. (2006). Office of Juvenile Justice and Delinquency Prevention's evaluation of the Truancy Reduction Demonstration Program: King County, Washington successfully reduces unexcused absences. Retreived May 22, 2019, from https://www.ncjrs.gov/pdffiles1/ojjdp/249065.pdf.

Richtman, K. S. (2007). The truancy intervention program of the Ramsey County attorney's office: A collaborative approach to school success. Family Court Review, 45, 421–443. https://doi.org/10.1111/j.1744-1617.2007.00157.x.

Robinson, C. D., Lee, M. G., Dearing, E., & Rogers, T. (2018). Reducing student absenteeism in the early grades by targeting parental beliefs. American Educational Research Journal, 55, 1163–1192. https://doi.org/10.3102/0002831218772274.

Rogers, T., Duncan, T., Wolford, T., Ternovski, J., Subramanyam, S., & Reitano, A. (2017). A randomized experiment using absenteeism information to "nudge" attendance (REL 2017– 252). Retrieved May 22, 2019, from https://ies.ed.gov/ncee/edlabs/regions/midatlantic/pdf/REL_2017252.pdf.

Rosenbaum, P. R., & Rubin, D. B. (1985). Constructing a control group using multivariate matched sampling methods that incorporate the propensity score. The American Statistician, 39, 33–38.

Schwalbe, C. S., Gearing, R. E., MacKenzie, M. J., Brewer, K. B., & Ibrahim, R. (2012). A meta-analysis of experimental studies of diversion programs for juvenile offenders. Clinical Psychology Review, 32, 26–33. https://doi.org/10.1016/j.cpr.2011.10.002.

Skiba, R. J., Homer, R. H., Chung, C. G., Rausch, M. K., May, S. L., & Tobin, T. (2011). Race is not neutral: A national investigation of African American and Latino disproportionality in school discipline. School Psychology Review, 40, 85–107.

Smith, J. A., & Todd, P. E. (2005). Does matching overcome Lalonde's critique of nonexperimental estimators? Journal of Econometrics, 125, 305–353. https://doi.org/10.1016/j.jeconom.2004.04.011.

Smythe-Leistico, K., & Page, L. (2018). Connect-Text: Leveraging text-message communication to mitigate chronic absenteeism and improve parental engagement in the earliest years of schooling. Journal of Education for Students Placed at Risk, 23, 139–152. https://doi.org/10.1080/10824669.2018.1434658.

Stuart, E. A. (2010). Matching methods for causal inference: A review and a look forward. Statistical Science, 25, 1–21. https://doi.org/10.1214/09-STS313.

Tanner-Smith, E. E., & Wilson, S. J. (2013). A meta-analysis of the effects of dropout prevention programs on school absenteeism. Prevention Science, 14, 468–478. https://doi.org/10.1007/s11121-012-0330-1.

U.S. Department of Education. (2015). Every Student Succeeds Act (ESSA). Washington DC. Retrieved May 22, 2019, from https://www.ed.gov/essa?src=rn.

U.S. Department of Education. (2019). Chronic absenteeism in the nation's schools: An unprecedented look at a hidden educational crisis. Retrieved May 22, 2019, from https://www2.ed.gov/datastory/chronicabsenteeism.html.

Vaughn, M. G., Maynard, B. R., Salas-Wright, C. P., Perron, B. E., & Abdon, A. (2013). Prevalence and correlates of truancy in the U.S.: Results from a national sample. Journal of Adolescence, 36, 767–776. https://doi.org/10.1016/j.adolescence.2013.03.015.

Wilson, H. A., & Hoge, R. D. (2013). The effect of youth diversion programs on recidivism. Criminal Justice and Behavior, 40, 497–518. https://doi.org/10.1177/0093854812451089.
Funding
This study was funded by the National Institute of Justice (#2014-IJ-CX-0010).
Ethics declarations
Conflict of Interest
The authors declare that they have no conflicts of interest.
Ethical Approval
The institutional review boards of the University of Minnesota and the University of Tennessee, Knoxville, approved the study. In addition, the state and local agencies that shared the data approved the research. All analyses involving human participants were in accordance with the ethical standards of the institutional and/or national research committee and with the 1964 Helsinki declaration and its later amendments or comparable ethical standards.
Informed Consent
This study used secondary administrative data linked and de-identified by the Minn-LInK project at the University of Minnesota School of Social Work. A waiver of informed consent was obtained by the appropriate institutional review boards.
Research Data Transparency
Due to data sharing agreements with each state and local agency, the data used in this study are not permitted to be made available for public use. Individual researchers may send separate data inquiries to all parties involved.
Additional information
Publisher's Note
Springer Nature remains neutral with regard to jurisdictional claims in published maps and institutional affiliations.
About this article
Cite this article
McNeely, C.A., Lee, W.F., Rosenbaum, J.E. et al. Long-Term Effects of Truancy Diversion on School Attendance: a Quasi-Experimental Study with Linked Administrative Data. Prev Sci 20, 996–1008 (2019). https://doi.org/10.1007/s11121-019-01027-z
Published:

Issue Date:

DOI: https://doi.org/10.1007/s11121-019-01027-z
Keywords