Abstract
The Affordable Care Act expanded access to Medicaid programs and required them to provide essential health benefits, which can include prevention services. This study assesses the costs and benefits to using Medicaid funding to implement a well-known evidence-based program, Functional Family Therapy (FFT), with a sample of juvenile justice-involved youth. The study also provides a rigorous test of FFT accommodated for a contemporary urban population that is gang at risk or gang-involved. One hundred twenty-nine predominantly minority and low income families were randomly assigned to receive an enhanced version of FFT or an alternative family therapy. Data from pre- and post-intervention interviews with youth and parents, court records of contacts with the justice system and residential placements, official records of community services, and the costs of placements and services are summarized. The intervention was implemented with fidelity to the FFT model using Medicaid funding. Treatment and control subjects received a wide range of community and residential services in addition to FFT. A higher percentage of treatment subjects than controls received services following random assignment, but the cost per youth served was lower for treatment than control youth, primarily because control youth were more often placed in residential facilities. Recidivism during the 18-month follow-up period was lower for FFT than for control youth. The combination of cost savings realized from avoiding more costly services and the expected future savings due to recidivism reduction suggest the expanded use of evidence-based practices using public funding streams such as Medicaid is warranted.
This is a preview of subscription content, log in to check access.
Access options
Buy single article
Instant access to the full article PDF.
US$ 39.95
Tax calculation will be finalised during checkout.
Subscribe to journal
Immediate online access to all issues from 2019. Subscription will auto renew annually.
US$ 99
Tax calculation will be finalised during checkout.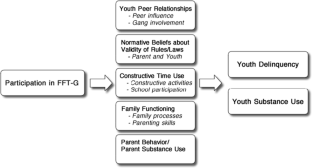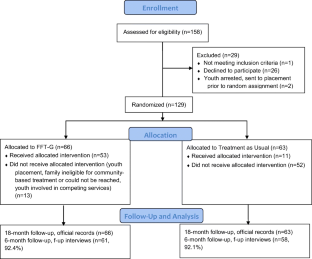 Notes
1.

MEB disorders encompass the following: conduct disorder and oppositional defiant disorder, often combined as disruptive behavior disorders; attention deficit hyperactivity disorder (ADHD); anxiety disorders, including posttraumatic stress disorder; depression, drug abuse and dependence, autism spectrum disorders and pervasive developmental disorders, schizophrenia, bipolar disorder, eating disorders, and obsessive compulsive disorder.

2.

A recent volume of "Perspectives on Psychological Science" has recently been dedicated to concerns about this issue (Pashler and Wagenmakers 2012).

3.

Approximately 20% of the FFT clients served by the organizations we partnered with are female. Because we had no specific hypotheses related to gender differences in FFT effects, we could not justify the added expense of including enough females to allow for disaggregated analysis. Because we would not be able to assess gender differences, we limited the study to males.

4.

Although we sought to include a population that was gang involved or at-risk for gang involvement, no attempt was made to screen individuals for gang involvement prior to study entry. Youth were deemed "at risk" for gang involvement solely on the basis of their residence in Philadelphia (a city with high gang prevalence) and their own prior criminal involvement.

5.

Characteristics of attritors were similar for treatment and control cases (e.g., there were no significant treatment by attrition interactions on any pretreatment variables for youth, and only one significant treatment by attrition interaction for parents on interview age: The control attritors were younger than their post-tested counterparts (35 vs 41) while the treatment attritors were older than their post-tested counterparts (45 vs 41). The number of days elapsed from randomization to post-test was also similar for treatment and control participants, ranging from 215 to 224 days elapsed.

6.

All data from court records were double coded by two UM researchers and all discrepancies resolved. The level of inter-rater reliability agreement prior to resolving discrepancies ranged from 94 to 100% across the different items coded and was above 97% for all but one of the variables coded.

7.

Two trained research assistants documented the content of the initial training by coding, for each ten minute period, what content had been covered in the period. The level of inter-rater agreement across time points for the initial training was 86.8%. The training consisted primarily of a review of the gang context in Philadelphia, gang research and risk and protective factors relevant to gang-involved populations, and a review of each stage of the FFT model with specific attention to special accommodations for gang-involved populations. The most common activity during the training was role playing the handling of specific issues that were anticipated to come up in sessions involving gang-involved youth (30% of time periods). The FFT-G manual, developed by the FFT developer's team, formed the basis for the training and was provided to each therapist and supervisor. Three of the six trained therapists handled 85% of the cases.

8.

The level of engagement observed for FTTP is typical for such programs when implemented with high risk families. FFT's level of engagement is far higher than is typically obtained because FFT, like other EB family therapy programs, includes a major emphasis on engagement. Also, FFT therapists were always willing to meet the families in their homes, while FTTP used a combination of home- and office-based meetings.

9.

One of these families was inadvertently assigned to an FFT-G-trained therapist. The others were assigned to regular FFT therapists.

10.

This is consistent with post-treatment caregiver self-reports of treatment services received in the past six months: Treatment and control caregivers reported receiving 6.5 (SD = 5.3) vs 3.6 (SD = 5.6) different services (p < .01).

11.

This FFT cost per youth served is somewhat lower than the $3263 reported in Lee et al.'s (2012) report on cost –effectiveness. The cost of FFT in Philadelphia may be lower because some of the required FFT services (such as collateral contacts and consultancies) are not covered by Medicaid funding.

12.

Three to four differences significant at p < .05 would be expected by chance across the 65 tests conducted.

13.

Residential placements include all non-home confinements that involved at least one overnight stay and that were ordered chronologically after the randomization date and within the 18 month follow-up period.

14.

15.

19.5% of those receiving FFT were convicted compared with 33.6% of those not receiving FFT. (p < .10, OR = .489).
References
Alexander, J. F., & Parsons, B. V. (1973). Short-term behavioral intervention with delinquent families: Impact on family process and recidivism. Journal of Abnormal Psychology, 81, 218–225.

Alexander, J. F., & Parsons, B. V. (1982). Functional Family Therapy: Principles and procedures. Carmel: Brooks & Cole.

Barnoski, R. (2004). Outcome Evaluation of Washington State's Research-Based Programs for Juvenile Offenders (Document No. 04-01-1201). Olympia: Washington State Institute for Public Policy.

Barton, C., & Alexander, J. F. (1981). Functional Family Therapy. In A. S. Gurman & D. P. Kniskern (Eds.), Handbook of family therapy (pp. 403–443). New York: Brunner.

Biglan, A., Brennan, P. A., Foster, S. L., & Holder, H. D. (with Miller, T. R. et al.). (2004). Helping adolescents at risk: Prevention of multiple problem behaviors. New York: Guilford Press.

Bumbarger, B. K., & Campbell, E. M. (2012). A state agency-university partnership for translational research and the dissemination of evidence-based prevention and intervention. Administration and Policy in Mental Health and Mental Health Services Research, 39, 268–277.

Campbell, E. M. & Bumbarger, B. K. (2012). Looking back, moving forward: the history and current state of evidence based intervention in Pennsylvania. Retrieved from: http://www.episcenter.psu.edu/EBIReports/lookingbackmovingforward.

Cohen, J. (1992). Statistical power analysis. Current Directions in Psychological Science, 1, 98–101.

Costello, E. J., Mustillo, S., Erkanli, A., Keeler, G., & Angold, A. (2003). Prevalence and development of psychiatric disorders in childhood and adolescence. Archives of General Psychiatry, 60, 837–844.

Darnell, A. J., & Schuler, M. S. (2015). Quasi-experimental study of Functional Family Therapy effectiveness for juvenile justice aftercare in a racially and ethnically diverse community sample. Children and Youth Services Review, 50, 75–82.

Eisenberg, D., & Neighbors, K. (2007). Economics of preventing mental disorders and substance abuse among young people. (Report commissioned by National Research Council and Institute of Medicine Committee on the Prevention of Mental Disorders and Substance Abuse among Children, Youth and Young Adults).

Fagan, A. A. (2013). Family-focused interventions to prevent juvenile delinquency: A case where science and policy can find common ground. Criminology and Public Policy, 12, 617–650.

Forman, S. G., Olin, S. S., Hoagwood, K. E., Crowe, M., & Saka, N. (2009). Evidence-based interventions in schools: Developers' views of implementation barriers and facilitators. School Mental Health, 1, 26.

Hartnett, D., Carr, A., Hamilton, E, & O'Reilly G. (2016a). The effectiveness of Functional Family Therapy: A meta-analysis. Family Process. https://doi.org/10.1111/famp.12256.

Hartnett, D., Carr, A., & Sexton, T. (2016b). The effectiveness of Functional Family Therapy in reducing adolescent mental health and family adjustment difficulties in and Irish context. Family Process, 55, 287–304.

Humayun, S., Herlitz, L., Chesnokov, M., Doolan, M., Landau, S., & Scott, S. (2017). Randomized controlled trial of Functional Family Therapy for offending and antisocial behavior in UK youth. Journal of Child Psychology and Psychiatry, 58, 1023–1032. https://doi.org/10.1111/jcpp.12743.

Institute of Medicine. (2006). Improving the Quality of Health Care for Mental and Substance-Use Conditions: Quality Chasm Series. Committee on Crossing the Quality Chasm: Adaptation to Mental Health and Addictive Disorders, Board on Health Care Services. Washington, DC: The National Academies Press.

Institute of Medicine (IOM) & National Research Council (NRC). (2014). Strategies for scaling effective family-focused preventive interventions to promote children's cognitive, affective, and behavioral health: Workshop summary. Washington, DC: The National Academies Press.

Kessler, R. C. (2004). The epidemiology of dual diagnosis. Biological Psychiatry, 56, 730–737.

Kessler, R. C., Berglund, P. A., Bruce, M. L., Koch, J. R., Laska, E. M., Leaf, P. J., Manderscheid, R. W., Rosenheck, R. A., Walters, E. E., & Wang, P. S. (2001). The prevalence and correlates of untreated serious mental illness. Health Services Research, 36, 987–1007.

Kessler, R. C., Berglund, P. A., Demler, O., Jin, R., Merikangas, K. R., & Walters, E. E. (2005). Lifetime prevalence and age-of-onset distributions of DSM-IV disorders in the national comorbidity survey replication. Archives of General Psychiatry, 62, 593–602.

Lee, S., S. Aos, E. Drake, A. Pennucci, M. Miller, & L. Anderson. (2012). Return on investment: Evidence-based options to improve statewide outcomes, April 2012 (Document No. 12-04-1201). Olympia: Washington State Institute for Public Policy.

McLeod, J. D., Uemura, R., & Rohrman, S. (2012). Adolescent mental health, behavior problems, and academic achievement. Journal of Health and Social Behavior, 53, 482–497.

Merikangas, K. R., He, J., Burstein, M., Swanson, S. A., Avenevoli, S., Cui, L., Benjet, C., Georgiades, K., & Swendsen, J. (2010). Lifetime prevalence of mental disorders in U.S. adolescents: Results from the National Comorbidity Study Adolescent Supplement (NCS-A). Journal of the American Academy of Child Adolescent Psychiatry, 49, 980–989.

Mihalic, S. F., & Irwin, K. (2003). Blueprints for violence prevention: From research to real-world settings—Factors influencing the successful replication of model programs. Youth Violence and Juvenile Justice, 1, 307–329.

Mihalic, S., Irwin, K., Fagan, A., Ballard, D., & Elliott, D. (2004). Successful program implementation: Lessons from Blueprints. Available at: http://www.ncjrs.gov/pdffiles1/ojjdp/204273.pdf.

National Academy of Sciences. (2009). Preventing mental, emotional, and behavioral disorders: For policymakers. Washington, DC: The National Academies Press.

National Research Council, & Institute of Medicine. (2009). Preventing mental, emotional, and behavioral disorders among young people: Progress and possibilities. Washington, DC: The National Academies Press. https://doi.org/10.17226/12480.

Obama, B. (2016). United States health care reform: Progress to date and next steps. Journal of the American Medical Association, 316, 525–532.

Pashler, H., & Wagenmakers, E. (Eds.). (2012). Editors' introduction to the special section on replicability in psychological science: A crisis of confidence? Perspectives on Psychological Science, 7, 528–530. https://doi.org/10.1177/1745691612465253.

Sickmund, M., Sladky, T. J., Kang, W., and Puzzanchera, C. (2017). Easy Access to the Census of Juveniles in Residential Placement. Available: http://www.ojjdp.gov/ojstatbb/ezacjrp/.

Slesnick, N., & Prestopnik, J. (2009). Comparison of family therapy outcome with alcohol abusing, runaway adolescents. Journal of Marital and Family Therapy, 35, 255–277.

Spoth, R., & Greenberg, M. (2011). Impact challenges in community science-with-practice: Lessons from PROSPER on transformative practitioner-scientist partnerships and prevention infrastructure development. American Journal of Community Psychology, 48, 106–119.

Spoth, R., Guyll, M., Lillehoj, C. J., Redmond, C., & Greenberg, M. (2007). Prosper study of evidence-based intervention implementation quality by community–university partnerships. Journal of Community Psychology, 35, 981–999.

Spoth, R., Rohrbach, L. A., Greenberg, M., Leaf, P., Brown, C. H., Fagan, A., Catalano, R. F., Pentz, M. A., Sloboda, Z., Hawkins, J. D., & Society for Prevention Research Type 2 Translational Task Force Members & Contributing Authors. (2013). Addressing core challenges for the next generation of type 2 translation research and systems: The translation science to population impact (TSci impact) framework. Prevention Science, Published Online (Open Access). https://doi.org/10.1007/s11121-012-0362-6.

Thornberry, T. P., Krohn, M. D., Lizotte, A. J., Smith, C. A., & Tobin, K. (2003). Gangs and delinquency in developmental perspective. New York: Cambridge University Press.

Waldron, H. B., & Brody, J. L. (2010). Functional Family Therapy for adolescent substance use disorders. In J. R. Weisz & A. E. Kazdin (Eds.), Evidence-based psychotherapies for children and adolescents (2nd ed., pp. 401–415). New York: Guilford Press.

Waldron, H. B., & Slesnick, N. (1998). Treating the family. In W. R. Miller & N. Heather (Eds.), Treating Addictive Behaviors: Processes of Change (2nd ed., pp. 271–285). New York: Plenum.

Waldron, H. B., Slesnick, N., Brody, J. L., Turner, C. W., & Peterson, T. R. (2001). Treatment outcomes for adolescent substance abuse at 4- and 7-month assessments. Journal of Consulting and Clinical Psychology, 69, 802–813.

Weisburd, D., Petrosino, A., & Mason, G. (1993). Design sensitivity in criminal justice experiments. Crime and Justice, 17, 337–379.
Acknowledgements
We are grateful for support from the Centers for Disease Control and Prevention and the Office of Juvenile Justice and Delinquency Prevention during the development phase and from Smith Richardson Foundation and the National Institute of Justice during the implementation phase of the study. We wish to thank the Honorable Lori Dumas, Chief Faustino Castro-Jimenez, William Cooney and many other partners in the Philadelphia Family Court system for their leadership and guidance, Mike Robbins and Helen Midouhas of FFT LLC for their support, and Courtney Harding and Joe Pitts of Temple University for data collection. We also thank Associate Editor Abigail Fagan and two anonymous reviews for their constructive comments on an earlier draft of this report.
Funding
The study was funded by Centers for Disease Control and Prevention, Office of Juvenile Justice and Delinquency Prevention, Smith Richardson Foundation and National Institute of Justice.
Ethics declarations
Ethical Approval
All procedures performed in studies involving human participants were in accordance with the ethical standards of the institutional and/or national research committee and with the 1964 Helsinki declaration and its later amendments or comparable ethical standards.
Informed Consent
Informed consent or assent was obtained from all individual participants included in the study.
Conflict of Interest
The authors declare that they have no conflict of interest.
About this article
Cite this article
Gottfredson, D.C., Kearley, B., Thornberry, T.P. et al. Scaling-Up Evidence-Based Programs Using a Public Funding Stream: a Randomized Trial of Functional Family Therapy for Court-Involved Youth. Prev Sci 19, 939–953 (2018). https://doi.org/10.1007/s11121-018-0936-z
Keywords
Medicaid funding for prevention

Family therapy for court-involved youth

Randomized controlled trial

Functional Family Therapy