Abstract
Successful prevention programs depend on a complex interplay among aspects of the intervention, the participant, the specific intervention setting, and the broader set of contexts with which a participant interacts. There is a need to theorize what happens as participants bring intervention ideas and behaviors into other life-contexts, and theory has not yet specified how social interactions about interventions may influence outcomes. To address this gap, we use an ecological perspective to develop the social interface model. This paper presents the key components of the model and its potential to aid the design and implementation of prevention interventions. The model is predicated on the idea that intervention message effectiveness depends not only on message aspects but also on the participants' adoption and adaptation of the message vis-à-vis their social ecology. The model depicts processes by which intervention messages are received and enacted by participants through social processes occurring within and between relevant microsystems. Mesosystem interfaces (negligible interface, transference, co-dependence, and interdependence) can facilitate or detract from intervention effects. The social interface model advances prevention science by theorizing that practitioners can create better quality interventions by planning for what occurs after interventions are delivered.
This is a preview of subscription content, log in to check access.
Access options
Buy single article
Instant access to the full article PDF.
US$ 39.95
Price includes VAT for USA
Subscribe to journal
Immediate online access to all issues from 2019. Subscription will auto renew annually.
US$ 99
This is the net price. Taxes to be calculated in checkout.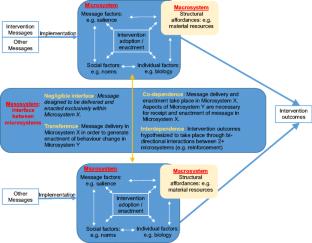 References
Bennett, G. G., Wolin, K. Y., & Duncan, D. T. (2008). Social determinants of obesity. In F. B. Hu (Ed.), Obesity epidemiology (pp. 342–376). New York: Oxford University Press.

Berkel, C., Mauricio, A. M., Schoenfelder, E., & Sandler, I. N. (2011). Putting the pieces together: An integrated model of program implementation. Prevention Science, 12, 23–33. https://doi.org/10.1007/s11121-010-0186-1.

Biglan, A. (2016). The ultimate goal of prevention and the larger context for translation. Prevention Science. https://doi.org/10.1007/s11121-016-0635-6.

Brody, G. H., Beach, S. R. H., Hill, K. G., Howe, G. W., Prado, G., & Fullerton, S. M. (2013). Using genetically informed, randomized prevention trials to test etiological hypotheses about child and adolescent drug use and psychopathology. American Journal of Public Health, 103(S1), S19–S24. https://doi.org/10.2105/AJPH.2012.301080.

Bronfenbrenner, U. (1974). Developmental research, public policy, and the ecology of childhood. Child Development, 45, 1–5. https://doi.org/10.2307/1127743.

Bronfenbrenner, U., & Morris, P. A. (2006). The bioecological model of human development. In W. Damon & R. M. Lerner (Eds.), Handbook of child psychology (6th ed., pp. 793–828). Hoboken: Wiley.

Campbell, R., Starkey, F., Holliday, J., Audrey, S., Bloor, M., Parry-Langdon, N., et al. (2008). An informal school-based peer-led intervention for smoking prevention in adolescence (ASSIST): A cluster randomised trial. The Lancet, 371, 1595–1602. https://doi.org/10.1016/S0140-6736(08)60692-3.

Choi, H. J., Hecht, M., & Smith, R. A. (2017). Investigating the potential impact of social talk on prevention through social networks: The relationships between social talk and refusal self-efficacy and norms. Prevention Science, 4, 459–468. https://doi.org/10.1007/s11121-017-0764-6.

Crespo, N. C., Elder, J. P., Ayala, G. X., Campbell, N. R., Arredondo, E. M., Slymen, D. J., et al. (2012). Results of a multi-level intervention to prevent and control childhood obesity among Latino children: The Adventuras para Ninas study. Annals of Behavioral Medicine, 43, 84–100.

Cuijpers, P. (2002). Effective ingredients of school-based drug prevention programs: A systematic review. Addictive Behaviors, 27, 1009–1023. https://doi.org/10.1016/S0306-4603(02)00295-2.

DeGarmo, D. S., Eddy, J. M., Reid, J. B., & Fetrow, R. A. (2009). Evaluating mediators of the impact of the Linking the Interests of Families and Teachers (LIFT) multimodal preventive intervention on substance use initiation and growth across adolescence. Prevention Science, 10, 208–220. https://doi.org/10.1007/s11121-009-0126-0.

Fishbein, D. (2000). The importance of neurobiological research to the prevention of psychopathology. Prevention Science, 1, 89–106. https://doi.org/10.1023/A:1010090114858.

Flynn, A. B., Falco, M., & Hocini, S. (2015). Independent evaluation of middle school-based drug prevention curricula: A systematic review. JAMA Pediatrics, 169, 1046–1052. https://doi.org/10.1001/jamapediatrics.2015.1736.

Gaias, L., Lindstrom Johnson, S., White, R. M. B., Pettigrew, J., Dumka, L., (2017) Understanding the mesosystem between school and neighborhood contexts. Journal of Adolescent Research Review. https://doi.org/10.1007/s40894-017-0077-9

Grimshaw, J. M., Presseau, J., Tetroe, J., Eccles, M. P., Francis, J. J., Godin, G., et al. (2014). Looking inside the black box: Results of a theory-based process evaluation exploring the results of a randomized controlled trial of printed educational messages to increase primary care physicians' diabetic retinopathy referrals. Implementation Science, 9, 1–7.

Hamilton, G., Cross, D., Reniscow, K., & Hall, M. (2005). A school-based harm minimization smoking intervention trial: Outcome results. Addiction, 100, 689–700.

Harrington, N. G., Giles, S. M., Hoyle, R. H., Feeney, G. J., & Yungbluth, S. C. (2001). Evaluation of the All Stars character education and problem behavior prevention program: Effects on mediator and outcome variables for middle school students. Health Education & Behavior, 28, 533–546.

Horne, P. J., Hardman, C. A., Lowe, C. F., Tapper, K., Le Noury, J., Madden, P., et al. (2009). Increasing parental provision and children's consumption of lunchbox fruit and vegetables in Ireland: The Food Dudes intervention. European Journal of Clinical Nutrition, 63, 613–618.

Koning, I. M., van den Eijnden, R. J., Verdurmen, J. E., Engels, R. C., & Vollebergh, W. A. (2011). Long-term effects of a parent and student intervention on alcohol use in adolescents: A cluster randomized controlled trial. American Journal of Preventive Medicine, 40, 541–547. https://doi.org/10.1016/jamepre.2010.12.030.

Langford, R., Bonell, C. P., Jones, H. E., Pouliou, T., Murphy, S. M., Waters, E., … Campbell, R. (2014). The WHO Health Promoting School framework for improving the health and well-being of students and their academic achievement. In The Cochrane Collaboration (Ed.), Cochrane Database of Systematic Reviews. Chichester, UK: John Wiley & Sons.

May, C., & Finch, T. (2009). Implementing, embedding, and integrating practices: An outline of normalization process theory. Sociology, 43, 535–554. https://doi.org/10.1177/0038038509103208.

Marsiglia, F. F., & Booth, J. M. (2015). Cultural adaptation of interventions in real practice settings. Research on Social Work Practice, 25, 423–432. https://doi.org/10.1177/1049731514535989.

McWilliam, J., Brown, J., Sanders, M. R., & Jones, L. (2016). The triple P implementation framework: The role of purveyors in the implementation and sustainability of evidence-based programs. Prevention Science, 17, 636–645. https://doi.org/10.1007/s11121-016-0661-4.

Miller-Day, M. (2008). Talking to youth about drugs: What do late adolescents say about parental strategies? Family Relations, 57, 1–12. https://doi.org/10.1111/j.1741-3729.2007.00478.x.

Petras, H., & Sloboda, Z. (2014). An integrated prevention science model: A conceptual foundation for prevention research. In Z. Sloboda & H. Petras (Eds.), Defining prevention science (pp. 251–273). New York: Springer.

Pettigrew, J., Miller-Day, M., Krieger, J., & Hecht, M. L. (2012). The rural context of illicit substance offers: A study of Appalachian rural adolescents. Journal of Adolescent Research, 27, 523–550. https://doi.org/10.1177/0743558411432639.

Pettigrew, J., & Hecht, M. L. (2015). Developing school-based prevention curricula. In K. Bosworth (Ed.), Prevention science in school settings (pp. 151–174). New York: Springer.

Pettigrew, J., Miller-Day, M., Shin, Y., Krieger, J. L., Hecht, M. L., & Graham, J. W. (in press). Parental messages about substances in early adolescence: Extending a model of drug talk styles. Health Communication. https://doi.org/10.1080/10410236.2017.1283565.

Piehler, T. F., & Dishion, T. J. (2014). Dyadic coregulation and deviant talk in adolescent friendships: Interaction patterns associated with problematic substance use in early adulthood. Developmental Psychology, 50, 1160–1169. https://doi.org/10.1037/a0034698.

Reimuller, A., Hussong, A., & Ennett, S. T. (2011). The influence of alcohol-specific communication on adolescent alcohol use and alcohol-related consequences. Prevention Science, 12, 389–400. https://doi.org/10.1007/s11121-011-0227-4.

Rogers, E. M. (2003). Diffusion of innovations (5th ed.). New York: Free Press.

Rulison, K. L., Feinberg, M., Gest, S. D., & Osgood, D. W. (2015). Diffusion of intervention effects: The impact of a family-based substance use prevention program on friends of participants. Journal of Adolescent Health, 57, 433–440. https://doi.org/10.1016/j.jadohealth.2015.06.007.

Rutter, H., Savona, N., Glonti, K., Bibby, J., Cummins, S., Finegood, D. T., et al. (in press). The need for a complex systems model of evidence for public health. The Lancet. https://doi.org/10.1016/S0140-6736(17)31267-9.

Ryan, S. R., Brennan, P. A., Cunningham, P. B., Foster, S. L., Brock, R. L., & Whitmore, E. (2013). Biosocial processes predicting multisystemic therapy treatment response. Biological Psychology, 92, 373–379. https://doi.org/10.1016/j.biopsycho.2012.12.002.

Segrott, J. (2013). Recruitment and group composition strategies for family-based substance misuse prevention interventions: An exploratory evaluation. Journal of Children's Services, 8, 89–109. https://doi.org/10.1108/JCS-03-2013-0007.

Slater, M. D., Kelly, K. J., Edwards, R. W., Thurman, P. J., Plested, B. A., Keefe, T. J., et al. (2006). Combining in-school and community-based media efforts: Reducing marijuana and alcohol uptake among younger adolescents. Health Education Research, 21, 157–167.

Southwell, B. G. (2013). Social networks and popular understanding of science and health: Sharing disparities. Baltimore: Johns Hopkins University Press.

Southwell, B. G., & Yzer, M. C. (2009). When (and why) interpersonal talk matters for campaigns. Communication Theory, 19, 1–8. https://doi.org/10.1111/j.1468-2885.2008.01329.x.

Tobler, N. S., Roona, M. R., Ochshorn, P., Marshall, D. G., Streke, A. V., & Stackpole, K. M. (2000). School-based adolescent drug prevention programs: 1998 meta-analysis. Journal of Primary Prevention, 20, 275–336.

UNICEF (2012). Communication for behavioural impact (COMBI): A toolkit for behavioural and social communication in outbreak response. Retrieved from http://apps.who.int/iris/handle/10665/75170

Valente, T. W. (2012). Network interventions. Science, 337, 49–53.

West, S. L., & O'Neal, K. K. (2004). Project D.A.R.E. outcome effectiveness revisited. American Journal of Public Health, 94, 1027–1029. https://doi.org/10.2105/AJPH.94.6.1027.
Acknowledgements
Portions of this paper were presented at the 2017 meeting of the European Society for Prevention Research. We thank conference attendees and anonymous reviewers for their constructive feedback.
Funding
Portions of this work were supported by Cardiff University through an incoming visiting fellowship scheme awarded to Jeremy Segrott to cover travel and subsistence for Jonathan Pettigrew to visit Cardiff and collaborate on this project. The work was undertaken with the support of The Centre for the Development and Evaluation of Complex Interventions for Public Health Improvement (DECIPHer), a UKCRC Public Health Research Centre of Excellence. Joint funding (MR/KO232331/1) from the British Heart Foundation, Cancer Research UK, Economic and Social Research Council, Medical Research Council, the Welsh Government and the Wellcome Trust, under the auspices of the UK Clinical Research Collaboration, is gratefully acknowledged.
Ethics declarations
Conflict of Interest
The authors declare that they have no conflicts of interest.
Research Involving Human Participants and/or Animals
This article does not contain any studies with human participants or animals performed by any of the authors.
Informed Consent
This article does not contain any studies with human participants performed by any of the authors; hence, informed consent was not applicable.
About this article
Cite this article
Pettigrew, J., Segrott, J., Ray, C.D. et al. Social Interface Model: Theorizing Ecological Post-Delivery Processes for Intervention Effects. Prev Sci 19, 987–996 (2018). https://doi.org/10.1007/s11121-017-0857-2
Keywords
Intervention development

Logic models

Ecological perspective

Implementation science