Abstract
Coping Power is an evidence-based preventive intervention program for youth with aggressive behavior problems that has traditionally been delivered in small group formats. Because of concerns about iatrogenic effects secondary to aggregation of high risk youth, the current study examined whether genetic risk may moderate intervention outcome when youth were randomly assigned to group versus individual formats of an intervention. The oxytocin receptor gene (OXTR) has been associated with social behavior and may influence susceptibility to social reinforcement in general and deviant peer influence in particular. One variant of OXTR (rs2268493) was examined in 197 fourth-grade African-American children (64% male) who were randomly assigned to Group Coping Power or Individual Coping Power (Lochman et al. 2015). Longitudinal assessments of teacher- and parent-reported behavior were collected through a 1-year follow-up. Growth curve analyses revealed a genotype by delivery format interaction. Youth with the A/A genotype demonstrated reductions in externalizing problems over the course of the intervention regardless of intervention format. In contrast, carriers of the G allele receiving the group-based intervention showed little improvement during the intervention and a worsening of symptoms during the follow-up year, while those receiving the individual format demonstrated reductions in externalizing problems. Given the associations between this OXTR variant and social bonding, carriers of the G allele may be more sensitive to social rewards from deviant peers in the group setting. This study suggests that genetic factors may be useful in predicting which type of intervention will be most effective for a particular individual.
This is a preview of subscription content, log in to check access.
Access options
Buy single article
Instant access to the full article PDF.
US$ 39.95
Price includes VAT for USA
Subscribe to journal
Immediate online access to all issues from 2019. Subscription will auto renew annually.
US$ 99
This is the net price. Taxes to be calculated in checkout.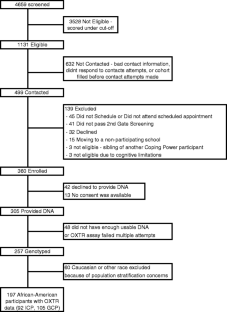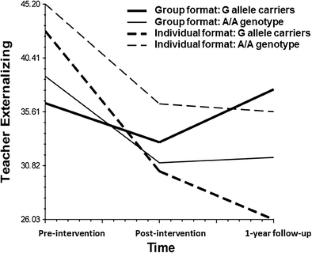 Notes
1.

Based on previous findings by Lochman et al. (2015), models were also run including the child characteristic inhibitory control, but findings regarding genotype were similar to what is reported. Interactions with gender were also examined, but were not significant.
References
Albert, D., Belsky, D. W., Crowley, D. M., Latendresse, S. J., Aliev, F., Riley, B., et al. (2015). Can genetics predict response to complex behavioral interventions? Evidence from a genetic analysis of the fast track randomized control trial. Journal of Policy Analysis and Management, 34,497–518.

Andari, E., Duhamel, J.-R., Zalla, T., Herbrecht, E., Leboyer, M., & Sirigu, A. (2010). Promoting social behavior with oxytocin in high-functioning autism spectrum disorders. Proceedings of the National Academy of Sciences, 107,4389–4394.

Bakermans-Kranenburg, M. J., Van, I. M. H., Pijlman, F. T., Mesman, J., & Juffer, F. (2008). Experimental evidence for differential susceptibility: Dopamine D4 receptor polymorphism (DRD4 VNTR) moderates intervention effects on toddlers' externalizing behavior in a randomized controlled trial. Developmental Psychology, 44,293–300.

Beitchman, J. H., Zai, C. C., Muir, K., Berall, L., Nowrouzi, B., Choi, E., & Kennedy, J. L. (2012). Childhood aggression, callous-unemotional traits and oxytocin genes. European Child & Adolescent Psychiatry, 21,125–132.

Bradshaw, C. P., O'Brennan, L. M., & McNeely, C. (2008). Core competencies and the prevention of school failure and early school leaving. In G. Guerra & C. P. Bradshaw (Eds.), Core competencies to promote positive youth development and prevent adolescent risk behavior: New directions for child and adolescent development (Vol. 122, pp. 1–17).

Brody, G. H., Beach, S. R., Philibert, R. A., Chen, Y. F., & Murry, V. M. (2009). Prevention effects moderate the association of 5-HTTLPR and youth risk behavior initiation: Gene × environment hypotheses tested via a randomized prevention design. Child Development, 80, 645–661.

Brody, G. H., Chen, Y. F., Beach, S. R., Kogan, S. M., Yu, T., Diclemente, R. J., et al. (2014). Differential sensitivity to prevention programming: A dopaminergic polymorphism-enhanced prevention effect on protective parenting and adolescent substance use. Health Psychology, 33,182–191.

Campbell, A. (2010). Oxytocin and human social behavior. Personality and Social Psychology Review, 14,281–295.

Campbell, D. B., Datta, D., Jones, S. T., Batey Lee, E., Sutcliffe, J. S., Hammock, E. A., & Levitt, P. (2011). Association of oxytocin receptor (OXTR) gene variants with multiple phenotype domains of autism spectrum disorder. Journal of Neurodevelopmental Disorders, 3,101–112.

Damiano, C. R., Aloi, J., Dunlap, K., Burrus, C. J., Mosner, M. G., Kozink, R. V., et al. (2014). Association between the oxytocin receptor (OXTR) gene and mesolimbic responses to rewards. Mol Autism, 5,7.

Davis, M. C., Horan, W. P., Nurmi, E. L., Rizzo, S., Li, W., Sugar, C. A., & Green, M. F. (2014). Associations between oxytocin receptor genotypes and social cognitive performance in individuals with schizophrenia. Schizophrenia Research, 159,353–357.

Di Napoli, A., Warrier, V., Baron-Cohen, S., & Chakrabarti, B. (2014). Genetic variation in the oxytocin receptor (OXTR) gene is associated with Asperger syndrome. Mol Autism, 5,48.

Dishion, T. J., & Tipsord, J. M. (2011). Peer contagion in child and adolescent social and emotional development. Annual Review of Psychology, 62,189–214.

Dodge, K. A. (2009). Community intervention and public policy in the prevention of antisocial behavior. Journal of Child Psychology and Psychiatry, and Allied Disciplines, 50,194–200.

Dodge, K. A., Lochman, J. E., Harnish, J. D., Bates, J. E., & Pettit, G. S. (1997). Reactive and proactive aggression in school children and psychiatrically impaired chronically assaultive youth. Journal of Abnormal Psychology, 106,37–51.

Dodge, K. A., Dishion, T. J., & Landsford, J. E. (2006). Deviant peer influences in programs for youth: Problems and solutions. New York: Guilford Press.

Doyle, A., Ostrander, R., Skare, S., Crosby, R. D., & August, G. J. (1997). Convergent and criterion-related validity of the behavior assessment system for children-parent rating scale. Journal of Clinical Child Psychology, 26,276–284.

Frick, P. J., Bodin, S. D., & Barry, C. T. (2000). Psychopathic traits and conduct problems in community and clinic-referred samples of children: Further development of the psychopathy screening device. Psychological Assessment, 12,382–393.

Gordon, I., Martin, C., Feldman, R., & Leckman, J. F. (2011). Oxytocin and social motivation. Developmental Cognitive Neuroscience, 1,471–493.

Guastella, A. J., Einfeld, S. L., Gray, K. M., Rinehart, N. J., Tonge, B. J., Lambert, T. J., & Hickie, I. B. (2010). Intranasal oxytocin improves emotion recognition for youth with autism spectrum disorders. Biological Psychiatry, 67,692–694.

Hanish, L. D., Martin, C. L., Fabes, R. A., Leonard, S., & Herzog, M. (2005). Exposure to externalizing peers in early childhood: Homophily and peer contagion processes. Journal of Abnormal Child Psychology, 33,267–281.

Lochman, J. E., & Wells, K. C. (2002). Contextual social–cognitive mediators and child outcome: A test of the theoretical model in the Coping Power program. Development and Psychopathology, 14,945–967.

Lochman, J. E., & Wells, K. C. (2003). Effectiveness study of Coping Power and classroom intervention with aggressive children: Outcomes at a one-year follow-up. Behavior Therapy, 34,493–515.

Lochman, J. E., & Wells, K. C. (2004). The Coping Power program for preadolescent aggressive boys and their parents: Outcome effects at the 1-year follow-up. Journal of Consulting and Clinical Psychology, 72,571–578.

Lochman, J. E., Wells, K., & Lenhart, L. (2008). Coping Power: Child group facilitator's guide. New York: Oxford University Press.

Lochman, J. E., Wells, K. C., Qu, L., & Chen, L. (2013). Three year follow-up of Coping Power intervention effects: Evidence of neighborhood moderation? Prevention Science, 14,364–376.

Lochman, J. E., Baden, R. E., Boxmeyer, C. L., Powell, N. P., Qu, L., Salekin, K. L., & Windle, M. (2014). Does a booster intervention augment the preventive effects of an abbreviated version of the Coping Power program for aggressive children? Journal of Abnormal Child Psychology, 42,367–381.

Lochman, J. E., Dishion, T. J., Powell, N. P., Boxmeyer, C. L., Qu, L., & Sallee, M. (2015). Evidence-based preventive intervention for preadolescent aggressive children: One-year outcomes following randomization to group versus individual delivery. Journal of Consulting and Clinical Psychology, 83,728–735.

Mrug, S., Madan, A., & Windle, M. (2012). Temperament alters susceptibility to negative peer influence in early adolescence. Journal of Abnormal Child Psychology, 40,201–209.

Raudenbush, S. W., & Bryk, A. S. (2002). Hierarchical linear models: Applications and data analysis methods (2nd ed.). Newbury Park, CA: Sage.

Reynolds, C. R., & Kamphaus, R. W. (1992). Behavior assessment system for children (BASC). Circle Pines, MN: American Guidance Service.

Rilling, J. K., DeMarco, A. C., Hackett, P. D., Thompson, R., Ditzen, B., Patel, R., & Pagnoni, G. (2012). Effects of intranasal oxytocin and vasopressin on cooperative behavior and associated brain activity in men. Psychoneuroendocrinology, 37,447–461.

Snyder, J., McEachern, A., Schrepferman, L., Just, C., Jenkins, M., Roberts, S., & Lofgreen, A. (2010). Contribution of peer deviancy training to the early development of conduct problems: Mediators and moderators. Behavior Therapy, 41,317–328.

Wills, T. A., & Dishion, T. J. (2004). Temperament and adolescent substance use: A transactional analysis of emerging self-control. Journal of Clinical Child and Adolescent Psychology, 33,69–81.

Wilson, D. (2004). The Interface of school climate and school connectedness and relationships with aggression and victimization. Journal of School Health, 74,293–299.

Yrigollen, C. M., Han, S. S., Kochetkova, A., Babitz, T., Chang, J. T., Volkmar, F. R., et al. (2008). Genes controlling affiliative behavior as candidate genes for autism. Biological Psychiatry, 63,911–916.
Ethics declarations
Funding
Research in this paper has been supported by grants from the National Institute of Drug Abuse (R01 DA023156) and the National Institute of Child Health and Human Development (R01 HD079273).
Conflict of Interest
None of the authors except for John Lochman has a conflict of interest. John Lochman is co-developer of the Coping Power program and receives royalties for the implementation guide published by Oxford University Press.
Ethical Approval
All procedures performed in studies involving human participants were in accordance with the ethical standards of the institutional and/or national research committee and with the 1964 Helsinki Declaration and its later amendments or comparable ethical standards.
Informed Consent
Informed consent was obtained from all individual participants included in the study.
Electronic supplementary material
About this article
Cite this article
Glenn, A.L., Lochman, J.E., Dishion, T. et al. Oxytocin Receptor Gene Variant Interacts with Intervention Delivery Format in Predicting Intervention Outcomes for Youth with Conduct Problems. Prev Sci 19, 38–48 (2018). https://doi.org/10.1007/s11121-017-0777-1
Keywords
Aggression

Conduct problems

Oxytocin receptor gene

Preventive intervention

Deviant peer