Abstract
Truancy is a major social issue that is linked to a range of poor outcomes across the life course, including poor educational outcomes, drug and alcohol abuse, and antisocial behavior. Interventions that seek to reduce truancy problems range from school-based police officers to programs that reward good attendance to community-based interventions. This study reports primary outcome results of a randomized trial of a collaborative, police–school partnership that sought to reduce truancy and increase students' willingness to attend school. Using school attendance and students' self-report survey data, we find that the police–school partnership intervention shows promise for reducing truancy and improving students' willingness to attend school. We conclude that police–school partnerships that foster the willingness of young people to attend school should be examined in future evaluation research and be considered in the development of truancy prevention programs.
This is a preview of subscription content, log in to check access.
Access options
Buy single article
Instant access to the full article PDF.
US$ 39.95
Price includes VAT for USA
Subscribe to journal
Immediate online access to all issues from 2019. Subscription will auto renew annually.
US$ 99
This is the net price. Taxes to be calculated in checkout.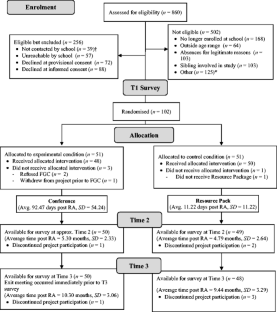 Notes
1.

Students' parents were also surveyed as part of the trial; however, we focus only on the students' results. Please see Supplemental Material for a summary of all outcomes measured for the trial, across all time-points.

2.

The Queensland Government Policy and Procedure Register gives examples of unexplained or unsatisfactory absences or patterns of absences as a student being absent for three or more consecutive days, where there is a persistent pattern of unexplained absences or where the principal reasonably considers attendance unacceptable.

3.

A school term is approximately 47–50 school days (≈10 weeks), with minor variation depending on public and school holidays, or earlier completion dates for senior students. Thus, on average, three terms is 143 days.

4.

For school data, we chose to use data post conference, rather than directly post randomization, in order to more clearly see the impact of the intervention. This also corresponded roughly to the time period covered up until the T3 survey, with less than 10% of participants' T3 surveys collected outside this range. Because of the preparation required for the conferences and the need to coordinate a time when all conference participants could meet, the conferences occurred significantly longer after randomization than control participants received their pack (Exp: conferences occurred M = 92.471 calendar days post randomization, SD = 54.240; control: resource pack delivered M = 11.216 days post randomization, SD = 11.216; t(52.672) = 10.558, p < .001). However, there was not a significantly different amount of time between intervention delivery (either conference or resource pack) and the average amount of time included in the post intervention follow-up period for absences. Absences for both groups were calculated within the three school terms (approximately 9 months) following their individual intervention date, which differed for each participant.

5.

Students were also asked to rate the frequency that they missed school for a variety of reasons (both legitimate and illegitimate). These responses are provided in the Supplementary Materials. Students' parents also provided responses regarding perceptions of and reactions to truancy, though these are not the focus of this paper. See the Supplemental Materials for a full list of all measures and the timing of their measurement. In some cases (e.g., participant had moved away, shift worker, personal preferences), participants completed surveys online, over the phone, or on paper returned to researchers postage-paid.

6.

As these questions asked about how the behavior had changed after the intervention, no baseline measure was available to compare with; hence, t tests rather than ANOVAs were utilized.
References
Askeland, K. G., Haugland, S., Stormark, K. M., Bøe, T., & Hysing, M. (2015). Adolescent school absenteeism and service use in a population-based study. BMC Public Health, 15(1). doi: 10.1186/s12889-015-1978-9.

Attwood, G., & Croll, P. (2015). Truancy and well-being among secondary school pupils in England. Educational Studies, 41(1–2), 14–28.

Balfanz, R., & Byrnes, V. (2012). The importance of being there: A report on absenteeism in the nation's public schools (technical report). Baltimore, MD: Johns Hopkins University School of Education.

Barnsdale, L., & Walker, M. (2007). Examining the use and impact of family group conferencing. Edinburgh, Scotland: Scottish Executive Education Department.

Battin-Pearson, S., Newcomb, M. D., Abbott, R. D., Hill, K. G., Catalano, R. F., & Hawkins, J. D. (2000). Predictors of early high school dropout: A test of five theories. Journal of Educational Psychology, 92(3), 568–582.

Bond, L., Thomas, L., Toumbourou, J., Patton, G., & Catalano, R. (2000). Improving the lives of young Victorians in our community: A survey of risk and protective factors. Victoria, Australia: Centre for Adolescent Health.

Bowles, R., Reyes, M. G., & Pradiptyo, R. (2005). National evaluation of the safer schools partnerships program. London: Youth Justice Board for England and Wales.

Braithwaite, J. (2002). Restorative justice and responsive regulation. Oxford: Oxford University Press.

Braithwaite, V., Harris, N., & Ivec, M. (2009). Seeking to clarify child protection's regulatory principles. Communities, Children & Families Australia, 4(1), 7–23.

Cameron, L., & Thorsborne, M. (1999). Restorative justice and school discipline: Mutually exclusive? A practitioner's view of the impact of community conferencing in Queensland schools. Paper presented at the Reshaping Australian Institutions Conference: Restorative Justice and Civil Society, Canberra, Australia.

Chou, L. C., Ho, C. Y., Chen, C. Y., & Chen, W. J. (2006). Truancy and illicit drug use among adolescents surveyed via street outreach. Addictive Behaviors, 31(1), 149–154.

Coelho, R., Fischer, S., McKnight, F., Matteson, S., & Schwartz, T. (2015). The effects of early chronic absenteeism on third-grade academic achievement measures. Madison, WI: Robert M. La Follette School of Public Affairs, University of Wisconsin.

Cohen, J. (1992). Statistical power analysis. Current Directions in Psychological Science, 1(3), 98–101.

Connolly, M., & Masson, J. (2014). Private and public voices: Does family group conferencing privilege the voice of children and families in child welfare? The Journal of Social Welfare & Family Law, 36(4), 403–414.

Converse, N., & Lignugaris-Kraft, B. (2009). Evaluation of a school-based mentoring program for at-risk middle school youth. Remedial & Special Education, 30(1), 33–46.

Crampton, D. (2007). Family group decision-making: A promising practice in need of more program theory and research. Child & Family Social Work, 12(2), 202–209.

Crawford, A., & L'Hoiry, X. (2015). Partnerships in the delivery of policing and safeguarding children. Leeds: University of Leeds.

Daraganova, G., Mullan, K., & Edwards, B. (2014). Attendance in primary school: Factors and consequences (occasional paper no. 51). Canberra: Strategic Policy and Research Branch, Department of Social Services.

Dembo, R., Briones-Robinson, R., Ungaro, R. A., Gulledge, L. M., Karas, L. M., Winters, K. C., & Greenbaum, P. E. (2012). Emotional psychological and related problems among truant youths: An exploratory latent class analysis. Journal of Emotional & Behavioral Disorders, 20(3), 157–168.

Dickson, E. A., & Hutchinson, T. C. (2010). Truancy and the law in Australia: The Queensland example. International Journal of Law & Education, 15(2), 87–102.

Elizondo, F., Feske, K., Edgull, D., & Walsh, K. (2003). Creating synergy through collaboration: Safe schools/ healthy students in Salinas, California. Psychology in the Schools, 40(5), 503–513.

Finn, P., & McDevitt, J. (2005). National assessment of school resource officer programs final project report. Washington, DC: U.S. Department of Justice.

Flaherty, C. W., Sutphen, R. D., & Ely, G. E. (2012). Examining substance abuse in truant youths and their caregivers: Implications for truancy intervention. Children & Schools, 34(4), 201–211.

Flanagan, M. (2006). The effects of a positive behavior support program on the attendance behaviors of students with and without disabilities in a large inner-city public high school. (Doctoral dissertation). Retrieved from ProQuest Dissertations & Theses Global. (UMI No. 3225140).

Ford, J., & Sutphen, R. D. (1996). Early intervention to improve attendance in elementary school for at-risk children: A pilot program. Children & Schools, 18(2), 95–102.

Forrest, W., & Edwards, B. (2015). Early onset of crime and delinquency among Australian children. In Australian Institute of Family Studies (Ed.), The longitudinal study of Australian children annual statistical report 2014 (pp. 131–150). Australian Institute of Family Studies: Melbourne, Australia.

Frost, N., Abram, F., & Burgess, H. (2014a). Family group conferences: Context, process and ways forward. Child & Family Social Work, 19(4), 480–490.

Frost, N., Abram, F., & Burgess, H. (2014b). Family group conferences: Evidence, outcomes and future research. Child & Family Social Work, 19(4), 501–507.

Gewandter, J. S., Dworkin, R. H., Turk, D. C., McDermott, M. P., Baron, R., Gastonguay, M. R., et al. (2014). Research designs for proof-of-concept chronic pain clinical trials: IMMPACT recommendations. PAIN®, 155(9), 1683–1695.

Gittell, J. H. (2006). Relational coordination: Coordinating work through relationships of shared goals, shared knowledge and mutual respect. In O. Kyriakidou & M. F. Ozbilgin (Eds.), Relational perspectives in organizational studies: A research companion (pp. 74–94). Cheltenham: Edward Elgar.

Gottfredson, D. C., Cook, T. D., Gardner, F. E., Gorman-Smith, D., Howe, G. W., Sandler, I. N., & Zafft, K. M. (2015). Standards of evidence for efficacy, effectiveness, and scale-up research in prevention science: Next generation. Prevention Science, 16(7), 893–926.

Hancock, K. J., Shepherd, C. C. J., Lawrence, D., & Zubrick, S. R. (2013). Student attendance and educational outcomes: Every day counts. Canberra: Department of Education, Employment and Workplace Relations.

Harris, N. (2008). Family group conferencing in Australia: 15 years on (child abuse prevention issues no. 27). Canberra: Australian Institute of Family Studies.

Henry, K. L., & Huizinga, D. H. (2007). Truancy's effect on the onset of drug use among urban adolescents placed at risk. Journal of Adolescent Health, 40(4), 358.e9–358.e17.

Herrick, L. (1992). Effects of an attendance incentive program for chronically absent elementary school students (Doctoral dissertation). Retrieved from ProQuest Dissertations & Theses Global. (UMI No. 9331147).

Hess, A. M. (1990). The effects of contingency contracting and parent training on the truant behavior and classroom performance of students with mild handicaps (Doctoral dissertation). Retrieved from ProQuest Dissertations & Theses Global. (UMI No. 9030200).

Howell, D. (2010). Statistical methods for psychology (7th ed.). Belmont, CA: Cengage.

Kearney, C. A. (2008a). School absenteeism and school refusal behavior in youth: A contemporary review. Clinical Psychology Review, 28(3), 451–471.

Kearney, C. A. (2008b). An interdisciplinary model of school absenteeism in youth to inform professional practice and policy. Educational Psychology Review, 20, 257–282.

Klima, T., Miller, M. G., & Nunlist, C. (2009). What works? Targeted truancy and dropout programs in middle and high school. Olympia, WA: Washington State Institute for Public Policy.

Maynard, B. R., McCrea, K. T., Pigott, T. D., & Kelly, M. S. (2013). Indicated truancy interventions for chronic truant students: A Campbell systematic review. Research on Social Work Practice, 23(1), 5–21.

Mazerolle, L. (2014). The power of policing partnerships: Sustaining the gains. Journal of Experimental Criminology, 10(3), 341–365.

Mazerolle, L., & Ransley, J. (2006). Third party policing. New York: Cambridge University Press.

Mazerolle, L., Antrobus, E., Bennett, S., & Tyler, T. R. (2013). Shaping citizen perceptions of police legitimacy: A randomized field trial of procedural justice. Criminology, 51(1), 33–64.

McGarrell, E. F., & Hipple, N. K. (2007). Family group conferencing and re-offending among first-time juvenile offenders: The Indianapolis experiment. Justice Quarterly, 24(2), 221–246.

Monahan, K. C., VanDerhei, S., Bechtold, J., & Cauffman, E. (2014). From the school yard to the squad car: School discipline, truancy, and arrest. Journal of Youth & Adolescence, 43(7), 1110–1122.

Mueller, D., & Stoddard, C. (2006). Dealing with chronic absenteeism and its related consequences: The process and short-term effects of a diversionary juvenile court intervention. Journal of Education for Students Placed at Risk, 11(2), 199–219.

Murphy, K., Tyler, T. R., & Curtis, A. (2009). Nurturing regulatory compliance: Is procedural justice effective when people question the legitimacy of the law? Regulation & Governance, 3, 1–26.

Na, C., & Gottfredson, D. C. (2013). Police officers in schools: Effects on school crime and the processing of offending behaviors. Justice Quarterly, 30(4), 619–650.

Petrosino, A., Guckenburg, S., & Fronius, T. (2012). "Policing schools" strategies: A review of the evaluation evidence. Journal of Multidisciplinary Evaluation, 8(17), 80–101.

Queensland Government, Department of Education and Training. (2013). Performance insights: School attendance. Brisbane: Author.

Queensland Government, Department of Education and Training (2016). Managing student absences and enforcing enrolment and attendance at state schools (version 4.0). Brisbane: Author.

Raymond, B. (2010). Assigning police officers to schools (problem-oriented guides for police: Response guides no. 10). Washington, DC: Center for Problem-Oriented Policing.

Rocque, M., Jennings, W. G., Piquero, A. R., Ozkan, T., & Farrington, D. P. (2016). The importance of school attendance: Findings from the Cambridge Study in Delinquent Development on the Life-Course Effects of Truancy. Crime & Delinquency. Advance online publication.

Sherman, L. W., Strang, H., Barnes, G., Woods, D., Bennett, S., Inkpen, N., et al. (2015). Twelve experiments in restorative justice: The Jerry Lee program of randomized trials of restorative justice conferences. Journal of Experimental Criminology, 11(4), 501–540.

Solakoglu, O., & Orak, U. (2016). School truancy among Turkish high school students: A test of general strain theory. Journal of Human Sciences, 13(1), 1460–1472.

Sutphen, R. D., Ford, J. P., & Flaherty, C. (2010). Truancy interventions: A review of the research literature. Research on Social Work Practice, 20(2), 161–171.

Tanner-Smith, E. E., & Wilson, S. J. (2013). A meta-analysis of the effects of dropout prevention programs on school absenteeism. Prevention Science, 14(5), 468–478.

Teasley, M. L. (2004). Absenteeism and truancy: Risk, protection, and best practice implications for school social workers. Children & Schools, 26(2), 117–128.

Thornton, M., Darmody, M., & McCoy, S. (2013). Persistent absenteeism among Irish primary school pupils. Educational Review, 65(4), 488–501.

Tyler, T. R. (2006). Restorative justice and procedural justice: Dealing with rule breaking. Journal of Social Issues, 62, 307–326.

Tyler, T. R., Sherman, L., Strang, H., Barnes, G. C., & Woods, D. (2007). Reintegrative shaming, procedural justice, and recidivism: The engagement of offenders' psychological mechanisms in the Canberra RISE drinking-and-driving experiment. Law & Society Review, 41(3), 553–586.

Vaughn, M. G., Maynard, B. R., Salas-Wright, C. P., Perron, B. E., & Abdon, A. (2013). Prevalence and correlates of truancy in the US: Results from a national sample. Journal of Adolescence, 36(4), 767–776.

Wachtel, T. (2013). Defining restorative. International Institute for Restorative Practices Graduate School. Retrieved from https://www.iirp.edu/pdf/Defining-Restorative.pdf.

White, M. D., Fyfe, J. J., Campbell, S. P., & Goldkamp, J. S. (2001). The school-police partnership: Identifying at-risk youth through a truant recovery program. Evaluation Review, 25(5), 507–532.
Acknowledgements
The authors gratefully acknowledge the Australian Research Council Laureate Fellowship (2010–2015; grant number FL100100014) that funded the experimental evaluation of the Ability School Engagement Program (ASEP). We also acknowledge the ongoing support from the Australian Research Council Centre of Excellence for Children and Families over the Life Course. As with any large-scale trial, the work that is presented in this paper is made possible by the dedication, passion, and professionalism of a large number of very special people. We are, therefore, indebted to the project team at the University of Queensland, our Ph.D. students, as well as the dedicated operational team from the Queensland Police Service, the Department of Education, and the facilitating team drawn from the Department of Justice and Attorney General (previously Department of Communities). The views expressed in this paper are those of the authors. Responsibility for any errors of omission or commission remains with the authors.
Ethics declarations
Funding
Australian Research Council Laureate Fellowship (2010–2015; grant number FL100100014) funded the experimental evaluation of ASEP.
Conflict of Interest
The authors declare that they have no conflicts of interest.
Ethical Approval
All procedures performed in studies involving human participants were in accordance with the ethical standards of the institutional and/or national research committee and with the 1964 Helsinki Declaration and its later amendments or comparable ethical standards. Ethics approval was granted by the University of Queensland Behavioral and Social Sciences Ethical Review Committee (Project Number: 2010000500).
Informed Consent
Informed consent was obtained from all individual participants included in the study.
About this article
Cite this article
Mazerolle, L., Antrobus, E., Bennett, S. et al. Reducing Truancy and Fostering a Willingness to Attend School: Results from a Randomized Trial of a Police-School Partnership Program. Prev Sci 18, 469–480 (2017). https://doi.org/10.1007/s11121-017-0771-7
Keywords
Truancy

School attendance

Delinquency

Schools

Police partnerships