Abstract
Home visiting is an effective preventive intervention that can improve parenting outcomes for at-risk, new mothers, thereby optimizing subsequent child development. A history of maltreatment in childhood is common in mothers participating in home visiting, yet the extent to which such a history is related to parenting outcomes during home visiting is unknown. The current study evaluated whether mothers with a history of maltreatment in childhood respond less favorably to home visiting by examining the direct and indirect pathways to subsequent parenting stress, a key parenting outcome affecting child development. First-time mothers (N = 220; age range = 16–42) participating in one of two home visiting programs, Healthy Families America or Nurse Family Partnership, were evaluated at enrollment and again at 9-and 18-month post-enrollment assessments. Researchers administered measures of maternal history of maltreatment in childhood, depressive symptoms, social support, and parenting stress. Maternal history of maltreatment in childhood predicted worsening parenting stress at the 18-month assessment. Mediation modeling identified two indirect pathways, one involving social support at enrollment and one involving persistent depressive symptoms during home visiting, that explained the relation between a history of maltreatment in childhood and parenting stress at the 18-month assessment. Ways to improve the preventive effects of home visiting for mothers with a history of maltreatment in childhood through the identification of relevant intervention targets and their ideal time of administration are discussed.
This is a preview of subscription content, log in to check access.
Access options
Buy single article
Instant access to the full article PDF.
US$ 39.95
Price includes VAT for USA
Subscribe to journal
Immediate online access to all issues from 2019. Subscription will auto renew annually.
US$ 99
This is the net price. Taxes to be calculated in checkout.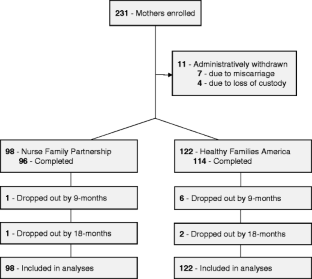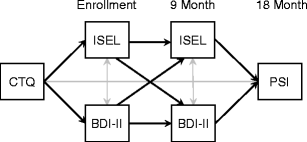 References
Abidin, R. R. (1995). The parenting stress index professional manual. Odessa: Psychological Assessment Resources.

Adirim, T., & Supplee, L. (2013). Overview of the federal home visiting program. Pediatrics, 132, S59–S64. doi:10.1542/peds.2013-1021C.

Ammerman, R. T., Putnam, F. W., Chard, K. M., Stevens, J., & Van Ginkel, J. B. (2012). PTSD in depressed mothers in home visitation. Psychological Trauma: Theory, Research, Practice, and Policy, 4, 186–195. doi:10.1037/a0023062.

Ammerman, R. T., Putnam, F. W., Altaye, M., Stevens, J., Teeters, A. R., & Van Ginkel, J. B. (2013a). A clinical trial of In-Home CBT for depressed mothers in home visitation. Behavior Therapy, 44, 359–372. doi:10.1016/j.beth.2013.01.002.

Ammerman, R. T., Shenk, C. E., Teeters, A. R., Noll, J. G., Putnam, F. W., & Van Ginkel, J. B. (2013b). Multiple mediation analysis of trauma and parenting stress in mothers in home visiting. Infant Mental Health Journal, 34, 234–241.

Astuto, J., & Allen, L. (2009). Home visitation and young children: An approach worth investing in? Society for Research in Child Development, Social Policy Report, 23, 3–22.

Avellar, S., Paulsell, D., Sama-Miller, E., Del Grosso, P., Akers, L., & Kleinman, R. (2016). Home visiting evidence of effectiveness review: executive summary. Washington D.C.: Office of Planning, Research and Evaluation, Administration for Children and Families, U.S. Department of Health and Human Services.

Bailey, H. N., DeOliveira, C. A., Wolfe, V. V., Evans, E. M., & Hartwick, C. (2012). The impact of childhood maltreatment history on parenting: A comparison of maltreatment types and assessment methods. Child Abuse & Neglect, 36, 236–246. doi:10.1016/j.chiabu.2011.11.005.

Balaji, A. B., Claussen, A. H., Smith, D. C., Visser, S. N., Morales, M. J., & Perou, R. (2007). Social support networks and maternal mental health and well-being. Journal of Womens Health (Larchmt), 16, 1386–1396. doi:10.1089/jwh.2007.CDC10.

Barnes, J., Aistrop, D., Allen, E., Barlow, J., Elbourne, D., Macdonald, G., Melhuish, E., Petrou, S., Pink, J., Snowdon, C., Spiby, H., Stuart, J., & Sturgess, J. (2013). First steps: Study protocol for a randomized controlled trial of the effectiveness of the Group Family Nurse Partnership (gFNP) program compared to routine care in improving outcomes for high-risk mothers and their children and preventing abuse. Trials, 14, 285. doi:10.1186/1745-6215-14-285.

Barroso, N. E., Hungerford, G. M., Garcia, D., Graziano, P. A., & Bagner, D. M. (2015). Psychometric properties of the Parenting Stress Index-Short Form (PSI-SF) in a high-risk sample of mothers and their infants. Psychological Assessment. doi:10.1037/pas0000257.

Beck, A. T., Steer, R. A., & Brown, G. K. (1996). Manual for the Beck Depression Inventory-II. San Antonio: Psychological Corporation.

Bennett, H. A., Einarson, A., Taddio, A., Koren, G., & Einarson, T. R. (2004). Prevalence of depression during pregnancy: Systematic review. Obstetrics & Gynecology, 103, 698–709. doi:10.1097/01.AOG.0000116689.75396.5f.

Bernstein, D. P., Stein, J. A., Newcomb, M. D., Walker, E., Pogge, D., Ahluvalia, T., Stokes, J., Handelsman, L., Medrano, M., Desmond, D., & Zule, W. (2003). Development and validation of a brief screening version of the Childhood Trauma Questionnaire. Child Abuse & Neglect, 27, 169–190. doi:10.1016/S0145-2134(02)00541-0.

Chang, Y., & Fine, M. A. (2007). Modeling parenting stress trajectories among low-income young mothers across the child's second and third years: Factors accounting for stability and change. Journal of Family Psychology, 21, 584–594. doi:10.1037/0893-3200.21.4.584.

Cohen, S., & Hoberman, H. M. (1983). Positive events and social supports as buffers of life change stress. Journal of Applied Social Psychology, 13, 99–125. doi:10.1111/j.1559-1816.1983.tb02325.x.

Garwood, S. K., Gerassi, L., Jonson-Reid, M., Plax, K., & Drake, B. (2015). More than poverty: The effect of child abuse and neglect on teen pregnancy risk. Journal of Adolescent Health, 57, 164–168. doi:10.1016/j.jadohealth.2015.05.004.

Gonzalez, A., & MacMillan, H. L. (2008). Preventing child maltreatment: An evidence-based update. Journal of Postgraduate Medicine, 54, 280–286.

Green, B. L., Tarte, J. M., Harrison, P. M., Nygren, M., & Sanders, M. B. (2014). Results from a randomized trial of the Healthy Families Oregon accredited statewide program: Early program impacts on parenting. Children and Youth Services Review, 44, 288–298. doi:10.1016/j.childyouth.2014.06.006.

Holton, J. K., & Harding, K. (2007). Healthy Families America®: Ruminations on implementing a home visitation program to prevent child maltreatment. Journal of Prevention & Intervention in the Community, 34, 13–38. doi:10.1300/J005v34n01_02.

Hu, L., & Bentler, P. M. (1999). Cutoff criteria for fit indexes in covariance structure analysis: Conventional criteria versus new alternatives. Structural Equation Modeling, 6, 1–55. doi:10.1080/10705519909540118.

Kanter, J. W., Baruch, D. E., & Gaynor, S. T. (2006). Acceptance and commitment therapy and behavioral activation for the treatment of depression: Description and comparison. Behavior Analyst, 29, 161–185.

Lakey, B., & Orehek, E. (2011). Relational regulation theory: A new approach to explain the link between perceived social support and mental health. Psychological Review, 118, 482–495. doi:10.1037/a0023477.

Lee, C. S., Anderson, J. R., Horowitz, J. L., & August, G. J. (2009). Family income and parenting: The role of parental depression and social support. Family Relations: An Interdisciplinary Journal of Applied Family Studies, 58, 417–430. doi:10.1111/j.1741-3729.2009.00563.x.

Luthar, S. S., & Cicchetti, D. (2000). The construct of resilience: Implications for interventions and social policies. Development and Psychopathology, 12, 857–885. doi:10.1017/S0954579400004156.

Macmillan, H. L., Wathen, C. N., Barlow, J., Fergusson, D. M., Leventhal, J. M., & Taussig, H. N. (2009). Interventions to prevent child maltreatment and associated impairment. Lancet, 373, 250–266. doi:10.1016/s0140-6736(08)61708-0.

Mayberry, L. J., Horowitz, J. A., & Declercq, E. (2007). Depression symptom prevalence and demographic risk factors among U.S. women during the first 2 years postpartum. Journal of Obstetric, Gynecologic, and Neonatal Nursing: Clinical Scholarship for the Care of Women, Childbearing Families, & Newborns, 36, 542–549. doi:10.1111/j.1552-6909.2007.00191.x.

Murphy, S., Shevlin, M., Armour, C., Elklit, A., & Christoffersen, M. N. (2014). Childhood adversity and PTSD experiences: Testing a multiple mediator model. Traumatology, 20, 225–231. doi:10.1037/h0099838.

Muthén, L. K., & Muthén, B. O. (1998-2012). Mplus user's guide (v.7). Los Angeles: Muthén & Muthén.

National Children's Alliance. (2014). NCA National Statistics – Statistical Report 2014. Retrieved from http://www.nationalchildrensalliance.org/sites/default/files/download-files/2014NationalAnnual_0.pdf.

Noll, J. G., & Shenk, C. E. (2013). Teenage birthrates in sexually abused and neglected females. Pediatrics, 131, e1181–e1187. doi:10.1542/peds.2012-3072.

Noll, J. G., Trickett, P. K., & Putnam, F. W. (2009). The cumulative burden borne by offspring whose mothers were abused as children: Descriptive results from a multigenerational study. Journal of Interpersonal Violence, 24, 424–449.

O'Connor, E., Rossom, R. C., Henninger, M., Groom, H. C., & Burda, B. U. (2016). Primary care screening for and treatment of depression in pregnant and postpartum women: Evidence report and systematic review for the US Preventive Services Task Force. JAMA, 315, 388–406. doi:10.1001/jama.2015.18948.

Olds, D. L. (2006). The nurse-family partnership: An evidence-based preventive intervention. Infant Mental Health Journal, 27, 5–25. doi:10.1002/imhj.20077.

Olds, D. L. (2010). The nurse-family partnership: From trials to practice. In A. J. Reynolds, A. J. Rolnick, M. M. Englund, & J. A. Temple (Eds.), Childhood programs and practices in the first decade of life: A human capital integration (pp. 49–75). New York: Cambridge University Press.

Pereira, J., Vickers, K., Atkinson, L., Gonzalez, A., Wekerle, C., & Levitan, R. (2012). Parenting stress mediates between maternal maltreatment history and maternal sensitivity in a community sample. Child Abuse & Neglect, 36, 433–437. doi:10.1016/j.chiabu.2012.01.006.

Schonbucher, V., Maier, T., Mohler-Kuo, M., Schnyder, U., & Landolt, M. A. (2014). Adolescent perspectives on social support received in the aftermath of sexual abuse: A qualitative study. Archives of Sexual Behavior, 43, 571–586. doi:10.1007/s10508-013-0230-x.

Scott, K. M., Smith, D. R., & Ellis, P. M. (2010). Prospectively ascertained child maltreatment and its association with DSM-IV mental disorders in young adults. Archives of General Psychiatry, 67, 712–719. doi:10.1001/archgenpsychiatry.2010.71.

Sedlak, A. J., Mettenburg, J., Basena, M., Petta, I., McPherson, K., & Greene, A. (2010). Fourth National Incidence Study of Child Abuse and Neglect (NIS-4): Report to Congress. Washington, DC: US Dept. of Health and Human Services, Administration for Children and Families, Administration on Children, Youth and Families, National Center on Child Abuse and Neglect.

Shenk, C. E., Putnam, F. W., Rausch, J. R., Peugh, J. L., & Noll, J. G. (2014). A longitudinal study of several potential mediators of the relationship between child maltreatment and posttraumatic stress disorder symptoms. Development and Psychopathology, 26, 81–91. doi:10.1017/s0954579413000916.

Smith, M. V., Poschman, K., Cavaleri, M. A., Howell, H. B., & Yonkers, K. A. (2006). Symptoms of posttraumatic stress disorder in a community sample of low-income pregnant women. American Journal of Psychiatry, 163, 881–884. doi:10.1176/ajp.2006.163.5.881.

Steele, H., Bate, J., Steele, M., Dube, S. R., Danskin, K., Knafo, H., Nikitiades, A., Bonuck, K., Meissner, P., & Murphy, A. (2016). Adverse childhood experiences, poverty, and parenting stress. Canadian Journal of Behavioural Science/Revue Canadienne des Sciences du Comportement, 48, 32–38. doi:10.1037/cbs0000034.

Stith, S. M., Liu, T., Davies, L. C., Boykin, E. L., Alder, M. C., Harris, J. M., Som, A., McPherson, M., & Dees, J. E. M. E. G. (2009). Risk factors in child maltreatment: A meta-analytic review of the literature. Aggression and Violent Behavior, 14, 13–29. doi:10.1016/j.avb.2006.03.006.

Teeters, A. R., Ammerman, R. T., Shenk, C. E., Goyal, N. K., Folger, A. T., Putnam, F. W., & Van Ginkel, J. B. (2016). Predictors of maternal depressive symptom trajectories over the first 18 months in home visiting. American Journal of Orthopsychiatry, 86, 415–424. doi:10.1037/ort0000159.

Vliegen, N., Casalin, S., & Luyten, P. (2014). The course of postpartum depression: A review of longitudinal studies. Harvard Review of Psychiatry, 22, 1–22. doi:10.1097/HRP.0000000000000013.

Webster-Stratton, C., & Hammond, M. (1988). Maternal depression and its relationship to life stress, perceptions of child behavior problems, parenting behaviors, and child conduct problems. Journal of Abnormal Child Psychology, 16, 299–315. doi:10.1007/BF00913802.

Wildeman, C., Emanuel, N., Leventhal, J. M., Putnam-Hornstein, E., Waldfogel, J., & Lee, H. (2014). The prevalence of confirmed maltreatment among US children, 2004 to 2011. JAMA Pediatrics, 168, 706–713. doi:10.1001/jamapediatrics.2014.410.

Wisner, K. L., Sit, D. K., McShea, M. C., Rizzo, D. M., Zoretich, R. A., Hughes, C. L., Eng, H. F., Luther, J. F., Wisniewski, S. R., Costantino, M. L., Confer, A. L., Moses-Kolko, E. L., Famy, C. S., & Hanusa, B. H. (2013). Onset timing, thoughts of self-harm, and diagnoses in postpartum women with screen-positive depression findings. JAMA Psychiatry, 70, 490–498. doi:10.1001/jamapsychiatry.2013.87.
Acknowledgments
The authors express thanks to all the organizations contributing to Every Child Succeeds. We also wish to thank Alonzo T. Folger, Ph.D., for his assistance in preparing this manuscript. This study is supported by Grant R40 MC 06632-01 (Ammerman) from the Maternal and Child Health Bureau (Title V, Social Security Act), Health Resources and Services Administration, Department of Health and Human Services. Angelique R. Teeters is currently with TriHealth, Group Health Physicians, Cincinnati, Ohio. The authors acknowledge the participation and support of the United Way of Greater Cincinnati, Kentucky HANDS, and Ohio Help Me Grow.
Ethics declarations
Conflict of Interest
The authors declare that they have no conflict of interest.
Human and Animal Rights and Informed Consent
All procedures performed in studies involving human participants were in accordance with the ethical standards of the institutional and/or national research committee and with the 1964 Helsinki declaration and its later amendments or comparable ethical standards. Informed consent was obtained from all individual participants included in the study.
Additional information
The original version of this article was revised. The article was published with an incorrectly placed arrow in Figure 2. The corrected Figure 2 demonstrates the cross-lagged nature of the mediation model tested.
An erratum to this article is available at http://dx.doi.org/10.1007/s11121-017-0766-4.
About this article
Cite this article
Shenk, C.E., Ammerman, R.T., Teeters, A.R. et al. History of Maltreatment in Childhood and Subsequent Parenting Stress in At-Risk, First-Time Mothers: Identifying Points of Intervention During Home Visiting. Prev Sci 18, 361–370 (2017). https://doi.org/10.1007/s11121-017-0758-4
Keywords
Child maltreatment

Home visiting

Depression

Social support

Parenting stress