Abstract
The negative effects of displacement and poverty on child mental health are well-known, yet research on prevention interventions in low- and middle-income countries, especially fragile states, remains limited. We examined the effectiveness of a parenting skills intervention on mental health outcomes among Burmese migrant and displaced children living in 20 communities in Thailand. Participants were primary caregivers and children aged 7 to 15 years (n = 479 families). Families were randomly assigned to receive an adapted version of the Strengthening Families Program (n = 240) or a wait-list control condition (n = 239). Assessments were conducted at baseline and 1-month post-intervention for both conditions and at 6 months for treatment group only. One month after the program, children in the treatment condition showed significant reductions in externalizing problems (caregiver effect size (ES) −0.22, p = 0.02; child report ES −0.11, p = 0.02) and child attention problems compared with controls (caregiver report ES −0.23, p = 0.03). There was no significant treatment effect on children's internalizing problems (ES −0.06; p = 0.31). Children reported a significant increase in prosocial protective factors relative to controls (ES 0.20, p < 0.01). Results suggest that an evidence-based parenting skills intervention adapted for a displaced and migrant Burmese population facing high levels of adversity can have positive effects on children's externalizing symptoms and protective psychosocial factors.
Trial Registration. Clinicaltrials.gov: https://clinicaltrials.gov/show/NCT01829815
This is a preview of subscription content, log in to check access.
Access options
Buy single article
Instant access to the full article PDF.
US$ 39.95
Price includes VAT for USA
Subscribe to journal
Immediate online access to all issues from 2019. Subscription will auto renew annually.
US$ 99
This is the net price. Taxes to be calculated in checkout.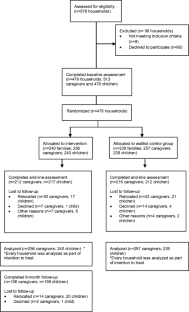 References
Achenbach, T. M., & Rescorla, L. A. (2001). Child behavior checklist. Youth self-report for ages 11–18 (YSR 11–18). In Manual for the ASEBA school-age forms and profiles. Research Center for Children, Youth, and Families in Burlington, VT.

Attanayake, V., McKay, R., Joffres, M., Singh, S., Burkle, F., & Mills, E. (2009). Prevalence of mental disorders among children exposed to war: a systematic review of 7,920 children. Medicine, Conflict, and Survival, 25, 4–19. doi:10.1080/13623690802568913.

Bandura, A. (1977) Self-efficacy: Toward a unifying theory of behavioral change. Psychological Review, 84, 191–215. doi:10.1037/0033-295X.84.2.191

Barlow, J., McMillan, A. S., Kirkpatrick, S., Ghate, D., Barnes, J., & Smith, M. (2010). Health-led interventions in the early years to enhance infant and maternal mental health: A review of reviews. Child Adolescent Mental Health, 15, 178–185. doi:10.1111/j.1475-3588.2010.00570.x.

Bernal, G., Jiménez-Chafey, M. I., & Domenech Rodríguez, M. M. (2009). Cultural adaptation of treatments: A resource for considering culture in evidence-based practice. Prof Psychology: Research Practice, 40, 361–368. doi:10.1037/a0016401.

Betancourt, T. (2015). The intergenerational effect of war. JAMA Psychiatry, 72, 199–200.

Betancourt, T., & Khan, K. T. (2008). The mental health of children affected by armed conflict: Protective processes and pathways to resilience. International Review of Psychiatry, 20, 317–328. doi:10.1080/09540260802090363.

Betancourt, T., Scorza, P., Meyers-Ohki, S., Mushashi, C., Kayiteshonga, Y., Binagwaho, A., … Beardslee, W. R. (2012). Validating the center for epidemiological studies depression scale for children in Rwanda. Journal of the American Academy of Child and Adolescent Psychiatry, 51(12), 1284–1292. doi:10.1016/j.jaac.2012.09.003

Betancourt, T., Ng, L. C., Kirk, C. M., Munyanah, M., Mushashi, C., Ingabire, C., … Sezibera, V. (2014). Family-based prevention of mental health problems in children affected by HIV and AIDS: an open trial. AIDS (London, England), 28(0 3), S359–S368. doi:10.1097/QAD.0000000000000336

Castro, F. G., Barrera, M. J., & Martinez, C. R. J. (2004). The cultural adaptation of prevention interventions: Resolving tensions between fidelity and fit. Prevention Science, 5, 41–45. doi:10.1023/B:PREV.0000013980.12412.cd.

Castro, F. G., Barrera, M., & Holleran Steiker, L. K. (2010). Issues and challenges in the design of culturally adapted evidence-based interventions. Annual Review of Clinical Psychology, 6, 213–239. doi:10.1146/annurev-clinpsy-033109-132032.

Chorpita, B. F., Daleiden, E. L., Ebesutani, C., Young, J., Becker, K. D., Nakamura, B. J., … Starace, N. (2011). Evidence-based treatments for children and adolescents: An updated review of indicators of efficacy and effectiveness. Clinical Psychology: Science and Practice, 18, 154-172.

Creswell, C., & Cartwright-Hatton, S. (2007). Family treatment of child anxiety: Outcomes, limitations and future directions. Clinical Child and Family Psychology Review, 10, 232–252. doi:10.1007/s10567-007-0019-3.

Furlong, M., McGilloway, S., Bywater, T., Hutchings, J., Donnelly, M., Smith, S. M., & O'Neill, C. (2010). Behavioural/cognitive-behavioural group-based parenting interventions for children age 3–12 with early onset conduct problems. In Cochrane Database of Systematic Reviews. John Wiley & Sons, Ltd. Retrieved from http://onlinelibrary.wiley.com/doi/10.1002/14651858.CD008225/abstract

Gardner, F., Montgomery, P., & Knerr, W. (2015). Transporting evidence-based parenting programs for child problem behavior (age 3–10) between countries: Systematic review and meta-analysis. Journal of Clinical Child & Adolescent Psychology, 0, 1–14. doi:10.1080/15374416.2015.1015134

Green, M., Jacobsen, K., & Pyne, S. (2008). Invisible in Thailand: Documenting the need for protection. Forced Migration Review, 30, 31–33.

Jordans, M. J. D., Tol, W. A., Ndayisaba, A., & Komproe, I. H. (2012). A controlled evaluation of a brief parenting psychoeducation intervention in Burundi. Social Psychiatry and Psychiatric Epidemiology, 48, 1851–1859. doi:10.1007/s00127-012-0630-6.

Kieling, C., Baker-Henningham, H., Belfer, M., Conti, G., Ertem, I., Omigbodun, O., … Rahman, A. (2011). Child and adolescent mental health worldwide: evidence for action. The Lancet, 378, 1515–1525. doi:10.1016/S0140-6736(11)60827-1

Knerr, W., Gardner, F., & Cluver, L. (2013). Improving positive parenting skills and reducing harsh and abusive parenting in low- and middle-income countries: A systematic review. Prevention Science, 14, 352–363. doi:10.1007/s11121-012-0314-1.

Kohrt, B. A., Jordans, M. J. D., Rai, S., Shrestha, P., Luitel, N. P., Ramaiya, M. K., … Patel, V. (2015). Therapist competence in global mental health: Development of the ENhancing Assessment of Common Therapeutic factors (ENACT) rating scale. Behaviour Research and Therapy, 69, 11–21. doi:10.1016/j.brat.2015.03.009.

Kumpfer, K. L., & Bluth, B. (2004). Parent/child transactional processes predictive of resilience or vulnerability to "Substance Abuse Disorders.". Substance Use & Misuse, 39, 671–698. doi:10.1081/JA-120034011.

Kumpfer, K. L., Alvarado, R., Tait, C., & Whiteside, H. O. (2007). The Strengthening Families Program: An evidence-based, multicultural family skills training program. In P. Tolan, J. Szapocznik, & S. Sambrano (Eds.), Preventing youth substance abuse: Science-based programs for children and adolescents (pp. 159–181). Washington, DC: APA.

Kumpfer, K. L., Pinyuchon, M., de Melo, A. T., & Whiteside, H. O. (2008). Cultural adaptation process for international dissemination of the Strengthening Families Program. Evaluation & the Health Professions, 31, 226–239. doi:10.1177/0163278708315926.

Kumpfer, K. L., Whiteside, H. O., Greene, J. A., & Allen, K. C. (2010). Effectiveness outcomes of four age versions of the Strengthening Families Program in statewide field sites. Group Dynamics: Theory Research Practice, 14, 211–229. doi:10.1037/a0020602.

Lachin, J. M. (2000). Statistical considerations in the intent-to-treat principle. Controlled Clinical Trials, 21, 167–189. doi:10.1016/S0197-2456(00)00046-5.

Lustig, S. L., Kia-Keating, M., Knight, W. G., Geltman, P., Ellis, H., Kinzie, J. D., … Saxe, G. N. (2004). Review of child and adolescent refugee mental health. Journal of the American Academy of Child & Adolescent Psychiatry, 43, 24–36. doi:10.1097/00004583-200401000-00012

Manassis, K., Lee, T. C., Bennett, K., Zhao, X. Y., Mendlowitz, S., Duda, S., … Wood, J. J. (2014). Types of parental involvement in CBT with anxious youth: A preliminary meta-analysis. Journal of Consulting and Clinical Psychology, 82, 1163–1172. doi:10.1037/a0036969.

Mejia, A., Calam, R., & Sanders, M. R. (2012). A review of parenting programs in developing countries: opportunities and challenges for preventing emotional and behavioral difficulties in children. Clinical Child and Family Psychology Review, 15, 163–175.

Meyer, S. R., Robinson, W. C., Abshir, N., Mar, A. A., & Decker, M. R. (2015). Trafficking, exploitation and migration on the Thailand-Burma Border: A qualitative study. International Migration, 53, 37–50. doi:10.1111/imig.12177.

Mullany, L. C., Richards, A. K., Lee, C. I., Suwanvanichkij, V., Maung, C., Mahn, M., … Lee, T. J. (2007). Population-based survey methods to quantify associations between human rights violations and health outcomes among internally displaced persons in eastern Burma. Journal of Epidemiology and Community Health, 61, 908–914. doi:10.1136/jech.2006.055087.

Panter-Brick, C., Burgess, A., Eggerman, M., McAllister, F., Pruett, K., & Leckman, J. F. (2014). Practitioner review: Engaging fathers—recommendations for a game change in parenting interventions based on a systematic review of the global evidence. Journal of Child Psychology and Psychiatry, 55, 1187–1212. doi:10.1111/jcpp.12280.

Patel, V. (2007). Mental health in low- and middle-income countries. British Medical Bulletin, 81–82, 81–96. doi:10.1093/bmb/ldm010.

Pinyuchon, M. (2010, June). Effectiveness of implementing the Strengthening Families Program for Families of school children in Songkhla Province, Thailand. In Karol L. Kumpfer (Chair), Cultural Adaptations of Family-Based Interventions to Strengthen Families and Prevent Substance Abuse. Presented at NIDA International Conference, Scottsdale, AZ.

Price, M., Yuen, E. K., Goetter, E. M., Herbert, J. D., Forman, E. M., Acierno, R., & Ruggiero, K. J. (2014). mHealth: A mechanism to deliver more accessible, more effective mental health care. Clinical Psychology & Psychotherapy, 21, 427–436. doi:10.1002/cpp.1855.

Puffer, E., Green, E. P., Chase, R. M., Sim, A. L., Zayzay, J., Friis, E., … Boone, L. (2015). Parents make the difference: a randomized-controlled trial of a parenting intervention in Liberia. Global Mental Health, 2. doi:10.1017/gmh.2015.12

Puffer, E., Green, E., Sikkema, K., Broverman, S., Ogwang-Odhiambo, R., & Pian, J. (2016). A church-based intervention for families to promote mental health and prevent HIV among adolescents in rural Kenya: Results of a randomized trial. Journal of Consulting and Clinical Psychology, 84, 511–525. doi:10.1037/ccp0000076.

Reed, R. V., Fazel, M., Jones, L., Panter-Brick, C., & Stein, A. (2012). Mental health of displaced and refugee children resettled in low-income and middle-income countries: Risk and protective factors. Lancet, 379, 250–265. doi:10.1016/S0140-6736(11)60050-0.

Rubin, D. B. (2004). Multiple imputation for nonresponse in surveys. Hoboken, NJ: John Wiley & Sons.

Ryzin, M. J. V., Kumpfer, K. L., Fosco, G. M., & Greenberg, M. T. (2015). Family-based prevention programs for children and adolescents: Theory, research, and large-scale dissemination. Psychology Press.

Shonkoff, J. P., & Fisher, P. A. (2013). Rethinking evidence-based practice and two-generation programs to create the future of early childhood policy. Development and Psychopathology, 25, 1635–1653. doi:10.1017/S0954579413000813

Sim, A., Annan, J., Puffer, E., Salhi, C., & Betancourt, T. (2014a). Building Happy Families: Impact evaluation of a parenting and family skills intervention for migrant and displaced Burmese families in Thailand. International Rescue Committee.

Sim, A., Puffer, E., Green, E., Chase, R., Zayzay, J., Garcia-Rolland, E., & Boone, L. (2014b). Parents Make the Difference Findings from a randomized impact evaluation of a parenting program in rural Liberia. International Rescue Committee.

South, A. (2008). Ethnic politics in Burma: States of conflict. New York, NY: Routledge.

Spoth, R., & Redmond, C. (2000). Research on family engagement in preventive interventions: Toward improved use of scientific findings in primary prevention practice. Journal Prim Prev, 21, 267–284. doi:10.1023/A:1007039421026.

StataCorp. (2011). Stata Statistical Software (Version 12). College Station, TX: StataCorp LP.

Sumargi, A., Sofronoff, K., & Morawska, A. (2014). A randomized-controlled trial of the Triple P-Positive Parenting Program Seminar Series with Indonesian parents. Child Psychiatry & Human Development, 46, 749–761. doi:10.1007/s10578-014-0517-8

Tol, W. A., Song, S., & Jordans, M. J. D. (2013). Annual Research Review: Resilience and mental health in children and adolescents living in areas of armed conflict—a systematic review of findings in low- and middle-income countries. Journal of Child Psychology and Psychiatry, 54, 445–460. doi:10.1111/jcpp.12053.
Ethics declarations
Funding
USAID Displaced Children and Orphans Fund.
Conflict of Interest
The authors declare that they have no conflicts of interest.
Ethical Approval
All procedures performed in studies involving human participants were in accordance with the ethical standards of the institutional and/or national research committee and with the 1964 Helsinki declaration and its later amendments or comparable ethical standards.
Informed Consent
All participants provided informed consent to participate in the study. Consent was first obtained from the parent or caregiver, followed by assent from the child separately.
About this article
Cite this article
Annan, J., Sim, A., Puffer, E.S. et al. Improving Mental Health Outcomes of Burmese Migrant and Displaced Children in Thailand: a Community-Based Randomized Controlled Trial of a Parenting and Family Skills Intervention. Prev Sci 18, 793–803 (2017). https://doi.org/10.1007/s11121-016-0728-2
Keywords
Parenting

Mental health

Low and middle income countries

Migrants

Displacement

Myanmar