Abstract
The transition to parenthood is a stressful period for most parents as individuals and as couples, with variability in parent mental health and couple relationship functioning linked to children's long-term emotional, mental health, and academic outcomes. Few couple-focused prevention programs targeting this period have been shown to be effective. The purpose of this study was to test the short-term efficacy of a brief, universal, transition-to-parenthood intervention (Family Foundations) and report the results of this randomized trial at 10 months postpartum. This was a randomized controlled trial; 399 couples expecting their first child were randomly assigned to intervention or control conditions after pretest. Intervention couples received a manualized nine-session (five prenatal and four postnatal classes) psychoeducational program delivered in small groups. Intent-to-treat analyses indicated that intervention couples demonstrated better posttest levels than control couples on more than two thirds of measures of coparenting, parent mental health, parenting, child adjustment, and family violence. Program effects on family violence were particularly large. Of eight outcome variables that did not demonstrate main effects, seven showed moderated intervention impact; such that, intervention couples at higher levels of risk during pregnancy showed better outcomes than control couples at similar levels of risk. These findings replicate a prior smaller study of Family Foundations, indicating that the Family Foundations approach to supporting couples making the transition to parenthood can have broad impact for parents, family relationships, and children's adjustment. Program effects are consistent and benefit all families, with particularly notable effects for families at elevated prenatal risk.
Access options
Buy single article
Instant access to the full article PDF.
US$ 39.95
Tax calculation will be finalised during checkout.
Subscribe to journal
Immediate online access to all issues from 2019. Subscription will auto renew annually.
US$ 79
Tax calculation will be finalised during checkout.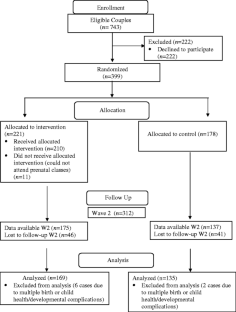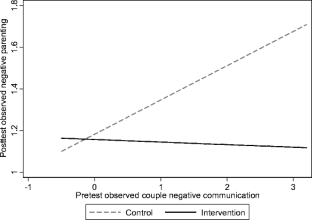 References
Abidin, R. R. (1995). Parenting Stress Index (3rd ed.). Odessa: Psychological Assessment Resources.

Aos, S., Lieb, R., Mayfield, J., Miller, M., & Pennucci, A. (2004). Benefits and Costs of Prevention and Early Intervention Programs for Youth. www.wsipp.wa.gov/pub.asp?docid=04-07-3901.

Beck, J. G., Stanley, M. A., & Zebb, B. J. (1995). Psychometric properties of the Penn State Worry Questionnaire. Journal of Clinical Geropsychology, 1, 33–42.

Beijers, R., Jansen, J., Riksen-Walraven, M., & de Weerth, C. (2010). Maternal prenatal anxiety and stress predict infant illnesses and health complaints. Pediatrics, 126, e401–e409.

Britner, P. A., Marvin, R. S., & Pianta, R. C. (2005). Development and preliminary validation of the caregiving behavior system: Association with child attachment classification in the preschool strange situation. Attachment & Human Development, 7, 83–102.

Cowan, C. P., & Cowan, P. A. (2000). When Partners Become Parents: the Big Life Change for Couples. Mahwah: Lawrence Erlbaum Associates, Inc., Publishers.

Crowne, D. P., & Marlow, D. (1960). A new scale of social desirability independent of psychopathology. Journal of Consulting Psychology, 24, 349–354.

Doss, B. D., Rhoades, G. K., Stanley, S. M., & Markman, H. J. (2009). The effect of the transition to parenthood on relationship quality: an 8-year prospective study. Journal of Personality and Social Psychology, 96, 601–619.

Durlak, J. A. (2009). How to select, calculate, and interpret effect sizes. Journal of Pediatric Psychology, 34, 917–928. doi:10.1093/jpepsy/jsp004.

Feinberg, M. E. (2002). Coparenting and the transition to parenthood: a framework for prevention. Clinical Child & Family Psychology Review, 5, 173–195.

Feinberg, M. E. (2003). The internal structure and ecological context of coparenting: a framework for research and intervention. Parenting: Science and Practice, 3, 95–132.

Feinberg, M. E., Kan, M. L., & Hetherington, E. M. (2007). The longitudinal influence of coparenting conflict on parental negativity and adolescent maladjustment. Journal of Marriage and the Family, 69, 687–702.

Feinberg, M. E., Kan, M. L., & Goslin, M. C. (2009). Enhancing coparenting, parenting, and child self-regulation: Effects of family foundations 1 year after birth. Prevention Science, 10, 276–285. doi:10.1007/s11121-009-0142-0.

Feinberg, M. E., Jones, D. E., Kan, M. L., & Goslin, M. C. (2010). Effects of family foundations on parents and children: 3.5 years after baseline. Journal of Family Psychology, 24, 532–542.

Feinberg, M. E., Brown, L. D., & Kan, M. L. (2012). A multi-domain self-report measure of coparenting. Parenting, 12, 1–21. doi:10.1080/15295192.2012.638870.

Feinberg, M. E., Jones, D. E., Roettger, M. E., Solmeyer, A., & Hostetler, M. L. (2014). Long-term follow-up of a randomized trial of family foundations: Effects on children's emotional, behavioral, and school adjustment. Journal of Family Psychology, 28, 821–831. doi:10.1037/fam0000037.

Feinberg, M. E., Jones, D., Roettger, M., Hostetler, M., Sakuma, K., Paul, I., & Ethrenthal, D. (2015a). Preventive effects on birth outcomes: Buffering impact of maternal stress, depression, & anxiety. Maternal and Child Health Journal. doi:10.1007/s10995-015-1801-3.

Feinberg, M. E., Roettger, M., Jones, D. E., Paul, I. M., & Kan, M. L. (2015b). Effects of a psychosocial couple-based prevention program on adverse birth outcomes. Maternal and child health journal, 19, 102–111. doi:10.1007/s10995-014-1500-5.

Fincham, F. D., & Bradbury, T. N. (1987). The assessment of marital quality: a reevaluation. Journal of Marriage & the Family, 49, 797–809.

Gartstein, M. A., & Rothbart, M. K. (2003). Studying infant temperament via the revised infant behavior questionnaire. Infant Behavior & Development, 26, 64–86.

Gibaud-Wallston, A., & Wandersman, L. P. (1978). Development and Utility of the Parenting Sense of Competence Scale. Toronto: Paper presented at: Meetings of the American Psychological Association.

Goldstein, H. (2011). Multilevel statistical models (Vol. 922). John Wiley & Sons.

Graham, J. W. (2012). Missing data: Analysis and design. Springer.

Halford, W. K., Petch, J., & Creedy, D. (2010). Promoting a positive transition to parenthood: a randomized clinical trial of couple relationship education. Prevention Science, 11, 89–100.

Heinicke, C. M. (2002). The Transition to Parenting. Mahwah: Erlbaum.

Howe, G. W., Caplan, R. D., Foster, D., Lockshin, M., & McGrath, C. (1995). When couples cope with job loss: a strategy for developing and testing preventive interventions. In L. R. M. J. J. Hurrell (Ed.), Job Stress Interventions (pp. 139–157). Washington: American Psychological Association.

Ioannidis, J. P. A. (2005). Why most published research findings are false. PLoS Med, 2, e124. doi:10.1371/journal.pmed.0020124.

Jones, D. E. (2015). Return on Investment from Family-Focused Prevention (Paper presented at Prevention Research Center, August 28, 2015. Penn State University).

Jones, D. E., Feinberg, M. E., & Hostetler, M. L. (2014). Costs to implement an effective transition-to-parenthood program for couples: Analysis of the Family Foundations program. Evaluation and Program Planning, 44, 59–67. doi:10.1016/j.evalprogplan.2014.02.001.

Kaczynski, K. J., Lindahl, K. M., Malik, N. M., & Laurenceau, J.-P. (2006). Marital conflict, maternal and paternal parenting, and child adjustment: A test of mediation and moderation. Journal of Family Psychology, 20, 199–208.

Kan, M. L., & Feinberg, M. E. (2014). Can a family-focused, transition-to-parenthood program prevent parent and partner aggression among couples with young children? Violence and Victims, 29, 967–980.

Kan, M., & Feinberg, M. (2015). Impacts of a coparenting-focused intervention on links between pre-birth intimate partner violence and observed parenting. Journal of Family Violence, 30, 363–372. doi:10.1007/s10896-015-9678-x.

Karoly, L. A., Kilburn, M. R., & Cannon, J. S. (2005). Early childhood interventions: Proven results, future promise (Vol. MG-341-PNC). Santa Monica: RAND Corporation.

Karreman, A., van Tuijl, C., van Aken, M. A. G., & Dekovic, M. (2008). Parenting, coparenting, and effortful control in preschoolers. Journal of Family Psychology, 22, 30–40.

Kessler, R. C., Turner, B., & House, J. S. (1988). Effects of unemployment on health in a community survey: Main, modifying, mediating effects. Journal of Social Issues., 44, 69–86.

Krishnakumar, A., & Buehler, C. (2000). Interparental conflict and parenting behaviors: a meta-analytic review. Family Relations: Interdisciplinary Journal of Applied Family Studies, 49, 25–44.

Lawrence, E., Rothman, A. D., Cobb, R. J., Rothman, M. T., & Bradbury, T. N. (2008). Marital satisfaction across the transition to parenthood. Journal of Family Psychology, 22, 41–50.

Lipman, E. L., & Boyle, M. H. (2008). Linking Poverty and Mental Health: a Lifespan View Ontario, Canada: The Provincial Centre of Excellence for Child and Youth Mental Health.

Malik, N. M., & Lindahl, K. M. (2004). System for coding interaction in dyads. In P. K. Kerig & D. H. Baucom (Eds.), Couple Observational Coding Systems. NJ: Lawrence Erlbaum.

Margolin, G., Gordis, E. B., & Oliver, P. H. (2004). Links between marital and parent-child interactions: Moderating role of husband-to-wife aggression. Development and Psychopathology, 16, 753–771.

Markman, H., Rhoades, G., Stanley, S., & Peterson, K. (2013). A randomized clinical trial of the effectiveness of premarital intervention: Moderators of divorce outcomes. Journal of Family Psychology, 27, 165–172. doi:10.1037/a0031134.

Marlow, D., & Crowne, D. P. (1961). Social desirability and response to perceived situational demands. Journal of Consulting Psychology, 25, 109–115.

McCollum, J. A., & Ostrosky, M. (2008). Family roles in young children's emerging peer related social competence. Social competence of young children, 31–59.

McDonald, S., Wall, J., Forbes, K., Kingston, D., Kehler, H., Vekved, M., & Tough, S. (2012). Development of a prenatal psychosocial screening tool for post-partum depression and anxiety. Paediatric and Perinatal Epidemiology, 26, 316–327.

McHale, J. P., Kuersten-Hogan, R., & Lauretti, A. (2001). Evaluating coparenting and family-level dynamics during infancy and early childhood: the coparenting and family rating system. In P. K. Kerig & K. M. Lindahl (Eds.), Family Observational Coding Systems: Resources for Systemic Research (pp. 151–170). Mahwah: Lawrence Erlbaum.

Meyer, T. J., Miller, M. L., Metzger, R. L., & Borkovec, T. D. (1990). Development and validation of the Penn State Worry Questionnaire. Behav Res Ther, 28, 488.

Norton, R. (1983). Measuring marital quality: a critical look at the dependent variable. Journal of Marriage and the Family, 45, 141–151.

Olds, D. L. (2006). The nurse–family partnership: an evidence-based preventive intervention. Infant Mental Health Journal, 27, 5–25. doi:10.1002/imhj.20077.

Pedersen, F. A., Bryan, Y., Huffman, L., & Del Carmen, R. (1989). Constructions of self and offspring in the pregnancy and early infancy periods. Kansas City: Society for Research in Child Development.

Perren, S., von Wyl, A., Burgin, D., Simoni, H., & von Klitzing, K. (2005). Depressive symptoms and psychosocial stress across the transition to parenthood: Associations with parental psychopathology and child difficulty. Journal of Psychosomatic Obstetrics & Gynecology, 26, 173–183.

Pinquart, M., & Teubert, D. (2010). Effects of parenting education with expectant and new parents: a meta-analysis. Journal of Family Psychology, 24, 316–327.

Radloff, L. S. (1977). The CES-D Scale: a self-report depression scale for research in the general population. Applied psychological measurement, 1, 385–401.

Sanders, M. R., & Morawska, A. (2006). Towards a public health approach to parenting. The Psychologist. Special Issue: Nipping criminality in the bud, 19, 476–479.

Schoppe, S. J., Mangelsdorf, S. C., & Frosch, C. A. (2001). Coparenting, family process, and family structure: Implications for preschoolers' externalizing behavior problems. Journal of Family Psychology, 15, 526–545.

Schulz, M. S., Cowan, C. P., & Cowan, P. A. (2006). Promoting healthy beginnings: a randomized controlled trial of a preventive intervention to preserve marital quality during the transition to parenthood. Journal of Consulting and Clinical Psychology, 74, 20–31.

Segre, L. S., O'Hara, M. W., Arndt, S., & Stuart, S. (2007). The prevalence of postpartum depression. Social Psychiatry and Psychiatric Epidemiology, 42, 316–321.

Seifer, R., Sameroff, A. J., Dickstein, S., & Hayden, L. C. (1996). Parental psychopathology and sleep variation in children. Child and Adolescent Psychiatric Clinics of North America, 5, 715–727.

Shapiro, A. F., & Gottman, J. M. (2005). Effects on marriage of a psycho-communicative-educational intervention with couples undergoing the transition to parenthood, evaluation at 1-year post intervention. Journal of Family Communication, 5, 1–24.

Shonkoff, J. P. (2010). Building a new biodevelopmental framework to guide the future of early childhood policy. Child Development, 81, 357–367. doi:10.1111/j.1467-8624.2009.01399.x.

Slep, A. M. S., & O'Leary, S. G. (2005). Parent and partner violence in families with young children: Rates, patterns, and connections. Journal of Consulting and Clinical Psychology, 73, 435–444.

Soli, A. R., Feinberg, M. E., Jones, D. E., & Coffman, D. (2010). The Effects of Family Foundations on Coparenting and Child Adjustment: a Mediation Analysis. Denver: Poster presented at the Society for Prevention Research Annual Meeting.

Spielberger, C. D., Gorsuch, R. L., Lushene, R., Vagg, P. R., & Jacobs, G. A. (1983). Manual for the State-Trait Anxiety Inventory (Form Y). Palo Alto: Consulting Psychologists Press.

Spoth, R., Redmond, C., Shin, C., Greenberg, M., Clair, S., & Feinberg, M. (2007). Substance-use outcomes at 18 months past baseline: the PROSPER Community-University Partnership Trial. American Journal of Preventive Medicine, 32, 395–402.

Straus, M., Hamby, S., Boney-McCoy, S., & Sugarman, D. (1996). The revised Conflict Tactics Scales (CTS2): Development and preliminary psychometric data. Journal of Family Issues, 283–316.

Straus, M., Hamby, S., Finkelhor, D., Moore, D. W., & Runyan, D. (1998). Identification of child maltreatment with the parent-child conflict tactics scales: Development and psychometric data for a national sample of American parents. Child Abuse & Neglect, 22, 249–270.

Wood, R. G., Moore, Q., Clarkwest, A., Killewald, A., & Monahan, S. (2012). The Long-Term Effects of Building Strong Families: a Relationship Skills Education Program for Unmarried Parents, Washington. DC: ACF, Office of Planning Research and Evaluation.

Yuan, Y. (2011). Multiple imputation using SAS software. Journal of Statistical Software, 1–25.

Zimet, D. M., & Jacob, T. (2001). Influences of marital conflict on child adjustment: Review of theory and research. Clinical Child & Family Psychology Review, 4, 319–335.
Acknowledgments
We appreciate the assistance of Mary Metzger, Stephanie Rogers, and Becky Law and the facilitators in implementing the program. This study was funded by a grant from the National Institute of Child Health and Development (HD058529), Mark Feinberg, PI.
Ethics declarations
All procedures performed in studies involving human participants were in accordance with the ethical standards of the institutional and/or national research committee and with the 1964 Helsinki declaration and its later amendments or comparable ethical standards. Informed consent was obtained from all individual participants included in the study. The views expressed in this article are those of the authors and do not necessarily represent the views of NICHD or Penn State University.
Conflict of interest
Dr. Feinberg created Family Foundations and is the owner of a private company that disseminates the program. Dr. Feinberg's company has been reviewed by the Institutional Review Board and the Conflict of Interest Committee at Pennsylvania State University for potential financial gain. The other authors declare no potential conflict of interest.
Appendices
Appendix 1
Observed Family Interaction Procedures
Family interaction was videotaped at both pretest and posttest. At pretest, expectant parents engaged in two couple relationship discussion tasks. In the first task, couples were asked to talk about their day or a concern on their mind not related to their relationship. Each partner took turns with 6 min as the focal talker and 6 min as the listener. For the second task, couples were asked to talk for 120 min about three problems in their relationship that they had rated highly from a list of desired changes; they were asked to discuss the conflict and if possible to problem solve. At posttest, the couples engaged in only the second conflict-focused discussion for 12 min.
At posttest, families engaged in two interactions as a triad. First, parents and the child engaged in 12 min of joint free play on the floor with a limited set of toys provided by the interviewer. Second, parents were asked to teach their child for 6 min to accomplish a set of tasks designed to be at the limit of most infants' developmental capacity (e.g., rolling a ball back and forth with a parent, building a tower of blocks).
Parent-Report Questionnaire Measures
Coparenting quality as perceived by parents at posttest was represented through a total score on the Coparenting Relationship Scale (Feinberg et al. 2012). The overall score was calculated as the average of the following six subscales: coparental agreement, support, partner's parenting, closeness while parenting, undermining, and exposure of the child to conflict (α = 0.85 for mothers, α = 0.83 for fathers). A total score from the Quality of Marriage Index (Norton 1983) provided a measure of relationship satisfaction. Using a Likert response scale with six items, parents were asked about their relationship in terms of stability, feeling of partnership, and overall happiness in the relationship (α = 0.96 for mothers and fathers). Items for this measure had slightly different scales; thus, we standardized (mean = 0) before combining.
Depressive symptoms was gauged by a total score from Center for Epidemiological Studies Depression Scale (Radloff 1977). Questions are asked regarding the respondent's feelings and outlook within the past week (Radloff 1977). We used an abbreviated 14-item scale from the original 20-item version that was been highly correlated in prior research with the full scale. Items were rated using a four-level response scale ranging from rarely/none of the time to always/most of the time, covering issues such as degree of loneliness and whether people were perceived as unfriendly (α = 0.85 for mothers, α = 0.83 for fathers).
Anxiety was assessed using the 10-Item Trait Scale from the State-Trait Anxiety Inventory Scale (Spielberger et al. 1983). Questions cover topics such as how much the respondent feels nervous, pleasant, or content, with responses given on a four-item scale ranging from "almost never" to "almost always." The scale has good internal consistency (α = 0.90 for mothers, α = 0.88 for fathers). A measure of anxiety was utilized from an average of the seven items in the Penn State Worry Questionnaire, reduced from the original 16-item survey (Beck et al. 1995; Meyer et al. 1990) to seven items for this project (α = 0.94 for mothers and α = 0.93 for fathers). Questions covered assessment of the generality, excessiveness, and uncontrollability of worries. Responses were made on a five-point scale ranging from "not at all typical" to "very typical."
Parental efficacy was measured using a total score from the Being a Parent Scale (Gibaud-Wallston and Wandersman 1978; Pedersen et al. 1989) measured at posttest. The 10-item pretest version assesses expected capability of being a parent and potential stressors about the responsibility. Two items were dropped at posttest (α = 0.77 for mothers, α = 0.78 for fathers). To measure parenting stress at posttest, we used a total score on the Parenting Stress Index (Abidin 1995) abbreviated from 36 to 27 items for this study. Parents provided responses using a five-point Likert scale, indicating level of agreement with statements about issues such as perceived problems associated with caring for a child and overall satisfaction with parenthood (α = 0.91 for mothers and for fathers).
Measures of child soothability and duration of orientation were each derived from six items in the Infant Behavior Questionnaire (Gartstein and Rothbart 2003). Soothability was comprised of items regarding how well the infant responds to parental behaviors like holding or singing. Duration of orientation was assessed with items regarding how attentive the baby was to objects such as mobiles and books. Alphas for soothability and duration of orientation were 0.77 and 0.78 among mothers and 0.75 and 0.83 among fathers, respectively. Three outcomes representing child sleep characteristics were taken from the Child Sleep Questionnaire (Seifer et al. Jul 1996), reported at posttest by mothers only.
The revised Conflict Tactics Scale (CTS2) (Straus et al. 1996) provided measures of interpartner physical and psychological aggression behaviors in the past year reported by each parent. Both parents reported on the same behaviors twice, once as perpetrator and once as victim. We utilized the highest report by either parent to represent the score for each behavior (e.g., mother hit father; father yelled at mother). Physical assault consisted of eight items such as punching, arm twisting, or throwing something at the partner. Psychological aggression was comprised of four items such as name calling or insulting the partner. Parent-child physical and psychological aggression was reported by both parents using the Parent-Child Conflict Tactics Scale (Straus et al. 1998), adapted from the Conflict Tactics Scale. The physical violence total combined seven items including shaking, pinching, and spanking. Parent-child psychological aggression consisted of five items including screaming at the child, threatening to spank, or calling the child names. Response options involved ranges of amounts (e.g., this happened 4–10 times in the past year). We utilized the midpoint count of each range in order to create average scale scores.
Control variables used in all analytic models included basic demographics such as income, age, and marital status, reported by parents at baseline. In addition, a measure of economic strain was created from three items asking how much a respondent has had to reduce standard of living recently, inability to afford certain essentials, and difficulty living on current income (α = 0.69 for mothers and 0.65 for fathers) (Howe et al. 1995; Kessler et al. 1988). A measure of social desirability was included to control for potential bias in models for self-report outcomes. We derived this score from 13 items taken from the Marlowe-Crowne short form (Crowne and Marlow 1960; Marlow and Crowne 1961). Respondents were asked whether they endorsed items such as always being courteous and willingness to admit making a mistake (α = 0.64 for mothers and 0.65 for fathers). For coparenting and dyadic measures, a seven-item measure of pretest couple efficacy (Fincham and Bradbury 1987) was used to control for the couple's ability to manage interpersonal conflict (α = 0.85 for mothers and 0.84 for fathers).
Appendix 2
(Table 4).
About this article
Cite this article
Feinberg, M.E., Jones, D.E., Hostetler, M.L. et al. Couple-Focused Prevention at the Transition to Parenthood, a Randomized Trial: Effects on Coparenting, Parenting, Family Violence, and Parent and Child Adjustment. Prev Sci 17, 751–764 (2016). https://doi.org/10.1007/s11121-016-0674-z
Keywords
Coparenting

Intervention

Transition to parenthood