Abstract
There is growing support for the large-scale implementation of parenting programs for the prevention of child behavior disorders and child maltreatment in younger children. However, there is only limited evidence on the efficacy of parenting programs in modifying risk and protective factors relating to adolescent behavior problems. This study examined the efficacy of Group Teen Triple P (GTTP), an eight-session parenting program specifically designed for parents of young adolescents. Seventy-two families with adolescents aged between 12 and 15 years were randomly assigned to either GTTP (n = 35) or a care as usual (CAU) control condition (n = 37). Compared to CAU parents, parents who received GTTP reported significant improvements in parenting practices, parenting confidence, the quality of family relationships, and fewer adolescent problem behaviors at post-intervention. Several of the parent-reported effects were corroborated by reports from adolescents, including decreases in parent–adolescent conflict and increases in parental monitoring. Adolescents whose parents participated in GTTP also reported significantly fewer behavioral problems than adolescents in the CAU condition. Many of these improvements were maintained at 6-month follow-up.
Access options
Buy single article
Instant access to the full article PDF.
USD 39.95
Price excludes VAT (USA)
Tax calculation will be finalised during checkout.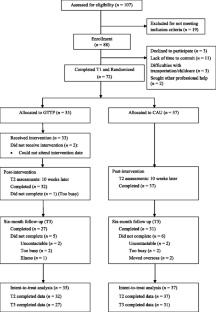 References
Bandura, A. (2006). Guide for constructing self-efficacy scales. In F. Pajares & T. Urdan (Eds.), Self-efficacy beliefs of adolescents. Greenwich: Information Age Publishing.

Chand, N. L., Farruggia, S. P., Dittman, C. K., Chu, J. T. W., & Sanders, M. R. (2013). Positive youth development and Teen Triple P: Promoting positive youth development through a brief parenting intervention programme. Youth Studies Australia, 32, 29–36.

Cohen, J. (1992). A power primer. Psychological Bulletin, 112, 155–159.

Connell, A. M., Dishion, T. J., Yasui, M., & Kavanagh, K. (2007). An adaptive approach to family intervention: Linking engagement in family-centered intervention to reductions in adolescent problem behavior. Journal of Consulting and Clinical Psychology, 75, 568–79.

Dadds, M. R., & Powell, M. B. (1991). The relationship of interparental conflict and global marital adjustment to aggression, anxiety, and immaturity in aggressive and nonclinic children. Journal of Abnormal Child Psychology, 19, 553–567.

Dishion, T. J., & McMahon, R. J. (1998). Parental monitoring and the prevention of child and adolescent problem behavior: A conceptial and empirical formulation. Clinical Child and Family Psychology Review, 1, 61–75.

Eyberg, S. M., Nelson, M. M., & Boggs, S. R. (2008). Evidence-based psychosocial treatments for children and adolescents with disruptive behavior. Journal of Clinical Adolescent Psychology, 37, 215–237. doi:10.1080/18374410701820117.

Flay, B. R., Biglan, A., Boruch, R. F., et al. (2005). Standards of evidence: Criteria for efficacy, effectiveness and dissemination. Prevention Science. doi:10.1007/s11121-005-5533-y.

Frick, P. J., & Viding, E. (2009). Antisocial behavior from a developmental psychopathology perspective. Development and Psychopathology, 21, 1111–1131.

Goodman, R. (1999). The extended version of the strengths and difficulties questionnaire as a guide to child psychiatric caseness and consequent burden. The Journal of Child Psychology and Psychiatry, 40, 791–799. doi:10.1111/1469-7610.00494.

Greenberger, E., Chen, C., & Beam, M. R. (1998). The role of "very important" nonparental adults in adolescent development. Journal of Youth and Adolescence, 27, 321–343.

Greenberger, E., Chen, C., Beam, M. R., Whang, S. M., & Dong, Q. (2000). The perceived social contexts of adolescents' misconduct: A comparative study of youths in three cultures. Journal of Research on Adolescence, 10, 365–388. doi:10.1207/SJRA1003_7.

Haggerty, K. P., Kosterman, R. Catalano, R. F., & Hawkins, J. D. (1999). Preparing for the drug free years. OJJDP Juvenile Justice Bulletin, 1–10.

Irvine, A. B., Biglan, A., Smolkowski, K., Metzler, C. W., & Ary, D. V. (1999). The effectiveness of a parenting skills program for parents of middle school students in small communities. Journal of Consulting and Clinical Psychology, 67, 811–825.

Jacobsen, N. S., & Truax, P. (1991). Clinical significance: A statistical approach to defining meaningful change in psychotherapy research. Journal of Consulting and Clinical Psychology, 59, 12–19. doi:10.1037/0022-006X.59.1.12.

Kaslow, N. J., Broth, M. R., Smith, C. O., & Collins, M. H. (2012). Family-based interventions for child and adolescent disorders. Journal of Marital and Family Therapy, 38, 82–100. doi:10.1111/j.1752-0606.2011.00257.x.

Lerner, R. M., Lerner, J. V., Almerigi, J. B., et al. (2005). Positive youth development, participation in community youth development programs, and community contributions of fifth-grade adolescents: Findings from the first wave of the 4-H study of positive youth development. The Journal of Early Adolescence, 25, 17–71.

Lovibond, S. H., & Lovibond, P. F. (1995). Manual for the depression anxiety stress scales. Sydney: Psychology Foundation.

Maximo, S., Tayaban, H. S., Cacdac, G. B., Cacanindin, M. J. A., Pugat, R. J. S., Rivera, M. F., & Lingbawan, M. C. (2011). Parents' communication styles and their influence on the adolescents' attachment, intimacy and achievement motivation. International Journal of Behavioral Science, 6, 59–72.

Moos, R. H., & Moos, B. S. (1994). A social climate scale: Family environment scale manual (3rd ed.). California: Consulting Psychologists Press, Inc.

National Research Council and Institute of Medicine. (2009). Preventing mental, emotional, and behavioral disorders among young people: Progress and possibilities. Washington, DC: National Academic Press.

Norton, R. (1983). Measuring marital quality: A critical look at the dependent variable. Journal of Marriage and Family, 45, 141–151.

Nowak, C., & Heinrichs, N. (2008). A comprehensive meta-analysis of Triple P-positive parenting program using hierarchical linear modelling: Effectiveness and moderating variables. Clinical Child and Family Psychology Review, 11, 114–144.

Prinz, R. J., Sanders, M. R., Shapiro, C. J., Whitaker, D. J., & Lutzker, J. R. (2009). Population-based prevention of child maltreatment: The U.S. Triple P system population trial. Prevention Science, 10, 1–13.

Ralph, A., & Sanders, M. R. (2001). Every parent's guide to teenagers. Brisbane: Families International Pty Ltd.

Ralph, A., & Sanders, M. R. (2003). Preliminary evaluation of the Group Teen Triple P program for parents of teenagers making the transition to high school. Australian e-Journal for the Advancement of Mental Health, 2, 1–10.

Rosenberg, M. (1965). Society and the adolescent self-image. Princeton: Princeton University Press.

Sameroff, A., Gutman, L. M., & Peck, S. C. (2003). Adaptation among youth facing multiple risks. In S. S. Luthar (Ed.), Resilience and vulnerability: Adaptation in the context of childhood adversities (pp. 364–391). Cambridge: Cambridge University Press.

Sanders, M. R. (2012). Development, evaluation, and multinational dissemination of the Triple P-positive parenting program. Annual Review of Clinical Psychology, 8, 345–379.

Sanders, M. R., Markie-Dadds, C., Tully, L. A., & Bor, W. (2000). The Triple P–positive parenting program: A comparison of enhanced, standard, and self-directed behavioural family intervention for parents of children with early onset conduct problems. Journal of Consulting and Clinical Psychology, 68, 624–640.

Sanders, M. R., Markie-Dadds, C., Rinaldis, M., Firman, D., & Baig, N. (2007). Using household survey data to inform policy decisions regarding the delivery of evidence-based parenting interventions. Child: Care, Health and Development, 33,768–783

Spoth, R., Trudeau, L., Guyll, M., Chungyeol, S., & Redmond, C. (2009). Universal intervention effects on substance abuse use among young adults mediated by delayed adolescent substance initiation. Journal of Consulting and Clinical Psychology, 77, 620–632.

Stallman, H. M., & Ralph, A. (2007). Reducing risk factors for adolescent behavioural and emotional problems: A pilot randomised controlled trial of a self-administered parenting intervention. AeJAMH (Australian e-Journal for the Advancement of Mental Health), 6, 1–13.

Statistics New Zealand. (2013). New Zealand in profile 2013. Accessed 9 Mar 2013

Zubrick, S. R., Silburn, S. R., Garton, A. F., Dalby, R., Carlton, J., Sheperd, C., et al. (1995). Western Australian child health survey: Developing health and wellbeing into the nineties. Perth: Australian Bureau of Statistics.
Conflict of Interest
The Triple P-Positive Parenting Program is owned by the University of Queensland (UQ). The university, through its main technology transfer company UniQuest Pty Limited, has licensed Triple P International Pty Ltd. to disseminate the program worldwide. Royalties stemming from this dissemination activity are distributed to the Parenting and Family Support Centre, School of Psychology, UQ, Faculty of Health and Behavioral Sciences at UQ, and contributory authors. No author has any share or ownership in Triple P International Pty Ltd. Matthew Sanders is the founder and an author on various Triple P programs and a consultant to Triple P International.
The rest of the authors declare that they have no conflict of interest.
Additional information
This research was partially funded by the Alcohol Advisory Council of New Zealand.
About this article
Cite this article
Chu, J.T.W., Bullen, P., Farruggia, S.P. et al. Parent and Adolescent Effects of a Universal Group Program for the Parenting of Adolescents. Prev Sci 16, 609–620 (2015). https://doi.org/10.1007/s11121-014-0516-9
Published:

Issue Date:

DOI: https://doi.org/10.1007/s11121-014-0516-9
Keywords