Abstract
This study aims to investigate whether a Web-based tool will facilitate the adoption of feedback control over calorie balance in overweight individuals, thereby promoting an increase of physical activity and a reduction of body weight and cardiovascular risk factors. This is a prospective exercise intervention study, commencing with a minimum weekly 3 × 20-min requirement of high-intensity interval training and requirement for Web-based self-monitoring and self-reporting of exercise and body weight. Subjects of this study include 83 overweight, sedentary, otherwise healthy adults aged 26–68 years. Anthropometric parameters, body fat, peak oxygen consumption, self-reported physical activity, frequency of use of the Web-based tool are among the characters measured in this study. This 24-week intervention substantially increased time spent for exercise (mean and median of 135 and 170 min/week, respectively) among the 72 % of participants who had adopted cognitive feedback control vs. no increase in the remaining participants of nonadopters. Adopters witnessed significantly improved peak oxygen consumption of >1 metabolic equivalent vs. no improvement among nonadopters. Adopters also reduced body mass index, body weight, and body fat by 1.6 kg/m2, 4.8 kg, and 3.6 kg, respectively vs. 0.4 kg/m2, 1.4 kg, and 1.1 kg in the control group. The increase in physical activity came at virtually no intervention effort of the investigators. This study demonstrates for the first time that adoption of cognitive feedback control over energy balance is possible with the help of a simple Web-based tool and that overweight adopters self-regulate exercise volume to significantly reduce body weight and improve biomarkers of fitness and cardiovascular risk.
Access options
Buy single article
Instant access to the full article PDF.
USD 39.95
Price excludes VAT (USA)
Tax calculation will be finalised during checkout.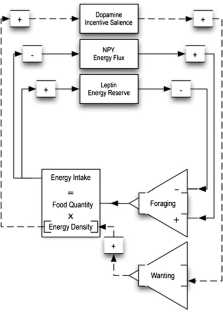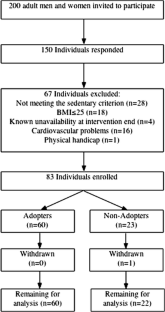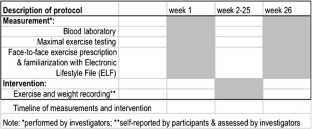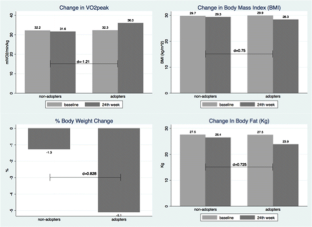 References
Ammar, A. A., Sederholm, F., Saito, T. R., Scheurink, A. J., Johnson, A. E., & Sodersten, P. (2000). NPY-leptin: Opposing effects on appetitive and consummatory ingestive behavior and sexual behavior. American Journal of Physiology. Regulatory, Integrative and Comparative Physiology, 278, R1627–1633.

Atlantis, E., Chow, C. M., Kirby, A., & Fiatarone Singh, M. A. (2006). Worksite intervention effects on physical health: A randomized controlled trial. Health Promotion International, 21, 191–200. doi:10.1093/heapro/dal012.

Babraj, J. A., Vollaard, N. B., Keast, C., Guppy, F. M., Cottrell, G., & Timmons, J. A. (2009). Extremely short duration high intensity interval training substantially improves insulin action in young healthy males. BMC Endocrine Disorders, 9, 3. doi:10.1186/1472-6823-9-3.

Baird, J. P., Gray, N. E., & Fischer, S. G. (2006). Effects of neuropeptide Y on feeding microstructure: Dissociation of appetitive and consummatory actions. Behavioral Neuroscience, 120, 937–951. doi:10.1037/0735-7044.120.4.937.

Berridge, K. C. (1996). Food reward: Brain substrates of wanting and liking. Neuroscience and Biobehavioral Reviews, 20, 1–25. doi:10.1016/0149-7634(95)00033-B.

Booth, F. W., Gordon, S. E., Carlson, C. J., & Hamilton, M. T. (2000). Waging war on modern chronic diseases: Primary prevention through exercise biology. Journal of Applied Physiology, 88, 774–787.

Bosy-Westphal, A., Danielzik, S., Dorhofer, R.-P., Piccoli, A., & Muller, M. J. (2005). Patterns of bioelectrical impedance vector distribution by body mass index and age: Implications for body-composition analysis. American Journal of Clinical Nutrition, 82, 60–68.

Bosy-Westphal, A., Danielzik, S., Dorhofer, R.-P., Later, W., Wiese, S., & Muller, M. J. (2006). Phase angle from bioelectrical impedance analysis: Population reference values by age, sex, and body mass index. Journal of Parenteral and Enteral Nutrition, 30, 309–316. doi:10.1177/0148607106030004309.

Conn, V. S., Hafdahl, A. R., & Mehr, D. R. (2011). Interventions to increase physical activity among healthy adults: Meta-analysis of outcomes. American Journal of Public Health, 101, 751–758. doi:10.2105/ajph.2010.194381.

Courneya, K. S., Friedenreich, C. M., Quinney, H. A., Fields, A. L., Jones, L. W., Vallance, J. K., & Fairey, A. S. (2005). A longitudinal study of exercise barriers in colorectal cancer survivors participating in a randomized controlled trial. Annals of Behavioral Medicine, 29, 147–153. doi:10.1207/s15324796abm2902_9.

Craig, W. (1917). Appetites and aversions as constituents of instincts. Proceedings of the National Academy of Sciences of the United States of America, 3, 685–688.

Day, D. E., Keen-Rhinehart, E., & Bartness, T. J. (2005). Role of NPY and its receptor subtypes in foraging, food hoarding, and food intake by Siberian hamsters. American Journal of Physiology. Regulatory, Integrative and Comparative Physiology, 289, R29–36. doi:10.1152/ajpregu.00853.2004.

Eaton, S. B., Eaton, S. B., 3rd, & Konner, M. J. (1997). Paleolithic nutrition revisited: A twelve-year retrospective on its nature and implications. European Journal of Clinical Nutrition, 51, 207–216.

Grill, H. J., & Kaplan, J. M. (2001). Interoceptive and integrative contributions of forebrain and brainstem to energy balance control. International Journal of Obesity and Related Metabolic Disorders, 25(Suppl 5), S73–77. doi:10.1038/sj.ijo.0801917.

Grill, H. J., & Kaplan, J. M. (2002). The neuroanatomical axis for control of energy balance. Frontiers in Neuroendocrinology, 23, 2–40. doi:10.1006/frne.2001.0224.

Hameroff, S. (2012). How quantum brain biology can rescue conscious free will. Frontiers in Integrative Neuroscience, 6, 93. doi:10.3389/fnint.2012.00093.

Johansson, P., Ostenson, C. G., Hilding, A. M., Andersson, C., Rehnberg, C., & Tillgren, P. (2009). A cost-effectiveness analysis of a community-based diabetes prevention program in Sweden. International Journal of Technology Assessment in Health Care, 25, 350–358. doi:10.1017/S0266462309990079.

Kalra, S. P., Dube, M. G., Pu, S., Xu, B., Horvath, T. L., & Kalra, P. S. (1999). Interacting appetite-regulating pathways in the hypothalamic regulation of body weight. Endocrine Reviews, 20, 68–100. doi:10.1210/er.20.1.68.

Laukkanen, J. A., Kurl, S., Salonen, R., Rauramaa, R., & Salonen, J. T. (2004). The predictive value of cardiorespiratory fitness for cardiovascular events in men with various risk profiles: A prospective population-based cohort study. European Heart Journal, 25, 1428–1437. doi:10.1016/j.ehj.2004.06.013.

Levine, A. S., Kotz, C. M., & Gosnell, B. A. (2003). Sugars and fats: The neurobiology of preference. Journal of Nutrition, 133, 831S–834.

Meyer, T., Georg, T., Becker, C., & Kindermann, W. (2001). Reliability of gas exchange measurements from two different spiroergometry systems. International Journal of Sports Medicine, 22, 593–597. doi:10.1055/s-2001-18523.

Miller, W. C. (1999). How effective are traditional dietary and exercise interventions for weight loss? Medicine and Science in Sports and Exercise, 31, 1129–1134.

Miyaki, A., Maeda, S., Yoshizawa, M., Misono, M., Saito, Y., Sasai, H., Kim, M. K., Nakata, Y., Tanaka, K., & Ajisaka, R. (2009). Effect of habitual aerobic exercise on body weight and arterial function in overweight and obese men. The American Journal of Cardiology, 104, 823–828. doi:10.1016/j.amjcard.2009.04.057.

O'Dea, K. (1991). Cardiovascular disease risk factors in Australian aborigines. Clinical and Experimental Pharmacology and Physiology, 18, 85–88. doi:10.1111/j.1440-1681.1991.tb01412.x.

Qian, G., & Tamas, L. H. (2008). Neuronal control of energy homeostasis. FEBS Letters, 582, 132–141. doi:10.1016/j.febslet.2007.11.063.

Ratner, R. E. (2006). An update on the diabetes prevention program. Endocrine Practice, 12(Suppl 1), 20–24.

Robertson, R. J. (2004). Perceived exertion for practitioners. Rating effort with the OMNI picture system. Champaign, IL: Human Kinetics.

Robertson, R. J., Goss, F. L., Rutkowski, J., Lenz, B., Dixon, C., Timmer, J., Frazee, K., Dube, J., & Andreacci, J. (2003). Concurrent validation of the OMNI perceived exertion scale for resistance exercise. Medicine and Science in Sports and Exercise, 35, 333–341.

Robinson, T. E., & Berridge, K. C. (1993). The neural basis of drug craving: An incentive-sensitization theory of addiction. Brain Research Reviews, 18, 247–291.

Rolf F. Kroidl, Schwarz, S., & Lehnigk, B. (2007). Grundkurs: Technische und formale Grundlagen Kursbuch Spiroergometrie (pp. 16). Stuttgart: Thieme.

Rosenkilde, M., Auerbach, P. L., Reichkendler, M. H., Ploug, T., Stallknecht, B. M., & Sjödin, A. (2012). Body fat loss and compensatory mechanisms in response to different doses of aerobic exercise—a randomized controlled trial in overweight sedentary males. American Journal of Physiology. Regulatory, Integrative and Comparative Physiology. doi:10.1152/ajpregu.00141.2012.

Solomon, T. P. J., Haus, J. M., Marchetti, C. M., Stanley, W. C., & Kirwan, J. P. (2009). Effects of exercise training and diet on lipid kinetics during free fatty acid-induced insulin resistance in older obese humans with impaired glucose tolerance. American Journal of Physiology, Endocrinology and Metabolism, 297, E552–559. doi:10.1152/ajpendo.00220.2009.

Speakman, J. R., Levitsky, D. A., Allison, D. B., Bray, M. S., de Castro, J. M., Clegg, D. J., & Westerterp-Plantenga, M. S. (2011). Set points, settling points and some alternative models: Theoretical options to understand how genes and environments combine to regulate body adiposity. Disease Models & Mechanisms, 4, 733–745. doi:10.1242/dmm.008698.

Troiano, R. P., Berrigan, D., Dodd, K. W., Masse, L. C., Tilert, T., & McDowell, M. (2008). Physical activity in the United States measured by accelerometer. Medicine and Science in Sports and Exercise, 40, 181–188.

Utter, A. C., Robertson, R. J., Green, J. M., Suminski, R. R., McAnulty, S. R., & Nieman, D. C. (2004). Validation of the Adult OMNI Scale of perceived exertion for walking/running exercise. Medicine and Science in Sports and Exercise, 36, 1776–1780.

Varady, K., Tussing, L., Bhutani, S., & Braunschweig, C. (2009). Degree of weight loss required to improve adipokine concentrations and decrease fat cell size in severely obese women. Metabolism, Clinical and Experimental, 58, 1096–1101. doi:10.1016/j.metabol.2009.04.010.

Wing, R. R., Goldstein, M. G., Acton, K. J., Birch, L. L., Jakicic, J. M., Sallis, J. F., Jr., Smith-West, D., Jeffery, R. W., & Surwit, R. S. (2001). Behavioral science research in diabetes: Lifestyle changes related to obesity, eating behavior, and physical activity. Diabetes Care, 24, 117–123. doi:10.2337/diacare.24.1.117.
Acknowledgment
We thank all participants who took part in this study.
Funding
The study was funded by Siemens Betriebskrankenkasse (SBK).
Conflict of Interest
All authors declared no conflict of interest.
About this article
Cite this article
Kraushaar, L.E., Krämer, A. Web-Enabled Feedback Control Over Energy Balance Promotes an Increase in Physical Activity and a Reduction of Body Weight and Disease Risk in Overweight Sedentary Adults. Prev Sci 15, 579–587 (2014). https://doi.org/10.1007/s11121-013-0398-2
Published:

Issue Date:

DOI: https://doi.org/10.1007/s11121-013-0398-2
Keywords