Abstract
The researchers longitudinally assessed parent and child levels of engagement in an evidence-based preventive intervention for children. The sample included 114 fifth graders with aggressive, disruptive behaviors and their parents who participated in the Coping Power Program. Findings indicate that levels of engagement differentially fluctuated for children and parents throughout the course of the intervention. Results also suggest that child levels of engagement early in the course of the program influenced parent mid-intervention levels of engagement. Further, these relationships persisted when the influence of family environment variables were included in analyses.
This is a preview of subscription content, log in to check access.
Access options
Buy single article
Instant access to the full article PDF.
US$ 39.95
Price includes VAT for USA
Subscribe to journal
Immediate online access to all issues from 2019. Subscription will auto renew annually.
US$ 99
This is the net price. Taxes to be calculated in checkout.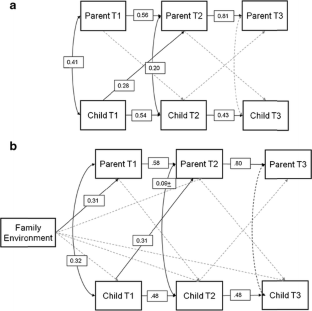 References
Armbruster, P., & Fallon, T. (1994). Clinical, sociodemographic, and systems risk factors for attrition in a children's mental health clinic. American Journal of Orthopsychiatry, 64, 577–585. doi:10.1037/h0079571.

Atkins, M.S., Frazier, S.L., Birman, D., Adil, J.A., Jackson, M., Graczyk, P.A., . . . McKay, M.M. (2006). School-based mental health services for children living in high poverty urban communities. Administration and Policy in Mental Health and Mental Health Services Research, 33, 146-159.

Bentler, P. M., & Bonett, D. G. (1980). Significance tests and goodness of fit in the analysis of covariance structures. Psychological Bulletin, 88, 588–606. doi:10.1037/0033-2909.88.3.588.

Bögels, S., & Phares, V. (2008). Fathers' role in the etiology, prevention and treatment of child anxiety: A review and new model. Clinical Psychology Review, 28, 539–558.

Browne, M. W., & Cudeck, R. (1993). Alternative ways of assessing model fit. In K. A. Bollen & J. S. Long (Eds.), Testing structural equation models (pp. 136–162). Beverly Hills, CA: Sage Publications.

Burnett-Zeigler, I., & Lyons, J. (2010). Caregiver factors predicting service utilization among youth participating in a school-based mental health intervention. Journal of Child and Family Studies, 19, 572–578. doi:10.1007/s10826-009-9331-5.

Capaldi, D.M., & Patterson, G.R. (1991). Relation of parental transitions to boys' adjustment problems: I. A linear hypothesis, and II. Mothers at risk for transitions and unskilled parenting. Developmental Psychology in the Schools, 27, 489-504.

Chu, B., & Kendall, P. C. (2001). Therapist responsiveness to child level of involvement: Flexibility within a manual-based treatment. Paper presented at the meeting of the Association for the Advancement of Behavior Therapy.

Chu, B. C., & Kendall, P. C. (2004). Positive association of child involvement and treatment outcome within a manual-based Cognitive-Behavioral treatment for children with anxiety. Journal of Consulting and Clinical Psychology, 72, 821–829.

Chu, B. C., & Kendall, P. C. (2009). Therapist responsiveness to child engagement: Flexibility within manual-based CBT for anxious youth. Journal of Clinical Psychology, 65, 736–754.

Chu, B. C., Choudhury, M. S., Shortt, A. L., Pincus, D. B., Creed, T. A., & Kendall, P. C. (2004). Alliance, technology, and outcome in the treatment of anxious youth. Cognitive and Behavioral Practice, 11, 44–55.

Clark, L. A., Kochanska, G., & Ready, R. (2000). Mothers' personality and its interaction with child temperament as predictors of parenting behavior. Journal of Personality and Social Psychology, 79, 274–285. doi:10.1037/0022-3514.79.2.274.

Giger, J. N., & Davidhizar, R. (2007). Eliminating health disparities: Understanding this important phenomenon. The Health Care Manager, 26, 221–233.

Gorman-Smith, D., Tolan, P. H., Zelli, A., & Huesmann, L. R. (1996). The relation of family functioning to violence among inner-city minority youth. Journal of Family Psychology, 10, 101–116.

Halvorsen, I., & Heyerdahl, S. (2007). Treatment perception in adolescent onset anorexia nervosa: Retrospective views of patients and parents. International Journal of Eating Disorders, 40, 629–639.

Hill, C.E. (2005). Therapist techniques, client involvement, and the therapeutic relationship: Inextricably intertwined in the therapy process. Psychotherapy: Theory/Research/Practice/Training, 42, 431-442. doi:10.1037/0033-3204.42.4.431

Hill, N. E., Castellino, D. R., Lansford, J. E., Nowlin, P., Dodge, K. A., Bates, J. E., & Pettit, G. S. (2004). Parent academic involvement as related to school behavior, achievement, and aspirations: Demographic variations across adolescence. Child Development, 75, 1491–1509.

Karver, M., Shirk, S., Handelsman, J. B., Fields, S., Crisp, H., Gudmundsen, G., & McMakin, D. (2008). Relationship processes in youth psychotherapy: Measuring alliance, alliance-building behaviors, and client involvement. Journal of Emotional and Behavioral Disorders, 16, 15–28.

Kazdin, A. E., & Whitley, M. K. (2003). Treatment of parental stress to enhance therapeutic change among children referred for aggressive and antisocial behavior. Journal of Consulting and Clinical Psychology, 71, 504–515.

Kazdin, A. E., & Whitley, M. K. (2006a). Comorbidity, case complexity, and effects of evidence-based treatment for children referred for disruptive behavior. Journal of Consulting and Clinical Psychology, 74, 455–467.

Kazdin, A. E., & Whitley, M. K. (2006b). Pretreatment social relations, therapeutic alliance, and improvements in parenting practices in parent management training. Journal of Consulting and Clinical Psychology, 74, 346–355.

Kazdin, A. E., Marciano, P. L., & Whitley, M. K. (2005). The therapeutic alliance in Cognitive-Behavioral treatment of children referred for oppositional, aggressive, and antisocial behavior. Journal of Consulting and Clinical Psychology, 73, 726–730.

Kerr, M., & Stattin, H. (2003). Parenting of adolescents: Action or reaction? Children's influence on family dynamics: The neglected side of family relationships. (pp. 121-151): Mahwah, NJ, US: Lawrence Erlbaum Associates Publishers.

Lochman, J. E., Boxmeyer, C., Powell, N., Roth, D. L., & Windle, M. (2006). Masked intervention effects: Analytic methods for addressing low dosage of intervention. New Directions for Evaluation, 110, 19–32.

Lochman, J. E., Wells, K., & Lenhart, L. A. (2008). Coping power: Child group facilitator's guide. USA: Oxford University Press.

Logan, D. E., & King, C. A. (2001). Parental facilitation of adolescent mental health service utilization: A conceptual and empirical review. Clinical Psychology: Science and Practice, 8, 319–333.

Marsh, H. W., Hau, K.-T., & Wen, Z. (2004). In search of golden rules: Comment on hypothesis-testing approaches to setting cutoff values for fit indexes and dangers in overgeneralizing Hu and Bentler's (1999) findings. Structural Equation Modeling: A Multidisciplinary Journal, 11, 320–341. doi:10.1207/s15328007sem1103_2.

McGinty, K. L., Diamond, J. M., Brown, M. B., & McCammon, S. L. (2003). Training child and adolescent psychiatrists and child mental health professionals for systems of care. In A. J. Pumariega & N. C. Winters (Eds.), The handbook of child and adolescent systems of care: The new community psychiatry (pp. 487–507). San Francisco, CA, US: Jossey-Bass.

Muthén, L.K., & Muthén, B.O. (1998-2007). Mplus user's guide. Fifth Edition. Los Angeles, CA: Muthén & Muthén.

Nock, M. K., & Kazdin, A. E. (2001). Parent expectancies for child therapy: Assessment and relation to participation in treatment. Journal of Child and Family Studies, 10, 155–180.

Nock, M. K., & Kazdin, A. E. (2005). Randomized controlled trial of a brief intervention for increasing participation in parent management training. Journal of Consulting and Clinical Psychology, 73, 872–879.

Nock, M. K., & Photos, V. (2006). Parent motivation to participate in treatment: Assessment and prediction of subsequent participation. Journal of Child and Family Studies, 15, 333–346. doi:10.1007/s10826-006-9022-4.

Pinto, R.M., McKay, M.M., Wilson, M., Phillips, D., Baptiste, D., Bell, C. C., . . . Paikoff, R.L. (2007). Correlates of participation in a family-based HIV prevention program: Exploring African-American women's motivations and understanding of the program. Journal of Human Behavior in the Social Environment, 15, 271-289.

Prado, G., Pantin, H., Schwartz, S. J., Lupei, N. S., & Szapocznik, J. (2006). Predictors of engagement and retention into a parent-centered, ecodevelopmental HIV preventive intervention for Hispanic adolescents and their families. Journal of Pediatric Psychology, 31, 874–890.

Spoth, R., & Redmond, C. (2000). Research on family engagement in preventive interventions: Toward improved use of scientific findings in primary prevention practice. The Journal of Primary Prevention, 21, 267–284.

Staudt, M. (2007). Treatment engagement with caregivers of at-risk children: Gaps in research and conceptualization. Journal of Child and Family Studies, 16, 183–196.

Stormshak, E., Bierman, K., McMahon, R., & Lengua, L. (2000). Parenting practices and child disruptive behavior problems in early elementary school. Journal of Child Clinical Psychology, 29, 17–29.

Szapocznik, J., Perez-Vidal, A., Brickman, A. L., Foote, F. H., Santisteban, D., Hervis, O., & Kurtines, W. M. (1988). Engaging adolescent drug abusers and their families in treatment: A strategic structural systems approach. Journal of Consulting and Clinical Psychology, 56, 552–557.

Tolan, P. H., Gorman-Smith, D., Huesmann, R., & Zelli, A. (1997). Assessment of family relationship characteristics: A measure to explain risk for antisocial behavior and depression among urban youth. Psychological Assessment, 9, 212–223.
Acknowledgements
The completion of this study has been supported by a grant from the Centers for Disease Control and Prevention (R49\CCR418569). Additional support was provided by grants from the National Institute of Drug Abuse (DA-08453, DA-16135, 3R24DA021527-01A2S1).
About this article
Cite this article
Ellis, M.L., Lindsey, M.A., Barker, E.D. et al. Predictors of Engagement in a School-Based Family Preventive Intervention for Youth Experiencing Behavioral Difficulties. Prev Sci 14, 457–467 (2013). https://doi.org/10.1007/s11121-012-0319-9
Keywords
Child intervention engagement

Family intervention

Behavioral difficulties

School-based

Cognitive-Behavioral