Abstract
Pathogen infection of plant results in modification of photosynthesis and defense mechanisms. Beneficial microorganisms are known to improve plant tolerance to stresses. Burkholderia phytofirmans PsJN (Bp), a beneficial endophytic bacterium, promotes growth of a wide range of plants and induces plant resistance against abiotic and biotic stresses such as coldness and infection by a necrotrophic pathogen. However, mechanisms underlying its role in plant tolerance towards (hemi)biotrophic invaders is still lacking. We thus decipher photosynthetic and defense responses during the interaction between Arabidopsis, Bp and the hemibiotrophic bacterium Pseudomonas syringae pv. tomato DC3000 (Pst). Different Bp inoculations allowed analyzes at both systemic and local levels. Despite no direct antibacterial action, our results showed that only local presence of Bp alleviates Pst growth in planta during the early stage of infection. Molecular investigations showed that seed inoculation of Bp, leading to a restricted presence in the root system, transiently primed PR1 expression after challenge with Pst but continuously primed PDF1.2 expression. Bacterization with Bp reduced Y(ND) but had no impact on PSII activity or RuBisCO accumulation. Pst infection caused an increase of Y(NA) and a decrease in ΦPSI, ETRI and in PSII activity, showed by a decrease in Fv/Fm, Y(NPQ), ΦPSII, and ETRII values. Inoculation with both bacteria did not display any variation in photosynthetic activity compared to plants inoculated with only Pst. Our findings indicated that the role of Bp here is not multifaceted, and relies only on priming of defense mechanisms but not on improving photosynthetic activity.
Access options
Buy single article
Instant access to the full article PDF.
USD 39.95
Price includes VAT (USA)
Tax calculation will be finalised during checkout.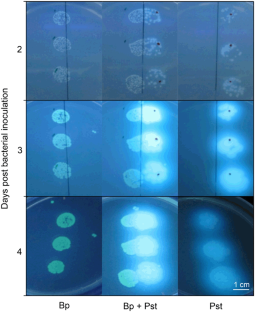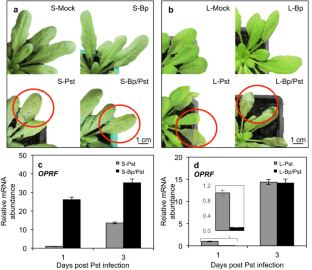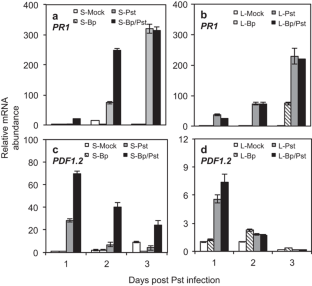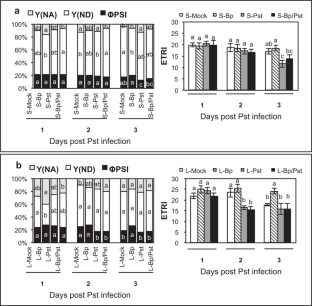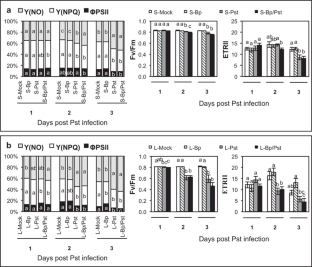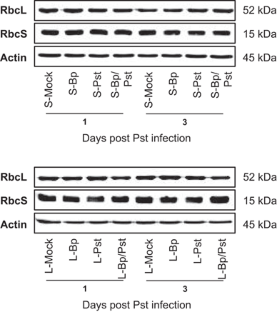 Abbreviations
ABA:

Abscisic acid

Bp:

Burkholderia phytofirmans strain PsJN

ET:

Ethylene

ETRI:

Electron transport rate of PSI

ETRII:

Electron transport rate of PSII

F 0 :

Minimal fluorescence yield of the dark-adapted state

F 0′ :

Minimal fluorescence yield of the light-adapted state

F m :

Maximal fluorescence yield of the dark-adapted state

F m′ :

Maximal fluorescence yield of the light-adapted state

F v/F m :

Maximum quantum yield of PSII photochemistry

JA:

Jasmonic acid

MAMPs:

Microbe-associated molecular patterns

PAMPs:

Pathogen-associated molecular patterns

PGPR:

Plant-growth-promoting rhizobacteria

PS:

Photosystem

Pst:

Pseudomonas syringae pv. tomato DC3000

RbcL:

RuBisCO large subunit

RbcS:

RuBisCO small subunit

RuBisCO:

Ribulose-1,5 bisphosphate carboxylase/oxygenase

SA:

Salicylic acid

YI:

Efficient quantum yield of PSI

YII:

Efficient quantum yield of PSII

Y(NA):

PSI acceptor side limitation

Y(ND):

PSI donor side limitation

Y(NO):

Quantum yield of non-regulated energy dissipation

Y(NPQ):

Quantum yield of regulated energy dissipation
References
Aït Barka E, Nowak J, Clément C (2006) Enhancement of chilling resistance of inoculated grapevine plantlets with a plant growth-promoting rhizobacterium, Burkholderia phytofirmans strain PsJN. Appl Environ Microbiol 72:7246–7252. doi:10.1128/AEM.01047-06

Balachandran S, Osmond CB, Daley PF (1994) Diagnosis of the earliest strain-specific interactions between tobacco mosaic virus and chloroplasts of tobacco leaves in vivo by means of chlorophyll fluorescence imaging. Plant Physiol 104:1059–1065. doi:10.1104/pp.104.3.1059

Barriuso J, Ramos Solano B, Gutiérrez Mañero FJ (2008) Protection against pathogen and salt stress by four plant growth-promoting rhizobacteria isolated from Pinus sp. on Arabidopsis thaliana. Phytopathology 98:666–672. doi:10.1094/PHYTO-98-6-0666

Barth C, Krause GH, Winter K (2001) Responses of photosystem I compared with photosystem II to high-light stress in tropical shade and sun leaves. Plant Cell Environ 24:163–176. doi:10.1111/j.1365-3040.2001.00673

Berger S, Papadopoulos M, Schreiber U, Kaiser W, Roitsch T (2004) Complex regulation of gene expression, photosynthesis and sugar levels by pathogen infection in tomato. Physiol Plant 122:419–428. doi:10.1111/j.1399-3054.2004.00433.x

Berger S, Benediktyova Z, Matous K, Bonfig K, Mueller MJ, Nedbal L, Roitsch T (2007) Visualization of dynamics of plant-pathogen interaction by novel combination of chlorophyll fluorescence imaging and statistical analysis: differential effects of virulent and avirulent strains of P. syringae and of oxylipins on A. thaliana. J Exp Bot 58:797–806. doi:10.1093/jxb/erl208

Bittel P, Robatzek S (2007) Microbe-associated molecular patterns (MAMPs) probe plant immunity. Curr Opin Plant Biol 10:335–341. doi:10.1016/j.pbi.2007.04.021

Boller T, Felix G (2009) A renaissance of elicitors: perception of microbe-associated molecular patterns and danger signals by pattern-recognition receptors. Annu Rev Plant Biol 60:379–406. doi:10.1146/annurev.arplant.57.032905.105346

Bonfig K, Schreiber U, Gabler A, Roitsch T, Berger S (2006) Infection with virulent and avirulent P. syringae strains differentially affects photosynthesis and sink metabolism in Arabidopsis leaves. Planta 225:1–12. doi:10.1007/s00425-006-0303-3

Bostock RM (2005) Signal crosstalk and induced resistance: straddling the line between cost and benefit. Annu Rev Phytopathol 43:545–580. doi:10.1146/annurev.phyto.41.052002.095505

Boureau T, Routtu J, Roine E, Taira S, Romantschuk M (2002) Localization of hrpA-induced Pseudomonas syringae pv. tomato DC3000 in infected tomato leaves. Mol Plant Pathol 3:451–460. doi:10.1046/j.1364-3703.2002.00139.x

Bradford MM (1976) A rapid and sensitive method for the quantitation of microgram quantities of protein utilizing the principle of protein-dye binding. Anal Biochem 72:248–254. doi:10.1016/0003-2697(76)90527-3

Brock AK, Berger B, Mewis I, Ruppel S (2013) Impact of the PGPB Enterobacter radicincitans DSM 16656 on growth, glucosinolate profile, and immune responses of Arabidopsis thaliana. Microb Ecol 65:661–670. doi:10.1007/s00248-012-0146-3

Cartieaux F, Contesto C, Gallou A, Desbrosses G, Kopka J, Taconnat L, Renou JP, Touraine B (2008) Simultaneous interaction of Arabidopsis thaliana with Bradyrhizobium sp. strain ORS278 and Pseudomonas syringae pv. tomato DC3000 leads to complex transcriptome changes. Mol Plant Microbe Interact 21:244–259. doi:10.1094/MPMI-21-2-0244

Castillo P, Molina R, Andrade A, Vigliocco A, Alemano S, Cassán FD (2015) Phytohormones and other plant growth regulators produced by PGPR: the Genus Azospirillum in Cassán FD. In: Okon Y, Creus CM (eds) Handbook for Azospirillum. Springer, Switzerland, pp 115–138. doi:10.1007/978-3-319-06542-7_7

Chandler D, Davidson G, Grant W, Greaves J, Tatchell G (2008) Microbial biopesticides for integrated crop management: an assessment of environmental and regulatory sustainability. Trends Food Sci Tech 19:275–283. doi: 10.1016/j.tifs.2007.12.009

Cheng DD, Zhang ZS, Sun XB, Zhao M, Sun GY, Chow WS (2016) Photoinhibition and photoinhibition-like damage to the photosynthetic apparatus in tobacco leaves induced by Pseudomonas syringae pv. tabaci under light and dark conditions. BMC Plant Biol 16:29. doi:10.1186/s12870-016-0723-6

Chou H, Bundock N, Rolfe SA, Scholes JD (2000) Infection of Arabidopsis thaliana leaves with Albugo candida (white blister rust) causes a reprogramming of host metabolism. Mol Plant Pathol 1:99–113. doi:10.1046/j.1364-3703.2000.00013.x

Cohen AC, Bottini R, Piccoli PN (2008) Azospirillum brasilense Sp 245 produces ABA in chemically-defined culture medium and increases ABA content in Arabidopsis plants. Plant Growth Regul 54:97–103. doi:10.1007/s10725-007-9232-9

Cohen AC, Bottini R, Pontin M, Berli FJ, Moreno D, Boccanlandro H, Travaglia CN, Piccoli PN (2015) Azospirillum brasilense ameliorates the response of Arabidopsis thaliana to drought mainly via enhancement of ABA levels. Physiol Plant 153:79–90. doi:10.1111/ppl.12221

Compant S, Duffy B, Nowak J, Clement C, Barka EA (2005) Use of plant growth-promoting bacteria for biocontrol of plant diseases: principles, mechanisms of action, and future prospects. Appl Environ Microbiol 71:4951–4959. doi:10.1128/aem.71.9.4951-4959.2005

Conn VM, Walker AR, Franco CMM (2008) Endophytic actinobacteria induce defense pathways in Arabidopsis thaliana. Mol Plant Microbe Interact 21:208–218. doi: 10.1094/MPMI-21-2-0208

Conrath U (2009) Priming of induced plant defense responses. In: Sauvion N, Thiéry D, Calatayud PA (eds) Insect-plant interactions in a crop protection perspective. Elsevier, New York, pp 361–395. doi:10.1016/S0065-2296(09)51009-9

de Torres Zabala M, Littlejohn G, Jayaraman S, Studholme D, Bailey T, Lawson T, Tillich M, Licht D, Bölter B, Delfino L, Truman W, Mansfield J, Smirnoff N, Grant M (2015) Chloroplasts play a central role in plant defence and are targeted by pathogen effectors. Nat Plants 1:15074–15083. doi:10.1038/nplants.2015.74

Demmig-Adams B, Cohu CM, Amiard V, Zadelhoff G, Veldink GA, Muller O, Adams WW (2013) Emerging trade-offs-impact of photoprotectants (PsbS, xanthophylls, and vitamin E) on oxylipins as regulators of development and defense. New Phytol 197:720–729. doi:10.1111/nph.12100

Demmig-Adams B, Stewart JJ, Adams WW (2017) Environmental regulation of intrinsic photosynthetic capacity: an integrated view. Curr Opin Plant Biol 37:34–41. doi:10.1016/j.pbi.2017.03.008

Derksen H, Rampitsch C, Daayf F (2013) Signaling cross-talk in plant disease resistance. Plant Sci 207:79–87. doi:10.1016/j.plantsci.2013.03.004

Dodds PN, Rathjen JP (2010) Plant immunity: towards an integrated view of plant–pathogen interactions. Nat Rev Genet 11:539–548

Dong J, Chen W (2013). The role of autophagy in chloroplast degradation and chlorophagy in immune defenses during Pst DC3000 (AvrRps4) infection. PLoS ONE 8:e73091. doi:10.1371/journal.pone.0073091

Ehness R, Ecker M, Godt DE, Roitsch T (1997) Glucose and stress independently regulate source and sink metabolism and defense mechanisms via signal transduction pathways involving protein phosphorylation. Plant Cell 9:1825–1841. doi: 10.1105/tpc.9.10.1825

Fackrell HB, Sinha RC (1983) Serological analysis of Pseudomonas syringae pv. tomato. Phytopathology 73:178–181

Fernandez O, Theocharis A, Bordiec S, Feil R, Jacquens L, Clément C, Fontaine F, Aït Barka A (2012) Burkholderia phytofirmans PsJN acclimates grapevine to cold by modulating carbohydrate metabolism. Mol Plant Microbe Interact 25:496–504. doi:10.1094/MPMI-09-11-0245

Foyer CH, Noctor G (2005) Redox homeostasis and antioxidant signaling: a metabolic interface between stress perception and physiological responses. Plant Cell 17:1866–1875. doi:10.1105/tpc.105.033589

Genty B, Briantais JM, Baker NR (1989) The relationship between the quantum yield of photosynthetic electron transport and quenching of chlorophyll fluorescence. Biochim Biophys Acta 990:87–92. doi:10.1016/S0304-4165(89)80016-9

Glazebrook J (2005) Contrasting mechanisms of defense against biotrophic and necrotrophic pathogens. Annu Rev Phytopathol 43:205–227. doi:10.1146/annurev.phyto.43.040204.135923

Henry G, Thonart P, Ongena M (2012) PAMPs, MAMPs, DAMPs and others: an update on the diversity of plant immunity elicitors. Biotechnol Agron Soc Environ 16:257–268. http://popups.ulg.ac.be/1780-4507/index.php?id=8709

Hong SM, Bahn SC, Lyu A, Jung HS, Ahn JH (2010) Identification and testing of superior reference genes for a starting pool of transcript normalization in Arabidopsis. Plant Cell Physiol 51:1694–1706. doi: 10.1093/pcp/pcq128

Johansson Jänkänpää HJ, Frenkel M, Zulfugarov I, Reichelt M, Krieger-Liszkay A, Mishra Y, Gershenzon J, Moen J, Lee CH, Jansson S (2013) Non-photochemical quenching capacity in Arabidopsis thaliana affects herbivore behaviour. PLoS ONE 8:e53232. doi:10.1371/journal.pone.0053232

Karpinski S, Gabrys H, Mateo A, Karpinska B, Mullineaux PM (2003) Light perception in plant disease defence signalling. Curr Opin Plant Biol 6:390–396. doi:10.1016/S1369-5266(03)00061-X

Kloepper JW, Ryu CM, Zhang S (2004) Induced systemic resistance and promotion of plant growth by Bacillus spp. Phytopathology 94:1259–1266. doi:10.1094/phyto.2004.94.11.1259

Klughammer C, Schreiber U (1994) An improved method, using saturating light pulses, for the determination of photosystem I quantum yield via P700+-absorbance changes at 830 nm. Planta 192:261–268. doi:10.1007/BF01089043

Klughammer C, Schreiber U (2008) Complementary PS II quantum yields calculated from simple fluorescence parameters measured by PAM fluorometry and the saturation pulse method. PAM Appl Notes 1:27–35

Kramer DM, Avenson TJ, Edwards GE (2004) Dynamic flexibility in the light reactions of photosynthesis governed by both electron and proton transfer reactions. Trends Plant Sci 9:349–357. doi:10.1016/j.tplants.2004.05.001

Kumar S, Agarwal M, Dheeman S, Maheshwari DK (2015) Exploitation of phytohormone-producing PGPR in development of multispecies bioinoculant formulation. In: Maheshwari (ed) Bacterial metabolites in sustainable agroecosystem. sustainable development and biodiversity, vol 12. Springer, Switzerland, pp 297–317. doi:10.1007/978-3-319-24654-3_11

Laemmli UK (1970) Cleavage of structural proteins during the assembly of the head of bacteriophage T4. Nature 227:680–685. doi:10.1038/227680a0

Lenz HD, Haller E, Melzer E, Kober K, Wurster K, Stahl M, Bassham DC, Vierstra RD, Parker JE, Bautor J (2011) Autophagy differentially controls plant basal immunity to biotrophic and necrotrophic pathogens. Plant J 66:818–830. doi:10.1111/j.1365-313X.2011.04546.x

Li X, Sun Z, Shao S, Zhang S, Ahammed GJ, Zhang G, Jiang Y, Zhou J, Xia X, Zhou Y, Yu J, Shi K (2015) Tomato-Pseudomonas syringae interactions under elevated CO2 concentration: the role of stomata. J Exp Bot 66:307–316. doi:10.1093/jxb/eru420

Lohaus G, Heldt HW, Osmond CB (2000) Infection with phloem limited Abutilon mosaic virus causes localized carbohydrate accumulation in leaves of Abutilon striatum: relationships to symptom development and effects on chlorophyll fluorescence quenching during photosynthetic induction. Plant Biol 2:161–167. doi:10.1055/s-2000-9461

Lugtenberg B, Kamilova F (2009) Plant-growth-promoting rhizobacteria. Annu Rev Microbiol 63:541–556. doi:10.1146/annurev.micro.62.081307.162918

Magnin-Robert M, Le Bourse D, Markham J, Dorey S, Clément C, Baillieul F, Dhondt-Cordelier S (2015) Modifications of sphingolipid content affect tolerance to hemibiotrophic and necrotrophic pathogens by modulating plant defense responses in Arabidopsis. Plant Physiol 169:2255–2274. doi:10.1104/pp.15.01126

Melotto M, Underwood W, He SY (2008) Role of stomata in plant innate immunity and foliar bacterial diseases. Annu Rev Phytopathol 46:101–122. doi:10.1146/annurev.phyto.121107.104959

Miotto-Vilanova L, Jacquard C, Courteaux B, Wortham L, Michel J, Clément C, Aït Barka E, Sanchez L (2016) Burkholderia phytofirmans PsJN confers grapevine resistance against Botrytis cinerea via a direct antimicrobial effect combined with a better resource mobilization. Front Plant Sci 7:1236. doi:10.3389/fpls.2016.01236

Mishina TE, Zeier J (2007) Pathogen-associated molecular pattern recognition rather than development of tissue necrosis contributes to bacterial induction of systemic acquired resistance in Arabidopsis. Plant J 50:500–513. doi:10.1111/j.1365-313X.2007.03067.x

Miyake C, Horigushi S, Makino A, Shinzaki Y, Yamamoto H, Tomizawa KI (2005) Effects of light intensity on cyclic electron flow around PSI and its relationship to non-photochemical quenching of Chl fluorescence in tobacco leaves. Plant Cell Physiol 46:1819–1830. doi:10.1093/pcp/pci197

Mullineaux P, Karpinski S (2002) Signal transduction in response to excess light: getting out of the chloroplast. Curr Opin Plant Biol 5:43–48. doi:10.1016/S1369-5266(03)00061-X

Munné-Bosch S, Queval G, Foyer CH (2013) The impact of global change factors on redox signaling underpinning stress tolerance. Plant Physiol 161:5–19. doi:10.1104/pp.112.205690

Naveed M, Mitter B, Reichenauer TG, Wieczorek K, Sessitsch A (2014) Increased drought stress resilience of maize through endophytic colonization by Burkholderia phytofirmans PsJN and Enterobacter sp. FD17. Environ Exp Bot 97:30–39. doi:10.1016/j.envexpbot.2013.09.014

Nelson N, Yocum CF (2006) Structure and function of photosystem I and II. Annu Rev Plant Biol 57:521–565. doi:10.1146/annurev.arplant.57.032905.105350

Newton A, Holden N, De Vega Perez D, Gravouill C, Walters D (2014) Induced resistance in crop protection: an overview. IOBC-WPRS Bull 102:169–174. ISBN: 978-92-9067-283-8

Niu DD, Liu HX, Jiang CH, Wang YP, Wang QY, Jin HL, Guo JH (2011) The plant growth-promoting rhizobacterium Bacillus cereus AR156 induces systemic resistance in Arabidopsis thaliana by simultaneously activating salicylate- and jasmonate/ethylene-dependent signaling pathways. Mol Plant Microbe Interact 24:533–542. doi:10.1094/MPMI-09-10-0213

Pathma J, Rahul GR, Kamaraj KR, Subashri R, Sakthivel N (2011) Secondary metabolite production by bacterial antagonists. J Biol Control 25:165–181. doi:10.18311/jbc/2011/3716

Pérez-Bueno ML, Pineda M, Díaz-Casado E, Barón M (2015) Spatial and temporal dynamics of primary and secondary metabolism in Phaseolus vulgaris challenged by Pseudomonas syringae. Physiol Plant 153:161–174. doi:10.1111/ppl.12237

Pillay VK, Nowak J (1997) Inoculum density, temperature, and genotype effects on in vitro growth promotion and epiphytic and endophytic colonization of tomato (Lycopersicon esculentum L.) seedlings inoculated with a pseudomonad bacterium. Can J Microbiol 43:354–361. doi:10.1139/m97-049

Pinedo I, Ledger T, Greve M, Poupin MJ (2015) Burkholderia phytofirmans PsJN induces long-term metabolic and transcriptional changes involved in Arabidopsis thaliana salt tolerance. Front Plant Sci 6:466. doi:10.3389/fpls.2015.00466

Poupin JM, Timmermann T, Vega A, Zuniga A, Gonzalez B (2013) Effects of the plant growth-promoting bacterium Burkholderia phytofirmans PsJN throughout the life cycle of Arabidopsis thaliana. PLoS ONE 8:e69435. doi:10.1371/journal.pone.0069435

Pozo MJ, Van Der Ent S, Van Loon L, Pieterse CMJ (2008) Transcription factor MYC2 is involved in priming for enhanced defense during rhizobacteria induced systemic resistance in Arabidopsis thaliana. New Phytol 180:511–523. doi:10.1111/j.1469-8137.2008.02578.x

Reddy PP (2013) Pathogenesis-related proteins. In: Reddy PP (ed) Recent advances in crop protection. Springer, New Delhi, pp 245–252. doi:10.1007/978-81-322-0723-8_15

Rincón A, Valladares F, Gimeno TE, Pueyo JJ (2008) Water stress responses of two Mediterranean tree species influenced by native soil microorganisms and inoculation with a plant growth promoting rhizobacterium. Tree Physiol 28:1693–1701

Rodríguez-Moreno L, Pineda M, Soukupová J, Macho AP, Beuzón CR, Baron M, Ramós C (2008) Early detection of bean infection by Pseudomonas syringae in asymptomatic leaf areas using chlorophyll fluorescence imaging. Photosynth Res 96:27–35. doi:10.1007/s11120-007-9278-6

Roitsch T (1999) Source-sink regulation by sugar and stress. Curr Opin Plant Biol 2:198–206. doi:10.1016/S1369-5266(99)80036-3

Ruíz-Sánchez M, Armada E, Muñoz Y, de Salamone IEG, Aroca R, Ruíz-Lozano JM, Azcón R (2011) Azospirillum and arbuscular mycorrhizal colonization enhance rice growth and physiological traits under well-watered and drought conditions. J Plant Physiol 168:1031–1037. doi:10.1016/j.jplph.2010.12.019

Scholes JD, Rolfe SA (1996) Photosynthesis in localised regions of oat leaves infected with crown rust (Puccinia coronata): quantitative imaging of chlorophyll fluorescence. Planta 199:573–582. doi:10.1007/BF00195189

Schreiber U (1994) New emitter-detector-cuvette assembly for measuring modulated chlorophyll fluorescence of highly diluted suspensions in conjunction with the standard PAM fluorometer. Z Naturforsch 49c:646–656. doi:10.1515/znc-1994-9-1016

Schwessinger B, Ronald PC (2012) Plant innate immunity: perception of conserved microbial signatures. Annu Rev Plant Biol 63:451–482. doi:10.1146/annurev-arplant-042811-105518

Serrano I, Audran C, Rivas S (2016) Chloroplasts at work during plant innate immunity. J Exp Bot 67:3845–3854. doi:10.1093/jxb/erw088

Shan L, He P, Sheen J (2007) Intercepting host MAPK signaling cascades by bacterial type III effectors. Cell Host Microbe 1:167–174. doi:10.1016/j.chom.2007.04.008

Sharma VK, Nowak J (1998) Enhancement of verticillium wilt resistance in tomato transplants by in vitro co-culture of seedlings with a plant growth promoting rhizobacterium (Pseudomonas sp. strain PsJN). Can J Microbiol 44:528–536. doi:10.1139/w98-017

Somers E, Vanderleyden J, Srinivasan M (2004) Rhizosphere bacterial signalling: a love parade beneath our feet. Crit Rev Microbiol 30:205–240. doi:10.1080/10408410490468786

Spoel SH, Johnson JS, Dong X (2007) Regulation of tradeoffs between plant defenses against pathogens with different lifestyles. Proc Natl Acad Sci USA 104:18842–18847. doi:10.1073/pnas.0708139104

Stefan M, Munteanu N, Stoleru V, Mihasan M, Hritcu L (2013) Seed inoculation with plant growth promoting rhizobacteria enhances photosynthesis and yield of runner bean (Phaseolus coccineus L.). Sci Hortic 151:22–29. doi:10.1016/j.scienta.2012.12.006

Su F, Jacquard C, Villaume S, Michel J, Rabenoelina F, Clément C, Aït Barka E, Dhondt-Cordelier S, Vaillant-Gaveau N (2015) Burkholderia phytofirmans PsJN reduces impact of freezing temperatures on photosynthesis in Arabidopsis thaliana. Front Plant Sci 6:810. doi:10.3389/fpls.2015.00810

Su F, Gilard F, Guérard F, Citerne S, Clément C, Vaillant-Gaveau N, Dhondt-Cordelier S (2016) Spatio-temporal responses of Arabidopsis leaves in photosynthetic performance and metabolite contents to Burkholderia phytofirmans PsJN. Front Plant Sci 7:403. doi:10.3389/fpls.2016.00403

Thaler JS, Fidanstef AL, Bostock RM (2002) Antagonism between jasmonate- and salicylate-mediated induced plant resistance: effects of concentration and timing of elicitation on defense-related proteins, herbivore, and pathogen performance in tomato. J Chem Ecol 28:1131–1159. doi:10.1023/A:1016225515936

Theocharis A, Clément C, Barka EA (2012) Physiological and molecular changes in plants grown at low temperatures. Planta 235:1091–1105. doi:10.1007/s00425-012-1641-y

Thilmony R, Underwood W, He SY (2006) Genome wide transcriptional analysis of the Arabidopsis thaliana interaction with the plant pathogen Pseudomonas syringae pv. tomato DC3000 and the human pathogen Escherichia coli O157: H7. Plant J 46:34–53. doi:10.1111/j.1365-313X.2006.02725.x

Thomma BP, Penninckx IA, Cammue BP, Broekaert WF (2001) The complexity of disease signaling in Arabidopsis. Curr Opin Immunol 13:63–68. doi:10.1016/S0952-7915(00)00183-7

Ton J, Jakab G, Toquin V, Flors V, Iavicoli A, Maeder MN, Métraux JP, Mauch-Mani B (2005) Dissecting the β-aminobutyric acid-induced priming phenomenon in Arabidopsis. Plant Cell 17:987–999. doi:10.1105/tpc.104.029728

Trdá L, Fernandez O, Boutrot F, Héloir MC, Kelloniemi J, Daire X, Adrian M, Clément C, Zipfel C, Dorey S, Poinssot B (2014) The grapevine flagellin receptor VvFLS2 differentially recognizes flagellin-derived epitopes from the endophytic growth-promoting bacterium Burkholderia phytofirmans and plant pathogenic bacteria. New Phytol 201:1371–1384. doi:10.1111/nph.12592

Van Loon LC (2007) Plant responses to plant growth-promoting rhizobacteria. Eur J Plant Pathol 199:243–254. doi:10.1007/s10658-007-9165-1

Van Loon LC, Bakker PAHM, Pieterse CMJ (1998) Systemic resistance induced by rhizosphere bacteria. Annu Rev Phytopathol 36:453–483. doi:10.1146/annurev.phyto.36.1.453

Vessey JK (2003) Plant growth promoting rhizobacteria as biofertilizers. Plant Soil 255:571–586. doi:10.1023/a:1026037216893

Vidhyasekaran P (2015) Salicylic acid signaling in plant innate immunity. Plant hormone signaling systems in plant innate immunity. Signaling and communication in plants 2, Springer, Dordrecht, pp 27–122. doi:10.1007/978-94-017-9285-1_2

Walters M (2015) The plant innate immune system. Endocytobiosis Cell Res 26:8–12. ISSN: 0256-1514

Wang X, Mavrodi DV, Ke L, Mavrodi OV, Yang M, Thomashow LS, Zheng N, Weller DM, Zhang J (2015) Biocontrol and plant growth-promoting activity of rhizobacteria from Chinese fields with contaminated soils. Microb Biotechnol 8:404–418. doi:10.1111/1751-7915.12158

Xin XF, He SY (2013) Pseudomonas syringae pv. tomato DC3000: a model pathogen for probing disease susceptibility and hormone signaling in plants. Annu Rev Phytopathol 51:473–498. doi:10.1146/annurev-phyto-082712-102321

Yadav BK, Akhtar MS, Panwar J (2015) Rhizospheric plant-microbe interactions: key factors to soil fertility and plant nutrition. In: Arora NK (ed) Plant microbes symbiosis: applied facets. Springer, New Delhi pp 127–145. doi:10.1007/978-81-322-2068-8$46

Zhang H, Xie X, Kim MS, Kornyeyev DA, Holaday S, Paré PW (2008) Soil bacteria augment Arabidopsis photosynthesis by decreasing glucose sensing and abscisic acid levels in planta. Plant J 56:264–273. doi:10.1111/j.1365-313X.2008.03593.x

Zhou J, Zeng L, Liu J, Xing D (2015) Manipulation of the xanthophyll cycle increases plant susceptibility to Sclerotinia sclerotiorum. PLoS Pathog 11:e1004878. doi:10.1371/journal.ppat.1004878

Zulfugarov IS, Tovuu A, Kim CY, Vo KTX, Ko SY, Hall M, Soek HY, Kim YK, Moon YH, Jansson S, Jeon JS, Lee CH (2016) Enhanced resistance of PsbS-deficient rice (Oryza sativa L.) to fungal and bacterial pathogens. J Plant Biol 59:616–626. doi:10.1007/s12374-016-0068-6
Acknowledgements
This work was supported by a grant from the Europol'Agro program (VINEAL project) from the Region Champagne Ardenne, France.
Electronic supplementary material
Below is the link to the electronic supplementary material.
About this article
Cite this article
Su, F., Villaume, S., Rabenoelina, F. et al. Different Arabidopsis thaliana photosynthetic and defense responses to hemibiotrophic pathogen induced by local or distal inoculation of Burkholderia phytofirmans . Photosynth Res 134, 201–214 (2017). https://doi.org/10.1007/s11120-017-0435-2
Received:

Accepted:

Published:

Issue Date:
Keywords
PGPR

Pseudomonas syringae pv. tomato DC3000
Arabidopsis thaliana

Photosystem I and II

Photosynthesis

Defense