Abstract
Navasard Vaganovich Karapetyan (September 6, 1936—March 6, 2015) began his scientific career at the Bach Institute of Biochemistry of the Russian Academy of Sciences, Moscow, and was associated with this institute for over 56 years. He worked in the area of biochemistry and biophysics of photosynthesis and was especially known for his studies on chlorophyll a fluorescence in higher plants and cyanobacteria, molecular organization of Photosystem I, photoprotective energy dissipation, and dynamics of energy migration in the two photosystems. We present here a brief biography and comments on the work of Navasard Karapetyan. We remember him as an enthusiastic person who had an unflagging curiosity, energy and profound sincere interest in many aspects of photosynthesis research.
This is a preview of subscription content, log in to check access.
Access options
Buy single article
Instant access to the full article PDF.
US$ 39.95
Price includes VAT for USA
Subscribe to journal
Immediate online access to all issues from 2019. Subscription will auto renew annually.
US$ 199
This is the net price. Taxes to be calculated in checkout.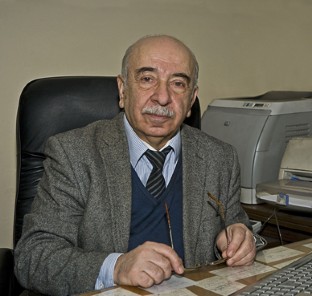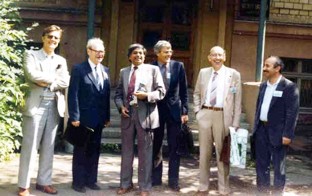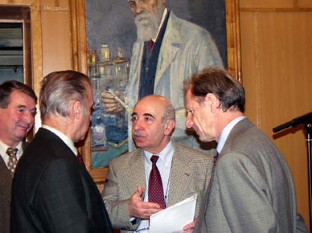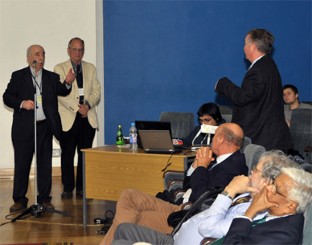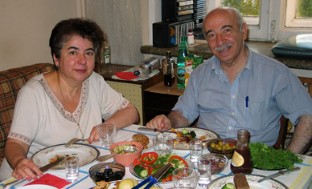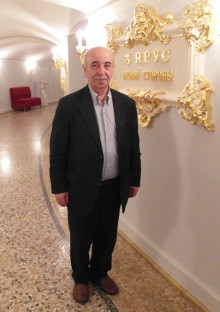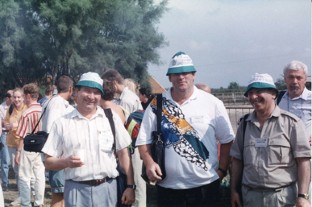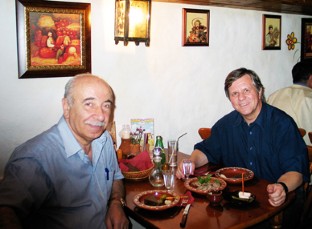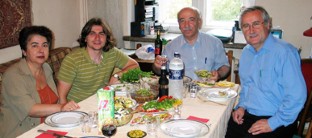 References
Brecht M, Hussels M, Schlodder E, Karapetyan NV (2012) Red antenna states of photosystem I trimers from Arthrospira platensis revealed by single-molecule spectroscopy. Biochim Biophys Acta 1817:445–452

El-Mohsnawy E, Kopczak MJ, Schlodder E, Nowaczyk M, Meyer HE, Warscheid B, Karapetyan NV, Rögner M (2010) Structure and function of intact photosystem 1 monomers from the cyanobacterium Thermosynechococcus elongatus. Biochemistry 49:4740–4751

Karapetyan NV (1977) Variable fluorescence of chlorophyll and photosynthesis. Prog Mod Biol (Usp. Sovr. Biologii) 83:370–386. (in Russ)

Karapetyan NV (2007) Non-photochemical quenching of fluorescence in cyanobacteria. Biochemistry 72:1127–1135

Karapetyan NV (2008) Protective dissipation of excess absorbed energy by photosynthetic apparatus of cyanobacteria: role of antenna terminal emitters. Photosynth Res 97:195–204

Karapetyan NV, Klimov VV (1971) A set-up for measurements of photoinduced changes of chlorophyll fluorescence yield in photosynthetic organisms. Fiziologia Rastenii (USSR) 18: 223–228

Karapetyan NV, Klimov VV (1973) The origin of reversible and irreversible decrease of fluorescence upon illumination of chloroplasts under reductive conditions. Fiziologia Rastenii (USSR) 20:545–553

Karapetyan NV, Litvin FF, Krasnovsky AA (1963) Investigation of light-induced transformations of chlorophyll by means of difference spectrophotometry. Biofizika 8:191–199. (in Russ)

Karapetyan NV, Klimov VV, Krakhmaleva IN, Krasnovsky AA (1971) Introduction of fluorescence in chloroplast and chromatophores under reductive conditions. Dokl USSR Acad Sci 201: 1244–1247

Karapetyan NV, Klimov VV, Krasnovsky AA (1973) Light-induced changes in fluorescence yield of particles obtained by digitonin fragmentation of chloroplasts. Photosynthetica 7:330–337

Karapetyan NV, Holzwarth AR, Rögner M (1999a) The photosystem I trimer of cyanobacteria: molecular organization, excitation dynamics, and physiological significance (minireview). FEBS Lett 460:395–400

Karapetyan NV, Shubin VV, Strasser RJ (1999b) Energy exchange between the chlorophyll antennae of monomeric subunits within the Photosystem I trimeric complex of the cyanobacterium Spirulina. Photosynth Res 61:291–301

Karapetyan NV, Bolychevtseva YuV, Yurina NP, Terekhova IV, Shubin VV, Brecht M (2014) Long-wavelength сhlorophylls in photosystem I of cyanobacteria: origin, localization, and functions. Biochemistry 79:213–220

Klimov VV, Shuvalov VA, Krakhmaleva IN, Karapetyan NV, Krasnovsky AA (1976) Changes in the fluorescence yield of bacteriochlorophyll under photoreduction of bacteriopheophytin in chromatophores of purple sulphur bacteria. Biochemistry 41:1435–1441

Klimov VV, Klevanic AV, Shuvalov VA, Krasnovsky AA (1977) Reduction of pheophytin in the primary light reactions of photosystem II. FEBS Lett 82:183–186

Kruip J, Karapetyan NV, Terekhova IV, Rögner M (1999) In vitro oligomerisation of a membrane protein complex: liposome based reconstitution of trimeric photosystem I from isolated monomers. J Biol Chem 274:18181–18188

Rakhimberdieva MG, Stadnichuk IN, Elanskaya IV, Karapetyan NV (2004) Carotenoid-induced quenching of the phycobilisome fluorescence in photosystem II-deficient mutant of Synechocystis sp. FEBS Lett 574:85–88

Rakhimberdieva MG, Vavilin DV, Vermaas WFJ, Elanskaya IV, Karapetyan NV (2007) Phycobilin/chlorophyll excitation equilibration upon carotenoid-induced non-photochemical fluorescence quenching in phycobilisomes of the cyanobacterium Synechocystis sp. PCC 6803. Biochim Biophys Acta 1767:757–765

Rakhimberdieva MG, Elanskaya IV, Vermaas WFJ, Karapetyan NV (2010) Carotenoid-triggered energy dissipation in Synechocystis sp. PCC 6803 phycobilisomes diverts excitation away from reaction centers of both photosystems. Biochim Biophys Acta 1797:241–249

Schlodder E, Cetin M, Byrdin M, Terekhova IV, Karapetyan NV (2005) P700+- and 3P700-induced quenching of the fluorescence at 760 nm in trimeric photosytem I complexes from the cyanobacterium Arthrospira platensis. Biochim Biophys Acta 1706:53–67

Schlodder E, Shubin VV, El-Mohsnawy E, Rögner M, Karapetyan NV (2007) Steady-state and transient polarized absorption spectroscopy of photosytem I complexes from the cyanobacteria Arthrospira platensis and Thermosynechococcus elongatus. Biochim Biophys Acta 1767:732–741

Schlodder E, Hussels M, Cetin M, Karapetyan NV, Brecht M (2011) Fluorescence of the various red antenna states in photosytem I complexes from cyanobacteria is affected differently by the redox state of P700. Biochim Biophys Acta 1807:1423–1431

Schlodder E, Lendzian F, Meyer J, Cetin M, Brecht M, Renger T, Karapetyan NV (2014) Long-wavelength limit of photochemical energy conversion in photosytem I. J Am Chem Soc 136:3904–3918

Shubin VV, Murthy SDS, Karapetyan NV, Mohanty P (1991) Origin of the 77 K variable fluorescence at 758 nm in the cyanobacterium Spirulina platensis. Biochim Biophys Acta 1060:28–36

Shubin VV, Bezsmertnaya IN, Karapetyan NV (1992) Isolation from Spirulina membranes of two photosystem I-type complexes one of which contains chlorophyll responsible for the 77 K fluorescence band at 760 nm. FEBS Lett 309:340–342

Shubin VV, Tsuprun VL, Bezsmertnaya IN, Karapetyan NV (1993) Trimeric forms of the photosystem I reaction center complex pre-exist in the membranes of the cyanobacterium Spirulina platensis. FEBS Lett 334:79–82

Witt H, Bordignon E, Carbonera D, Dekker JP, Karapetyan NV, Teutloff C, Webber A, Lubitz W, Schlodder E (2003) Species-specific differences of the spectroscopic properties of P700—analysis of the influence of non-conserved amino acid residues by site-directed mutagenesis of photosystem I from Chlamydomonas reinhardtii. J Biol Chem 278(47):46760–46771
Acknowledgements
We thank all the friends and colleagues of Navasard who contributed to this Tribute. We are indebted to the entire family of Navasard Karapetyan for information on his early life and grateful to Vyacheslav Klimov, Matthias Rögner and Eberhard Schlodder for presenting their own remembrances and photographs to this Tribute.
Additional information
This tribute was read, edited and accepted by Thomas D. Sharkey, Associate Editor, Photosynthesis Research. He wrote: This is a nice tribute; it gives nicely a sense of Navasard as a wonderful person, and his importance to photosynthesis.
About this article
Cite this article
Yurina, N.P., Popov, V.O., Krasnovsky, A.A. et al. Remembering Navasard V. Karapetyan (1936–2015). Photosynth Res 132, 221–226 (2017). https://doi.org/10.1007/s11120-017-0361-3
Accepted:

Published:

Issue Date:
Keywords
Biochemistry and biophysics of photosynthesis

Antenna

Long-wavelength absorbing chlorophyll a

P700

Reaction center

Fluorescence quenching

Photosystem I

Cyanobacteria