Abstract
Crassulacean acid metabolism (CAM) was demonstrated in four small endemic Australian terrestrial succulents from the genus Calandrinia (Montiaceae) viz. C. creethiae, C. pentavalvis, C. quadrivalvis and C. reticulata. CAM was substantiated by measurements of CO2 gas-exchange and nocturnal acidification. In all species, the expression of CAM was overwhelmingly facultative in that nocturnal H+ accumulation was greatest in droughted plants and zero, or close to zero, in plants that were well-watered, including plants that had been droughted and were subsequently rewatered, i.e. the inducible component was proven to be reversible. Gas-exchange measurements complemented the determinations of acidity. In all species, net CO2 uptake was restricted to the light in well-watered plants, and cessation of watering was followed by a progressive reduction of CO2 uptake in the light and a reduction in nocturnal CO2 efflux. In C. creethiae, C. pentavalvis and C. reticulata net CO2 assimilation was eventually observed in the dark, whereas in C. quadrivalvis nocturnal CO2 exchange approached the compensation point but did not transition to net CO2 gain. Following rewatering, all species returned to their original well-watered CO2 exchange pattern of net CO2 uptake restricted solely to the light. In addition to facultative CAM, C. quadrivalvis and C. reticulata exhibited an extremely small constitutive CAM component as demonstrated by the nocturnal accumulation in well-watered plants of small amounts of acidity and by the curved pattern of the nocturnal course of CO2 efflux. It is suggested that low-level CAM and facultative CAM are more common within the Australian succulent flora, and perhaps the world succulent flora, than has been previously assumed.
Access options
Buy single article
Instant access to the full article PDF.
USD 39.95
Price includes VAT (USA)
Tax calculation will be finalised during checkout.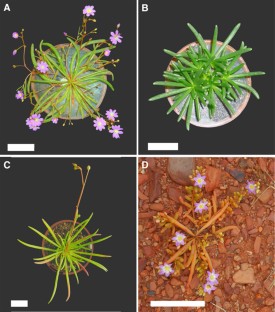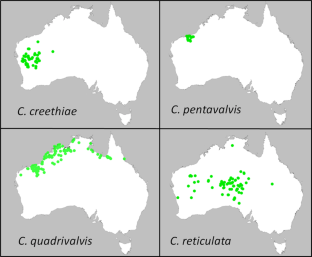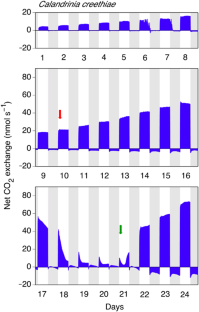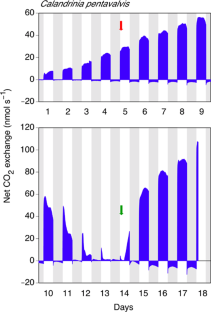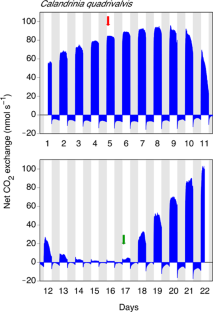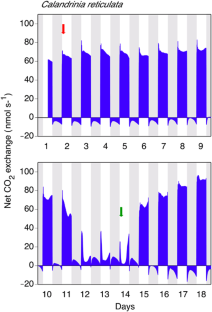 References
Atlas of Living Australia (2016) http://www.ala.org.au/. Accessed 7 Oct 2016

Australian Plant Census (2016) Australian plant census (Council of Heads of Australasian Herbaria) IBIS database, Centre for Australian National Biodiversity Research, Canberra. http://www.chah.gov.au/apc/index.html. Accessed 19 Jan 2016

Brilhaus D, Bräutigam A, Mettler-Altmann T, Winter K, Weber APM (2016) Reversible burst of transcriptional changes during induction of crassulacean acid metabolism in Talinum triangulare. Plant Physiol 170:102–122

Brulfert J, Güclü S, Kluge M (1991) Effects of abrupt or progressive drought on the photosynthetic mode of Crassula sieberiana cultivated under different daylengths. J Plant Physiol 138:685–690

Bureau of Meteorology (2016) Australian Government Bureau of Meteorology. http://www.bom.gov.au/jsp/ncc/climate averages/rainfall-variability/index.jsp. Accessed 7 October 2016

Carolin R (1987) A review of the family Portulacaceae. Aust J Bot 35:383–412

Dampier WA (1703) A voyage to New Holland etc in the year 1699. James Knapton, London

Ellenberg H (1981) Ursachen des Vorkommens und Fehlens von Sukkulenten in den Trockengebieten der Erde. Flora 171:114–169

George AS (1999) William Dampier in New Holland: Australia's first natural historian. Bloomings Books, Victoria

Grisebach A (1872) Die Vegetation der Erde nach ihrer klimatischen Anordnung: Ein Abriss der vergleichenden Geographie der Pflanzen. W. Engelmann

Guralnick LJ, Jackson MD (2001) The occurrence and phylogenetics of crassulacean acid metabolism in the Portulacaceae. Int J Plant Sci 162:257–262

Hernández-Ledesma P, Berendsohn WG, Borsch T, Von Mering S, Akhani H, Arias S, Castañeda-Noa I, Eggli U, Eriksson R, Flores-Olvera H, Fuentes-Bazán S, Kadereit G, Klak C, Korotkova N, Nyffeler R, Ocampo G, Ochoterena H, Oxelman B, Rabeler RK, Sanchez A, Schlumpberger BO, Uotila P (2015) A taxonomic backbone for the global synthesis of species diversity in the angiosperm order Caryophyllales. Willdenowia 45:281–383

Herrera A, Delgado J, Paraguatey I (1991) Occurrence of inducible crassulacean acid metabolism in leaves of Talinum triangulare (Portulacaceae). J Exp Bot 42:493–499

Hershkovitz MA (1993) Revised circumscriptions and subgeneric taxonomies of Calandrinia and Montiopsis (Portulacaceae) with notes on phylogeny of the portulacaceous alliance. Ann Mo Bot Gard 80:333–365

Hershkovitz MA (1998) Parakeelya: a new genus segregated from Calandrinia (Portulacaceae). Phytologia 84:98–106

Holtum JAM, Winter K (1999) Degrees of crassulacean acid metabolism in tropical epiphytic and lithophytic ferns. Aust J Plant Physiol 26:749–757

Holtum JAM, Winter K (2003) Photosynthetic CO2 uptake in seedlings of two tropical tree species exposed to oscillating elevated concentrations of CO2. Planta 218:152–158

Holtum JAM, Hancock LP, Edwards EJ, Crisp MD, Crayn DM, Sage R, Winter K (2016) Australia lacks stem succulents but is it depauperate in plants with crassulacean acid metabolism? Curr Opin Plant Biol 31:109–117

Holtum JAM, Hancock LP, Edwards EJ, Winter K (2017) Optional use of CAM photosynthesis in two C4 species, Portulaca cyclophylla and Portulaca digyna. J Plant Physiol (in review)

Kapitany A (2007) Australian succulent plants. Kapitany Concepts, Boronia

Kapitany A (2010) The Australian Calandrinia. Spinette 2010:1–20

Koch K, Kennedy RA (1980) Characteristics of crassulacean acid metabolism in the succulent C4 dicot, Portulaca oleracea L. Plant Physiol 65:193–197

Nobel PS (2003) Environmental biology of Agaves and Cacti. Cambridge University Press, Cambridge

Northern Territory Herbarium (2013) FloraNT—Northern Territory flora online. Department of Land Resource Management. http://eflora.nt.gov.au. Accessed 12 Jan 2017

Nyffeler R, Eggli U (2010) Disintegrating Portulacaceae: a new familial classification of the suborder Portulacinae (Caryophyllales) based on molecular and morphological data. Taxon 59:227–240

Obbens FJ (2006) A review of the tuberous Calandrinia species (section Tuberosae), including three new species for Western Australia. Nuytsia 16:95–115

Obbens FJ (2011) Five new species of Calandrinia (Portulacaceae) from Western Australia with additional information on morphological observations. Nuytsia 21:1–23

Obbens FJ (2012) Three new species of Calandrinia (Portulacaceae) from the Eremaean and South West Botanical Provinces of Western Australia. Nuytsia 22:351–362

Obbens FJ (2014a) Two new species of Calandrinia (Portulacaceae) from southern Western Australia. Nuytsia 24:27–43

Obbens FJ (2014b) Calandrinia butcherensis and C. rubrisabulosa (Portulacaceae), new species from the Midwest of Western Australia. Nuytsia 24:207–214

Ogburn RM, Edwards EJ (2010) The ecological water-use strategies of succulent plants. Adv Bot Res 55:179–225

Silvera K, Santiago LS, Winter K (2005) Distribution of crassulacean acid metabolism in orchids of Panama: evidence of selection for weak and strong modes. Funct Plant Biol 32:397–407

Smith JAC, Winter K (1996) Taxonomic distribution of crassulacean acid metabolism. In: Winter K, Smith JAC (eds) Crassulacean acid metabolism. Springer, Berlin, pp 427–436

Stearn T (1969) A Royal Society appointment with Venus in 1769: the voyage of Cook and Banks in the 'Endeavour' in 1768–1771 and its botanical results. Notes Rec R Soc Lond 24:64–90

Tahir SS, Carolin RC (2011) A new species of Calandrinia (Portulacaceae) from Northern Territory, Australia. Proc Linn Soc NSW 133:11–14

West JG, Chinnock RJ (2013) Calandrinia mirabilis (Portulacaceae), a spectacular new species from Western Australia with notes on its ecology, seed germination and horticultural potential. J Adel Bot Gard 26:97–102

Western Australian Herbarium (2017) FloraBase—the Western Australian flora. Department of Parks and Wildlife. https://florabase.dpaw.wa.gov.au. Accessed 12 Jan 2017

Winter K (1982) Properties of phosphoenolpyruvate carboxylase in rapidly prepared, desalted leaf extracts of the crassulacean acid metabolism plant Mesembryanthemum crystallinum. Planta 154:298–308

Winter K, Holtum JAM (2002) How closely do the δ13C values of CAM plants reflect the proportion of CO2 fixed during day and night? Plant Physiol 129:1843–1851

Winter K, Holtum JAM (2011) Induction and reversal of CAM photosynthesis in Calandrinia polyandra Benth: effects of soil moisture and nutrients. Funct Plant Biol 38:576–582

Winter K, Holtum JAM (2014) Facultative crassulacean acid metabolism (CAM) plants: powerful tools for unravelling the functional elements of CAM photosynthesis. J Exp Bot 65:3425–3441

Winter K, Holtum JAM (2015) Cryptic crassulacean acid metabolism (CAM) in Jatropha curcas L. Funct Plant Biol 42:711–717

Winter K, Holtum JAM (2017) CO2-exchange patterns demonstrate facultative CAM photosynthesis (crassulacean acid metabolism) in four small C3 and C4 leaf-succulents. Aust J Bot (in press)

Winter K, Smith JAC (1996) An introduction to crassulacean acid metabolism. In: Winter K, Smith JAC (eds) Crassulacean acid metabolism. Springer, Berlin, pp 1–13

Winter K, Ziegler H (1992) Induction of crassulacean acid metabolism in Mesembryanthemum crystallinum increases reproductive success under conditions of drought and salinity stress. Oecologia 92:475–479

Winter K, Lüttge U, Winter E, Troughton JH (1978) Seasonal shift from C3 photosynthesis to Crassulacean acid metabolism in Mesembryanthemum crystallinum growing in its natural environment. Oecologia 34:225–237

Winter K, Osmond CB, Pate JS (1981) Coping with salinity. In: Pate JS, McComb AJ (eds) The biology of Australian plants. University of Western Australia Press, Perth, pp 88–113

Winter K, Garcia M, Holtum JAM (2008) On the nature of facultative and constitutive CAM: environmental and developmental control of CAM expression during early growth of Clusia, Kalanchoë and Opuntia. J Exp Bot 59:1829–1840

Winter K, Holtum JAM, Smith JAC (2015) Crassulacean acid metabolism: a continuous or discrete trait? New Phytol 208:73–78
Acknowledgements
Gordon Guymer, Peter Bostock and Paul Forster assisted JAMH at the Queensland Herbarium. Frank Obbens (Western Australian Herbarium) tutored LPH and JAMH about Calandrinia and guided LPH in the field. Attila Kapitany (australiansucculents.com) supplied seeds and information about collection sites. Aurelio Virgo drew figures. This research was supported by Australian Research Council Discovery Project DP160100098 (JAMH), the Smithsonian Tropical Research Institute and by U.S. National Science Foundation grant DEB-1252901 (EJE).
About this article
Cite this article
Holtum, J.A.M., Hancock, L.P., Edwards, E.J. et al. Facultative CAM photosynthesis (crassulacean acid metabolism) in four species of Calandrinia, ephemeral succulents of arid Australia. Photosynth Res 134, 17–25 (2017). https://doi.org/10.1007/s11120-017-0359-x
Received:

Accepted:

Published:

Issue Date:
Keywords
Arid

Australian flora

Calandrinia

Crassulacean acid metabolism (CAM)

Montiaceae

Succulents