Abstract
The structure of monomeric and trimeric photosystem I (PS I) of Thermosynechococcus elongatus BP1 (T. elongatus) was investigated by small-angle X-ray scattering (SAXS). The scattering data reveal that the protein–detergent complexes possess radii of gyration of 58 and 78 Å in the cases of monomeric and trimeric PS I, respectively. The results also show that the samples are monodisperse, virtually free of aggregation, and contain empty detergent micelles. The shape of the protein–detergent complexes can be well approximated by elliptical cylinders with a height of 78 Å. Monomeric PS I in buffer solution exhibits minor and major radii of the elliptical cylinder of about 50 and 85 Å, respectively. In the case of trimeric PS I, both radii are equal to about 110 Å. The latter model can be shown to accommodate three elliptical cylinders equal to those describing monomeric PS I. A structure reconstitution also reveals that the protein–detergent complexes are larger than their respective crystal structures. The reconstituted structures are larger by about 20 Å mainly in the region of the hydrophobic surfaces of the monomeric and trimeric PS I complexes. This seeming contradiction can be resolved by the addition of a detergent belt constituted by a monolayer of dodecyl-β-D-maltoside molecules. Assuming a closest possible packing, a number of roughly 1024 and 1472 detergent molecules can be determined for monomeric and trimeric PS I, respectively. Taking the monolayer of detergent molecules into account, the solution structure can be almost perfectly modeled by the crystal structures of monomeric and trimeric PS I.
Access options
Buy single article
Instant access to the full article PDF.
US$ 39.95
Tax calculation will be finalised during checkout.
Subscribe to journal
Immediate online access to all issues from 2019. Subscription will auto renew annually.
US$ 119
Tax calculation will be finalised during checkout.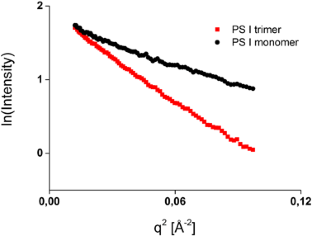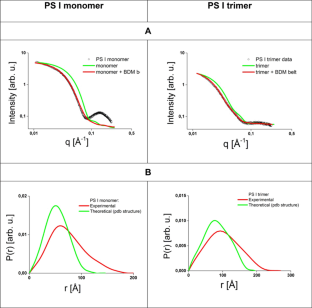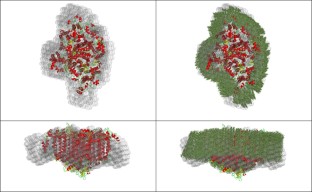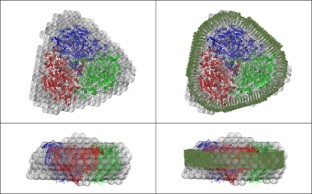 Abbreviations
β-DM:

Dodecyl-β-maltoside

C12E8:

Octaethylene glycol dodecyl ether

Chl:

Chlorophyll

HTG:

Heptyl-β-thioglucoside

PS I:

Photosystem I

PS II:

Photosystem II

PS Icc:

Core complex of Photosystem I

Rg :

Radius of gyration

SANS:

Small-angle neutron scattering

SAXS:

Small-angle X-ray scattering

pdb:

Protein data bank

IFT:

Indirect Fourier Transformation
References
Ben-Shem A, Frolow F, Nelson N (2003) Crystal structure of plant photosystem I. Nature 426:630–635. doi:10.1038/nature02200

Cardoso MB, Smolensky D, Heller WT, O'Neill H (2009) Insight into the structure of light-harvesting complex II and Its stabilization in detergent solution. J Phys Chem B 113:16377–16383. doi:10.1021/Jp905050b

DeLano WL (2006) PyMOL molecular graphics system 0.99 edn., California U.S.A

El-Mohsnawy E et al (2010) Structure and function of intact photosystem 1 monomers from the cyanobacterium Thermosynechococcus elongatus. Biochemistry 49:4740–4751. doi:10.1021/bi901807p

Feifel SC, Lokstein H, Hejazi M, Zouni A, Lisdat F (2015) Unidirectional photocurrent of photosystem I on π-system-modified graphene electrodes: nanobionic approaches for the construction of photobiohybrid systems. Langmuir 31:10590–10598. doi:10.1021/acs.langmuir.5b01625

Feigin LA, Svergun DI (1987) Structure analysis by small-angle x-ray and neutron scattering. Plenum Press, New York. doi:10.1007/978-1-4757-6624-0

Franke D, Svergun DI (2009) DAMMIF, a program for rapid ab-initio shape determination in small-angle scattering. J Appl Cryst 42:342–346. doi:10.1107/S0021889809000338

Golbeck JH (2006) Photosystem I, The light-driven plastocyanin:ferredoxin oxidoreductase vol 24. 1 edn. Springer Netherlands, Dordrecht. doi:10.1007/978-1-4020-4256-0

Golub M, Irrgang K-D, Rusevich L, Pieper J (2015) Vibrational dynamics of plant light-harvesting complex LHC II investigated by quasi- and inelastic neutron scattering. EPJ Web Conf 83:1–4. doi:10.1051/epjconf/20158302004

Gorka M, Schartner J, van der Est A, Rogner M, Golbeck JH (2014) Light-mediated hydrogen generation in Photosystem I: attachment of a naphthoquinone-molecular wire-Pt nanoparticle to the A1A and A1B sites. BioChemistry 53:2295–2306. doi:10.1021/bi500104r

Guinier A, Fournet G (1955) Small-angle scattering of X-rays. John Wiley and Sons, New York. doi:10.1002/pol.1956.120199326

Hammersley AP, Svensson SO, Hanfland M, Fitch AN, and Hausermann D (1996) Two-dimensional detector software: from real detector to idealised image of two-theta scan. High Pressure Res 14:235–248. doi:10.1080/08957959608201408

Hellmich J et al (2014) Native-like photosystem II superstructure at 2.44 A resolution through detergent extraction from the protein crystal. Structure 22:1607–1615. doi:10.1016/j.str.2014.09.007

Jacques DA, Trewhella J (2010) Small-angle scattering for structural biology–expanding the frontier while avoiding the pitfalls. Protein Sci 19:642–657. doi:10.1002/pro.351

Jordan P, Fromme P, Witt HT, Klukas O, Saenger W, Krauss N (2001) Three-dimensional structure of cyanobacterial photosystem I at 2.5 A resolution. Nature 411:909–917. doi:10.1038/35082000

Kern J, Loll B, Luneberg C, DiFiore D, Biesiadka J, Irrgang KD, Zouni A (2005) Purification, characterisation and crystallisation of photosystem II from Thermosynechococcus elongatus cultivated in a new type of photobioreactor. BBA 1706:147–157. doi:10.1016/j.bbabio.2004.10.007

Kikhney AG, Svergun DI (2015) A practical guide to small angle X-ray scattering (SAXS) of flexible and intrinsically disordered proteins. FEBS Lett 589:2570–2577. doi:10.1016/j.febslet.2015.08.027

Kirkensgaard JJK, Holm JK, Larsen JK, Posselt D (2009) Simulation of small-angle X-ray scattering from thylakoid membranes. J Appl Cryst 42:649–659. doi:10.1107/S0021889809017701

Kline SR (2006) Reduction and analysis of SANS and USANS data using IGOR Pro. J Appl Cryst 39:895–900. doi:10.1107/S0021889806035059

Konarev PV, Volkov VV, Sokolova AV, Koch MHJ, Svergun DI (2003) PRIMUS: a windows PC-based system for small-angle scattering data analysis. J Appl Cryst 36:1277–1282. doi:10.1107/S0021889803012779

Kühn P, Pieper J, Kaminskaya O, Eckert HJ, Lechner RE, Shuvalov V, Renger G (2005) Reaction pattern of photosystem II: oxidative water cleavage and protein flexibility. Photosynth Res 84:317–323. doi:10.1007/s11120-004-7079-8

Le RK et al (2014) Analysis of the solution structure of Thermosynechococcus elongatus photosystem I in n-dodecyl-beta-D-maltoside using small-angle neutron scattering and molecular dynamics simulation. Arch Biochem Biophys 550–551:50–57. doi:10.1016/j.abb.2014.04.005

le Maire M, Champeil P, Moller JV (2000) Interaction of membrane proteins and lipids with solubilizing detergents. BBA 1508:86–111. doi:10.1016/S0304-4157(00)00010-1

Li Y et al. (2016) Characterization of red-shifted phycobilisomes isolated from the chlorophyll f-containing cyanobacterium Halomicronema hongdechloris. BBA 1857:107–114. doi:10.1016/j.bbabio.2015.10.009

Liberton M, Page LE, O'Dell WB, O'Neill H, Mamontov E, Urban VS, Pakrasi HB (2013) Organization and flexibility of cyanobacterial thylakoid membranes examined by neutron scattering. J Biol Chem 288:3632–3640. doi:10.1074/jbc.M112.416933

Mazor Y, Nataf D, Toporik H, Nelson N (2014) Crystal structures of virus-like photosystem I complexes from the mesophilic cyanobacterium Synechocystis PCC 6803. eLife 3:1–17. doi:10.7554/eLife.01496

Mazor Y, Borovikova A, Nelson N (2015) The structure of plant photosystem I super-complex at 2.8 A resolution. eLife 4:1–18. doi:10.7554/eLife.07433

Mershin A et al. (2012) Self-assembled photosystem-I biophotovoltaics on nanostructured TiO(2)and ZnO. Sci Rep 2:234. doi:10.1038/srep00234

Mo Y, Lee BK, Ankner JF, Becker JM, Heller WT (2008) Detergent-associated solution conformations of Helical and beta-Barrel Membrane proteins. J Phys Chem B 112:13349–13354. doi:10.1021/Jp801266r

Moller JV, le Maire M (1993) Detergent binding as a measure of hydrophobic surface area of integral membrane proteins. J Biol Chem 268:18659–18672

Müh F, Zouni A (2008) Micelle formation in the presence of photosystem I. BBA 1778:2298–2307. doi:10.1016/j.bbamem.2008.05.016

Nagy G et al (2011) Reversible membrane reorganizations during photosynthesis in vivo: revealed by small-angle neutron scattering. Biochem J 436:225–230. doi:10.1042/BJ20110180

Nagy G, Garab G, Pieper J (2014) Neutron scattering in photosynthesis research. In: Allakhverdiev S, Rubin AB, Shuvalov VA (eds) Contemporary Problems of Photosynthesis vol 1. Institute of Computer Science, Izhevsk, pp 69–121

NanoStar. (2015) Brucker. https://www.bruker.com/products/X-ray-diffraction-and-elemental-analysis/X-ray-diffraction/nanostar/overview.html.

Nelson N, Yocum CF (2006) Structure and function of photosystems I and II. Annu Rev Plant Biol 57:521–565. doi:10.1146/annurev.arplant.57.032905.105350

Neugebauer JM (1990) Detergents: an overview. Methods Enzymol 182:239–253. doi:10.1016/0076-6879(90)82020-3

O'Neill H, Heller WT, Helton KE, Urban VS, Greenbaum E (2007) Small-angle X-ray scattering study of photosystem I-detergent complexes: implications for membrane protein crystallization. J Phys Chem B 111:4211–4219. doi:10.1021/jp067463x

Pebay-Peyroula E, Garavito RM, Rosenbusch JP, Zulauf M, Timmins PA (1995) Detergent structure in tetragonal crystals of OmpF porin. Structure 3:1051–1059. doi:10.1016/S0969-2126(01)00241-6

Pieper J, Renger G (2009) Protein dynamics investigated by neutron scattering. Photosynth Res 102:281–293. doi:10.1007/s11120-009-9480-9

Pieper J et al (1999) Effects of Aggregation on Trimeric Light-Harvesting Complex II of Green Plants: A Hole-Burning Study. J Phys Chem A 103:2422–2428. doi:10.1021/jp983958d

Pieper J, Irrgang KD, Renger G, Lechner RE (2004) Density of vibrational states of the light-harvesting complex II of green plants studied by inelastic neutron scattering. J Phys Chem B 108:10556–10565. doi:10.1021/Jp049341f

Pieper J, Trapp M, Skomorokhov A, Natkaniec I, Peters J, Renger G (2012) Temperature-dependent vibrational and conformational dynamics of photosystem II membrane fragments from spinach investigated by elastic and inelastic neutron scattering. BBA 1817:1213–1219. doi:10.1016/j.bbabio.2012.03.020

Pieper J, Rusevich L, Hauss T, Renger G (2015) Lamellar spacing of photosystem II membrane fragments upon dehydration studied by neutron membrane diffraction. Optofluid 2:36–40. doi:10.1515/optof-2015-0005

Saboe PO et al (2014) Two-dimensional protein crystals for solar energy conversion. Adv Mater 26:7064–7069. doi:10.1002/adma.201402375

Seddon AM, Curnow P, Booth PJ (2004) Membrane proteins, lipids and detergents: not just a soap opera. BBA 1666:105–117. doi:10.1016/j.bbamem.2004.04.011

Slowik D, Rossmann M, Konarev PV, Irrgang KD, Saenger W (2011) Structural investigation of PsbO from plant and cyanobacterial photosystem II. J Mol Biol 407:125–137. doi:10.1016/j.jmb.2011.01.013

Stieger KR et al (2016a) Engineering of supramolecular photoactive protein architectures: the defined co-assembly of photosystem I and cytochrome c using a nanoscaled DNA-matrix. Nanoscale 8:10695–10705. doi:10.1039/c6nr00097e

Stieger KR, Feifel SC, Lokstein H, Hejazi M, Zouni A, Lisdat F (2016b) Biohybrid architectures for efficient light-to-current conversion based on photosystem I within scalable 3D mesoporous electrodes. J Mater Chem A 24:17009–17017

Svergun DI (1992) Determination of the regularization parameter in indirect-transform methods using perceptual criteria. J Appl Cryst 25:495–503. doi:10.1107/S0021889892001663

Svergun DI, Barberato C, Koch MHJ (1995) CRYSOL - a program to evaluate X-ray solution scattering of biological macromolecules form atomic coordinates. J Appl Cryst 28:768–773. doi:10.1107/S0021889895007047

Tang KH, Blankenship RE (2012) Neutron and light scattering studies of light-harvesting photosynthetic antenna complexes. Photosynth Res 111:205–217. doi:10.1007/s11120-011-9665-x

Tiede DM, Thiyagarjan P (1996) Characterization of photosynthetic supramolecular assemblies using small angle neutron scattering. In: Amesz J, Hoff AJ (eds) Biophysical Techniques in Photosynthesis, vol 3. Springer, Netherlands, pp 375–390. doi:10.1007/0-306-47960-5_23

Tiede DM, Littrell K, Marone PA, Zhang R, Thiyagarjan P (2000) Solution structure of a biological bimolecular electron transfer complex: characterization of the photosynthetic reaction center-cytochrome c2 protein complex by small angle neutron scattering. J Appl Cryst 33:560–564. doi:10.1107/S0021889800099891

Umena Y, Kawakami K, Shen JR, Kamiya N (2011) Crystal structure of oxygen-evolving photosystem II at a resolution of 1.9 A. Nature 473:55–60. doi:10.1038/nature09913

Vasil'ev S, Irrgang KD, Schrotter T, Bergmann A, Eichler HJ, Renger G (1997) Quenching of chlorophyll a fluorescence in the aggregates of LHCII: steady state fluorescence and picosecond relaxation kinetics. BioChemistry 36:7503–7512. doi:10.1021/bi9625253
Acknowledgements
Financial Support provided by the Estonian Science Foundation (Grant No. 9453) and the Estonian Research Council (Grants IUT02-28 and SLOKT 12026 T) is gratefully acknowledged. J. P. is deeply indebted to the European Social Fund's Internationalisation Programme DoRa for financial support. M.H., A.K., H.L., A.Z. gratefully acknowledge financial support by the Bundesministerium für Bildung and Forschung, BMBF, Germany (Biotechnologie 2010+, project: 031A154B). H.L. acknowledges GAČR grant No. P501/12/G005. We thank Dr. Joerg Fettke, University of Potsdam (Germany), for kindly providing access to the Bruker Microflex spectrometer.
About this article
Cite this article
Golub, M., Hejazi, M., Kölsch, A. et al. Solution structure of monomeric and trimeric photosystem I of Thermosynechococcus elongatus investigated by small-angle X-ray scattering. Photosynth Res 133, 163–173 (2017). https://doi.org/10.1007/s11120-017-0342-6
Received:

Accepted:

Published:

Issue Date:
Keywords
Photosystem I

n-Dodecyl-β-D-maltoside

Detergent belt

Small-angle X-ray scattering