Abstract
Light and temperature affect state transitions through changes in the plastoquinone (PQ) redox state in photosynthetic organisms. We demonstrated that light and/or heat treatment induced preferential photosystem (PS) I excitation by binding light-harvesting complex II (LHCII) proteins. The photosystem of wheat was in state 1 after dark overnight treatment, wherein PQ was oxidized and most of LHCII was not bound to PSI. At the onset of the light treatment [25 °C in the light (100 µmol photons m−2 s−1)], two major LHCIIs, Lhcb1 and Lhcb2 were phosphorylated, and the PSI–LHCII supercomplex formed within 5 min, which coincided with an increase in the PQ oxidation rate. Heat treatment at 40 °C of light-adapted wheat led to further LHCII protein phosphorylation of, resultant cyclic electron flow promotion, which was accompanied by ultrafast excitation of PSI and structural changes of thylakoid membranes, thereby protecting PSII from heat damage. These results suggest that LHCIIs are required for the functionality of wheat plant PSI, as it keeps PQ oxidized by regulating photochemical electron flow, thereby helping acclimation to environmental changes.
Access options
Buy single article
Instant access to the full article PDF.
USD 39.95
Price excludes VAT (USA)
Tax calculation will be finalised during checkout.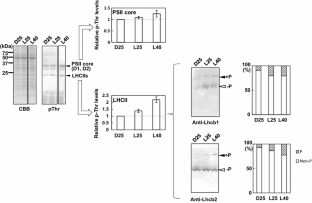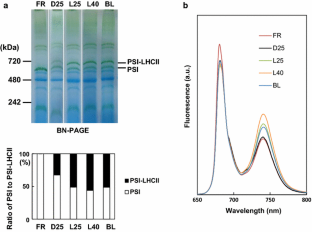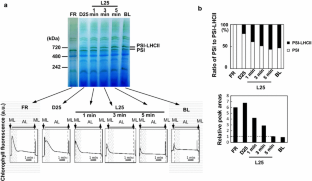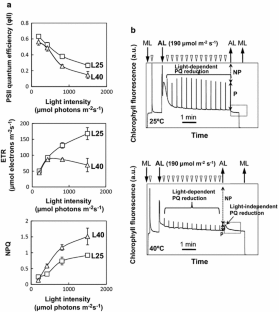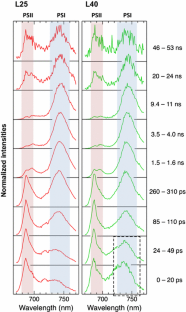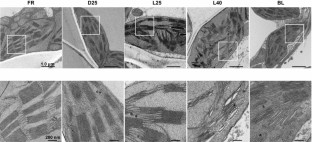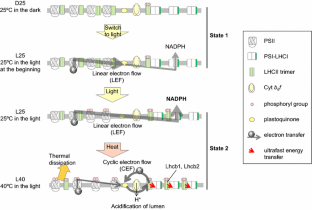 Abbreviations
α-DM:

n-dodecyl-α-d-maltoside

AL:

Actinic light

BL:

Blue light

BN-PAGE:

Blue native-polyacrylamide gel electrophoresis

CEF:

Cyclic electron flow

ETR:

Photosynthetic electron transport rate

FR:

Far-red light

LEF:

Linear electron flow

LHCII:

Light-harvesting complex II

NPQ:

Nonphotochemical quenching

φII:

Photosystem II quantum efficiency

PQ:

Plastoquinone

PS:

Photosystem

STN:

Ser–Thr kinase

TEM:

Transmission electron microscopy

TRFS:

Time-resolved fluorescence spectra
References
Akimoto S, Yokono M, Yokono E, Aikawa S, Kondo A (2014) Short-term light adaptation of a cyanobacterium, Synechocystis sp. PCC 6803, probed by time-resolved fluorescence spectroscopy. Plant Physiol Biochem 81:149–154

Allakhverdiev SI, Kreslavski VD, Klimov VV, Los DA, Carpentier R, Mohanty P (2008) Heat stress: an overview of molecular responses in photosynthesis. Photosynth Res 98:541–550

Allen JF, Forsberg J (2001) Molecular recognition in thylakoid structure and function. Trends Plant Sci 6:317–326

Bellafiore S, Barneche F, Peltier G, Rochaix JD (2005) State transitions and light adaptation require chloroplast thylakoid protein kinase STN7. Nature 433:892–895

Berry JA, Björkman O (1980) Photosynthetic response and adaptation to temperature in higher plants. Annu Rev Plant Physiol 31:491–543

Chuartzman SG, Nevo R, Shimoni E, Charuvi D, Kiss V, Ohad I, Brumfeld V, Reich Z (2008) Thylakoid membrane remodeling during state transitions in Arabidopsis. Plant Cell 20:1029–1039

Clausen Casper H, Brooks Matthew D, Li TD, Grob P, Kemalyan G, Nogales E, Niyogi KK, Fletcher Daniel A (2014) Dynamic mechanical responses of Arabidopsis thylakoid membranes during PSII-specific illumination. Biophys J 106:1864–1870

Ducruet JM, Peeva V, Havaux M (2007) Chlorophyll thermofluorescence and thermoluminescence as complementary tools for the study of temperature stress in plants. Photosynth Res 93:159–171

Finazzi G, Rappaport F, Furia A, Fleischmann M, Rochaix JD, Zito F, Forti G (2002) Involvement of state transitions in the switch between linear and cyclic electron flow in Chlamydomonas reinhardtii. EMBO Rep 3:280–285

Fristedt R, Willig A, Granath P, Crevecoeur M, Rochaix JD, Vener AV (2009) Phosphorylation of photosystem II controls functional macroscopic folding of photosynthetic membranes in Arabidopsis. Plant Cell 21:3950–3964

Galka P, Santabarbara S, Khuong TT, Degand H, Morsomme P, Jennings RC, Boekema EJ, Caffarri S (2012) Functional analyses of the plant photosystem I-light-harvesting complex II supercomplex reveal that light-harvesting complex II loosely bound to photosystem II is a very efficient antenna for photosystem I in state II. Plant Cell 24:2963–2978

Gounaris K, Brain ARR, Quinn PJ, Williams WP (1984) Structural reorganization of chloroplast thylakoid membranes in response to heat stress. Biochim Biophys Acta 766:198–208

Havaux M, Greppin H, Strasser R (1991) Functioning of photosystems I and II in pea leaves exposed to heat stress in the presence or absence of light. Planta 186:88–98

Järvi S, Suorsa M, Paakkarinen V, Aro EM (2011) Optimized native gel systems for separation of thylakoid protein complexes: novel super- and mega-complexes. Biochem J 439:207–214

Kinoshita E, Kinoshita-Kikuta E, Takiyama K, Koike T (2006) Phosphate-binding tag, a new tool to visualize phosphorylated proteins. Mol Cell Proteom 5:749–757

Kouřil R, Zygadlo A, Arteni AA, de Wit CD, Dekker JP, Jensen PE, Scheller HV, Boekema EJ (2005) Structural characterization of a complex of photosystem i and light-harvesting complex II of Arabidopsis thaliana. Biochemistry 44:10935–10940

Leoni C, Pietrzykowska M, Kiss AZ, Suorsa M, Ceci LR, Aro EM, Jansson S (2013) Very rapid phosphorylation kinetics suggest a unique role for Lhcb2 during state transitions in Arabidopsis. Plant J 76:236–246

Marutani Y, Yamauchi Y, Kimura Y, Mizutani M, Sugimoto Y (2012) Damage to photosystem II due to heat stress without light-driven electron flow: involvement of enhanced introduction of reducing power into thylakoid membranes. Planta 236:753–761

Marutani Y, Yamauchi Y, Miyoshi A, Inoue K, Ikeda K, Mizutani M, Sugimoto Y (2014) Regulation of photochemical energy transfer accompanied by structural changes in thylakoid membranes of heat-stressed wheat. Int J Mol Sci 15:23042–23058

Minagawa J (2011) State transitions – the molecular remodeling of photosynthetic supercomplexes that controls energy flow in the chloroplast. Biochim Biophys Acta 1807:897–905

Pålsson LO, Tjus SE, Andersson B, Gillbro T (1995) Energy transfer in photosystem I. Time resolved fluorescence of the native photosystem I complex and its core complex. Chem Phys 194:291–302

Peng L, Shimizu H, Shikanai T (2008) The chloroplast NAD(P)H dehydrogenase complex interacts with photosystem I in Arabidopsis. J Biol Chem 283:34873–34879

Pesaresi P, Hertle A, Pribil M, Kleine T, Wagner R, Strissel H, Ihnatowicz A, Bonardi V, Scharfenberg M, Schneider A, Pfannschmidt T, Leister D (2009) Arabidopsis STN7 kinase provides a link between short- and long-term photosynthetic acclimation. Plant Cell 21:2402–2423

Pietrzykowska M, Suorsa M, Semchonok DA, Tikkanen M, Boekema EJ, Aro E-M, Jansson S (2014) The light-harvesting chlorophyll a/b binding proteins Lhcb1 and Lhcb2 play complementary roles during state transitions in Arabidopsis. Plant Cell 26:3646–3660

Sharkey TD, Zhang R (2010) High temperature effects on electron and proton circuits of photosynthesis. J Integr Plant Biol 52:712–722

Vainonen JP, Hansson M, Vener AV (2005) STN8 protein kinase in Arabidopsis thaliana is specific in phosphorylation of photosystem II core proteins. J Biol Chem 280:33679–33686

Wientjes E, van Amerongen H, Croce R (2013) LHCII is an antenna of both photosystems after long-term acclimation. Biochim Biophys Acta 1827:420–426

Wollman FA (2001) State transitions reveal the dynamics and flexibility of the photosynthetic apparatus. EMBO J 16:3623–3630

Yamane Y, Shikanai T, Kashino Y, Koike H, Satoh K (2000) Reduction of QA in the dark: another cause of fluorescence Fo increases by high temperatures in higher plants. Photosynth Res 63:23–34

Zhang S, Scheller HV (2004) Light-harvesting complex II binds to several small subunits of photosystem I. J Biol Chem 279:3180–3187

Zhang R, Sharkey T (2009) Photosynthetic electron transport and proton flux under moderate heat stress. Photosynth Res 100:29–43
Acknowledgments
This work was supported by Grant-in-Aids for Scientific Research (Y. Y., 23580456) from the Ministry of Education, Culture, Sports, Science and Technology, Japan, and JSPS Research Fellowship for Young Scientists (Y. M., 251843).
Electronic supplementary material
Below is the link to the electronic supplementary material.
About this article
Cite this article
Marutani, Y., Yamauchi, Y., Higashiyama, M. et al. Essential role of the PSI–LHCII supercomplex in photosystem acclimation to light and/or heat conditions by state transitions. Photosynth Res 131, 41–50 (2017). https://doi.org/10.1007/s11120-016-0295-1
Received:

Accepted:

Published:

Issue Date:

DOI: https://doi.org/10.1007/s11120-016-0295-1
Keywords
Heat stress

Photosynthetic electron flow

Photosystem

Protein phosphorylation

State transition

Thylakoid membrane

Wheat