Abstract
Jalal A. Aliyev was a distinguished and respected plant biologist of our time, a great teacher, and great human being. He was a pioneer of photosynthesis research in Azerbaijan. Almost up to the end of his life, he was deeply engaged in research. His work on the productivity of wheat, and biochemistry, genetics and molecular biology of gram (chick pea) are some of his important legacies. He left us on February 1, 2016, but many around the world remember him as he was engaged in international dialog on solving global issues, and in supporting international conferences on ''Photosynthesis Research for Sustainability" in 2011 and 2013.
This is a preview of subscription content, log in to check access.
Access options
Buy single article
Instant access to the full article PDF.
US$ 39.95
Price includes VAT for USA
Subscribe to journal
Immediate online access to all issues from 2019. Subscription will auto renew annually.
US$ 199
This is the net price. Taxes to be calculated in checkout.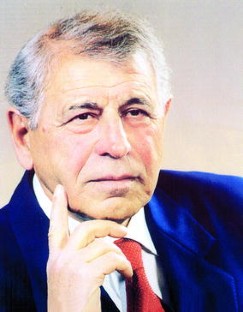 References
Aliyev JA (1974) Photosynthetic activity, mineral nutrition and plant productivity. Baku: Elm, p 335 (In Russian)

Aliyev JA (2012) Photosynthesis, photorespiration and productivity of wheat and soybean genotypes. Physiol Plant 145(3):369–383

Aliyev JA, Suprun VL, Guliyev NM, Mamedov TG (1985) Quaternary structure of carbonic anhydrase in leaves of a dicot plant Cicer arietinum. Rep Acad Sci USSR 285(6):1472–1475

Aliyev JA, Gulaliyev TD, Aleksakhin RM (1991) Distribution of 90Sr and 137Cs in Azerbaijan soils and accumulation of these radionuclides by agricultural plants. Russ J Agrochem 11:89–95

Aliyev JA, Кerimov SK, Guliyev NM, Akhmedov AA (1996) Carbon metabolism in wheat genotypes with contrasting photosynthetic characteristics. Russ J Plant Physiol 43(1):42–48

Allakhverdiev SI, Huseynova IM, Govindjee (2013) International conference on Photosynthesis research for sustainability-2013. In: Honor of Jalal A. Aliyev, held during June 5–9, 2013, Baku, Azerbaijan. Photosynth Res 118:297–307

Asadov AA, Zulfugarov IS, Suleymanov SY, Aliyev JA (1987) The study of the topography of pigment-protein complexes in thylakoid membranes of chloroplasts. Rep Acad Sci USSR 294(3):703–707

Huseynova IM, Suleymanov SY, Aliyev JA (2007) Structural-functional state of thylakoid membranes of wheat genotypes under water stress. Biochim Biophys Acta 1767(6):869–875

Shahmuradov IA, Akberova YY, Solovyev VV, Aliyev JA (2003) Abundance of plastid DNA insertions in nuclear genomes of rice and Arabidopsis. Plant Mol Biol 52:923–934
Additional information
This Tribute was read and edited by William W. Adams III, and accepted for publication by Barbara Demmig-Adams, Associate Editor of Photosynthesis Research.
The first author (IMH) of this Tribute was Jalal Aliyev's student, and then co-worker until the last day of his life. Professor Aliyev was the first research adviser of the second author (SIA). The last and corresponding author (Govindjee) has been an admirer of Jalal as a dynamic scientist who supported Photosynthesis Research towards the goal of ensuring the future of the World for humanity.
This tribute was written when Govindjee was a visiting professor of Life Sciences, at Jawaharlal Nehru University, New Delhi, India (December 2015–February 2016).
About this article
Cite this article
Huseynova, I.M., Allakhverdiev, S.I. & Govindjee Jalal A. Aliyev (1928–2016): a great scientist, a great teacher and a great human being. Photosynth Res 128, 219–222 (2016). https://doi.org/10.1007/s11120-016-0242-1
Accepted:

Published:

Issue Date:
Keywords
Azerbaijan

Cicer arietinum (gram)

Photorespiration

Plant productivity

Sustainibility

High-yielding wheat Triticum durum