Abstract
Fucoxanthin–chlorophyll proteins (FCP) are the major light-harvesting proteins of diatom algae, a major contributor to marine carbon fixation. FCP complexes from representatives of centric (Cyclotella meneghiniana) and pennate (Phaeodactylum tricornutum) diatoms were prepared by sucrose gradient centrifugation and studied by means of electron microscopy followed by single particle analysis. The oligomeric FCP from a centric diatom were observed to take the form of unusual chain-like or circular shapes, a very unique supramolecular assembly for such antennas. The existence of the often disputed oligomeric form of FCP in pennate diatoms has been confirmed. Contrary to the centric diatom FCP, pennate diatom FCP oligomers are very similar to oligomeric antennas from related heterokont (Stramenopila) algae. Evolutionary aspects of the presence of novel light-harvesting protein arrangement in centric diatoms are discussed.
Access options
Buy single article
Instant access to the full article PDF.
US$ 39.95
Tax calculation will be finalised during checkout.
Subscribe to journal
Immediate online access to all issues from 2019. Subscription will auto renew annually.
US$ 119
Tax calculation will be finalised during checkout.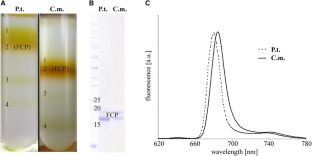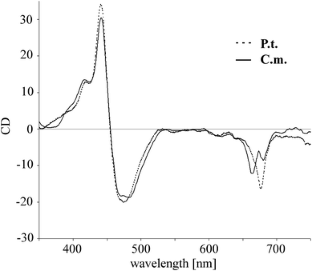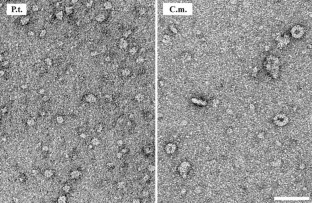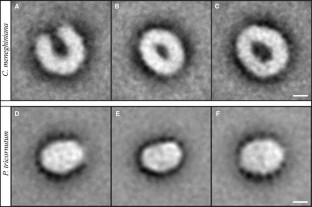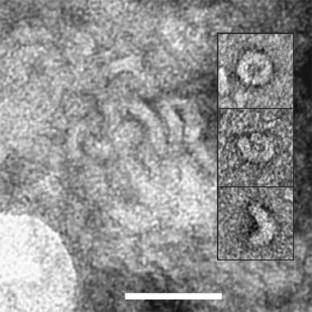 Abbreviations
Chl:

Chlorophyll

MES:

2-(N-morpholino)ethanesulfonic acid

DM:

n-Dodecyl-β-d-maltoside

TEM:

Transmission electron microscopy

FCP:

Fucoxanthin–chlorophyll proteins

LHC:

Light-harvesting complex

PSI:

Photosystem I

PSII:

Photosystem II

SDS-PAGE:

Polyacrylamide gel electrophoresis in the presence of sodium dodecylsulfate

CD:

Circular dichroism
References
Barros T, Kühlbrandt W (2009) Crystallisation, structure and function of plant light-harvesting Complex II. Biochim Biophys Acta 1787:753–772

Ben-Shem A, Frolow F, Nelson N (2003) Crystal structure of plant photosystem I. Nature 426:630–635

Boekema EJ, van Roon H, Calkoen F, Bassi R, Dekker JP (1999) Multiple types of association of photosystem II and its light-harvesting antenna in partially solubilized photosystem II membranes. Biochemistry 38:2233–2239

Büchel C (2003) Fucoxanthin–chlorophyll proteins in diatoms: 18 and 19 kDa subunits assemble into different oligomeric states. Biochemistry 42:13027–13034

Busch A, Nield J, Hippler M (2010) The composition and structure of photosystem I-associated antenna from Cyanidioschyzon merolae. Plant J 62:886–897

Dekker JP, van Roon H, Boekema EJ (1999) Heptameric association of light-harvesting complex II trimers in partially solubilized photosystem II membranes. FEBS Lett 449:211–214

Dittami SM, Michel G, Collén J, Boyen C, Tonon T (2010) Chlorophyll-binding proteins revisited—a multigenic family of light-harvesting and stress proteins from a brown algal perspective. BMC Evol Biol 10:365

Eppard M, Rhiel E (1998) The genes encoding light-harvesting subunits of Cyclotella cryptica (Bacillariophyceae) constitute a complex and heterogeneous family. Mol Gen Genet 260:335–345

Falciatore A, Bowler C (2002) Revealing the molecular secrets of marine diatoms. Annu Rev Plant Biol 53:109–130

Falkowski PG, Katz ME, Knoll AH, Quigg A, Raven JA, Schofield O, Taylor FJR (2004) The evolution of modern eukaryotic phytoplankton. Science 305:354–360

Field CB, Behrenfeld MJ, Randerson JT, Falkowski PG (1998) Primary production of the biosphere: integrating terrestial and oceanic components. Science 281:237–240

Frank J, Radermacher M, Penczek P, Zhu J, Li YH, Ladjadj M, Leith A (1996) SPIDER and WEB: processing and visualization of images in 3D electron microscopy and related fields. J Struct Biol 116:190–199

Fujii R, Kita M, Iinuma Y, Oka N, Takaesu Y, Taira T, Iha M, Cogdell RJ, Hashimoto H (2012) Isolation and purification of the major photosynthetic antenna, Fucoxanthin–Chl a/c protein, from cultured discoid germilings of the brown Alga, Cladosiphon okamuranus TOKIDA (Okinawa Mozuku). Photosynth Res 111:157–163

Gardian Z, Bumba L, Schrofel A, Herbstova M, Nebesarova J, Vacha F (2007) Organisation of Photosystem I and Photosystem II in red alga Cyanidium caldarium: encounter of cyanobacterial and higher plant concepts. Biochim Biophys Acta 1767:725–731

Gardian Z, Tichy J, Vacha F (2011) Structure of PSI, PSII and antennae complexes from yellow-green alga Xanthonema debile. Photosynth Res 108:25–32

Grouneva I, Rokka A, Aro EM (2011) The thylakoid membrane proteome of two marine diatoms outlines both diatom-specific and species-specific features of the photosynthetic machinery. J Proteome Res 10:5338–5353

Guglielmi G, Lavaud J, Rousseau B, Etienne AL, Houmard J, Ruban AV (2005) The light-harvesting antenna of the diatom Phaeodactylum tricornutum. Evidence for a diadinoxanthin-binding subcomplex. FEBS J 272:4339–4348

Gundermann K, Büchel C (2008) The fluorescence yield of the trimeric fucoxanthin–chlorophyll-protein FCPa in the diatom Cyclotella meneghiniana is dependent on the amount of bound diatoxanthin. Photosynth Res 95:229–235

Gundermann K, Büchel C (2012) Factors determining the fluorescence yield of fucoxanthin–chlorophyll complexes (FCP) involved in non-photochemical quenching in diatoms. Biochim Biophys Acta 1817:1044–1052

Gundermann K, Schmidt M, Weisheit W, Mittag M, Büchel C (2013) Identification of several sub-populations in the pool of light harvesting proteins in the pennate diatom Phaeodactylum tricornutum. Biochim Biophys Acta 1827:303–310

Harauz G, Boekema EJ, van Heel M (1988) Statistical image analysis of electron micrographs of ribosomal subunits. Methods Enzymol 164:35–49

Hoffman GE, Sanchez Puerta MV, Delwiche CF (2011) Evolution of light-harvesting complex proteins from Chl c-containing algae. BMC Evol Biol 11:101

Ikeda Y, Yamagishi A, Komura M, Suzuki T, Dohmae N, Shibata Y, Itoh S, Koike H, Satoh K (2013) Two types of fucoxanthin–chlorophyll-binding proteins I tightly bound to the photosystem I core complex in marine centric diatoms. Biochim Biophys Acta 1827:529–539

Joshi-Deo J, Schmidt M, Gruber A, Weisheit W, Mittag M, Kroth PG, Büchel C (2010) Characterization of a trimeric light-harvesting complex in the diatom Phaeodactylum tricornutum built of FcpA and FcpE proteins. J Exp Bot 61:3079–3087

Katoh T, Ehara T (1990) Supramolecular assembly of fucoxanthin–chlorophyll-protein complexes isolated from a brown alga, Petalonia fascia. Electron microscopic studies. Plant Cell Physiol 31:439–447

Katoh T, Mimuro M, Takaichi S (1989) Light-harvesting particles isolated from a brown alga, Dictyota dichotoma—a supramolecular assembly of fucoxanthin–chlorophyll-protein complexes. Biochim Biophys Acta 976:233–240

Kooistra WHCF, Gersonde R, Medlin LK, Mann DG (2007) The origin and evolution of the diatoms: their adaptation to a planktonic existence. In: Falkowski PG, Knoll AH (eds) Evolution of primary producers in the sea. Academic Press-Elsevier, Amsterdam, pp 207–249

Kouril R, Wientjes E, Bultema JB, Croce R, Boekema EJ (2013) High-light vs. low-light: effect of light acclimation on photosystem II composition and organization in Arabidopsis thaliana. Biochim Biophys Acta 1827:411–419

Lang M, Kroth PG (2001) Diatom fucoxanthin chlorophyll a/c-binding protein (FCP) and land plant light-harvesting proteins use a similar pathway for thylakoid membrane insertion. J Biol Chem 276:7985–7991

Lepetit B, Volke D, Szabó M, Hoffmann R, Garab G, Wilhelm C, Goss R (2007) Spectroscopic and molecular characterization of the oligomeric antenna of the diatom Phaeodactylum tricornutum. Biochemistry 46:9813–9822

Lepetit B, Goss R, Jakob T, Wilhelm C (2012) Molecular dynamics of the diatom thylakoid membrane under different light conditions. Photosynth Res 111:245–257

Miloslavina Y, Wehner A, Lambrev PH, Wientjes E, Reus M, Garab G, Croce R, Holzwarth AR (2008) Far-red fluorescence: a direct spectroscopic marker for LHCII oligomer formation in non-photochemical quenching. FEBS Lett 582:3625–3631

Nagao R, Takahashi S, Suzuki T, Dohmae N, Nakazato K, Tomo T (2013) Comparison of oligomeric states and polypeptide compositions of fucoxanthin chlorophyll a/c-binding protein complexes among various diatom species. Photosynth Res 117:281–288

Ogawa T, Vernon LP (1971) Increased content of cytochromes 554 and 562 in Anabaena variabilis cells grown in the presence of diphenylamine. Biochim Biophys Acta 226:88–97

Papagiannakis E, HM van Stokkum I, Fey H, Büchel C, van Grondelle R (2005) Spectroscopic characterization of the excitation energy transfer in the fucoxanthin–chlorophyll protein of diatoms. Photosynth Res 86:241–250

Pascal AA, Liu Z, Broess K, van Oort B, van Amerongen H, Wang C, Horton P, Robert B, Chang W, Ruban A (2005) Molecular basis of photoprotection and control of photosynthetic light-harvesting. Nature 436:134–137

Premvardhan L, Robert B, Beer A, Büchel C (2010) Pigment organization in fucoxanthin chlorophyll a/c(2) proteins (FCP) based on resonance Raman spectroscopy and sequence analysis. Biochim Biophys Acta 1797:1647–1656

Pyszniak A, Gibbs SP (1992) Immunocytochemical localization of photosystem I and the fucoxanthin–chlorophyll a/c light-harvesting complex in the diatom Phaeodactylum tricornutum. Protoplasma 166:208–217

Sims PA, Mann DG, Medlin LK (2006) Evolution of the diatoms: insights from fossil, biological and molecular data. Phycologia 45:361–402

Tichy J, Gardian Z, Bina D, Konik P, Litvin R, Herbstova M, Pain A, Vacha F (2013) Light harvesting complexes of Chromera velia, photosynthetic relative of apicomplexan parasites. Biochim Biophys Acta 1827:723–729

van Heel M, Frank J (1981) Use of multivariate statistics in analyzing the images of biological macromolecules. Ultramicroscopy 6:187–194

Walz T, Jamieson SJ, Bowers CM, Bullough PA, Hunter CN (1998) Projection structures of three photosynthetic complexes from Rhodobacter sphaeroides: LH2 at 6 A, LH1 and RC-LH1 at 25 A. J Mol Biol 282:833–845

Westermann M, Rhiel E (2005) Localisation of fucoxanthin chlorophyll a/c-binding polypeptides of the centric diatom Cyclotella cryptica by immuno-electron microscopy. Protoplasma 225:217–223

Wientjes E, Oostergetel GT, Jansson S, Boekema EJ, Croce R (2009) The role of Lhca complexes in the supramolecular organization of higher plant photosystem I. J Biol Chem 284:7803–7810

Wientjes E, Drop B, Kouril R, Boekema EJ, Croce R (2013) During state 1 to state 2 transition in Arabidopsis thaliana the Photosystem II supercomplex gets phosphorylated but does not disassemble. J Biol Chem 288(46):32821–32826
Acknowledgments
The authors would like to acknowledge institutional support RVO:60077344 as well as financial support of the Czech Science Foundation projects P205/11/1164 (Z. G.) and P501/12/G055 (R. L., D. B. and F. V.).
Electronic supplementary material
Below is the link to the electronic supplementary material.
About this article
Cite this article
Gardian, Z., Litvín, R., Bína, D. et al. Supramolecular organization of fucoxanthin–chlorophyll proteins in centric and pennate diatoms. Photosynth Res 121, 79–86 (2014). https://doi.org/10.1007/s11120-014-9998-3
Received:

Accepted:

Published:

Issue Date:
Keywords
Photosynthesis

Transmission electron microscopy

Fucoxanthin–chlorophyll proteins

Diatoms

Light harvesting

Thylakoid membrane