Abstract
The UV-B photoreceptor UVR8 regulates expression of genes in response to UV-B, some encoding chloroplast proteins, but the importance of UVR8 in maintaining photosynthetic competence is unknown. The maximum quantum yield of PSII (F v/F m) and the operating efficiency of PSII (Φ PSII) were measured in wild-type and uvr8 mutant Arabidopsis thaliana. The importance of specific UVR8-regulated genes in maintaining photosynthetic competence was examined using mutants. Both F v/F m and Φ PSII decreased when plants were exposed to elevated UV-B, in general more so in uvr8 mutant plants than wild-type. UV-B increased the level of psbD-BLRP (blue light responsive promoter) transcripts, encoding the PSII D2 protein. This increase was mediated by the UVR8-regulated chloroplast RNA polymerase sigma factor SIG5, but SIG5 was not required to maintain photosynthetic efficiency at elevated UV-B. Levels of the D1 protein of PSII decreased markedly when plants were exposed to elevated UV-B, but there was no significant difference between wild-type and uvr8 under conditions where the mutant showed increased photoinhibition. The results show that UVR8 promotes photosynthetic efficiency at elevated levels of UV-B. Loss of the DI polypeptide is probably important in causing photoinhibition, but does not entirely explain the reduced photosynthetic efficiency of the uvr8 mutant compared to wild-type.
Access options
Buy single article
Instant access to the full article PDF.
USD 39.95
Price excludes VAT (USA)
Tax calculation will be finalised during checkout.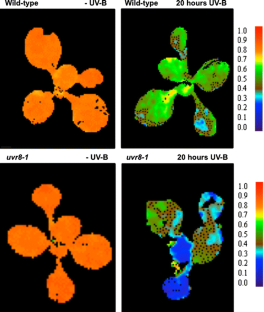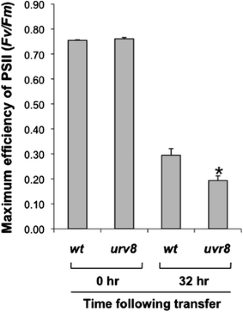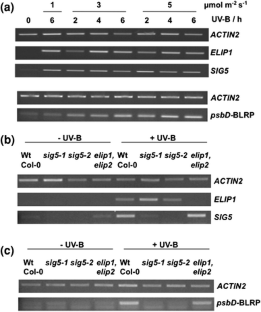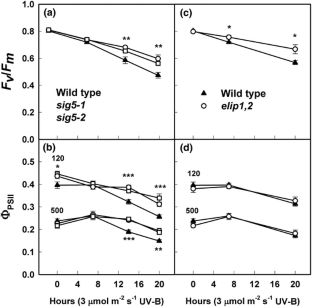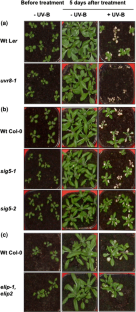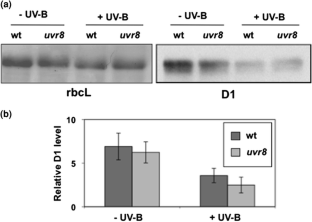 References
Booij-James IS, Dube SK, Jansen MAK, Edelman M, Mattoo AK (2000) Ultraviolet-B radiation impacts light-mediated turnover of the photosystem II reaction center heterodimer in Arabidopsis mutants altered in phenolic metabolism. Plant Physiol 124:1275–1283

Brosché N, Strid A (2003) Molecular events following perception of ultraviolet-B radiation by plants. Physiologia Plant 117:1–10

Brown BA, Jenkins GI (2008) UV-B signaling pathways with different fluence-rate response profiles are distinguished in mature Arabidopsis leaf tissue by requirement for UVR8, HY5, and HYH. Plant Physiol 146:576–588

Brown BA, Cloix C, Jiang GH, Kaiserli E, Herzyk P, Kliebenstein DJ, Jenkins GI (2005) A UV-B-specific signaling component orchestrates plant UV protection. Proc Natl Acad Sci USA 102:18225–18230

Brown BA, Headland LR, Jenkins GI (2009) UV-B action spectrum for UVR8-mediated HY5 transcript accumulation in Arabidopsis. Photochem Photobiol 85:1147–1155

Caldwell MM, Bornman JF, Ballaré CL, Flint SD, Kulandaivelu G (2007) Terrestrial ecosystems, increased solar ultraviolet radiation, and interactions with other climate change factors. Photochem Photobiol Sci 6:252–266

Casati P, Walbot V (2004) Rapid transcriptome responses of maize (Zea mays) to UV-B in irradiated and shielded tissues. Genome Biol 5:R16

Christie JM, Arvai AS, Baxter KJ, Heilmann M, Pratt AJ, O'Hara A, Kelly SM, Hothorn M, Smith BO, Hitomi K, Jenkins GI, Getzoff ED (2012) Plant UVR8 photoreceptor senses UV-B by tryptophan-mediated disruption of cross-dimer salt bridges. Science 335:1492–1496

Cloix C, Jenkins GI (2008) Interaction of the Arabidopsis UV-B-specific signalling component UVR8 with chromatin. Mol Plant 1:118–128

Edelman M, Mattoo AK (2008) D1-protein dynamics in photosystem II: the lingering enigma. Photosynth Res 98:609–620

Favory JJ, Stec A, Gruber H, Rizzini L, Oravecz A, Funk M, Albert A, Cloix C, Jenkins GI, Oakeley EJ, Seidlitz HK, Nagy F, Ulm R (2009) Interaction of COP1 and UVR8 regulates UV-B-induced photomorphogenesis and stress acclimation in Arabidopsis. EMBO J 28:591–601

Foggo A, Higgins S, Wargent JJ, Coleman RA (2007) Tri-trophic consequences of UV-B exposure: plants, herbivores and parasitoids. Oecologia 154:505–512

Frohnmeyer H, Staiger D (2003) Ultraviolet-B radiation-mediated responses in plants. Balancing damage and protection. Plant Physiol 133:1420–1428

Greenberg BM, Gaba V, Canaani O, Malkin S, Mattoo AK, Edelman M (1989) Separate photosensitizers mediate degradation of the 32-kDa photosystem II reaction centre protein in the visible and UV spectral regions. Proc Natl Acad Sci USA 86:6617–6620

Jansen MAK, Gaba V, Greenberg BM, Mattoo AK, Edelman M (1996) Low threshold levels of UV-B in a background of photosynthetically acive radiation trigger rapid degradation of the D2 protein of photosystemn-II. Plant J 9:693–699

Jansen MAK, Gaba V, Greenberg BM (1998) Higher plants and UV-B radiation: balancing damage, repair and acclimation. Trends Plant Sci 3:131–135

Jenkins GI (2009) Signal transduction in responses to UV-B radiation. Annu Rev Plant Biol 60:407–431

Jenkins GI, Long JC, Wade HK, Shenton MR, Bibikova TN (2001) UV and blue light signalling: pathways regulating chalcone synthase gene expression in Arabidopsis. New Phytol 151:121–131

Jordan BR (1996) The effects of ultraviolet-B radiation on plants: a molecular perspective. Adv Bot Res 22:97–162

Kaiserli E, Jenkins GI (2007) UV-B promotes rapid nuclear translocation of the Arabidopsis UV-B-specific signaling component UVR8 and activates its function in the nucleus. Plant Cell 19:2662–2673

Kanamaru K, Tanaka K (2004) Roles of chloroplast RNA polymerase sigma factors in chloroplast development and stress response in higher plants. Biosci Biotechnol Biochem 68:2215–2223

Kliebenstein DJ, Lim JE, Landry LG, Last RL (2002) Arabidopsis UVR8 regulates ultraviolet-B signal transduction and tolerance and contains sequence similarity to human Regulator of Chromatin Condensation 1. Plant Physiol 130:234–243

Lake JA, Field KJ, Davey MP, Beerling DJ, Lomax BH (2009) Metabolomic and physiological responses reveal multi-phasic acclimation of Arabidopsis to chronic UV radiation. Plant Cell Environm 32:1377–1389

Lerbs-Mache S (2011) Function of plastid sigma factors in higher plants: regulation of gene expression or just preservation of constitutive transcription? Plant Mol Biol 76:235–249

Mochizuki T, Onda Y, Fujiwara E, Wada M, Toyoshima Y (2004) Two independent light signals cooperate in the activation of the plastid psbD blue light-responsive promoter in Arabidopsis. FEBS Letts 571:26–30

Nagashima A, Hanaoka M, Shikanai T, Fujiwara M, Kanamaru K, Takahashi H, Tanaka K (2004) The multiple-stress responsive plastid sigma factor, SIG5, directs activation of the psbD blue light-responsive promoter (BLRP) in Arabidopsis thaliana. Plant Cell Physiol 45:357–368

Nixon P, Michoux F, Yu J, Boehm M, Komenda J (2010) Recent advances in understanding the assembly and repair of photosysten II. Ann Bot 106:1–16

Oravecz A, Baumann A, Mate Z, Brzezinska A, Molinier J, Oakeley EJ, Adam E, Schäfer E, Nagy F, Ulm R (2006) Constitutively photomorphogenic1 is required for the UV-B response in Arabidopsis. Plant Cell 18:1975–1990

Rizzini L, Favory J–J, Cloix C, Faggionato D, O'Hara A, Kaiserli E, Baumeister R, Schäfer E, Nagy F, Jenkins GI, Ulm R (2011) Perception of UV-B by the Arabidopsis UVR8 protein. Science 332:103–106

Rossini S, Casazza AP, Engelmann ECM, Havaux M, Jennings RC, Soave C (2006) Suppression of both ELIP1 and ELIP2 in Arabidopsis does not affect tolerance to photoinhibition and photooxidative stress. Plant Physiol 141:1264–1273

Rozema J, van de Staaij J, Björn LO, Caldwell M (1997) UV-B as an environmental factor in plant life: Stress and regulation. Trends Ecol Evol 12:22–28

Stracke R, Favory J–J, Gruber H, Bartelniewoehner L, Bartels S, Binkert M, Funk M, Weisshaar B, Ulm R (2010) The Arabidopsis bZIP transcription factor HY5 regulates expression of the PFG/MYB12 gene in response to light and ultraviolet-B radiation. Plant Cell Environ 33:88–103

Takahashi S, Badger MR (2010) Photoprotection in plants: a new light on photosystem II damage. Trends Plant Sci 16:53–60

Takahashi S, Murata N (2008) How do environmental stresses accelerate photoinhibition? Trends Plant Sci 13:178–182

Takahashi S, Milward SE, Yamori W, Evans RJ, Hillier W, Badger MR (2010) The solar action spectrum of photosystem II damage. Plant Physiol 153:988–993

Teramura AH, Sullivan JH (1994) Effects of UV-B radiation on photosynthesis and growth of terrestrial plants. Photosynth Res 39:463–473

Tsunoyama Y, Ishizaki Y, Morikawa K, Kobori M, Nakahira Y, Takeba G, Toshinori Y, Shiina T (2004) Blue light-induced transcription of plastid-encoded psbD gene is mediated by a nuclear-encoded transcription initiation factor, AtSig5. Proc Natl Acad Sci USA 101:3304–3309

Ulm R, Nagy F (2005) Signalling and gene regulation in response to ultraviolet light. Curr Op Plant Biol 8:477–482

Ulm R, Baumann A, Oravecz A, Mate Z, Adam E, Oakeley EJ, Schäfer E, Nagy F (2004) Genome-wide analysis of gene expression reveals function of the bZIP transcription factor HY5 in the UV-B response of Arabidopsis. Proc Natl Acad Sci USA 101:1397–1402

Wargent JJ, Gegas VC, Jenkins GI, Doonan JH, Paul ND (2009) UVR8 in Arabidopsis thaliana regulates multiple aspects of cellular differentiation during leaf development in response to ultraviolet B radiation. New Phytol 183:315–326

Wargent JJ, Elfadly EM, Moore JP, Paul ND (2011) Increased exposure to UV-B radiation during early development leads to enhanced photoprotection and improved long-term performance in Lactuca sativa. Plant Cell Environm 34:1401–1413

Wormuth D, Baier M, Kandlbinder A, Scheibe R, Hartung RW, Dietz K-J (2006) Regulation of gene expression by photosynthetic signals triggered through modified CO2 availability. BMC Plant Biol 6:15

Wu D, Hu Q, Yan Z, Chen W, Yan C, Huang X, Zhang J, Yang P, Deng H, Wang J, Deng X, Shi Y (2012) Structural basis of ultraviolet-B perception by UVR8. Nature 484:214–219
Acknowledgments
G.I.J thanks the UK Biotechnology and Biological Sciences Research Council, The Leverhulme Trust and the University of Glasgow for supporting his research on UVR8. N.S. was supported by Satya Wacana Christian University, Indonesia and The Ministry of Education of Indonesia. J.J.W and N.D.P thank the UK Agricultural and Horticultural Development Board for supporting their research with a studentship to J.J.W. We are grateful to Drs Takashi Shina, Kan Tanaka and Carlo Soave for providing seeds of mutants and to Dr Bobby Brown for valuable comments on the RT-PCR experiments.
Additional information
Matthew P. Davey and Novita I. Susanti contributed equally to this study.
About this article
Cite this article
Davey, M.P., Susanti, N.I., Wargent, J.J. et al. The UV-B photoreceptor UVR8 promotes photosynthetic efficiency in Arabidopsis thaliana exposed to elevated levels of UV-B. Photosynth Res 114, 121–131 (2012). https://doi.org/10.1007/s11120-012-9785-y
Received:

Accepted:

Published:

Issue Date:

DOI: https://doi.org/10.1007/s11120-012-9785-y
Keywords