Abstract
Fungicides are widely used to control pests in crop plants. However, it has been reported that these pesticides may have negative effects on crop physiology, especially on photosynthesis. An alteration in photosynthesis might lead to a reduction in photoassimilate production, resulting in a decrease in both growth and yield of crop plants. For example, a contact fungicide such as copper inhibits photosynthesis by destroying chloroplasts, affecting photosystem II activity and chlorophyll biosynthesis. Systemic fungicides such as benzimidazoles, anilides, and pyrimidine are also phytotoxic, whereas azoles stimulate photosynthesis. This article focuses on the available information about toxic effects of fungicides on photosynthesis in crop plants, highlighting the mechanisms of perturbation, interaction, and the target sites of different classes of fungicides.
Access options
Buy single article
Instant access to the full article PDF.
US$ 39.95
Tax calculation will be finalised during checkout.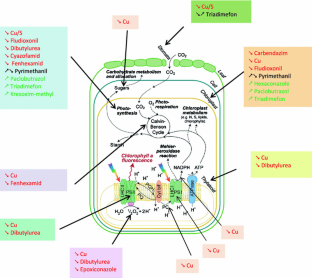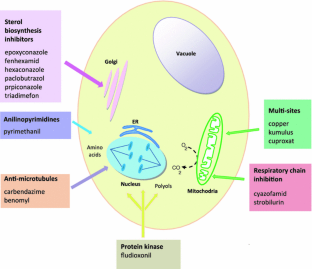 References
Baker NR, Rosenqvist E (2004) Applications of chlorophyll fluorescence can improve crop production strategies: an examination of future possibilities. J Exp Bot 55:1607–1621

Barón M, Arellano JB, Gorgé L (1995) Copper and photosystem II: a controversial relationship. Physiol Plant 94:174–180

Bartlett DW, Clough JM, Godwin JR, Hall AA, Hamer M, Parr-Dobrzanski B (2002) Review: the strobilurin fungicides. Pest Manag Sci 58:649–662

Baszynski T, Tukendorf A, Skorzynska E, Maksymiec W (1988) Characteristics of the photosynthetic apparatus of copper non-tolerant spinach exposed to excess copper. J Plant Physiol 132:708–713

Benton JM, Cobb AH (1997) The modification of phytosterol profiles and in vitro photosynthetic electron transport of Galium aparine L. (cleavers) treated with the fungicide, epoxiconazole. Plant Growth Regul 22:93–100

Buchenauer H, Rohner E (1981) Effects of Triadimefon and Triadimenol on growth of various plant species as well as on gibberellin content and sterol metabolism in shoot of barley seedlings. Pestic Biochem Phys 15:58–70

Carey PD, Fitter AH, Watkinson AR (1992) A field study using the fungicide benomyl to investigate the effect of mycorrhizal fungi on plant fitness. Oecologia 90:550–555

Caspi V, Droppa M, Horvath G, Malkin S, Marder JB, Raskin V (1999) The effect of copper on chlorophyll organization during greening of barley leaves. Photosynth Res 62:165–174

Debieu D, Corio-Costet M-F, Steva H, Malosse C, Leroux P (1995) Sterol composition of the vine powdery mildew fungus, Uncinula necator: comparison of triadimenol-sensitive and resistant strains. Phytochemistry 39(2):293–300

Debieu D, Bach J, Hugon M, Malosse C, Leroux P (2001) The hydroxyanilide fenhexamid, a new sterol biosynthesis inhibitor fungicide efficient against the plant pathogenic fungus Botryotinia fuckeliana (Botrytis cinerea). Pest Manag Sci 57:1060–1067

Dewez D, Geoffroy L, Vernet G, Popovic R (2005) Determination of photosynthetic and enzymatic biomarkers sensitivity used to evaluate toxic effects of copper and fludioxonil in alga Scenedesmus obliquus. Aquat Toxicol 74:150–159

Dosnon-Olette R, Trotel-Aziz P, Couderchet M, Eullaffroy P (2010) Fungicides and herbicide removal in Scenedesmus cell suspensions. Chemosphere 79:117–123

Ferree DC (1979) Influence of pesticides on photosynthesis of crop plants. In: Marcelle R, Clijsters H, van Poucke M, Junk W (eds) Photosynthesis and plant development. The Netherlands, The Hague, pp 331–341

Ferree DC, Hall FR, Krause CR, Roberts BR, Brazee RD (1999) Influence of pesticides and water stress on photosynthesis and transpiration of apple. Res Circ Ohio Agric Res Dev Cent 299:34–46

Fletcher RA, Hofstra G (1988) Triazole as potential plant protectants. In: Berg D, Plempel M (eds) Sterol biosynthesis inhibitors in plant production. Ellis Horwood Ltd, Cambridge, pp 321–331

Fletcher RA, Gilley A, Davis TD, Sankhla N (2000) Triazoles as plant growth regulators and stress protectants. Hortic Rev 24:55–138

Fritz R, Lanen C, Colas V, Leroux P (1997) Inhibition of methionine biosynthesis in Botrytis cinerea by the anilinopyrimidine fungicide pyrimethanil. Pestic Sci 49:40–46

Gaitán MAG, Wen S, Fetcher N, Bayman P (2005) Effects of fungicides on endophytic fungi and photosynthesis in seedlings of a tropical tree, Guarea guidonia (Meliaceae). Acta Biológica Colombiana 10:41–47

Gao J, Hofstra G, Fletcher RA (1988) Anatomical changes induced by triazoles in wheat seedlings. Can J Bot 66:178–1185

Garcia PC, Ruiz JM, Rivero RM, Luis R, Pez-Lefebre L, Sánchez E, Romero L (2002) Is the application of carbendazim harmful to healthy plants? Evidence of weak phytotoxicity in tobacco. J Agric Food Chem 50:279–283

Glaab J, Kaiser WM (1999) Increased nitrate reductase activity in leaf tissue after application of the fungicide kresoxim-methyl. Planta 207:442–448

Gomathinayagam M, Jaleel CA, Lakshmanan GMA, Panneerselvam R (2007) Changes in carbohydrate metabolism by triazole growth regulators in cassava (Manihot esculenta Crantz); effects on tuber production and quality. C R Biol 330:644–655

Gopi R, Sujatha BM, Rajan SN, Karikalan L, Panneerselvam R (1999) Effect of Triadimefon in the NaCl stressed cowpea (Vigna ungiculata) seedlings. Indian J Agr Sci 69:743–745

Gopi R, Sridharan R, Somasundaram R, Lakshmanan GMA, Panneerselvam R (2005) Growth and photosynthetic characteristics as affected by triazoles in Amorphophallus campanulatus Blume. Gen App Plant Physiol 31:171–180

Grossmann K, Kwiatkowski J, Caspar G (1999) Regulation of phytohormone levels, leaf senescence, and transpiration by the strobilurin kresoxim-methyl in wheat (Triticum aestivum). J Plant Physiol 154:805–808

Guirong C, Lin X, Kaijiun W, Yan ZA, Yijiu P, Yuming I, Xiang WM (1995) The physiological and yield increasing effects of multi-effect triazole treatment of green house rice seedling. Henan Nongye Kexue, No.2, 2–4. (ch, 5 ref). Xinyang Higher Agriculture Training School, China

Hänßler G, Pontzen R (1999) Effect of fenhexamid on the development of Botrytis cinerea. Pflanzen Nach Bayer 52:158–176

Haughan PA, Lenton JR, Goad LJ (1988) Sterol requirements and paclobutrazol inhibition of a celery cell culture. Phytochemistry 27(8):2491–2500

Hillier W, Babcock GT (2001) Photosynthetic Reaction Centers. Plant Physiol 125:33–37

Holb IJ, Schnabel G (2005) Effect of fungicide treatments and sanitation practices on brown rot blossom blight incidence, phytotoxicity, and yield for organic sour cherry production. Plant Dis 89:117–1164

Holb IJ, De Jong PF, Heijne B (2003) Efficacy and phytotoxicity of lime sulfur in organic apple production. Ann Appl Biol 142:225–233

Hong Y, Zhimim Y, Jingyl Y (1995) Biological response of Hosta plantaginea to mepiquat chloride and paclobutrazole. J Nanjing Agric University China 18:18–22

IUPAC (International Union of Pure Applied Chemistry). Pesticide properties database. Integr Pest Manag. http://agrochemicals.iupac.org/. Accessed 2 April 2010

Jaleel CA, Gopi R, Panneerselvam R (2008) Growth and photosynthetic pigments responses of two varieties of Catharanthus roseus to triadimefon treatment. C R Biol 331(4):272–277

Kasele IN, Shannahan JF, Nielsel DC (1995) Impact of growth retardants on corn leaf morphology and gas exchange traits. Crop Sci 35:190–194

Kishorekumar A, Jaleel CA, Manivannan P, Sankar B, Sridharan R, Somasundaram R, Panneerselvam R (2006) Differential effects of hexaconazole and paclobutrazol on the foliage characteristics of Chinese potato (Solenostemon rotundifolius Poir., J.K. Morton). Acta Biol Szegediensis 50:127–129

Köhle H, Grossmann K, Retzlaff G, Akers A, Limburgerhof G (1997) Physiological effects of the new fungicide Juwel® on yield in cereals. Gesunde Pflanzen 49:267–271

Krause GH, Weis E (1991) Chlorophyll fluorescence and photosynthesis: the basics. Annu Rev Plant Physiol Plant Mol Biol 42:313–349

Krugh BW, Miles D (1996) Monitoring the effects of five "nonherbicidal" pesticide chemicals of terrestrial plants using chlorophyll fluorescence. Environ Toxicol Chem 15:495–500

Laisk A, Eichelmann H, Oja V (2006) C3 photosynthesis in silico. Photosynth Res 90:45–66

Leroux P (2003) Mode of action of agrochemicals towards plant pathogens. C R Biol 326:9–21

Leroux P, Descotes A (1996) Resistance of Botrytis cinerea to fungicides and strategies for its control in the Champagne vineyards. In: Proceeding of the 1996 Brighton crop protection conference pests and diseases, pp 131–136

Leroux P, Frita R, Debiu D, Albertini C, Lanen C, Bach J, Gredt M, Chapeland F (2002) Mechanisms of resistance to fungicides in field strains of Botrytis cinerea. Pest Manag Sci 58:876–888

Merryweather J, Fitter A (1996) Phosphorous nutrition of an obligately mycorrhizal plant treated with the fungicide benomyl in the field. New Phytol 132:307–311

Mihuta-Grimm L, Erb WA, Rowe RC (1990) Fusarium crown and root rot of tomato in greenhouse rock wool systems: sources of inoculum and disease management with benomyl. Plant Dis 74:996–1002

Mitani S, Araki S, Yamaguchi T, Takii Y, Ohshima T, Matsuo N (2001) Antifungal activity of the novel fungicide Cyazofamid against Phytophthora infestans and other plant pathogenic fungi in vitro. Pestic Biochem Phys 70(2):92–99

Muthukumarasamy M, Panneerselvam R (1997) Triazole induced protein metabolism in the salt stressed Raphanus sativus seedlings. J Indian Bot Soc 76:39–42

Nason MA, Farrar J, Bartlett D (2007) Strobilurin fungicides induce changes in photosynthetic gas exchange that do not improve water use efficiency of plants grown under conditions of water stress. Pest Manag Sci 63:1191–1200

Palmer JW, Davies SB, Shaw PW, Wünsche JN (2003) Growth and fruit quality of 'Braeburn' apple (Malus domestica) trees as influenced by fungicide programmes suitable for organic production. New Zeal J Crop Hort Sci 31:169–177

Panneerselvam R, Muthukumarasamy M, Karikalan L (1997) Triadimefon enhances growth and net photosynthetic rate in NaCl stressed plants of Raphanus sativus L. Photosynthetica 34:605–609

Pätsikkä E, Aro E-M, Tyystjärvi E (1998) Increase in the quantum yield of photoinhibition contributes to copper toxicity in vivo. Plant Physiol 117:619–627

Perales-Vela HV, Pena-Castro JM, Canizares-Villanueva RO (2006) Heavy metal detoxification in eukaryotic microalgae. Chemosphere 64:1–10

Petit A-N, Fontaine F, Clément C, Vaillant-Gaveau N (2008a) Photosynthesis limitations of grapevine after treatment with the fludioxonil fungicide. J Agric Food Chem 56:6761–6767

Petit A-N, Fontaine F, Clément C, Vaillant-Gaveau N (2008b) Two botryticide effets on leaf photosynthesis grapevine. In: Sanchez A, Gutierrez SJ (eds) Photochemistry Research Progress. Nova Science Publishers Inc, NY, pp 1–12

Petit A-N, Fontaine F, Clément C, Vaillant-Gaveau N (2009) Gating in grapevine: relationship between application of the fungicide fludioxonil and circadian rhythm on photosynthesis. Environ Pollut 157:130–134

Pillonel C, Meyer T (1997) Effect of phenylpyrroles on glycerol accumulation and protein kinase activity of Neurospora crassa. Pestic Sci 49:229–236

Querns R, MacDonald GE, Gaffney JF, Chase CA, Moye HA, Shilling DG, Bewick TA (1998) Effects of N, N′-dibutylurea on photosynthetic electron transport reactions in isolated chloroplasts. Pestic Biochem Phys 59:129–135

Rajendran UM, Kathirvel E, Narayanaswamy A (2007) Effects of a fungicide, an insecticide, and a biopesticide on Tolypothrix scytonemoides. Pestic Biochem Phys 87:164–171

Roehl F, Sauter H (1993) Species dependence of mitochondrial respiration inhibition by strobilurin analogues. Biochem Soc Trans 22:63S

Rosslenbroich HJ, Stuebler D (2000) Botrytis cinerea—History of chemical control and novel fungicides for its management. Crop Prot 19:557–561

Sairam RK, Desmukh PS, Shukla DS, Wasnik KG, Kushwaha SR (1989) Effect of abscisic acid and triadimefon on photosynthesis and nitrate reductase activity during water stress in wheat. Indian J Plant Physiol 32:51–56

Saladin G, Clément C (2005) Physiological effects of pesticides on cultivated crops. In: Livingston JV (ed) Agriculture and Soil Pollution. New Research. Nova Science Publishers, USA, pp 53–86

Saladin G, Magné C, Clément C (2003) Effects of fludioxonil and pyrimethanil, two fungicides used against Botrytis cinerea, on carbohydrate physiology in Vitis vinifera L. Pest Manag Sci 59:1083–1092

Samuelsson G, Oquist G (1980) Effects of copper chloride on photosynthetic electron transport and chlorophyll-protein complexes of Spinacia oleracea. Plant Cell Physiol 21:445–454

Sandmann G, Böger P (1980) Copper-mediated lipid peroxidation processes in photosynthetic membranes. Plant Physiol 66:797–800

Shilling DG, Aldrich HC, Moye HA, Gaffney JF, Tolson JK, Querns R, Mossler MA, Russell BL (1994) N, N'-Dibutylurea from n-butyl isocyanate, a degradation product of benomyl. 2. Effects on plant growth and physiology. J Agric Food Chem 42:1209–1212

Shioi Y, Tamai H, Sasa T (1978) Effects of copper on photosynthetic electron transport systems in spinach chloroplasts. Plant Cell Physiol 19:203–209

Skillman JB, Osmond CB (1998) Influence of nitrogen supply and growth irradiance on photoinhibition and recovery in Heuchera americana (Saxifragaceae). Physiol Plant 103:563–573

Smith GA, Moser HS (1985) Sporophytic-gametophytic herbicide tolerance in sugar beet. Theor Appl Genet 71:231–237

Sreedhar VM (1991) Proline accumulation and reduced transpiration in leaves of triazole treated mulberry plant. Indian Bot Report 10:1–5

Stiborová M, Doubravová M, Brezinová A, Friedrich A (1986) Effect of heavy metal ions on growth and biochemical characteristics of photosynthesis of barley Hordeum vulgare L. Photosynthetica 20:418–425

Stone J, Chastagner G, Kanaskie A (2004) Control of Swiss needle cast in forest plantations by aerially applied elemental sulfur fungicide. In: Mainwaring D (ed) Swiss Needle Cast Cooperative Annual report. Oregon State University, Corvallis, pp 49–56

Sujatha BM, Gopi R, Karikalan L, Rajan SN, Panneerselvam R (1999) Effect of triadimefon treatment on bhendi (Abelmoschus esculantus (L.) moench.) seedlings under salinity condition. Indian J Plant Physiol 4:307–310

Szalontai B, Horvath LI, Debreczeny M, Droppa M, Horvath G (1999) Molecular rearrangements of thylakoids after heavy metal poisoning, as seen by Fourier transform infrared (FTIR) and electron spin resonance (ESR) spectroscopy. Photosynth Res 61:241–252

Teisseire H, Couderchet M, Vernet G (1999) Phytotoxicity of diuron alone and in combination with copper or folpet on duckweed (Lemna minor). Environ Pollut 106:39–45

Untiedt R, Blanke MM (2004) Effects of fungicide and insecticide mixtures on apple tree canopy photosynthesis, dark respiration and carbon economy. Crop Prot 23:1001–1006

Upham PM, Delp CJ (1973) Role of benomyl in the systemic control of fungi and mites on herbaceous plants. Phytopathology 63:814–820

Uribe EG, Stark B (1982) Inhibition of photosynthetic energy conversion by cupric ion-evidence for Cu2 -coupling factor 1 interaction. Plant Physiol 69:1040–1045

van Assche F, Clijsters H (1990) Effects of metals on enzyme activity in plants. Plant Cell Environ 13:195–206

van Iersel MW, Bugbee B (1996) Phytotoxic effects of benzimidazole fungicides on bedding plants. J Am Soc Hortic Sci 121:1095–1102

van Iersel MW, Bugbee B (1997) Dibutylurea reduces photosynthesis, growth and flowering of petunia and impatiens. J Am Soc Hortic Sci 122:536–541

Vinit-Dunant F, Epron D, Alaoui-Sossé B, Badot P-M (2002) Effects on copper on growth and photosynthesis of mature and expanding leaves in cucumber plants. Plant Sci 163:53–58

Wiggins TE, Jager BJ (1993) Mode of action of the new methoxyacrylate antifungal agent ICIA5504. Biochem Soc Trans 22:68S

Xia XJ, Huang YY, Wang L, Huang LF, Yu YL, Zhou YH, Yu JQ (2006) Pesticides-induced depression of photosynthesis was alleviated by 24-epibrassinolide pretreatment in Cucumis sativus L. Pestic Biochem Physiol 86:42–48

Yu Q, Goudriaan J, Wang TD (2001) Modelling diurnal courses of photosynthesis and transpiration of leaves on the basis of stomatal and non-stomatal responses, including photoinhibition. Photosynthetica 39:43–51

Yuste MP, Gostincar J (1999) Handbook of agriculture. Marcel Dekker, New York

Zhang Y-J, Zhang X, Chen C-J, Zhou M-G, Wang H-C (2010) Effects of fungicides JS399-19, azoxystrobin, tebuconazloe, and carbendazim on the physiological and biochemical indices and grain yield of winter wheat. Pestic Biochem Physiol 98:151–157
About this article
Cite this article
Petit, AN., Fontaine, F., Vatsa, P. et al. Fungicide impacts on photosynthesis in crop plants. Photosynth Res 111, 315–326 (2012). https://doi.org/10.1007/s11120-012-9719-8
Received:

Accepted:

Published:

Issue Date:
Keywords
Chlorophyll

Crop plants

Fungicides

Photosynthesis

Photosystems

Physiology

Phytotoxicity

Stomatal closure

Stress