Abstract
Spatio-temporal variability of soil fertility and cocoa pod borer (CPB) infestation rate provides strategic information about the soil nutrients and CPB population densities at different harvest intervals. This enables the transitioning of cocoa fields (cooca-gliricidia and cocoa-coconut) from conventional to modern precision management. Geostatistical methods were applied to interpolate the data collected from a systematic grid based on a cluster of six cocoa tree stands for both fields and produce maps representing the spatial variability of all soil variables and CPB attack. Cocoa fresh bean weight and CPB infestation data were collected at two week-intervals from cocoa-gliricidia and cocoa-coconut. All field data points were geo-referenced by a differential global positioning system. Data were processed for possible outliers, and analysed by variography and interpolation techniques for quantification of spatial variability. Results showed that both plots exhibited definable spatial structures and were described by exponential models. Precision cocoa management recorded an increase in crop yield by 52.8 and 37.5% at cocoa-gliricidia and cocoa-coconut, respectively. Site-specific nutrient management and integrated pest control in the critical zones showed improvement in cocoa yields, especially during the peak harvest season.
Access options
Buy single article
Instant access to the full article PDF.
USD 39.95
Price excludes VAT (USA)
Tax calculation will be finalised during checkout.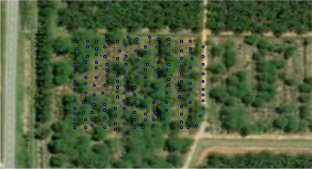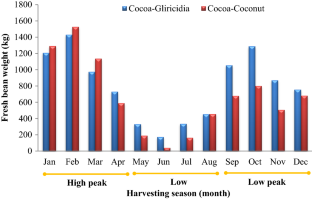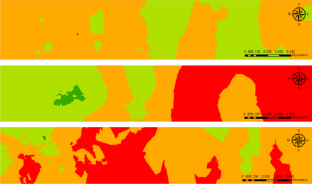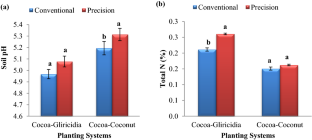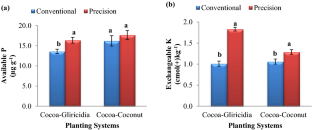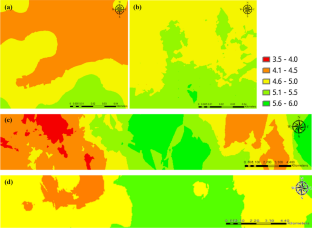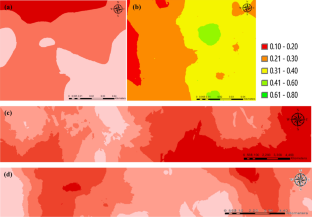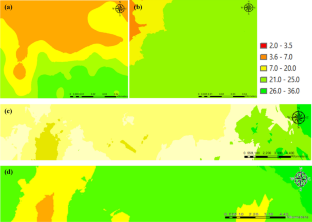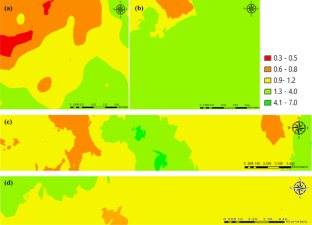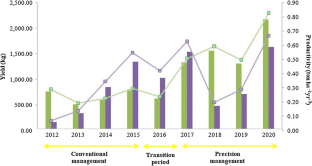 References
Afolayan, O. S. (2016). Soil–plant properties degradation in aged cocoa farms in Southwest Nigeria. Nigerian Journal of Agriculture, Food and Environment, 12(4), 194–199.

Albert, L. S. C., & Azhar, I. (2010). Estimating cocoa wet bean loss caused by cocoa pod borer using bootstrap resampling method. Malaysian Cocoa Journal, 6, 1–12.

Arétouyap, Z., NjandjockNouck, P., Nouayou, R., GhomsiKemgang, F. E., PiépoToko, A. D., & Asfahani, J. (2016). Lessening the adverse effect of the semivariogram model selection on an interpolative survey using kriging technique. Springerplus, 5, 1–11.

Arshad, F. M., Bala, B. K., Alias, E. F., & Abdulla, I. (2015). Modelling boom and bust of cocoa production systems in Malaysia. Ecological Modelling, 309–310, 22–32.

Balasundram, S. K., Husni, M. H. A., & Ahmed, O. H. (2008). Application of geostatistic tools to quantify spatial variability of selected soil chemical properties from a cultivated tropical peat. Journal of Agronomy, 7, 82–87.

Baloch, P. A., Moizuddin, M., Imam, M., Abro, B. A., Lund, J. A., & Solangi, A. H. (2004). Effect of NPK fertilizers and farmyard manure on nut production of coconut (Cocos nucifera L.). Asian Journal of Plant Sciences, 3(1), 91–93.

Bellvert, J., Mata, M., Vallverdu, X., Paris, C., & Marsal, J. (2021). Optimizing precision irrigation of a vineyard to improve water use efficiency and profitability by using a decision-oriented vine water consumption model. Precision Agriculture, 22, 319–341.

Bressan, A., MoralGarcia, F. J., Semetey, O., & Boudon-Padieu, E. (2010). Spatio-temporal pattern of Pentastiridius leporinus migration in an ephemeral cropping system. Agricultural and Forest Entomology, 12(1), 59–68.

Cocoa Coconut Institute (CCI) of Papua New Guinea. (2009). The Asian Cocoa Pod Borer (CPB) (Conopomorpha cramerella snellen): A Report on its Containment Within and Eradication from East New Britain Province, Papua New Guinea (March 2006–January 2007). Rabaul, East New Britain, Papua New Guinea.

Conant, R. T., & Paustian, K. (2002). Spatial variability of soil organic carbon in grassland: Implications for detecting change at different scales. Environmental Pollution, 116, 127–135.

Desavathu, R. N., Nadipena, A. R., & Peddada, J. R. (2018). Assessment of soil fertility status in Paderu Mandal, Visakhapatnam district of Andhra Pradesh through geospatial techniques. The Egyptian Journal of Remote Sensing and Space Sciences, 21, 73–81.

Garcia, F. J. M. (2006). Analysis of the spatio-temporal distribution of Helicoverpa armigera Hb in a tomato field using a stochastic approach. Biosystems Engineering, 93, 253–259.

Gee, G. W., & Bauder, J. W. (1986). Particle-Size Analysis. In A. Klute (Ed.), Methods of soil analysis, Part 1: Physical and mineralogical methods (pp. 383–411). American Society of Agronomy.

Gorai, A. K., & Kumar, S. (2013). Spatial distribution analysis of groundwater quality index using GIS: A case study of Ranchi municipal corporation (RMC) area. Geoinformatics & Geostatistics: An Overview, 1(2), 1–11.

Guidotti, D., Ragaglini, G., & Petacchi, R. (2005). Analysis of spatio-temporal Bactroceraoleae (Diptera, Tephritidae) infestation distributions obtained from a large-scale monitoring network and its importance to IPM. IOBC Wprs Bulletin, 28, 13–18.

Harini, S., & Fang, Q. (2013). A spatially disaggregated areal interpolation model using light detection and ranging-derived building volumes. Geographical Analysis, 45, 238–258.

Heisel, T., Ersbøll, A. K., & Andreasen, C. (1999). Weed mapping with co-kriging using soil properties. Precision Agriculture, 1, 39–52.

Ho, A. D., & Yu, C. C. (2015). Descriptive statistics for modern test score distributions: Skewness, kurtosis, discreteness and ceiling effects. Educational and Psychological Measurement, 75(3), 365–388.

International Cocoa Organization (ICCO). (2013). Growing of cocoa. Retrieved March 26, 2013 from https://www.icco.org/about-cocoa/growing-cocoa.html

International Cocoa Organization (ICCO). (2015). Pests and diseases. Retrieved April 10, 2015 from https://www.icco.org/about-cocoa/pest-a-diseases.html

Khalid, A. R., Wong, S. K., & Audrey, L. (2009). Competitiveness with sustainable agriculture: Win, lose or draw? International Journal of Economics and Management, 3(1), 87–99.

Lee, C. H. (2013). Planting Cocoa-Challenges and Realities, Received from www.ipicex.com/doc1/2012/onral/PlantingCocoa—ChallengesandRealityInMalaysia.pdf

Lee, C. H., Kelvin, L., Haya, R., Navies, M., & Saripah, B. (Eds). (2013). Cocoa planting manual. Sustainable cocoa. Malaysian Cocoa Board.

Li, H. D., Lin, J., Zhang, J. C., Zhang, X. C., Zhang, L., & Wang, Z. (2008). Spatial variability of soil organic carbon and total nitrogen based on small watershed scale. Journal of Nanjing Forestry University (Natural Sciences Edition), 32, 38–42.

Ling, A., & Ismail, A. (2013). Estimating cocoa wet bean loss caused by cocoa pod borer using bootstrap resampling method. Malaysian Cocoa Journal, 6, 1–12.

Liu, D., Wang, Z., Zhang, B., Song, K., Li, X., Li, J., & Duan, H. (2006). Spatial distribution of soil organic carbon and analysis of related factors in croplands of the black soil region, Northeast China. Agriculture, Ecosystems & Environment, 113, 73–81.

Mackey, B. G., Mullen, I. C., Baldwin, K. A., Gallant, J. C., Sims, R. A., & McKenney, D. W. (2000). Towards a spatial model of boreal forest ecosystem; the role of digital terrain analysis. Terrain Analysis—Principles & Applications.

Malaysian Cocoa Board (MCB). (2013). Cocoa planting manual. Malaysian Cocoa Board

Malaysian Cocoa Board (MCB). (2018). Cocoa Statistics. Retrieved January 7, 2018, from www.koko.gov.my

McMahon, P., Purwantara, A., Susilo, A. W., Sukamto, S., Wahab, A., Purung, H., Hidayat, M., Ismail, D., Taproni, T., Lambert, S., Guest, D., & Keane, P. (2010). On-farm selection for quality and resistance to pest/diseases of cocoa in Sulawesi: (ii) quality and performance of selections against Phytophthora pod rot and vascular-streak dieback. International Journal of Pest Management, 56(4), 351–361.

Microsoft Corporation. (2003). Microsoft Excel 2003. Microsoft Corporation, Redmond.

Mokolobate, M. S., & Haynes, R. J. (2002). Increases in pH and soluble salts influence the effect that additions of organic residues have on concentrations of exchangeable and soil solution aluminium. European Journal of Soil Science, 53(3), 481–489.

Morari, F., Castrignanò, A., & Pagliarin, C. (2009). Application of multivariate geostatistics in delineating management zones within a gravelly vineyard using geo-electrical sensors. Computers and Electronics in Agriculture, 69, 97–107.

Nay, J. E., Park, Y.-L., & Perring, T. M. (2007). Effect of bunch sanitation on spatial distribution of abscised fruit and phycitine moths (Lepidoptera: Pyralidae) in California date gardens. Journal of Economic Entomology, 100(6), 1773–1780.

Olsen, S. R., & Sommers, L. E. (1982). Phosphorus. In A. L. Page, R. H. Miller, & D. R. Keeney (Eds.), Methods of soil analysis, part 2, chemical and microbiological properties (2nd ed., pp. 403–430). ASA-SSSA.

Pereira, G. W., Valente, D. S. M., de Queiroz, D. M., Santos, N. T., & Fernandes-Filho, E. I. (2022). Soil mapping for precision agriculture using support vector machines combined with inverse distance weighting. Precision Agriculture, 23, 1189–1204.

Peter, H. D., & Andreas, C. B. (2015). Predicting total nitrogen, total phosphorus, total organic carbon, dissolved oxygen and iron in deep waters of Swedish lakes. Environmental Modeling & Assessment, 20, 411–423.

Posada, F. J., Virdiana, I., Navies, M., Pava-Ripoll, M., & Hebbar, P. (2011). Sexual dimorphism of pupae and adults of the cocoa pod borer, Conopomorpha cramerella. Journal of Insect Science, 11, 52.

Sangita, P. I., & Smita, S. T. (2016). Review on toxicity assessment for carcinogenic soil contaminants. The Pharmaceutical and Chemical Journal, 3(2), 139–144.

Sani, Y., & Jibril, E. (2010). A comparative study of nutrient cycling on soils under Daniella oliveri and Chromolaena odorata in the federal capital territory, Abuja, Nigeria. American Journal of Scientific Research, 10, 26–33.

Saripah, B. (2019). Infestations of two major pests of cocoa, Conopomorpha cramerella and Helopeltis spp. under natural condition. Pelita Perkebunan, 35(3), 186–192.

Saripah, B., & Alias, A. (2016). Evaluation of best management practices for cocoa pod borer in cocoa ecosystem. Malaysian Cocoa Journal, 9(1), 108–120.

Saripah, B., & Azhar, I. (2007). Implementation of cocoa pod sleeving in controlling cocoa pod borer infestation. In Proceedings of conference on plant plantation commodities, 3–4 July 2007, Kuala Lumpur, Malaysia (pp. 221–227).

SAS Institute. (2002). Statistical Analysis System (SAS) Institute (2002) SAS/STAT User's Guide. Version 8, 6th Edition, SAS Institute, Cary, 112.

Skjemstad, J., & Baldock, J. A. (2008). Total and organic carbon. In M. R. Carter & E. G. Gregorich (Eds.), Soil sampling and methods of analysis (pp. 225–238). Soil Science Society of Canada.

Snoeck, D., Koko, L., Joffre, J., Bastide, P., & Jagoret, P. (2016). Cacao nutrition and fertilization. In E. Lichtfouse (Ed.), Sustainable agriculture reviews (pp. 155–202). Springer.

Stacey, K. F., Lark, R. M., Whitmore, A. P., & Milne, A. E. (2006). Using a process model and regression kriging to improve predictions of nitrous oxide emissions from soil. Geoderma, 135, 107–117.

Su, B., Zhao, G., & Dong, C. (2018). Spatiotemporal variability of soil nutrients and the responses of growth during growth stages of winter wheat in northern China. PLoS ONE, 13(12), e0203509.

Thomas, G. W. (1982). Exchangeable Cations. In A. L. Page, R. H. Miller, & D. R. Keeney (Eds.), Methods of soil analysis, Part 2 (pp. 159–165). ASA-SSSA.

Wang, H., Hall, C. A. S., Cornell, J. D., & Hall, M. H. P. (2002). Spatial dependence and the relationship of soil organic carbon and soil moisture in the luquillo experimental forest, Puerto Rico. Landscape of Ecology, 17, 671–684.

Wang, Y. Q., & Shao, M. A. (2013). Spatial variability of soil physical properties in a region of the Loess Plateau of PR China subject to wind and water erosion. Land Degradation Development, 24(3), 296–304.

Wessel, M., & Quist-Wessel, P. M. F. (2015). Cocoa production in West Africa, a review and analysis of recent developments. Journal of Life Sciences, 74–75, 1–7.

Zhao, J., Liu, H. J., Sui, Y. Y., Zhang, X. Y., & Meng, K. (2006). Analysis for spatial heterogeneity of organic matter content and available nutrients in blacksoil crop area with different scales. Journal of Soil and Water Conservation, 20, 41–45.
Acknowledgements
This work was part of the program entitled 'Integration of cocoa with other commodities and pilot-plot of precision farming' (P20001001116002) and was funded by the 11th Malaysia Plan, Economic Planning Unit, Prime Minister's Department. We gratefully thank the Ministry of Plantation Industries and Commodities (MPIC) for their long-term support. Special thanks to the Director General of Malaysian Cocoa Board and the Director of Cocoa Upstream Technology, Malaysian Cocoa Board for their kind approval in publishing the findings of this research.
Additional information
Publisher's Note
Springer Nature remains neutral with regard to jurisdictional claims in published maps and institutional affiliations.
Rights and permissions
Springer Nature or its licensor (e.g. a society or other partner) holds exclusive rights to this article under a publishing agreement with the author(s) or other rightsholder(s); author self-archiving of the accepted manuscript version of this article is solely governed by the terms of such publishing agreement and applicable law.
About this article
Cite this article
Tee, Y.K., Balasundram, S.K., Shamshiri, R.R. et al. Yield potential of site-specific integrated pest and soil nutrient management at different harvest intervals under two commercial cocoa planting systems in Malaysia. Precision Agric 24, 1132–1153 (2023). https://doi.org/10.1007/s11119-023-10003-1
Accepted:

Published:

Issue Date:

DOI: https://doi.org/10.1007/s11119-023-10003-1
Keywords