Abstract
Laser land levelling has contributed immensely to irrigation water saving to cope with declining ground water tables in South Asia. A topographic survey of a field is a pre-requisite to achieve high accuracy in land levelling. Presently, manual topographic surveys are conducted before using a laser land leveller in South Asia, which is cumbersome, time consuming and requires substantial operator skill. A novel sensor-based automatic topographic survey is potentially more precise and cost-effective. Therefore, a field study was conducted to compare the efficiency of a tractor operated sensor-based automatic survey system attached to a laser leveller compared with the conventional manual topographic survey. The automatic survey system consisted of automatic functioning of the laser operated power mast and scraper. The automatic survey method significantly reduced the earthwork and levelness index by 74.0 and 75.4% compared with 61.5 and 62.1% for manual topographic survey, respectively. The automatic survey improved the land uniformity coefficient by 78.4% compared with 42.4% for the manual survey. Average fuel consumption and field capacity were 56.5% and 48% higher for automatic survey compared to manual topographic survey method. The average survey cost was 38.2% lower for automatic survey compared with manual survey. The field capacity of the laser leveller (including the time taken for field survey) was significantly higher by 53% for automatic survey than manual survey. The total cost of operation of automatic survey method was 30.1% lower compared with conventional manual survey. Based on the results from this study, the newly developed automatic survey system is superior to conventional manual survey method in terms of precision in land levelling and economic gains.
This is a preview of subscription content, log in to check access.
Access options
Buy single article
Instant access to the full article PDF.
US$ 39.95
Price includes VAT for USA
Subscribe to journal
Immediate online access to all issues from 2019. Subscription will auto renew annually.
US$ 99
This is the net price. Taxes to be calculated in checkout.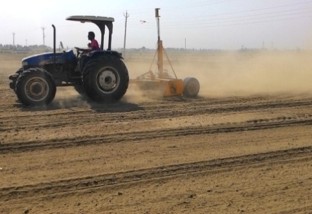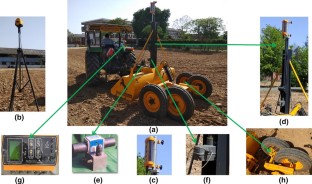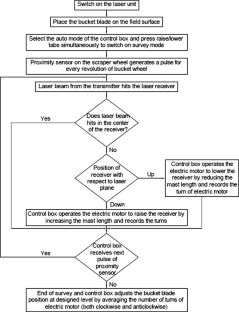 References
Agarwal, M. C., & Goel, A. C. (1981). Effect of field levelling quality on irrigation efficiency and crop yield. Journal of Agricultural water Management,4, 457–464.

Aryal, J. P., Mehrotra, M. B., Jat, M. L., & Sidhu, H. S. (2015). Impacts of laser land levelling in rice–wheat systems of the north–western indo-gangetic plains of India. Food Security,7, 725. https://doi.org/10.1007/s12571-015-0460-y.

Gomez, K., & Gomez, A. (1984). Statistical Procedures for Agricultural Research. New York: Wiley.

Hira, G. S. (2009). Water management in northern states and the food security in India. Journal of crop Improvement,23, 136–157.

Jat, M.L., Chandna, P., Gupta, R. K., Sharma, S. K., & Gill, M. A. (2006). Laser land levelling: A precursor technology for resource conservation. Rice–Wheat Consortium for the Indo-Gangetic Plains, New Delhi.

Jat, M. L., Yadvinder-Singh, Gill, G., Sidhu, H. S., Aryal, J. P., & Stirling, C. (2015). Laser-assisted precision land levelling impacts in irrigated intensive production systems of South Asia. In R. Lal & B. A. Stewart (Eds.), Advances in soil science, soil-specific farming: Precision agriculture (pp. 323–352). New York: CRC Press.

Kahlown, M. A., Azam, M., & Kemper, W. D. (2006). Soil management strategies for rice-wheat rotations in Pakistan's Punjab. Journal of soil water conservation,61, 40–44.

Ladha, J. K., Yadvinder-Singh, Erenstein, O., & Hardy, B. (Eds.). (2009). Integrated crop and resource management in the rice-wheat system of South Asia. Los Banos, Philippine: International Rice Research Institute.

Michael, A. M. (2010). Irrigation Theory and practice. Noida, India: Vikas Publishing.

Tyagi, N. K., & Singh, O. P. (1979). Investigation on effect of soil moisture on performance of land levelling implements. Journal of Agricultural Engineering,16(2), 67–72.

Yadvinder-Singh, Kukal, S. S., Jat, M. L., & Sidhu, H. S. (2014). Improving water productivity of wheat-based cropping systems in South Asia for sustained productivity. Advances of Agronomy,127, 157–258.
Acknowledgements
The authors acknowledge the help of Precision Cultivation Aids Pvt. Ltd., Ludhiana, India for providing the laser unit with automatic survey mode for the field evaluation. The authors also acknowledge the Borlaug Institute for South Asia for providing the land/resources/inputs for the extensive testing of laser systems.
Additional information
Publisher's Note
Springer Nature remains neutral with regard to jurisdictional claims in published maps and institutional affiliations.
About this article
Cite this article
Manpreet-Singh, Sidhu, H.S., Yadvinder-Singh et al. Performance evaluation of automatic vis-à-vis manual topographic survey for precision land levelling. Precision Agric 21, 300–310 (2020). https://doi.org/10.1007/s11119-019-09669-3
Keywords
Automatic survey

Earth work

Land uniformity index

Laser land levelling

Levelling index

Manual survey