Abstract
Precision irrigation systems can have inherent errors that affect the accuracy of variable water application rates controllers, as well as affect the controllers' performance when evaluated on different continuous move irrigation systems configurations. The objective of this study was to assess the performance of a remote irrigation monitoring and control system (RIMCS) installed on two separate linear move (LM) irrigation systems. The RIMCS varies water application rates by pulsing nozzles controlled by solenoids connected via relays to a single board computer (SBC) with wireless Ethernet connection to a remote server. The system also monitors irrigation system flow, pressure, position and wireless field sensor networks. The system was installed on a LM irrigation system in Prosser, Washington, USA and on a LM in the Nesson Valley of North Dakota, USA. For the LM at Prosser, four pre-defined irrigation patterns were imposed and variable rates were applied as a percentage of the nozzle base application rate. Each nozzle was pulsed across the span length and along the LM travel direction. For the LM at the Nesson Valley, a quadratic pattern was imposed pulsing banks of nozzles along the LM travel direction. Standard catch can tests were performed and the system performance was evaluated by comparing measured catch can water depths with pre-determined target values. The RIMCS accuracy was found to be in the range of the LM uniform water depth application uniformity coefficients of 88–96%. The RIMCS was successfully transferred to another LM in North Dakota as indicated by the relatively low variable rate application errors of –8.8 ± 8.1% and −0.14 ± 6.7% for the two spans.
This is a preview of subscription content,
to check access.
Access this article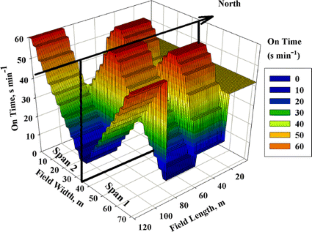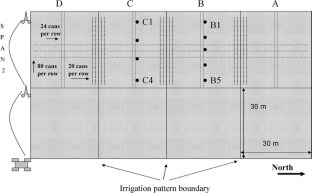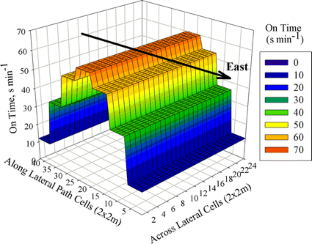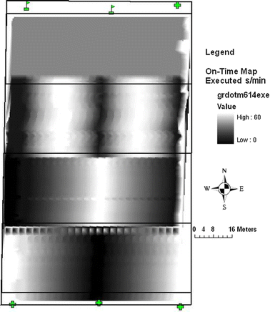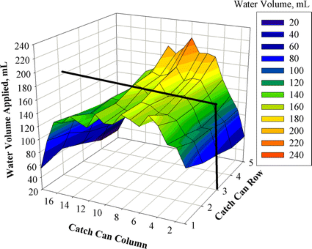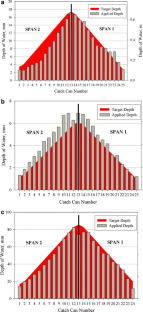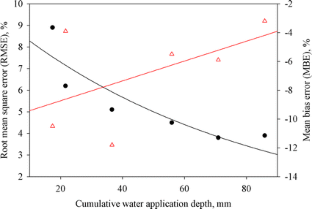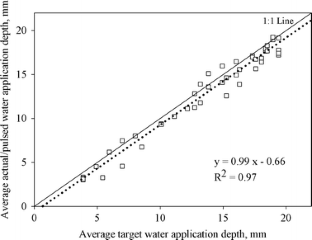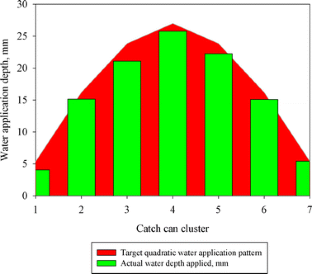 Similar content being viewed by others
Notes
Mention of trade or commercial products in this article is solely for the purpose of providing specific information and does not imply recommendation or endorsement by the U.S. Department of Agriculture or Washington State University.
References
Al-Kufaishi, S., Blackmore, S., Sourell, H., & Maletti, G. (2005). Assessment of two variable rate irrigation controllers used on a centre-pivot. Agricultural Engineering International CIGR Ejournal, 7, September 2005, manuscript EE 05 002. Accessed on January 12, 2009 from http://cigr-ejournal.tamu.edu/submissions/volume7/LW%2005%20002%20Al-Kufaishi-Blackmore%20final%2021Dec2005.pdf.

ASABE. (2007). Test procedure for determining the uniformity of water distribution of center pivot and lateral move irrigation machines equipped with spray or sprinkler nozzles (pp. 1033–1039). ASAE Standards 2007, ANSI/ASAE S436.1 JUN1996 (R2007), ASABE, Michigan, Saint Joseph.

Bordovsky, J. P. (2000). Equipment development for site-specific irrigation and chemigation. Annual Report 2000. Texas Agricultural Experiment Station and Texas Agricultural Extension Service. The Texas A&M University System—Agriculture Program, TX, USA: Plainview.

Camp, C. R., Sadler, E. J., Evans, D. E., Usrey, L. J., & Omary, M. (1998). Modified center pivot system for precision management of water and nutrients. Applied Engineering in Agriculture, 14(1), 23–31.

Chávez, J. L., Pierce, F. J. (2006). Modeling cart movement to minimize precision irrigation errors for linear move systems. In Proceedings of the 8th international meeting on precision agriculture, CDROM, ASA/CSSA/SSSA, Madison, WI, USA.

Chávez, J. L., Pierce, F. J., Elliott, T. V., & Evans, R. G. (2009). A Remote Irrigation Monitoring and Control System (RIMCS) for continuous move systems. Part A: Description and development. Precision Agriculture (this issue).

Christiansen, J. E. (1942). Irrigation by sprinkling. Bulletin 670. Agricultural Experiment Station, University of California, Berkeley, CA, USA.

Evans, R. G., Han, S., & Kroeger, M. W. (1996). Precision center pivot irrigation for efficient use of water and nitrogen. In P. C. Robert, R. H. Rust, & W. E. Larson, (Eds.), Proceedings of the 3rd international conference on precision agriculture (pp. 75–84), ASA/CSSA/SSSA, Madison, WI, USA.

Fraisse, C. W., Heermann, D. F., & Duke, H. R. (1995). Simulation of variable water application with linear-move irrigation systems. Transactions of the ASAE, 38(5), 1371–1374.

Heermann, D. F., & Stahl, K. M. (1986). Center pivot uniformity for chemigation. Paper No. 86-2584. ASAE, St. Joseph, Michigan, USA.

Hendawi, M., Molle, B., Folton, C., & Granier, J. (2005). Measurement accuracy analysis of sprinkler irrigation rainfall in relation to collector shape. Journal of Irrigation and Drainage Engineering, 131(5), 477–483. doi:10.1061/(ASCE)0733-9437(2005)131:5(477).

Keller, J., Bliesner, R. D. (1990). Sprinkle and trickle irrigation. New York, NY: Chapman & Hall. ISBN 0-412-07951-1 (an AVI book).

Kincaid, D. C. (2005). Application rates from center pivot irrigation with current sprinkler types. Applied Engineering in Agriculture, 21(4), 605–610.

Kincaid, D. C., Solomon, K. H., & Oliphant, J. C. (1996). Drop size distributions for irrigation sprinklers. Transactions of the ASAE, 39, 839–845.

King, B. A., Reeder, R. E., Wall, R. W., & Stark, J. C. (2002). Comparison of site-specific and conventional uniform irrigation management for potatoes. Paper No. 022175. ASAE, St. Joseph, Michigan, USA.

King, B. A., & Wall, R. W. (2001). Secondary, spatially variable chemical application system for site-specific crop management using continuous-move irrigation systems. Paper No. 012021. ASAE, St. Joseph, Michigan, USA.

Kolh, K. D., Kolh, R. A., & de Boer, D. W. (1987). Measurement of low pressure sprinkler evaporation loss. Transactions of the ASAE, 30, 1071–1074.

Merriam, J. L., & Keller, J. (1978). Farm irrigation system evaluation: A guide for management (2nd ed.). Logan, Utah: Agricultural and Irrigation Engineering Department, Utah State University.

Ortega, J. F., Tarjuelo, J. M., Montero, J., de Juan, J. A. (2000, March). Discharge efficiency in sprinkling irrigation: Analysis of the evaporation and drift losses in semi-arid areas. International Commission of Agricultural Engineering (CIGR) E-Journal, 2. ISSN: 1682–1130. Accessed January 16, 2009 from http://ecommons.library.cornell.edu/bitstream/1813/10208/1/DriftLosses.PDF.

Perry, C. D., Dukes, M. D., Harrison, K. A. (2004). Effects of variable-rate sprinkler cycling on irrigation uniformity. Paper No. 041117. ASAE, St. Joseph, Michigan, USA.

Perry, C. D., Pocknee, S., Hansen, O., Kvien, C., Vellidis. G., & Hart, E. (2002). Development and testing of a variable-rate pivot irrigation control system. Paper No. 022290. ASAE, St. Joseph, Michigan, USA.
Acknowledgements
This research was possible thanks to funding received from the USDA-ARS-NPARL and the WSU Center for Precision Agricultural Systems (CPAS) through a cooperative agreement. The authors also extend their gratitude to the following individuals who contributed to this project: Dr. Hal Collins, Eileen Perry, Lynne Hartz, John Wilson, John Ferguson, Jason Andrews, and Bruno Guerra. Furthermore, the authors appreciate the comments and suggestions of anonymous reviewers who helped improve the quality of the manuscript.
About this article
Cite this article
Chávez, J.L., Pierce, F.J., Elliott, T.V. et al. A remote irrigation monitoring and control system (RIMCS) for continuous move systems. Part B: field testing and results. Precision Agric 11, 11–26 (2010). https://doi.org/10.1007/s11119-009-9110-8
Published:

Issue Date:

DOI: https://doi.org/10.1007/s11119-009-9110-8
Keywords