Abstract
Site-specific soil management can improve profitability and environmental protection of citrus groves having large spatial variation in soil and tree characteristics. The objectives of this study were to identify soil factors causing tree performance decline in a variable citrus grove, and to develop soil-specific management zones based on easily measured soil/tree parameters for variable rate applications of appropriate soil amendments. Selected soil properties at six profile depths (0–1.5 m), water table depth, ground conductivity, leaf chlorophyll index, leaf nutrients and normalized difference vegetation index were compared at 50 control points in a highly variable 45-ha citrus grove. Regression analysis indicated that 90% of spatial variation in tree growth, assessed by NDVI, was explained by average soil profile properties of organic matter, color, near-infrared reflectance, soil solution electrical conductivity, ground conductivity and water table depth. Regression results also showed that soil samples at the surface only (0–150 mm) explained 78% of NDVI variability with NIR and DTPA-extractable Fe. Excessive available copper in low soil organic matter areas of the grove apparently induced Fe deficiency, causing chlorotic foliage disorders and stunted tree growth. The semivariograms of selected variables showed a strong spatial dependence with large ranges (varied from 230 m to 255 m). This grove can be divided into different management zones on the basis of easily measured NDVI and/or soil organic matter for variable rate application of dolomite and chelated iron to improve tree performance.
Access options
Buy single article
Instant access to the full article PDF.
US$ 39.95
Tax calculation will be finalised during checkout.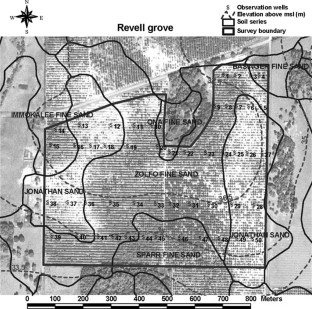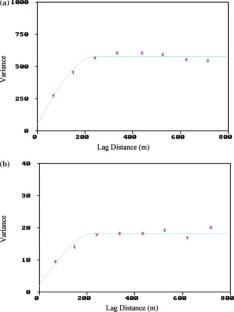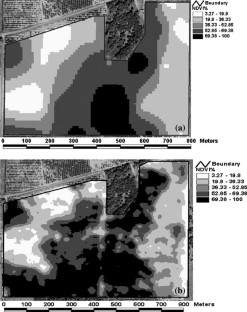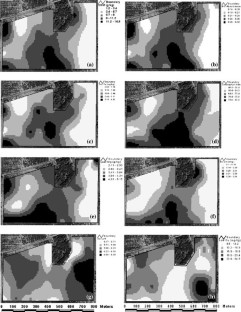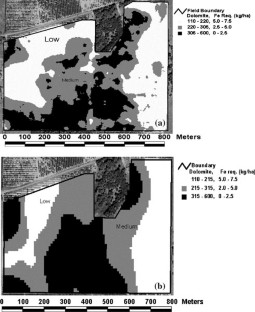 References
Alva AK, Chen EQ (1995) Effects of external copper concentrations on uptake of trace elements by citrus seedlings. Soil Sci 159(1):59–64

Bhatti AU, Mulla DJ, Frazier BE (1991) Estimation of soil properties and wheat yields on complex eroded hills using geostatistics and thematic mapper images. Remote Sens Environ 37:181–189

Burns RM, Oliva S, Ming G (1974) Effects of iron treatments on lemons. In: TW Embleton, WW Jones (eds) "Valencia" orange creasing, fruit color and other factors affecting crop value as influenced by N, K, and their interrelations. Ministry of Agriculture, Spain, pp 119–122

CIE-Commission International on de l'Eclairage (Light) (1976) Soil colors [Online]: http://www.colourware.co.uk/cpfaq/q3-21.htm (Verified August 8:2005)

Chan CW, Schueller JK, Miller WM, Whitney JD, Wheaton TA, Cornell JA (2002) Errors sources on yield-based fertilizer variable rate application maps. Precis Agric 3:81–94

Doerge T (1999) Defining management zones for precision farming [Online]. Available at: http://www.pioneer.com/usa/technology/precision_farming_management_zones.htm (Verified August 8:2005)

Englund E, Sparks A (1991) GEO-EAS 1.2.1 Geostatistical Environmental Assessment Software-Users Guide. Environment monitoring system laboratory office of research and development. EPA, Las Vegas USA

Ferguson JJ, Davies FS, Tucker DPH, Alva AK, Jackson LK, Wheaton TA (1995) Fertilizer guidelines. In: DPH Tucker, AK Alva, LK Jackson, TA Wheaton (eds) Nutrition of Florida citrus trees. IFAS, University of Florida, Gainesville, FL, USA, pp 21–25

Ferguson RB, Lark RM, Slater GP (2003) Approaches to management zone definition for use of nitrification inhibitors. Soil Sci Soc Am J 67:937–947

Fletcher RS, Escobar DE, Skaria M (2004) Evaluating airborne normalized difference vegetation index imagery for citrus orchard surveys. Hort, Technol 14(1):91–94

Hall AD (1921) Fertilisers and manures. John Murray, London, UK

Hanlon EA, Obreza TA, Alva AK (1995) Tissue and soil analysis. In: DPH Tucker, AK Alva, LK Jackson, TA Wheaton (eds) Nutrition of Florida citrus trees. University of Florida, Gainesville, FL, USA, pp 13–16

Jackson LK, Alva AK, Tucker DPH, Calvert DV (1995) Factors to consider in developing a nutrition program. In: DPH Tucker, AK Alva, LK Jackson, TA Wheaton (eds). Nutrition of Florida citrus trees. IFAS, University of Florida, Gainesville, FL, USA, pp 3–11

Jenkinson, D (1988) Soil organic matter and its dynamic. In: Russel's soil conditions and plant growth, 11th edn. Wild Longman Group, UK, pp 564–607

Jensen JR (1996) Introductory digital image processing: a remote sensing perspective. Prentice Hall Upper Saddle River, NJ, USA

Kerry R, Oliver MA (2003) Variograms of ancillary data to aid sampling for soil surveys. Precis Agric 4:261–278

Laird DA, Christy C (2003) On – the – go near Infrared reflectance spectroscopy Analysis of soils. In: "Changing Sciences for a Changing World: Building a Broader Vision", ASA-CSSA-SSSA Annual Meetings, Denver, CO, USA (Abstract)

Land Boundary information System – Florida Department of Environmental Protection (1999) Aerial Photograph for Florida Citrus [Online]. Available at http://data.labins.org/2003/MappingData/DOQQ/doqq_99_utm.cfm (Verified August 8:2003)

Miller WM, Schumann AW, Whitney JD, Buchanon S (2003) VRT citrus test plot applications of granular fertilizer. ASAE Paper No. 031127 (ASAE, St. Joseph, MI, USA)

Moody CD, Smith HW, McGreery RM (1959) Laboratory manual for soil fertility. Department of Agronomy, State College of Washington, Pullman, USA, pp 31–39

Mulla DJ, Bhatti AU, Hammond MW, Boason JA (1992) A comparison of winter wheat yield and quality under uniform versus spatially variable fertilizer management. Agric Ecosys Environ 38:301–311

Mulla DJ, Bhatti AU, (1997) An evaluation of indicator properties affecting spatial patterns in N and P requirements for winter wheat yield. In: JV Stafford (ed) Precision Agriculture '97. Proceedings of 1st European Conference on Precision Agriculture. βIOS Scientific Publishers, Oxford, UK, pp 145–155

Ndiaye PJ, Yost RS (1989) Influence of fertilizer application non uniformity on crop response. Soil Sci Soc Am J 53:1872–1878

Obreza TA, Alva AK, Hanlon EA, Rouse RE (1992) Citrus grove leaf tissue and soil testing: Sampling, analysis, and interpretation. Florida co-operative extension service circular SL115, USA

Oliver MA (1987) Geostatistics and its application to soil science. Soil Use Manage 3(1):8–20

Reuther W, Smith PF (1952) Iron chlorosis in Florida citrus groves in relation to certain soil constituents. Proc Florida State Hortic Soc 65:62–69

Reuther W, Smith PF (1953) Relation of pH and soil type to toxicity of copper to citrus seedlings. Proc Florida State Hortic Soc 66:73–80

SAS (1990) SAS User's Guide: Statistics, Ver.6 SAS Institute, Inc., Cary, NC, USA

Schumann AW, Fares A, Alva AK, Paramasivam S (2003) Response of 'Hamlin' orange to fertilizer source, rate and irrigated area. Proc Florida State Hortic Soc 116(21):372–381

Shanahan JF, Schepers JS (2003) Integrating management zones and on-the-go nitrogen sensors. In: "Changing Sciences for a Changing World: Building a Broader Vision" ASA, CSSA, SSSA Annual Meetings, Denver, CO., USA. (Abstract)

Smith PF, Reuther W, Specht AW (1950) Mineral composition of chlorotic orange leaves and some observations on the relation of sample preparation technique to the interpretation of results. Plant Physiol 25:496–506

Smith PF, Specht AW (1952) Heavy metal nutrition in relation to iron chlorosis of citrus seedlings. Proc Florida State Hortic Soc 65:101–108

Sparks DL (1996) Method of soil analysis, Part 3 – chemical methods. Soil Science Society of America, Inc., American society of agronomy, Inc., Madison, Wisconson, USA

Steel RGD, Tori JH (1980) Principles and procedures of statistics: a biometrical approach. 2nd edn. McGraw-Hill, NewYork, USA, 633 pp

Stewart I, Leonard CD (1952) Chelates as sources of iron for plants growing in the field. Science 116:564–566

Sudduth KA, Hummel JW (1993) Soil organic matter, CEC, and moisture sensing with a portable, near-infrared spectrometer. Trans ASAE 36(6):1571–1582

Tarjan, AC (1977) Use of municipal refuse compost on nematode-infected citrus. In: Citrus and vegetable magazine. 40(5). Kyle Publishing Co, FL, USA, pp 4–49

Tumbo SD, Salyani M, Whitney JD, Wheaton TA, Miller WM (2002) Investigation of laser and ultrasonic ranging sensors for measurement of citrus canopy volume. Appl Eng Agric 18(3):367–372

U.S. Department of Agriculture-Natural Resources Conservation Service (2001) Soil Survey of Audrain County, Missouri (1995-387-974/00537/SCS), US. Gov. Print. Office, Washington, DC

Webster R, Oliver MA (2001) Geostatistics for environmental scientists. John Wiley and Sons Ltd., Chichester, UK

Whitney JD, Miller WM, Wheaton TA, Salyani M, Schueller JK (1999) Precision farming applications in Florida citrus. Appl Eng Agric 15(5):399–403

Wilding LP (1985) Spatial variability: its documentation, accommodation and implication to soil survey. In: DR Nielsen, J Bouma (eds) Proceedings of the soil spatial variability: workshop of the ISSS and the SSSA Las Vegas USA. Wageningen, Netherlands, pp 166–187

Zaman QU, Schumann AW, Miller MW, Buchanon S, Hostler K, Perkins G (2004) Variable rate nitrogen application in Florida citrus based on ultrasonically-sensed tree size. In: DJ Mulla (eds) Proceedings of 7th International Conference on Precision Agriculture, The Precision Agriculture Center, University of Minnesota, Minneapolis, St. Paul, MN. CD-ROM

Zaman QU, Schumann AW, Miller MW (2005) Variable rate nitrogen application in Florida citrus based on ultrasonically-sensed tree size. Appl Eng Agric 21(3):331–335
Acknowledgements
Approved as Paper for publication as a Journal Series No. R-10000 of the Florida Agricultural Experiment Station. Mention of a trade name, proprietary product, or specific equipment does not constitute a guarantee or warranty by the University of Florida and does not imply approval of a product or exclusion of others that may be suitable.
Support for this research was received from FCPRAC grant # 032-02M Implementation of Precision Agriculture Technology to Improve Profitability of Florida Citrus and a donation from Cargill Fertilizer. The authors would also like to thank the assistance and contribution from Tom Pospichal, Kevin Hostler, and John Roegner during the field instrumentation and data collection phases of this project. The authors wish to thank Dr. James Syvertsen and Dr. Hong Li for their careful review of the manuscript.
About this article
Cite this article
Qamar-uz-Zaman, Schumann, A.W. Nutrient Management Zones for Citrus Based on Variation in Soil Properties and Tree Performance. Precision Agric 7, 45–63 (2006). https://doi.org/10.1007/s11119-005-6789-z
Keywords
Leaf nutrients

Management zones

NDVI

Soil organic matter