Abstract
This study investigates the temporal and spatial distribution of the causal impacts of major beltway facilities on housing prices using quasi-experimental econometric approaches. Difference-in-differences methods are employed to quantify construction and anticipation effects and explore how impacts evolve and differ over space and time. The study particularly focuses on spatial variations and seeks to identify potentially heterogeneous effects in the inner and outer sides of a beltway. Two methods for control group selection are adopted to test the robustness of the estimated treatment effects. Using data from three major beltway facilities in the US, we find that impacts are nonlinear with distance from an interchange, with the maximum effect found between a 0.75 and 1.5-mile distance. In two of the studied beltway projects, properties outside the beltway experienced significant positive effects, while effects on properties inside the beltway were negative within the first 0.25 miles from an interchange and insignificant thereafter. We also find that effects during construction differ by project, while after the end of construction, prices typically increase and fully materialize after 6–8 years. This research makes a significant contribution to the very limited literature on the causal identification of highway impacts on surrounding properties as well as the small group of studies that have investigated the spatial extent and distribution of transportation-induced effects. The results can be used to inform stakeholders and planning decisions of future highway facilities.
Access options
Buy single article
Instant access to the full article PDF.
USD 39.95
Price includes VAT (USA)
Tax calculation will be finalised during checkout.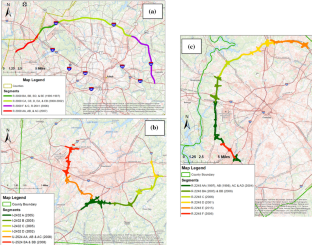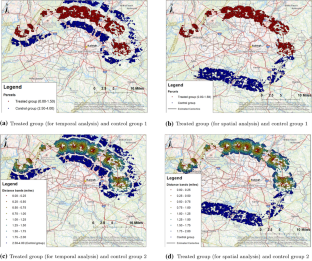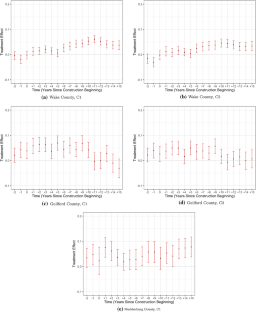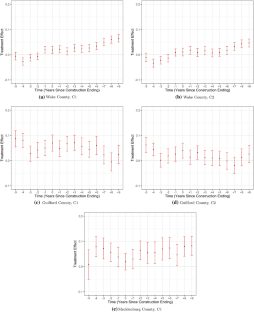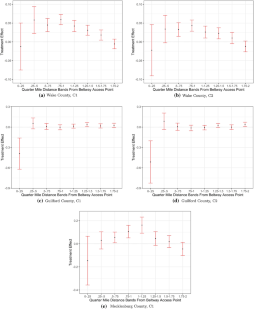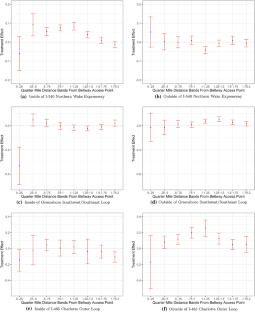 References
Agostini, C.A., Palmucci, G.A.: The anticipated capitalisation effect of a new metro line on housing prices. Fisc. Stud. 29, 233–256 (2008)

Armstrong, R.J., Rodríguez, D.A.: An evaluation of the accessibility benefits of commuter rail in Eastern Massachusetts using spatial hedonic price functions. Transportation 33, 21–43 (2006)

Ashenfelter, O.: Estimating the effect of training programs on earnings. Rev. Econ. Stat. 60, 47–57 (1978)

Athey, S., Imbens, G.: The State of applied econometrics: causality and policy evaluation. J. Econ. Perspect. 31, 3–32 (2017)

Bae, C.-H.C., Jun, M.-J., Park, H.: The impact of Seoul's subway Line 5 on residential property values. Transp. Policy 10, 85–94 (2003)

Bardaka, E., Delgado, M.S., Florax, R.J.: Causal identification of transit-induced gentrification and spatial spillover effects: the case of the Denver light rail. J. Transp. Geogr. 71, 15–31 (2018)

Bardaka, E., Delgado, M.S., Florax, R.J.: A spatial multiple treatment/multiple outcome difference-in-differences model with an application to urban rail infrastructure and gentrification. Transp. Res. Part A Policy Pract. 121, 325–345 (2019)

Bateman, I., Day, B., Lake, I., Lovett, A.: The effect of road traffic on residential property values: a literature review and hedonic pricing study. Technical Report (2001)

Besley, T., Case, A.: Unnatural experiments? Estimating the incidence of endogenous policies. Econ. J. 110, F672–F694 (2000)

Blanco, J.C., Flindell, I.: Property prices in urban areas affected by road traffic noise. Appl, Acoust (2011)

Brandt, S., Maennig, W.: Road noise exposure and residential property prices: evidence from Hamburg. Transp. Res. Part D Transp, Environ (2011)

Card, D.: The impact of the Mariel Boatlift on the Miami labor market. Ind. Labor Relat. Rev. 43, 245 (1990)

Card, D., Krueger, A.B.: Minimum wages and employment: a case study of the fast-food industry in New Jersey and Pennsylvania. Am. Econ. Rev. 84, 772–793 (1994)

Cervero, R., Duncan, M.: Transit's value-added effects: Light and commuter rail services and commercial land values. Transp. Res. Rec. 1805, 8–15 (2002)

Debrezion, G., Pels, E., Rietveld, P.: The impact of railway stations on residential and commercial property value: a meta-analysis. J. Real Estate Financ. Econ. 35, 161–180 (2007)

Del Giudice, V., De Paola, P., Manganelli, B., Forte, F.: The monetary valuation of environmental externalities through the analysis of real estate prices. Sustainability 9, 229 (2017)

Delgado, M.S., Florax, R.J.G.M.: Difference-in-differences techniques for spatial data: local autocorrelation and spatial interaction. Econ. Lett. 137, 123–126 (2015)

Devaux, N., Dubé, J., Apparicio, P.: Anticipation and post-construction impact of a metro extension on residential values: the case of Laval (Canada), 1995–2013. J. Transp. Geogr. 62, 8–19 (2017)

Diao, M., Leonard, D., Sing, T.F.: Spatial-difference-in-differences models for impact of new mass rapid transit line on private housing values. Reg. Sci. Urban Econ. 67, 64–77 (2017)

Dröes, M.I., Koster, H.R.: Renewable energy and negative externalities: the effect of wind turbines on house prices. J. Urban Econ. 96, 121–141 (2016)

Dubé, J., Andrianary, E., Assad-Déry, F., Poupart, J., Simard, J.: Exploring difference in value uplift resulting from new bus rapid transit routes within a medium size metropolitan area. J. Transp. Geogr. 72, 258–269 (2018)

Dubé, J., Legros, D., Thériault, M., Des Rosiers, F.: A spatial difference-in-differences estimator to evaluate the effect of change in public mass transit systems on house prices. Transp. Res. Part B Methodol. 64, 24–40 (2014)

Dubé, J., Thériault, M., Des Rosiers, F.: Commuter rail accessibility and house values: the case of the Montreal South Shore, Canada, 1992–2009. Transp. Res. Part A Policy Pract. 54, 49–66 (2013)

Gibbons, S., Machin, S.: Valuing rail access using transport innovations. J. Urban Econ. 57, 148–169 (2005)

Golub, A., Guhathakurta, S., Sollapuram, B.: Spatial and temporal capitalization effects of light rail in Phoenix: from conception, planning, and construction to operation. J. Plan. Educ. Res. 32, 415–429 (2012)

Halvorsen, R., Palmquist, R.: The interpretation of dummy variables in semilogarithmic equations. Am. Econ. Rev. 70, 474–475 (1980)

Heckert, M.: A spatial difference-in-differences approach to studying the effect of greening vacant land on property values. Cityscape J. Policy Dev. Res. 17, 51–60 (2015)

Holland, P.W.: Statistics and causal inference. J. Am. Stat. Assoc. 81, 945–960 (1986)

Knaap, G.J., Ding, C., Hopkins, L.D.: Do plans matter? The effects of light rail plans on land values in station areas. J. Plan. Educ. Res. 21, 32–39 (2001)

Levkovich, O., Rouwendal, J., van Marwijk, R.: The effects of highway development on housing prices. Transportation 43, 379–405 (2016)

Li, S., Chen, L., Zhao, P.: The impact of metro services on housing prices: a case study from Beijing. Transportation 46, 1291–1317 (2019)

Maciel, V.F., Biderman, C.: Assessing the effects of the São Paulo's metropolitan beltway on residential land prices. J. Transp. Lit. 7, 373–402 (2013)

MC: Open Mapping Data Portal. Mecklenburg County, North Carolina (2019)

Mohammad, S.I., Graham, D.J., Melo, P.C.: The effect of the Dubai Metro on the value of residential and commercial properties. J. Transp. Land Use 10, 263–290 (2017)

Mohammad, S.I., Graham, D.J., Melo, P.C., Anderson, R.J.: A meta-analysis of the impact of rail projects on land and property values. Transp. Res. Part A Policy Pract. 50, 158–170 (2013)

Ossokina, I.V., Verweij, G.: Urban traffic externalities: Quasi-experimental evidence from housing prices. Reg. Sci. Urban Econ. 55, 1–13 (2015)

Pilgram, C.A., West, S.E.: Fading premiums: the effect of light rail on residential property values in Minneapolis. Minnesota. Reg. Sci. Urban Econ. 69, 1–10 (2018)

Rosen, S.: Hedonic Prices and implicit markets: product differentiation in pure competition. J. Polit. Econ. 82, 34–55 (1974)

Rubin, D.B.: Estimating causal effects of treatments in randomized and nonrandomized studies. J. Educ. Psychol. 66, 688–701 (1974)

Rubin, D.B.: Formal modes of statistical inference for causal effects. J. Stat. Plan. Inference 25, 279–292 (1990)

Seo, K., Golub, A., Kuby, M.: Combined impacts of highways and light rail transit on residential property values: a spatial hedonic price model for Phoenix. Arizona. J. Transp. Geogr. 41, 53–62 (2014)

Seo, K., Golub, A., Kuby, M.: Corrigendum to: Combined impacts of highways and light rail transit on residential property values: a spatial hedonic price model for Phoenix [J. Transp. Geogr. 41, 53–62 (2014)]. Arizonaâ. J. Transp. Geogr. 41, 53–62 (2017)

Seo, K., Salon, D., Kuby, M., Golub, A.: Hedonic modeling of commercial property values: distance decay from the links and nodes of rail and highway infrastructure. Transportation 46, 859–882 (2019)

Shadish, W.R., Cook, T.D., Campbell, D.T.: Experimental and quasi-experimental for generalized designs causal inference. In: Handbook of Industrial and Organizational Psychology, vol. 223, pp. 623 (2002)

Strand, J., Vågnes, M.: The relationship between property values and railroad proximity: a study based on hedonic prices and real estate brokers' appraisals. Transportation 28 (2001)

Sun, W., Zheng, S., Wang, R.: The capitalization of subway access in home value: a repeat-rentals model with supply constraints in Beijing. Transp. Res. Part A Policy Pract. 80, 104–115 (2015)

Swoboda, A., Nega, T., Timm, M.: Hedonic analysis over time and space: the case of house prices and traffic noise. J. Reg. Sci. 55, 644–670 (2015)

USCB: Urban-Rural Classification Program, 2010 Urban Area FAQs. U.S., Census Bureau (2020)

Vessali, K.V.: Land use impacts of rapid transit: a review of the empirical literature publication date. Berkeley Plan. J. 11 (1996)

Wagner, G.A., Komarek, T., Martin, J.: Is the light rail "Tide" lifting property values? Evidence from Hampton Roads. VA. Reg. Sci. Urban Econ. 65, 25–37 (2017)

WC: Geographic Information Services Data Portal. Wake County, North Carolina (2019)

Wilhelmsson, M.: The impact of traffic noise on the values of single-family houses. J. Environ. Plan. Manag. 43, 799–815 (2000)

Yen, B.T., Mulley, C., Shearer, H., Burke, M.: Announcement, construction or delivery: when does value uplift occur for residential properties? Evidence from the Gold Coast Light Rail system in Australia. Land Use Policy 73, 412–422 (2018)
Acknowledgements
The authors are grateful to the NCDOT Strategic Initiatives and Program Support Director, Burt Tasaico, for his valuable insights and support throughout this research project. The authors are also grateful to Professor Harrison Fell, North Carolina State University, who served on the first author's masters committee, for his valuable feedback on this study. Last, the authors are thankful to participants at the 2018 North American Regional Science Conference and the 2020 Annual Meeting of the Transportation Research Board for helpful comments.
Funding
This research was funded by the North Carolina Department of Transportation (NCDOT). The contents of this article reflect the views of the authors and do not necessarily reflect the official views or policies of either NCDOT or the Federal Highway Administration at the time of publication.
Ethics declarations
Conflict of interest
On behalf of all authors, the corresponding author states that there is no conflict of interest.
Additional information
Publisher's Note
Springer Nature remains neutral with regard to jurisdictional claims in published maps and institutional affiliations.
About this article
Cite this article
Murray, J., Bardaka, E. Evaluating the spatial and temporal distribution of beltway effects on housing prices using difference-in-differences methods. Transportation (2021). https://doi.org/10.1007/s11116-021-10233-0
Keywords
Difference-in-differences

Spatial distribution

Anticipation effects

Construction effects

Housing prices

Beltway