Abstract
This study advances understanding of the role of residential location in joint household travel and activities for non-work purposes in an Asian city context. This has been done by investigating the relationship between job accessibility, and the undertaking and duration of joint travel and activities of multi-person households in Hong Kong. Particular attention was given to the difference between new town and urban-area commuters who experienced marked different levels of job accessibility as a result of their residential locations. Drawing on the 2011 household travel survey, a suite of multivariable analysis was carried out. The findings highlight that: (1) longer working hours were associated with a lower probability of joint household travel and activities for new town and urban-area commuters alike; (2) longer commute and working hours significantly reduced the time window for joint household activities; (3) and job accessibility played a more important role in affecting the opportunities for discretionary joint household activities among new town commuters than urban-area commuters. The implications of these findings can be used to inform policymaking to increase the opportunities and time window for joint household travel and activities among new town commuters. Potential avenues for future research are also identified.
Access options
Buy single article
Instant access to the full article PDF.
US$ 39.95
Tax calculation will be finalised during checkout.
Subscribe to journal
Immediate online access to all issues from 2019. Subscription will auto renew annually.
US$ 79
Tax calculation will be finalised during checkout.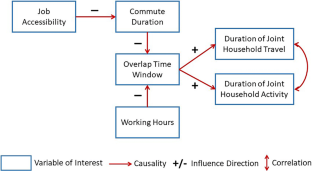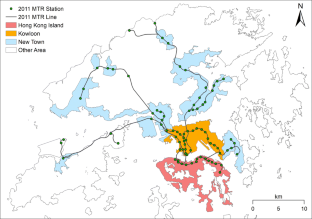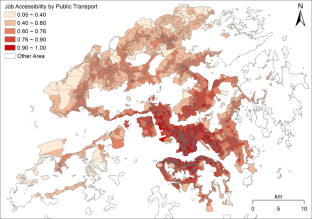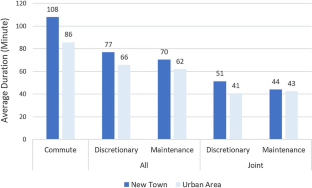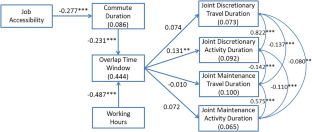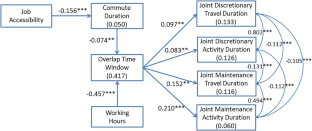 Notes
1.

2.

3.

We have also experimented with zero-inflated Poisson and Negative Binomial SEM, which did not result in good model-fit.

4.

We have also summarised working hours and overlap time windows for some public transport commuters who did not make any non-commute trips. Compared to Group 1, this group was also associated with longer working hours and markedly shorter time windows. The results, based on a relatively small sample size (i.e., N = 100), can be obtained from the authors upon request.
References
Abendroth, A.K., Den Dulk, L.: Support for the work-life balance in Europe: the impact of state, workplace and family support on work-life balance satisfaction. Work Employ. Soc. 25(2), 234–256 (2011)

Bradley, M., Vovsha, P.: A model for joint choice of daily activity pattern types of household members. Transportation 32(5), 545–571 (2005)

Boarnet, M., Crane, R.: The influence of land use on travel behavior: specification and estimation strategies. Transp. Res. Part A: Policy Pract. 35(9), 823–845 (2001)

Byrne, B.M.: Structural Equation Modeling with EQS: Basic Concepts, Applications, and Programming. Routledge, New York (2013)

Cervero, R.: Planned communities, self-containment and commuting: a cross-national perspective. Urban Stud. 32(7), 1135–1161 (1995)

Chen, C., Mokhtarian, P.L.: Tradeoffs between time allocations to maintenance activities/travel and discretionary activities/travel. Transportation 33(3), 223–240 (2006)

Civil Engineering and Development Department: New Towns, New Development Areas and Urban Developments (2018)

Cui, B., Boisjoly, G., El-Geneidy, A., Levinson, D.: Accessibility and the journey to work through the lens of equity. J. Transp. Geogr. 74, 269–277 (2019)

Dijst, M., Vidakovic, V.: Travel time ratio: the key factor of spatial reach. Transportation 27(2), 179–199 (2000)

Fan, Y., Allen, R., Sun, T.: Spatial mismatch in Beijing, China: Implications of job accessibility for Chinese low-wage workers. Habitat Int. 44, 202–210 (2014)

Firth, D.: Bias reduction of maximum likelihood estimates. Biometrika 80(1), 27–38 (1993)

Fu, X., Lam, W.H.: Modelling joint activity-travel pattern scheduling problem in multi-modal transit networks. Transportation 45(1), 23–49 (2018)

Fujii, S., Kitamura, R., Kishizawa, K.: Analysis of individuals' joint-activity engagement using a model system of activity-travel behavior and time use. Transp. Res. Rec. 1676(1), 11–19 (1999)

Gan, Z., Feng, T., Yang, M.: Exploring the effects of car ownership and commuting on subjective well-being: a nationwide questionnaire study. Sustainability 11(1), 84 (2019)

Geurs, K.T., Van Wee, B.: Accessibility evaluation of land-use and transport strategies: review and research directions. J. Transp. Geogr. 12(2), 127–140 (2004)

Gliebe, J.P., Koppelman, F.S.: A model of joint activity participation between household members. Transportation 29(1), 49–72 (2002)

Gliebe, J.P., Koppelman, F.S.: Modeling household activity–travel interactions as parallel constrained choices. Transportation 32(5), 449–471 (2005)

Golob, T.F.: Structural equation modeling for travel behavior research. Transp. Res. Part B: Methodol. 37(1), 1–25 (2003)

Grant, J.: Mixed use in theory and practice: Canadian experience with implementing a planning principle. J. Am. Plan. Assoc. 68(1), 71–84 (2002)

Greenhaus, J.H., Collins, K.M., Shaw, J.D.: The relation between work–family balance and quality of life. J. Vocat. Behav. 63(3), 510–531 (2003)

Grengs, J.: Job accessibility and the modal mismatch in Detroit. J. Transp. Geogr. 18(1), 42–54 (2010)

Hansen, W.G.: How accessibility shapes land use. J. Am. Inst. Plan. 25(2), 73–76 (1959)

He, S.Y.: Will you escort your child to school? The effect of spatial and temporal constraints of parental employment. Appl. Geogr. 42, 116–123 (2013)

He, S.Y., Giuliano, G.: Factors affecting children's journeys to school: a joint escort-mode choice model. Transportation 44(1), 199–224 (2017)

He, S.Y., Tao, S., Hou, Y., Jiang, W.: Mass Transit Railway, transit-oriented development and spatial justice: the competition for prime residential locations in Hong Kong since the 1980s. Town Plan. Rev. 89(5), 467–493 (2018a)

He, S.Y., Cheung, Y.H., Tao, S.: Travel mobility and social participation among older people in a transit metropolis: a socio-spatial-temporal perspective. Transp. Res. Part A: Policy Pract. 118, 608–626 (2018b)

He, S.Y., Tao, S., Ng, M.K., Tieben, H.: An assessment of Hong Kong's spatial planning in new towns from the perspectives of job accessibility, commute and non-commute durations. J. Am. Plan. Assoc. (2020a). https://doi.org/10.1080/01944363.2020.1725602

He, S.Y., Wu, D., Chen, H., Hou, Y., Ng, M.K.: New towns and the local agglomeration economy. Habitat Int. 98, 102153 (2020b). https://doi.org/10.1016/j.habitatint.2020.102153

Heinze, G., Puhr, R.: Bias-reduced and separation-proof conditional logistic regression with small or sparse data sets. Stat. Med. 29(7–8), 770–777 (2010)

Ho, C., Mulley, C.: Intra-household interactions in transport research: a review. Transport Reviews 35(1), 33–55 (2015)

Hu, Y., Downs, J.: Measuring and visualizing place-based space-time job accessibility. J. Transp. Geogr. 74, 278–288 (2019)

Hu, Y., Wang, F.: Temporal trends of intraurban commuting in Baton Rouge, 1990–2010. Ann. Am. Assoc. Geogr. 106(2), 470–479 (2016)

Kato, H., Matsumoto, M.: Intrahousehold interaction analysis between husband, wife, and child using joint time-allocation model. Transp. Res. Rec. 2021(1), 1–9 (2007)

Kalliath, T., Brough, P.: Work–life balance: A review of the meaning of the balance construct. J. Manag. Organ. 14(3), 323–327 (2008)

Kawabata, M., Shen, Q.: Job accessibility as an indicator of auto-oriented urban structure: a comparison of Boston and Los Angeles with Tokyo. Environ. Plan. B: Plan. Des. 33(1), 115–130 (2006)

Knowles, R.D.: Transit oriented development in Copenhagen, Denmark: from the finger plan to Ørestad. J. Transp. Geogr. 22, 251–261 (2012)

Lau, J.C.Y.: The influence of suburbanization on the access to employment of workers in the new towns: a case study of Tin Shui Wai, Hong Kong. Habitat Int. 34(1), 38–45 (2010)

Lau, J.C.Y.: Spatial mismatch and the affordability of public transport for the poor in Singapore's new towns. Cities 28(3), 230–237 (2011)

Lee, J., Miller, H.J.: Measuring the impacts of new public transit services on space-time accessibility: An analysis of transit system redesign and new bus rapid transit in Columbus, Ohio, USA. Appl. Geogr. 93, 47–63 (2018)

Li, S.: HK has longest working week of 71 cities (2016). Retrieved from: https://www.chinadailyasia.com/hknews/2016-05/25/content_15439024.html

Lin, T., Wang, D.: Social networks and joint/solo activity–travel behavior. Transp. Res. Part A: Policy Pract. 68, 18–31 (2014)

Lorenz, O.: Does commuting matter to subjective well-being? J. Transp. Geogr. 66, 180–199 (2018)

Manaugh, K., Miranda-Moreno, L.F., El-Geneidy, A.M.: The effect of neighbourhood characteristics, accessibility, home–work location, and demographics on commuting distances. Transportation 37(4), 627–646 (2010)

Merlin, L.A., Hu, L.: Does competition matter in measures of job accessibility? Explaining employment in Los Angeles. J. Transp. Geogr. 64, 77–88 (2017)

Mokhtarian, P.L., Chen, C.: TTB or not TTB, that is the question: a review and analysis of the empirical literature on travel time (and money) budgets. Transp. Res. Part A: Policy Pract. 38(9–10), 643–675 (2004)

Morris, E.A., Guerra, E.: Mood and mode: does how we travel affect how we feel? Transportation 42(1), 25–43 (2015)

Neutens, T., Schwanen, T., Witlox, F., De Maeyer, P.: Equity of urban service delivery: a comparison of different accessibility measures. Environ. Plan. A 42(7), 1613–1635 (2010)

Ng, M.K.: Intellectuals and the production of space in the urban renewal process in Hong Kong and Taipei. Plan. Theory Pract. 15(1), 77–92 (2014)

Ong, P., Blumenberg, E.: Job access, commute and travel burden among welfare recipients. Urban Stud. 35(1), 77–93 (1998)

Ory, D.T., Mokhtarian, P.L., Redmond, L.S., Salomon, I., Collantes, G.O., Choo, S.: When is commuting desirable to the individual? Growth Change 35(3), 334–359 (2004)

Sandow, E.: Til work do us part: the social fallacy of long-distance commuting. Urban Stud. 51(3), 526–543 (2014)

Schwanen, T., Ettema, D., Timmermans, H.: If you pick up the children, I'll do the groceries: spatial differences in between-partner interactions in out-of-home household activities. Environ. Plan. A 39(11), 2754–2773 (2007)

Scott, D.M., Kanaroglou, P.S.: An activity-episode generation model that captures interactions between household heads: development and empirical analysis. Transp. Res. Part B: Methodol. 36(10), 875–896 (2002)

Shen, Q.: Location characteristics of inner-city neighborhoods and employment accessibility of low-wage workers. Environ. Plan. B: Plan Des. 25(3), 345–365 (1998)

Solberg, E.J., Wong, D.C.: Family time use: Leisure, home production, market work, and work related travel. J. Hum. Resour. 27(3), 485–510 (1992)

Srinivasan, S., Bhat, C.R.: A multiple discrete-continuous model for independent-and joint-discretionary-activity participation decisions. Transportation 33(5), 497–515 (2006)

Srinivasan, S., & Bhat, C.R.: An exploratory analysis of joint-activity participation characteristics using the American time use survey. Transportation 35(3), 301–327 (2008)

Tao, S., He, S.Y., Thøgersen, J.: The role of car ownership in attitudes towards public transport: a comparative study of Guangzhou and Brisbane. Transp. Res. Part F: Traffic Psychol. Behav. 60, 685–699 (2019)

Thøgersen, J.: Understanding repetitive travel mode choices in a stable context: a panel study approach. Transp. Res. Part A: Policy Pract. 40(8), 621–638 (2006)

Transport Department: Travel Characteristics Survey 2011 Final Report, Hong Kong, Transport Department (2014)

Vovsha, P., Petersen, E., Donnelly, R.: Explicit modeling of joint travel by household members: statistical evidence and applied approach. Transp. Res. Rec. 1831(1), 1–10 (2003)

Vovsha, P., Petersen, E., Donnelly, R.: Impact of intrahousehold interactions on individual daily activity-travel patterns. Transp. Res. Rec. 1898(1), 87–97 (2004)

Wheatley, D.: Good to be home? Time-use and satisfaction levels among home-based teleworkers. New Technol. Work Employ. 27(3), 224–241 (2012)

Wheatley, D.: Travel-to-work and subjective well-being: a study of UK dual career households. J. Transp. Geogr. 39, 187–196 (2014)

Widener, M.J., Farber, S., Neutens, T., Horner, M.: Spatiotemporal accessibility to supermarkets using public transit: an interaction potential approach in Cincinnati, Ohio. J. Transp. Geogr. 42, 72–83 (2015)

Zhang, J., Kuwano, M., Lee, B., Fujiwara, A.: Modeling household discrete choice behavior incorporating heterogeneous group decision-making mechanisms. Transp. Res. Part B: Methodol. 43(2), 230–250 (2009)

Zhao, P.: The determinants of the commuting burden of low-income workers: evidence from Beijing. Environ. Plan. A: Econ. Sp. 47(8), 1736–1755 (2015)
Acknowledgements
The authors thank the three anonymous reviewers for their constructive comments and advice. This work was supported by the General Research Fund (GRF) of the Hong Kong Research Grants Council (Grants Number: CUHK14602017).
Ethics declarations
Conflict of interest
On behalf of all authors, the corresponding author states that there is no conflict of interest.
Additional information
Publisher's Note
Springer Nature remains neutral with regard to jurisdictional claims in published maps and institutional affiliations.
Appendices
Appendix I: Job accessibility by private vehicle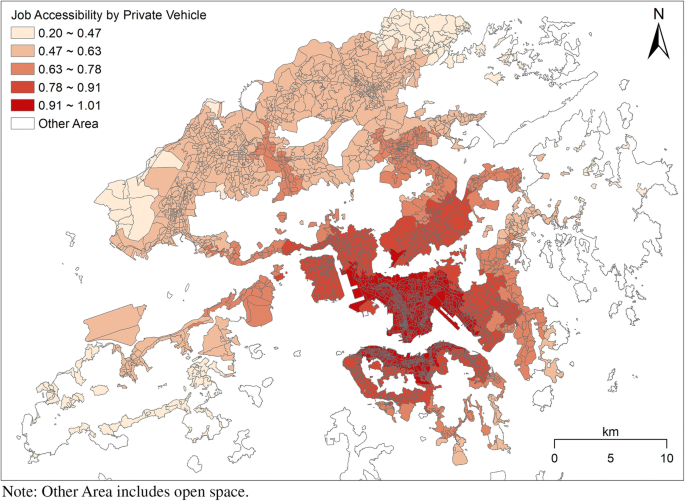 Appendix II: Average joint household travel and activity durations: public transport commuters
Home location
N
Ave. commute duration (min)
Ave. working hours
Discretionary
Maintenance
Joint travel
Joint activity
Joint travel
Joint activity
Proportion (%)
Ave. duration (min)
Proportion (%)
Ave. duration (min)
Proportion (%)
Ave. duration (min)
Proportion (%)
Ave. duration (min)
New Town
Tsuen Wan
2823
96.58
9.63
0.81
55.48
0.89
135.80
0.53
40.27
0.32
92.78
Shatin
2750
106.73
9.71
0.76
38.33
0.76
99.05
0.29
20.00
0.25
105.71
Tuen Mun
1212
126.86
9.89
0.83
75.00
0.83
151.50
0.41
33.00
0.25
123.33
Tai Po
795
120.74
9.71
0.75
53.33
0.63
162.00
0.38
70.00
0.38
53.33
Fanling/Sheung Shui
789
128.10
9.70
0.63
56.00
0.76
102.50
0.63
29.00
0.38
111.67
Yuen Long
375
116.04
9.85
0.27
55.00
0.27
150.00
0.00
0.00
0.00
0.00
Tseung Kwan O
1669
90.36
9.86
0.30
33.00
0.30
154.00
0.18
30.00
0.00
0.00
Tin Shui Wai
589
131.12
9.83
0.34
45.00
0.34
180.00
0.68
55.00
0.51
60.00
Tung Chung
319
106.75
9.93
0.31
60.00
0.31
120.00
0.31
60.00
0.31
60.00
Summary
11,321
107.99
9.75
0.65
51.36
0.67
129.14
0.39
37.59
0.26
92.41
Urban Area
HKI
4597
84.91
9.60
0.70
41.41
0.65
130.33
0.52
18.54
0.26
105.42
Kowloon
7171
86.34
9.61
0.45
40.00
0.49
141.80
0.60
28.26
0.30
158.04
Summary
11,768
85.78
9.61
0.54
40.70
0.55
136.51
0.57
24.78
0.31
140.00
Rural
600
103.12
10.12
0.00
0.00
0.17
85.00
0.17
0.00
0.00
0.00
Total
23,689
96.84
9.69
0.58
46.42
0.60
132.20
0.47
29.59
0.27
118.44
Appendix III: Average joint household travel and activity durations: private-vehicle commuters
Home location
N
Ave. commute duration (min)
Ave. working hours
Discretionary
Maintenance
Joint travel
Joint activity
Joint travel
Joint activity
Proportion (%)
Ave. duration (min)
Proportion (%)
Ave. duration (min)
Proportion (%)
Ave. duration (min)
Proportion (%)
Ave. duration (min)
New Town
Tsuen Wan
155
64.23
9.36
3.23
42.00
3.23
81.00
6.45
30.00
2.58
108.75
Shatin
214
72.14
9.48
4.21
42.78
4.67
197.00
5.14
24.64
0.93
7.50
Tuen Mun
129
80.28
10.09
3.10
23.75
3.10
120.00
3.88
47.00
2.33
83.33
Tai Po
129
73.98
9.60
4.65
21.67
4.65
107.50
1.55
35.00
0.78
100.00
Fanling/Sheung Shui
65
84.29
9.79
1.54
60.00
1.54
210.00
3.08
30.00
0.00
0.00
Yuen Long
50
62.08
9.85
0.00
0.00
0.00
0.00
2.00
35.00
0.00
0.00
Tseung Kwan O
90
74.69
9.90
3.33
50.00
3.33
75.00
2.22
35.00
1.11
105.00
Tin Shui Wai
30
74.87
9.71
0.00
0.00
0.00
0.00
0.00
0.00
0.00
0.00
Tung Chung
5
68.00
10.77
0.00
0.00
0.00
0.00
0.00
0.00
0.00
0.00
Summary
867
72.88
9.67
3.23
36.79
3.34
0.00
3.81
31.55
1.27
82.27
Urban Area
HKI
320
63.74
9.59
3.13
63.50
3.13
134.50
4.06
23.85
0.31
255.00
Kowloon
354
61.46
9.24
2.54
38.89
2.54
112.78
1.13
26.25
0.28
100.00
Summary
674
62.55
9.41
2.82
51.84
2.82
124.21
2.52
24.41
0.30
177.50
Rural
258
77.55
10.04
0.78
32.50
0.78
115.00
3.10
33.13
0.00
0.00
Total
1,799
69.68
9.62
2.72
42.45
2.78
130.50
3.22
29.67
0.72
96.92
Appendix IV: Modelling results of probability of joint household travel and activities: private-vehicle commuters
Variable
Coefficient estimates (N = 1799)
Discretionary
Maintenance
Model 1: Joint travel
Model 2: Joint activity
Model 3: Joint travel
Model 4: Joint activity
Age
− 0.014
− 0.009
0.018
0.022
Female
0.401
0.408
0.250
− 0.101
Married
1.121**
1.057*
1.565*
1.306
Public housing estates
0.253
0.213
− 0.631
− 0.160
Household size
0.131
0.106
0.192
− 0.311
Having dependent children
− 0.934**
− 0.796*
0.937**
0.941
Having another elderly
− 1.222
− 1.216
− 0.240
− 0.321
Having a domestic helper
− 0.618*
− 0.670*
0.166
− 0.321
Multiple earners
0.003
− 0.065
− 0.482
− 0.732
Population density (natural log transformed)
− 0.118
− 0.101
− 0.075
0.006
Job accessibility by private vehicle
2.303*
2.153*
− 0.525
− 0.945
Commute duration
− 0.002
− 0.001
− 0.005
− 0.003
Working hours
− 0.127**
− 0.118*
− 0.102*
− 0.251**
Model summary
Wald χ2
24.48**
22.56***
31.37***
12.04
AIC
400.119
408.992
446.826
135.062
BIC
477.049
408.992
523.755
211.992
Appendix V: SEM modelling results for private-vehicle commuters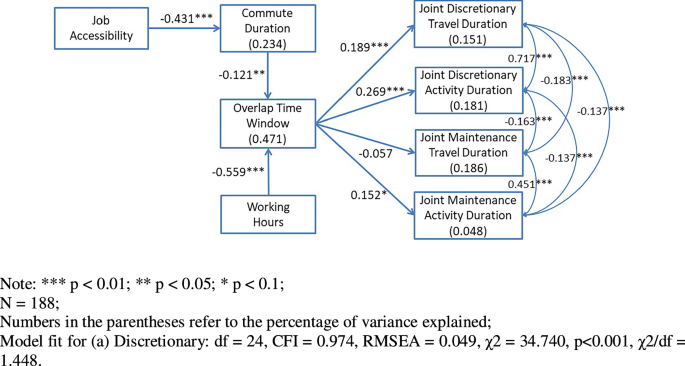 About this article
Cite this article
Tao, S., He, S.Y. Job accessibility and joint household travel: a study of Hong Kong with a particular focus on new town residents. Transportation (2020). https://doi.org/10.1007/s11116-020-10100-4
Keywords
Joint household travel

Commuting

Job accessibility

New towns