Abstract
Beyond their functional purpose, cars are often considered a status symbol. There may exist a certain level of pride associated with owning and using cars, particularly in regions where motorization is rapidly growing. However, there is little empirical evidence in terms of how car pride is related to different behavioral aspects, such as car ownership and use, especially in the context of developing countries. This paper presents an exploration of car pride and its association with car-related behavior. In this work, car pride is defined as the self-conscious emotion derived from the appraisal of owning and using cars as a positive self-representation. It pertains to both the symbolic and affective functions of the car. Using survey data (n = 1389) from Shanghai, China, we empirically measure car pride as a latent variable based on five Likert-scale statements and test the association of car pride with car use, vehicle preferences, and car ownership. Based on two structural equation models, we show that: (1) car pride is positively correlated with car use; (2) car pride correlates significantly with owning newer, more expensive, and luxury cars, and Shanghai's more expensive local car licenses; (3) car owners in general have higher car pride than non-owners; and (4) car pride is largely independent of one's socio-economic characteristics. Although the analysis focuses on Shanghai, the findings of the positive correlation between car pride and behavior are consistent with prior studies in developed countries. These findings highlight the importance of car pride regarding multiple behavioral aspects of car ownership and use and its potential impact on mobility management.
Access options
Buy single article
Instant access to the full article PDF.
US$ 39.95
Tax calculation will be finalised during checkout.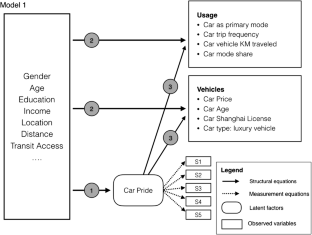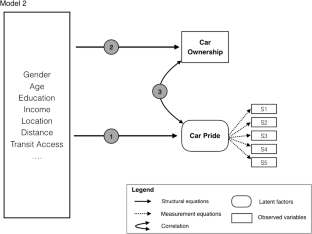 Notes
1.

Root mean square error of approximation (RMSEA), comparative fit index (CFI), and Tucker-Lewis index (TLI) are commonly used model fit indices and preferred for one-time analyses (Schreiber et al. 2006). RMSEA represents the square root of the average of the covariance residuals; zero represents a perfect fit, but the maximum is unlimited. Both CFI and TLI are based on comparison against a baseline (independence) model. They roughly represent the extent to which the model of interest is better than the independence model; values that approach 1 indicate acceptable fit. In particular, TLI tends to be lower if the model is complex. The rule of thumb cutoff criterion for model selection are (1) RMSEA < 0.06, (2) CFI ≥ 0.95, and (3) TLI ≥ 0.95 (Hu and Bentler 1999). However, these criteria are merely guidelines, and it has also been shown that they may over-reject true models at small size and thus are less preferable when sample size is small. For Model 1, we find that the model fit is reasonably good in terms of RMSEA and CFI, but poor in TLI. This may be because of the relatively smaller sample size (compared to Model 2) and more complex model structure.
References
Barkow, J.H.: Darwin, Sex, and Status: Biological Approaches to Mind and Culture (1st US-1st Printing Edition). University of Toronto Press, Toronto (1989)

Baumeister, R.F., Stillwell, A.M.: Guilt: an interpersonal approach. Psychol. Bull. 115, 243 (1994)

Belgiawan, P.F., Schmöcker, J.-D., Abou-Zeid, M., Walker, J., Lee, T.-C., Ettema, D.F., Fujii, S.: Car ownership motivations among undergraduate students in China, Indonesia, Japan, Lebanon, Netherlands, Taiwan, and USA. Transportation 41(6), 1227–1244 (2014). https://doi.org/10.1007/s11116-014-9548-z

Belk, R.W.: Posessions and the extended self. J. Consum. Res. 15, 139–168 (1988)

Berger, J., Zelditch, M.J., Anderson, B., Cohen, B.P.: Distributive justice: a status value formulation (2015). http://oaktrust.library.tamu.edu/handle/1969.1/154695. Accessed 13 Feb 2018

Bergstad, C.J., Gamble, A., Hagman, O., Polk, M., Gärling, T., Olsson, L.E.: Affective–symbolic and instrumental–independence psychological motives mediating effects of socio-demographic variables on daily car use. J. Transp. Geogr. 19(1), 33–38 (2011). https://doi.org/10.1016/j.jtrangeo.2009.11.006

Bloom, A.H.: The Linguistic Shaping of Thought: A Study in the Impact of Language on Thinking in China and the West, 1st edn. Lawrence Erlbaum Associates, Hillsdale, NJ (1981)

Carrus, G., Passafaro, P., Bonnes, M.: Emotions, habits and rational choices in ecological behaviours: the case of recycling and use of public transportation. J. Environ. Psychol. 28(1), 51–62 (2008). https://doi.org/10.1016/j.jenvp.2007.09.003

Chen, X., Zhao, J.: Bidding to drive: car license auction policy in Shanghai and its public acceptance. Transp. Policy 27, 39–52 (2013). https://doi.org/10.1016/j.tranpol.2012.11.016

Davidson, R.J.: The neural circuitry of emotion and affective style: prefrontal cortex and amygdala contributions. Soc. Sci. Inf. 40, 11–37 (2001). https://doi.org/10.1177/053901801040001002

Dittmar, H.: The Social Psychology of Material Possessions: To Have is To Be. St. Martin's Press, New York (1992)

Ekman, P., Levenson, R.W., Friesen, W.V.: Autonomic nervous system activity distinguishes among emotions. Science 221, 1208–1210 (1983)

Garikapati, V.M., Pendyala, R.M., Morris, E.A., Mokhtarian, P.L., McDonald, N.: Activity patterns, time use, and travel of millennials: a generation in transition? Transp. Rev. 36(5), 558–584 (2016). https://doi.org/10.1080/01441647.2016.1197337

Gärling, T., Loukopoulos, P.: Economic and psychological determinants of car ownership and use. In: Lewis, A. (ed.) The Cambridge Handbook of Psychology and Economic Behaviour, pp. 383–405. Cambridge University Press, Cambridge (2008). http://ebooks.cambridge.org/ref/id/CBO9780511490118A028. Accessed 26 Mar 2016

Hao, H., Wang, H., Ouyang, M.: Comparison of policies on vehicle ownership and use between beijing and shanghai and their impacts on fuel consumption by passenger vehicles. Energy Policy 39(2), 1016–1021 (2011)

Hu, L., Bentler, P.M.: Cutoff criteria for fit indexes in covariance structure analysis: conventional criteria versus new alternatives. Struct. Equ. Model. Multidiscip. J. 6(1), 1–55 (1999). https://doi.org/10.1080/10705519909540118

Jakobsson, C.: Instrumental motives for private car use. In: Garling, T., Steg, L. (eds.) Threats to the Quality of Urban Life from Car Trafic: Problems, Causes and Solutions, pp. 205–218. Elsevier, Amsterdam (2007)

Kent, J.L., Dowling, R.: Puncturing automobility? Carsharing practices. J. Transp. Geogr. 32, 86–92 (2013). https://doi.org/10.1016/j.jtrangeo.2013.08.014

Klein, N.J., Smart, M.J.: Millennials and car ownership: less money, fewer cars. Transp. Policy 53, 20–29 (2017). https://doi.org/10.1016/j.tranpol.2016.08.010

LeDoux, J.E.: The Emotional Brain: The Mysterious Underpinnings of Emotional Life. Simon & Schuster, New York (1996)

Leith, K.P., Baumeister, R.F.: Empathy, shame, guilt, and narratives of interpersonal conflicts: guilt-prone people are better at perspective talking. J. Pers. 66, 1 (1998)

Li, J., Walker, J., Srinivasan, S., Anderson, W.: Modeling private car ownership in China. Transp. Res. Rec. J. Transp. Res. Board 2193, 76–84 (2010). https://doi.org/10.3141/2193-10

Liu, L.G.: Reasoning counterfactually in Chinese: are there any obstacles? Cognition 21(3), 239–270 (1985). https://doi.org/10.1016/0010-0277(85)90026-5

Lois, D., López-Sáez, M.: The relationship between instrumental, symbolic and affective factors as predictors of car use: a structural equation modeling approach. Transp. Res. Part A Policy Pract. 43(9–10), 790–799 (2009). https://doi.org/10.1016/j.tra.2009.07.008

McDonald, N.C.: Are millennials really the "go-nowhere" generation? J. Am. Plan. Assoc. 81(2), 90–103 (2015). https://doi.org/10.1080/01944363.2015.1057196

Moody, J., Goulet-Langois, G., Alexander, L., Campbell, J., Zhao, J.: Measuring explicit and implicit social status bias in car vs. bus mode choice. Presented at the Transportation Research Board 95th Annual Meeting Transportation Research Board (2016). https://trid.trb.org/view.aspx?id=1393857. Accessed 28 Feb 2017

Panksepp, J.: Affective Neuroscience: The Foundations of Human and Animal Emotions. Affective Science, Vol. 4 (1998)

Robins, R.W., Tracy, J.L., Trzesniewski, K.H.: Naturalizing the self. In: Handbook of Personality, Third Edition: Theory and Research. Guilford Press, New York (2008)

Rucker, D.D., Galinsky, A.D.: Desire to acquire: powerlessness and compensatory consumption. J. Consum. Res. 35(2), 257–267 (2008). https://doi.org/10.1086/588569

Schreiber, J.B., Nora, A., Stage, F.K., Barlow, E.A., King, J.: Reporting structural equation modeling and confirmatory factor analysis results: a review. J. Educ. Res. 99(6), 323–338 (2006). https://doi.org/10.3200/JOER.99.6.323-338

Schuitema, G., Anable, J., Skippon, S., Kinnear, N.: The role of instrumental, hedonic and symbolic attributes in the intention to adopt electric vehicles. Transp. Res. Part A Policy Pract. 48, 39–49 (2013). https://doi.org/10.1016/j.tra.2012.10.004

Shanghai Municipal Bureau of Statistics: Shanghai Statistical Yearbooks (2012). http://www.stats-sh.gov.cn/data/release.xhtml. Accessed 5 May 2015

Shaver, P., Schwartz, J., Kirson, D., O'Connor, C.: Emotion knowledge: further exploration of a prototype approach. J. Pers. Soc. Psychol. 52, 1061–1086 (1987)

Sheller, M.: Automotive emotions feeling the car. Theory Cult. Soc. 21(4–5), 221–242 (2004). https://doi.org/10.1177/0263276404046068

Steg, L.: Car use: lust and must. Instrumental, symbolic and affective motives for car use. Transp. Res. Part A Policy Pract. 39(2–3), 147–162 (2005)

Steg, L., Vlek, C., Slotegraaf, G.: Instrumental-reasoned and symbolic-affective motives for using a motor car. Transp. Res. Part F Traffic Psychol. Behav. 4, 151–169 (2001)

Stipek, D.: The development of pride and shame in toddlers. In: Tangney, J.P., Fischer, K.W. (eds.) Self-Conscious Emotions: The Psychology of Shame, Guilt, Embarrassment and Pride, pp. 237–254. Guilford Press, New York (1995)

Tracy, J.L., Robins, R.W.: Putting the self into self-conscious emotions: a theoretical model. Psychol. Inq. 15, 103–125 (2004)

Tracy, J.L., Robins, R.W.: Emerging insights into the nature and function of pride. Curr. Dir. Psychol. Sci. 16, 147–150 (2007). https://doi.org/10.1111/j.1467-8721.2007.00493.x

Urry, J.: The 'system' of automobility. Theory Cult. Soc. 21(4–5), 25–39 (2004). https://doi.org/10.1177/0263276404046059

Vredin Johansson, M., Heldt, T., Johansson, P.: The effects of attitudes and personality traits on mode choice. Transp. Res. Part A Policy Pract. 40(6), 507–525 (2006)

Weiner, B.: An attributional theory of achievement motivation and emotion. Psychol. Rev. 92, 548–573 (1985)

Williams, L.A., DeSteno, D.: Pride and perseverance: the motivational role of pride. J. Pers. Soc. Psychol. 94, 1007–1017 (2008)

Wu, N., Zhao, S., Zhang, Q.: A study on the determinants of private car ownership in China: findings from the panel data. Transp. Res. Part A Policy Pract. 85, 186–195 (2016). https://doi.org/10.1016/j.tra.2016.01.012

Zhao, J.: Preference Accommodating and Preference Shaping: Incorporating Traveler Preferences into Transportation Planning, Doctoral Dissertation. Massachusetts Institute of Technology (2009)

Zhao, Z., Zhao, J., Shen, Q.: Has transportation demand of Shanghai, China, passed its peak growth? Transp. Res. Rec. J. Transp. Res. Board 2394, 85–92 (2013). https://doi.org/10.3141/2394-11

Zhu, C., Zhu, Y., Lu, R., He, R., Xia, Z.: Perceptions and aspirations for car ownership among Chinese students attending two universities in the Yangtze Delta, China. J. Transp. Geogr. 24, 315–323 (2012). https://doi.org/10.1016/j.jtrangeo.2012.03.011
Ethics declarations
Conflict of interest
On behalf of all authors, the corresponding author states that there is no conflict of interest.
Appendices
Appendix A: Sample statistics
In Table 6, we show the comparison of sample and city statistics regarding some key socio-economic variables. Note that we deliberately oversampled car owners because we want to obtain adequate observations to estimate the influence of car pride on car use and vehicle choice. Also, our sample skews toward population with higher education, which is likely a result of using online surveys. To address these issues, we apply iterative proportional fitting (IPF) to assign a weight to each sample response based on the city statistics. Also, as shown in our model results, socio-economic variables have minimal effect on car pride.
Appendix B: extended SEM results
There are three latent variables involved in Model 1—PRIDE, PT_ACC1, and PT_ACC2. The estimated coefficients for their measurement equations are summarized in Table 7. All estimates are statistically significant. Note that all the variables used for measuring car pride are highly correlated. Both PT_ACC1 and PT_ACC2 represent transit accessibility. The difference is that the former is an objective measure of transit accessibility at home, while the latter is a subjective measure of general transit accessibility.
About this article
Cite this article
Zhao, Z., Zhao, J. Car pride and its behavioral implications: an exploration in Shanghai. Transportation 47, 793–810 (2020). https://doi.org/10.1007/s11116-018-9917-0
Keywords
Car pride

Structural equation model

Car ownership

Car use

Shanghai