Abstract
While the study of choices focuses primarily on the individual decision maker, there is growing interest in the examination of the choices made by groups. Much of the research into the choices of multiple decision makers has revealed that they differ significantly to those of individuals. In this study of household vehicle choice we similarly compare individual choices to group choices and support this finding. Consequently any research into choices that involve groups should acquire data from those groups. In this paper we show how this may be done via an interactive agency choice experiment which makes the individual preferences endogenous to the choice of the group. This method and many like it, however, involve significant time, incentive and administrative costs that often make such studies prohibitive. In this paper we also compare another class of model, minimum information group inference, which is designed to provide an overview of the likely group choice and while not having the specificity of detail as other methods, has the advantage of being much easier and cheaper to implement and is perhaps the only methodology that can be employed when it is not feasible for respondents to interact. We find that this method is a good approximation of group choice, mapping the preference space over which group choice is likely to be located.
This is a preview of subscription content, log in to check access.
Access options
Buy single article
Instant access to the full article PDF.
US$ 39.95
Price includes VAT for USA
Subscribe to journal
Immediate online access to all issues from 2019. Subscription will auto renew annually.
US$ 99
This is the net price. Taxes to be calculated in checkout.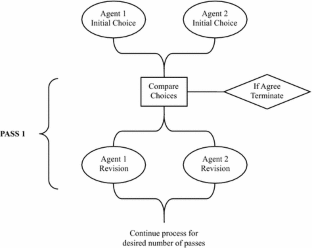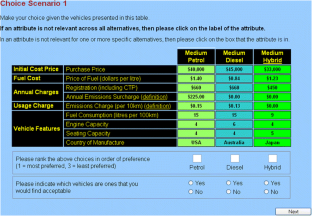 Notes
1.

In the context of this study the MIGI approach used predefined pairs of respondents. Future research will exam if the algorithmic pairing of respondents is an accurate representation of true dyadic relationships.
References
Arentze, T.A.: Individuals' social preferences in joint activity location choice: a negotiation model and empirical evidence. J. Transp. Geogr. 48, 76–84 (2015)

Aribarg, A., Arora, N., Bodur, H.O.: Understanding the role of preference revision and concession in group decisions. J. Mark. Res. 39(3), 336–349 (2002)

Arora, N., Allenby, G.M.: Measuring the influence of individual preference structures in group decision making. J. Mark. Res. 36(4), 476–487 (1999)

Bateman, I.J., Munro, A.: Household versus individual valuation: what's the difference. Environ. Resour. Econ. 43(1), 119–135 (2009)

Beharry-Borg, N., Hensher, D.A., Scarpa, R.: An analytical framework for joint vs separate decisions by couples in choice experiments: the case of coastal water quality in Tobago. Environ. Resour. Econ. 43(1), 95–117 (2009)

Bradley, M., Vovsha, P.: A model for joint choice of daily activity pattern types of household members. Transportation 32(5), 545–571 (2005)

Brewer, A.M., Hensher, D.A.: Distributed work and travel behaviour: the dynamics of interactive agency choices between employers and employees. Transportation 27, 117–148 (2000)

Corfman, K., Lehmann, D.: Models of cooperative group decision making and relative influence: an experimental investigation of family purchase decisions. J. Consum. Res. 14(1), 1–13 (1987)

Corfman, K., Lehmann, D.: The importance of others' welfare in evaluating bargaining outcomes. J. Consum. Res. 20(1), 124–137 (1993)

Coulson, J.S.: Buying decisions within the family and the consumption-brand relationship. In: Newman, J.W. (ed.) On Knowing the Consumer. Wiley, New York (1966)

Dellaert, B.G.C., Prodigalidad, M., Louviere, J.J.: Family members' projections of each other's preference and influence: a two-stage conjoint approach. Mark. Lett. 9(2), 135–145 (1998)

Dosman, D., Adamowicz, W.: Combining stated and revealed preference data to construct an empirical examination of intrahousehold bargaining. Rev. Econ. Househ. 4(1), 15–34 (2006)

Greene, W., Hensher, D.A.: A latent class model for discrete choice analysis: contrasts with mixed logit. Transp. Res. Part B 37(8), 681–698 (2003)

Gupta, S., Vovsha, P.: A model for work activity schedules with synchronization for multiple-worker households. Transportation 40(4), 827–845 (2013)

Haab, T.C., McConnell, K.E.: Valuing environmental and natural resources: the econometrics of non-market valuation. Edward Elgar, Cheltenham (2002)

Hensher, D.A.: Hypothetical bias, stated choice experiments and willingness to pay. Transp. Res. Part B 44(6), 735–752 (2010)

Hensher, D.A., Beck, M.J., Rose, J.M.: Accounting for preference and scale heterogeneity in establishing whether is matters who is interviewed to reveal household automobile purchase preferences? Environ. Resour. Econ. 49(1), 1–22 (2011)

Hensher, D.A., Puckett, S.M.: Power, concession and agreement in freight distribution chains subject to distance-based user charges. Int. J. Logist. Res. Appl. 11(2), 81–100 (2008)

Hensher, D.A., Rose, J.M., Black, I.: Interactive agency choice in automobile purchase decisions: the role of negotiation in determining equilibrium choice outcomes. J. Transp. Econ. Policy 42(2), 269–296 (2008)

Hess, S., Ben-Akiva, M., Gopinath, D., Walker J.: Advantages of Latent Class Over Continuous Mixture of Logit Models. Working Paper. http://www.stephanehess.me.uk/papers/Hess_Ben-Akiva_Gopinath_Walker_May_2011.pdf (2011). Accessed 20 Apr 2015

Inoa, I.A., Picard, N., de Palma, A.: Intra-household Decision Models of Residential and Job Location. THEMA Working Papers 2014-05, THEMA (THéorie Economique, Modélisation et Applications), Université de Cergy-Pontoise (2014)

Krinsky, I., Robb, R.: On approximating the statistical properties of elasticities. Rev. Econ. Stat. 68(4), 715–719 (1986)

Krishnamurthi, L.: Conjoint models of family decision making. Int. J. Res. Mark. 5(3), 185–198 (1988)

Louviere, J.J., Hensher, D.A., Swait, J.: Stated choice methods: analysis and application. Cambridge University Press, Cambridge (2000)

Manski, C.F.: Economic analysis of social interactions. J. Econ. Perspect. 14(3), 115–136 (2000)

Marcucci, E., Stathopoulos, A., Danielis, R., Rotaris, L.: Comparing single and joint preferences: a choice experiment on residential location in three-member households. Environ. Plan. Part A 43(5), 1209–1225 (2012)

McFadden, D.: Economic choices. Am. Econ. Rev. 91(3), 351–378 (2001)

McFadden, D.: Overview of the Invitational Choice Symposium. Asilomar Conference Center, California (2001b)

Molin, E.J.E., Oppewal, H., Timmermans, H.J.P.: Conjoint modeling of residential group preferences: a comparison of hierarchical information integration approaches. J. Geogr. Syst. 4(4), 343–358 (2003)

Myers, D.G., Lamm, H.: The group polarization phenomenon. Psychol. Bull. 83(4), 602–627 (1976)

O'Neill, V., Hess, S.: Heterogeneity assumptions in the specification of bargaining models: a study of household level trade-offs between commuting time and salary. Transportation 41(4), 745–763 (2014)

Puckett, S.M. (2006). Economic behaviour of interdependent road freight stakeholders under variable road user charges: advanced stated choice analysis. Ph.D. thesis, Institute of Transport and Logistics Studies, The University of Sydney

Rao, V., Steckel, J.: A polarization model for describing group preferences. J. Consum. Res. 18(1), 108–118 (1991)

Rose, J.M., Bliemer, M.J.C.: Stated preference experimental design strategies. In: Hensher, D.A., Button, K.J. (eds.) Handbook of Transport Modelling. Elsevier, Oxford (2008)

Rose, J.M., Bliemer, M.J.C., Hensher, D.A., Collins, A.: Designing efficient stated choice experiments in the presence of reference alternatives. Transp. Res. Part B 42(4), 395–406 (2008)

Rose, J.M., Hensher, D.A.: Modelling agent interdependency in group decision making: methodological approaches to interactive agent choice experiments. Transp. Res. Part E 40(1), 63–79 (2004)

Rungie, C., Scarpa, R., Thiene, M.: The influence of individuals in forming collective household preferences for water quality. J. Environ. Econ. Manag. 68(1), 161–174 (2014)

Scott, D.M., Kanaroglou, P.S.: An activity-episode generation model that captures interactions between household heads: development and empirical analysis. Transp. Res. Part B Methodol. 36(10), 875–896 (2002)

Srinivasan, S., Bhat, C.R.: Modeling household interactions in daily in-home and out-of-home maintenance activity participation. Transportation 32(5), 523–544 (2005)

Wen, C.H., Koppelman, F.: A conceptual and methodological framework for the generation of activity-travel patterns. Transportation 27(1), 5–23 (2000)

Wind, Y.: Preference of relevant others and individual choice models. J. Consum. Res. 3(1), 50–57 (1976)

Zhang, J., Fujiwara, A.: Intrahousehold interaction in transit-oriented residential choice behavior represented in stated preference approach. Transp. Res. Rec. 2134, 73–81 (2009)
Acknowledgements
The authors would like to acknowledge the comments and suggestions from three anonymous referees whose work has helped shape this paper.
About this article
Cite this article
Beck, M.J., Rose, J.M. Stated preference modelling of intra-household decisions: Can you more easily approximate the preference space?. Transportation 46, 1195–1213 (2019). https://doi.org/10.1007/s11116-017-9822-y
Keywords
Household choice

Vehicle purchasing

Stated preference

Group choice